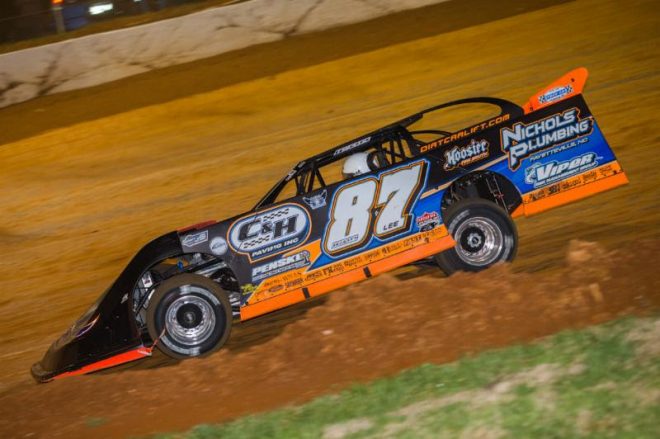 Bailes Rolls to First Lucas Oil Victory
Story By: Jeremy Shields/LOLMDS
Photo By: Heath Lawson/LOLMDS
SEYMOUR, TENN (April 5, 2019) – Ross Bailes rolled to his first-career Lucas Oil Late Model Dirt Series victory on Friday night at 411 Motor Speedway.
The 29-year-old, South Carolina native led all 50 laps of "Tennessee's Action Track 50" en route to one of the biggest wins of his career.
Bailes took the lead at the start of the race, withstood several cautions, and managed to hold off a late race charge from three other drivers to become the sixth different winner of the 2019 season. Donald McIntosh took second over Jimmy Owens. Current Lucas Oil Late Model Dirt Series point leader, Jonathan Davenport finished in fourth followed by Dale McDowell.
"This seems unbelievable," said Bailes. "We have tried for so long to win one of these and we just couldn't get it done. To come to a new place like this and to get it done here is just unimaginable. I felt good on the bottom and then when I got to lapped traffic I was slowing down. I knew I needed to search around and do something different. My crew guys told me to move up and when I did the car felt really good up there."
Bailes added: "This place is awesome. I think if we would have run another 50 laps it would have been even better. I was happy with it. There was grip on the bottom . I didn't have to worry about the top for the first half of the race and then it got racy all over. This win is now at the top of my list for sure. Maybe we can get another one tomorrow night at North Georgia. I want to thank Barry and Lance Wright, Ronnie McCarter and all of my crew it was a great team win that's for sure."
McIntosh, also looking for his first career Lucas Oil win, settled for second at the line. "Our car was pretty good. I had it prepared to run the top. I was just biding my time out there. I thought I could get up to him [Bailes] and make a run for the win. I am blessed to be back at Blount Motorsports and maybe we can get that first Lucas Oil win tomorrow night at North Georgia."
"I don't think he [Bailes] knew the top was there. "We had a great race for second with Jimmy [Owens]. I think I showed him [Bailes] the top one time and he moved up there in traffic. Racing with these guys and from where we started that's a pretty awesome run," said McIntosh who started sixth.
Owens finished third after a late-race charge. "We have been pretty good in East Tennessee so far this year. We have had good race cars all year long. It feels good to finally finish a Lucas Oil race. Last year we had such terrible misfortune. This year seemed like it was going to start off the same way but we just aren't going to let that happen. McIntosh had a good car, and he was up on the wheel. I felt like we could have gotten second, but we are just happy to finish on the podium."
The winner's Barry Wright Race Cars ICON Chassis is powered by a Clements Racing Engine and sponsored by: Felony Farms, Service Transport Inc., Bailes Construction, Big A's Custom Graphics, C&H Paving, Bobby Taylor Oil, Nichols Plumbing, Penske Shocks, Hoosier Tire South, Fred Caldwell Chevrolet, and Viper Risk Management Group.
Completing the top ten were Kyle Bronson, Ryan King, Josh Richards, Tyler Erb, and Earl Pearson Jr.
Lucas Oil Late Model Dirt Series
Race Summary
Friday, April 5, 2019
Tennessee's Action Track 50
411 Motor Speedway – Seymour, Tenn.
Miller Welders Time Trials
Fast Time Group A: Ryan King 13.348 seconds (overall)
Fast Time Group B: Donald McIntosh 13.587 seconds
Penske Race Shocks Heat Race #1 Finish (10 Laps, Top 4 Transfer):
Ross Bailes, Ryan King, Jonathan Davenport, Michael Chilton, Cory Hedgecock, Jason Jameson, Chicky Barton, Jacob Hawkins (DNS)
FK Rod Ends Heat Race #2 Finish (10 Laps, Top 4 Transfer):
Josh Richards, Billy Moyer Jr, Tim McCreadie, Kyle Bronson, Vic Hill, Don O'Neal, Ryan Scott
Simpson Race Products Heat Race #3 Finish (10 Laps, Top 4 Transfer):
Dale McDowell, Donald McIntosh, Earl Pearson Jr, Stormy Scott, Shanon Buckingham, Cla Knight, Bobby Giffin
Lucas Oil Products Penetrating Oil Heat Race #4 Finish (10 Laps, Top 4 Transfer):
Jimmy Owens, Robby Moses, Tyler Erb, Devin Moran, Hudson O'Neal, David Crabtree, Pierce McCarter
Lucas Oil Products Red "N" Tacky Spray Grease B-Main #1 Finish (12 Laps, Top 6 Transfer):
Cory Hedgecock, Shanon Buckingham, Vic Hill, Jason Jameson, Hudson O'Neal, Don O'Neal, David Crabtree, Jacob Hawkins, Cla Knight, Chicky Barton, Ryan Scott, Bobby Giffin
Lucas Oil Feature Finish (50 Laps):
| | | | | | |
| --- | --- | --- | --- | --- | --- |
| FINISH | START | CAR # | DRIVER NAME | HOMETOWN | EARNINGS |
| 1 | 1 | 87 | Ross Bailes | Clover, SC | $12,000 |
| 2 | 6 | 7m | Donald McIntosh | Dawsonville, GA | $5,500 |
| 3 | 4 | 20 | Jimmy Owens | Newport, TN | $4,300 |
| 4 | 9 | 49 | Jonathan Davenport | Blairsville, GA | $3,850 |
| 5 | 2 | 17m | Dale McDowell | Chickamauga, GA | $2,250 |
| 6 | 15 | 40B | Kyle Bronson | Brandon, FL | $2,500 |
| 7 | 5 | 1Gk | Ryan King | Seymour, TN | $1,500 |
| 8 | 3 | 14 | Josh Richards | Shinnston, WV | $2,100 |
| 9 | 12 | 1T | Tyler Erb ® | New Waverly, TX | $2,000 |
| 10 | 10 | 1 | Earl Pearson, Jr. | Jacksonville, FL | $1,900 |
| 11 | 11 | 39 | Tim McCreadie | Watertown, NY | $1,775 |
| 12 | 8 | 21m | Robby Moses | Maryville, TN | $1,050 |
| 13 | 13 | 97 | Michael Chilton | Salvisa, KY | $1,025 |
| 14 | 20 | 12J | Jason Jameson ® | Lawrenceburg, IN | $1,700 |
| 15 | 19 | 1V | Vic Hill | Mosheim, TN | $1,000 |
| 16 | 7 | 21JR | Billy Moyer, Jr. | Batesville, AR | $1,000 |
| 17 | 14 | 2s | Stormy Scott | Las Cruses, NM | $1,000 |
| 18 | 16 | 1M | Devin Moran ® | Dresden, OH | $1,700 |
| 19 | 18 | 50 | Shanon Buckingham | Morristown, TN | $1,000 |
| 20 | 22 | 5 | Don O'Neal | Martinsville, IN | $1,800 |
| 21 | 17 | 9 | Cory Hedgecock | Loudon, TN | $1,000 |
| 22 | 21 | 71 | Hudson O'Neal | Martinsville, IN | $1,800 |
| 23 | 24 | 51 | Pierce McCarter | Seymour, TN | $1,000 |
| 24 | 23 | C5 | David Crabtree | Maryville, TN | $1,000 |
Race Statistics
Entrants: 28
Lap Leaders: Ross Bailes (1-50)
Wrisco Feature Winner: Ross Bailes
Margin of Victory: 0.773 seconds
Cautions: Jason Jameson (lap 2); Shanon Buckingham (lap 7); Vic Hill (lap 17); Hudson O'Neal (lap 20); Shanon Buckingham (lap 25); Stormy Scott (lap 46); Cory Hedgecock (lap 47)
Miller WeldersFast Time Provisionals: David Crabtree, Pierce McCarter
Optima Batteries Hard Charger of the Race: Kyle Bronson (Advanced 9 Positions)
Midwest Sheet Metal Spoiler Challenge Point Leader: Jonathan Davenport
Allstar Performance Power Move of the Race: Michael Chilton
Sunoco Race for Gas Highest Finisher: Jimmy Owens
Eibach Springs Rookie of the Race: Tyler Erb
COMP Cams Engine Builder of the Race: Clements Race Engines
Ohlins Shocks Chassis Builder of the Race: Barry Wright Race Cars
Outerwears Crew Chief of the Race: Jeff Strope (Jimmy Owens)
Dirty Girl Racewear Fastest Lap of the Race: Ross Bailes (Lap #6 – 13.9007 seconds)
Hot Rod Processing Tough Break of the Race: Hudson O'Neal
STEEL-IT Most Laps Led: Ross Bailes (50 Laps)
PFC Brakes Pole Award: Ross Bailes
Time of Race: 30 minutes 27 seconds