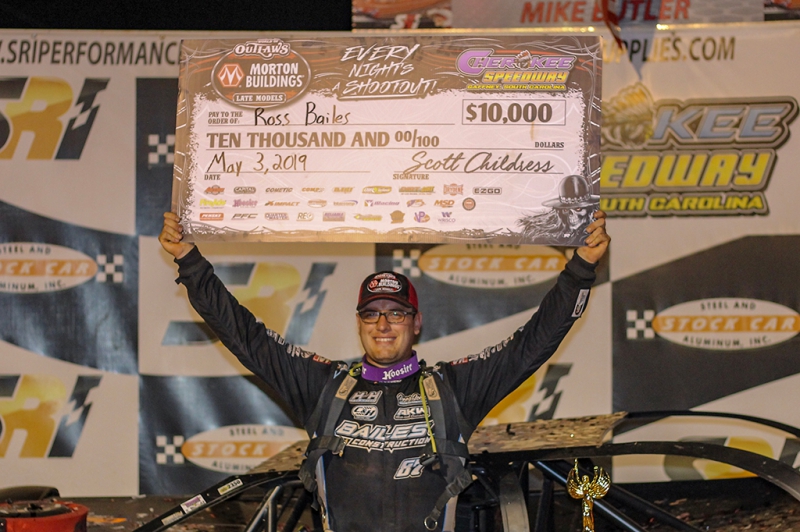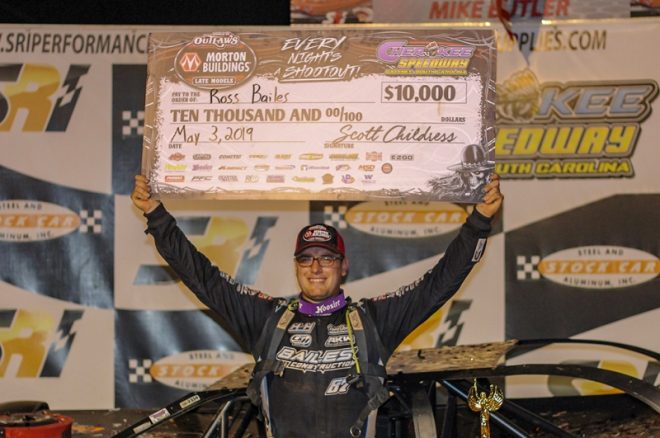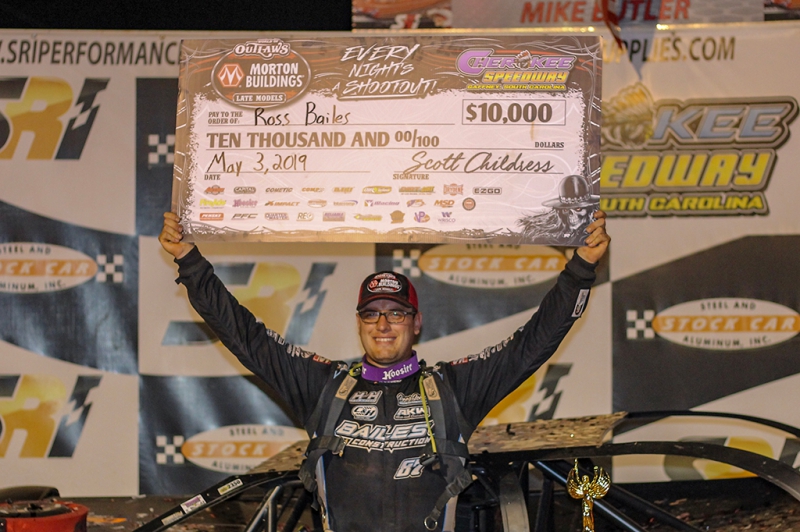 Bailes Beats the Outlaws at Cherokee
Story By: Jordan DeLucia/WoOLMs
Photo By: Blake Harris

GAFFNEY, SC – May 3, 2019 – Eleven races into 2019 and the World of Outlaws Morton Buildings Late Model Series has their first first-time winner of the season. Ross Bailes picked up the win and beat the Outlaws in front of his home-state crowd on Friday night at the Cherokee Speedway.
Brandon Sheppard yet again scored another second-place finish, after starting fifth and chasing Bailes throughout the latter part of the race. Don O'Neal had a solid showing as well, coming from ninth and climbing to third after battling with Chris Madden and Brandon Overton.
It was almost a perfect night for the Clover, SC-native, as he picked up the PFC Brakes Fast Time Award, won his Drydene heat race, redrew the outside pole and led all 50 laps of the Morton Buildings Feature. But it certainly was no cakewalk, as Bailes had the Rocket1 Racing ride of Sheppard knocking on his door for over half of the race.
Sheppard started out steady, passing a car for position here and there before finally making the move around Madden for second on lap 17. It was at that moment Sheppard began to track down the Bailes Construction #87. Several restarts presented opportunities for Sheppard to make the move, but to no avail. Until the final 10 laps…
Bailes said he initially didn't see the #1 of Sheppard stick his nose underneath. A late restart put Sheppard right on the Barry Wright house car's rear bumper, and despite "The Rocket Shepp's" best efforts, Bailes was able to ride the high line and hold off Sheppard's heavy pressure.
"I had a guy spotting for me and he's the one who told me to move up top," Bailes said. "I thought when he told me to move up, Sheppard was five or six car lengths back, but I guess he was underneath me. I didn't know exactly where he was, but I knew he was closing in on me and I knew just had to hit my marks."
Lapped traffic is usually always something the leaders run into over the course of 50 laps, and tonight was no exception. Early on in the longest wave of traffic the leaders faced, Bailes was moving through swiftly. Sheppard then began to close the gap rapidly, actually trimming Bailes' lead to under one second before the caution came back out. But the real story behind his triumph may have been a collective decision made by the driver and crew before they even hit the racetrack.
"We went with a softer tire, I thought it was the right call, my team thought it was the right call," Bailes said. "We got [the harder compound] ready but I never once thought I was going to need it. And I'm glad we did go with the softer tire because it allowed me to get that jump and get out front."
Look back on the season Bailes has had so far through the first three months of the racing season, and it's not hard to see the giant wave of success Bailes is now riding. Since becoming the face of the Barry Wright Race Cars house ride over the winter, Bailes scored a big win at the 411 Motor Speedway in Seymour, TN back in early April and picked up another win exactly one week ago at the Laurens County Speedway in South Carolina.
It means a lot to Bailes to be able to perform so well so early in the season for his new team, and he feels there should have been even more success at this point with the way things are clicking.
"This is the most confident and comfortable I've felt in a car this early in the year," Bailes said. "We've won three races, but we started up front almost every single race, so I feel like I let a few go that we should have won. But we've just been fast all year."
Don O'Neal bagged another third-place finish with the Outlaws, his fourth top-five of the year. It was a solid, steady run for "The Real Deal," but O'Neal said he was definitely a third-place car tonight, despite the heavy pressure he put on Sheppard and Bailes.
"At first, I thought we were pretty free, and then it got where we weren't bad the longer we ran," O'Neal said. "But we got to third and just sort-of stalled out."
Saturday's event at the Lavonia Speedway has been postponed to October 3, due to impending inclement weather. The next race on tap for the Outlaws will take place at the Fayetteville Motor Speedway – a two-day, 100-lap, $25,000-to-win finale event on May 10-11 that you won't want to miss! Catch all the action live on DIRTVision!
Abbreviated results (click here for full results)
Morton Buildings Feature (50 Laps) – 1. 87-Ross Bailes [2][$10,000]; 2. 1-Brandon Sheppard [5][$5,000]; 3. 5-Don O'Neal [9][$3,000]; 4. 2-Brandon Overton [7][$2,500]; 5. 44-Chris Madden [1][$2,000]; 6. 28-Dennis Erb [13][$1,700]; 7. 22-Chris Ferguson [4][$1,400]; 8. 101-Casey Roberts [15][$1,300]; 9. 18-Chase Junghans [23][$1,200]; 10. 75-Donald Bradsher [17][$1,100]; 11. 25-Shane Clanton [18][$1,050]; 12. 7-Ricky Weiss [12][$1,000]; 13. 29-Darrell Lanigan [16][$950]; 14. D89-Dustin Mitchell [22][$900]; 15. 99B-Boom Briggs [27][$150]; 16. 2c-Joey Coulter [11][$800]; 17. 97-Cade Dillard [26][$110]; 18. B1-Brent Larson [25][$110]; 19. 1m-Devin Moran [14][$730]; 20. 8-Jacob Hawkins [8][$700]; 21. 9-Johnny Pursley [6][$700]; 22. 57-Adam Yarbrough [21][$700]; 23. 14-Josh Richards [3][$700]; 24. 88-Trent Ivey [10][$700]; 25. 79-Michael Brown [20][$700]; 26. 18h-Brett Hamm [19][$700]; 27. 36v-Kyle Hardy [24][$700]; Hard Charger: 18-Chase Junghans[+14]