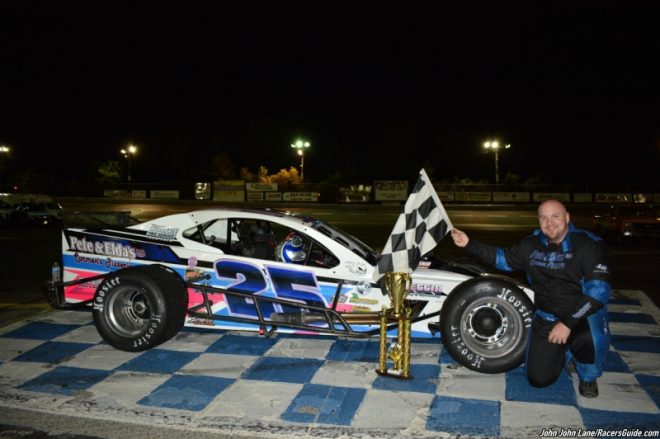 ANDRETTA, KILMER AND MARTINO ARE FIRST TIME WALL WINNERS SATURDAY
Story By: Jeff Gravatt/Wall Stadium
Photos By: John John Lane/RacersGuide.com
WALL TOWNSHIP, N.J. ~ Chris Andretta of Neptune, Nick Kilmer of Howell and Farmingdale's Tommy Martino were all first time winners in their divisions during Labor Day weekend Saturday night stock car competition at Wall Stadium Speedway. Limited Late Model winner and point leader Chris Silvestri of Hazlet enjoyed his second career victory.
Kenny Van Wickle of Manasquan was the first leader of the All American Auto Group Modified 40-lap race as a mid-pack battle for position raged during the first ten laps. Andretta was in third behind Jackson's Jason Treat by lap ten before Treat suffered big trouble with the front stretch guardrail just before halfway. Point leader Steven Reed was involved in the scramble but continued on. Brick's Dom Fattaruso and Boonton's Tom Catanzaro were also involved in the tangle.
Van Wickle and Andretta then battled side-by-side for the lead on the restart before Andretta took command near halfway. Holmdel's Andrew Krause saw his run to the front spoiled by a tire rub and Brick's Eric Mauriello arrived in second before mechanical woes knocked him from the race.
Andretta then raced on to the landmark win over Van Wickle, Derek Hopkinson of Toms River, Reed and Eddie McCarthy of Brick.
"To return to this track and to win a Modified race is like a dream come true," Andretta, who won nine times here in the old Pro Stock division between 2003 and 2006, said. 'To win here in a Modified No. 25 is great! I thank my father and Pete and Elda's Bar/Carmen's Pizzeria for all of it."
After finishing second to Scott Riggleman of Manchester the previous week Kilmer charged back to take his first ever win in the O'Shea's Auto Repair 25-lapper. Kilmer led this race from the start but was forced to fight off title race leader Elliot Wohl of Beachwood and Neptune City's Bryan O'Shea in the closing laps. Kevin Flores and Joe Mongeau, both of Brick, were fourth and fifth.
After Michael Rising of Little Egg Harbor led early before crashing on a lap five restart, Martino charged to the front of the 25-lap Center State Engineering Sportsman race and drove on to his first win over Jarret DiGiantomasso and Kyle Scisco, both of Jackson. Edison's Neil Rutt III and Carsten DiGiantomasso of Jackson wrapped up the top five.
When early front runner Mike Tillett of Bayville spun from the lead in the Mike's Performance Center Limited Late Model 25-lapper, point leader Chris Silvestri raced on to a convincing win. Joe Mongeau was second and Jackson's Shanon Mongeau, the defending division champion, was third. Michelle Moorman and Andy Gamble were fourth and fifth.
Auto racing continues at Wall Stadium Speedway this Saturday (Sept. 7) night with the All American Auto Group Modified stock cars, the Center State Engineering Sportsman cars, Green Flag Driving Experience Legend Cars and twin main events for the Surfside Collision 4 Cylinder Stocks on tap. Grandstand gates open at 5:00 p.m., qualifying begins at 5:45 p.m. and features start at 7:00 p.m.
Wall Stadium is located on Route 34 in Wall Township, N.J., just one mile north of Garden State Parkway exit 98 and Interstate 195 exit 35B. The speedway hotline number is 732-681-6400 and email address is ckmotorsports@aol.com.
MODIFIED FEATURE – 40 Laps – 1. CHRIS ANDRETTA, NEPTUNE, 2. Kenny Van Wickle, 3. Derek Hopkinson, 4. Steven Reed, 5. Eddie McCarthy, 6. Joey Merlino, 7. Kevin Davison, 8. Robert French, 9. Tom Catanzaro, 10. Andrew Krause, 11. Ed Delage, 12. Eric Mauriello, 13. Jason Treat, 14. Don Fattaruso
FACTORY STOCK FEATURE – 25 Laps – 1. NICK KILMER, HOWELL, 2. Eliot Wohl, 3. Bryan O'Shea, 4. Kevin Flores, 5. Joe Mongeau, 6. Tim Majek, 7. Billy Both, 8. Joey Helberg, 9. Scott Riggleman, 10. Robert Stack, 11. Tom Rajkowski, 12. Matt Badessa, 13. Robert, Ptaszynski, 14. Nancy Riggleman, 15. Scott Purcell, 16. John Carpenter
SPORTSMAN FEATURE – 25 Laps – 1. TOMMY MARTINO, FARMINGDALE, 2. Jarret DiGiantomasso, 3. Kyle Scisco, 4. Neil Rutt, 5. Carsten DiGiantomasso, 6. Eric Lane, 7. Roland DeMartino, 8. Tomas Stainionis, 9. Michael rising
LIMITED LATE MODEL FEATURE – 25 Laps – 1. CHRIS SILVESTRI, HAZLET, 2. Joe Mongeau, 3. Shanon Mongeau, 4. Michelle Moorman, 5. Andy Gamble, 6. Mike Tillett, 7. Jim Moorman