TWIN 20'S FOR PRO STOCKS & THE KENNY WALLACE DRIVING EXPERIENCE HIGHLIGHT FONDA SPEEDWAY WEEKEND ACTION
Press Release By: RON SZCZERBA / FONDA SPEEDWAY MEDIA
Photos By: MATT NOLES / RACERSGUIDE.COM
Fonda, NY – June 2, 2017- This coming weekend Saturday, June 3 and Sunday, June 4 will be a busy one at the "Track of Champions" Fonda Speedway as the Montgomery County Fairgrounds facility will be in action both days. On Saturday, all divisions will be in action on Amsterdam Printing & Litho Night with a starting time of 7:00 p.m. highlighted by Twin 20's for the pro stock division competitors.
Then on Sunday for the first time ever at Fonda, the Kenny Wallace Driving Experience takes to the ½-mile track as spectators get the chance to drive 10-laps around the historic racetrack in an actual racecar for $99! Limited spots are available for the Kenny Wallace Driving Experience and must be booked in advance by going to www.http://dirtracewithkenny.com
More information will be available about Sunday's events on the Fonda Speedway website www.newfondaspeedway.com or the Fonda Speedway Facebook page as the week progresses along with Twitter as well!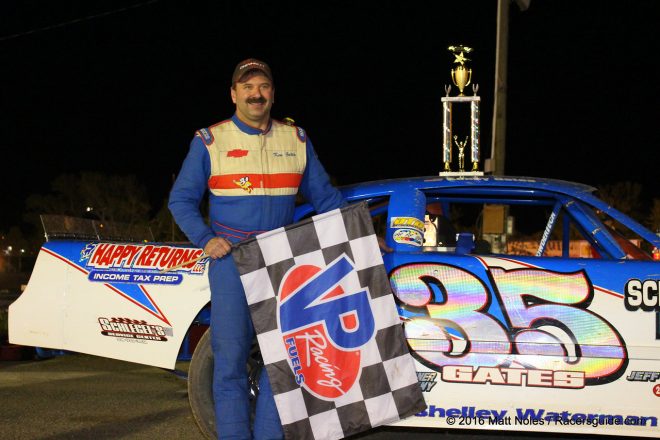 Kenny Gates has been on a roll so far in 2017 in the pro stock division at Fonda, winning all four feature events held since the gates opened back in late April. Gates currently holds many of the records at the Fonda Speedway in the pro stock division including a total of five track championships in 2004, 2007 (co-champion), 2008, 2009, and last year in 2016.
Gates first career win at Fonda came on Saturday July 12, 1997 in a three-win season that year. Since that time the only years that Gates has not been a multiple feature winner was in 1998 (one win), 2001 (one win), 2005 (zero wins), 2008 (one win), and 2011 (one win)! How about that for a record!
2016 was Gates' best season to date with seven feature wins and as far as wins in a row are concerned his four in a row to this point this year are a career best which he also achieved back in 2004 when he also won four feature events in a row!
He also currently sits on top of the all-time win list in the division at Fonda with 69 victories to his credit including two wins in the prestigious Hondo Carpenter Classic event in 2009 and 2015. Gates took the lead on the Fonda Speedway All Time Pro Stock division win list on 9/14/2013 when he won the 52nd feature of his illustrious career at the "Track of Champions" leading the way to his current total of 69 wins.
So come to the track where "History is made on Saturday nights" as the website, says and be sure to visit the Fonda Speedway Museum as well before the racing action gets started. David, Jackie, and Jessica Lape along with their crew of helpers have done a lot to bring back and preserve the history of the track we all know as the "Track of Champions".