Matt Miller Is All Star Slingshot Victor; Nowatarski Reigns In Junior Slingshots
Story By: BARRT ANGSTADT / ACTION TRACK USA MEDIA
Photos By: WALT SMITH / RACERSGUIDE.COM
Kutztown, PA –  June 2, 2017- Wednesday night was First Responder Night presented by Glick Fire Equipment, and the competition was certainly hot and heavy at the JeffreyHogueRealtor.com Action Track USA on the Kutztown Fairgrounds. When the sparks died down and the smoke cleared, Tim Buckwalter claimed his second victory of the young season in the USAC All Pro SpeedSTR division.
Jimmy Glenn was the apparent victor of the Hyper Racing Wingless 600 Sprint feature, but Glenn was later disqualified based on the results of post-race technical inspection. Billy Pauch Jr., who chased Glenn to the checkered flag, was declared the winner.
Reading's Matt Miller drove his No. 16m to the All Star Slingshot triumph, his first at Action Track USA since 2014. Joining Miller as a Slingshot winner on Wednesday was Reese Nowatarski of Reading. Nowatarski captured the Junior Slingshot victory.
The Glick Fire Equipment 30-lap main event for the USAC All Pro SpeedSTRs was a highly competitive affair that featured three different leaders and a late race battle for second that had the large crowd roaring with delight.
Mike Bednar, driving Brandon Auman's No. 2, jumped to the early lead over Jason Rochelle. Fifth-starting James Morris zipped past Rochelle and into the runner-up spot by lap two, and one circuit later Tim Buckwalter, who lined up tenth on the starting grid, charged to the third position.
On the fourth trip around the clay, Morris got into the back of Bednar's mount, and the Whitehall, Pa. driver got just loose enough to allow Morris to shoot down off the turn four banking and grab the lead. Bednar got a run on Morris at the opposite end of the race track, but bumped Morris' No. 13 and lost his momentum as well as the runner-up slot, with Buckwalter slipping past him in turn two.
On a lap ten restart, Buckwalter shot past Morris to gain control, and from that point on, the Pottstown, Pa. wheel-twister maintained a firm grip on the top spot. When 11th-starter and current point leader Billy Pauch Jr. weaved his way into third, however, is when the real fun began as he began his assault on Morris.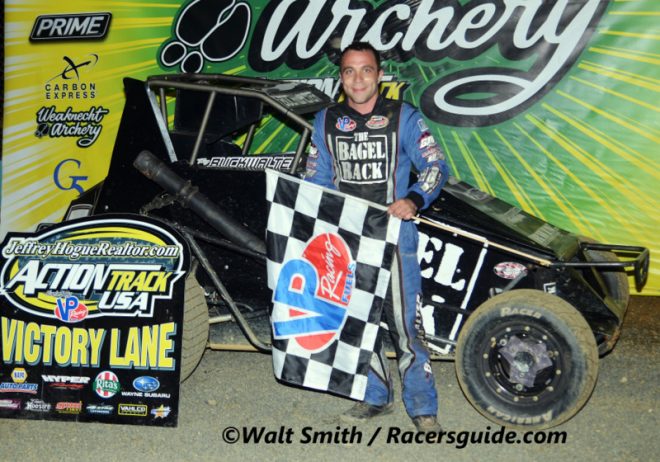 The last 11 tours of the race were highlighted by the fantastic slide-fest between Pauch Jr. and Morris. Pauch threw slider after slider on Morris, and James deftly crossed him over and dashed back past the Heffner Motorsports No. 27 as they exited the corners and raced down the straightaways. On a few occasions, Morris rolled the top to perfection and Pauch wasn't able to execute a slide job but sliders ruled on most laps – they just were not successful as Morris defended his position each time.
Buckwalter sped across the finish line after 30 laps to record his second win of the season and his seventh Action Track USA SpeedSTR triumph. That moves him within three of the career win leaders (in SpeedSTR competition) at the Berks County oval, as father and son Pauch (Billy Sr. and Billy Jr.) are tied at the top with ten career victories.
Morris nipped Pauch Jr. for a hard earned second place payday, with steady Matt Westfall from Ohio finishing fourth and Steve Drevicki rounding out the top five.
"Paul (Lotier) and the whole crew just do a tremendous job preparing this car, and the track was really good for the feature," said Buckwalter in Weaknecht Archery Victory Lane. "And you know Amanda, my girlfriend, is pregnant so we really need the money that we get for winning," stated a grinning Buckwalter.
In the Hyper Racing Wingless 600 Sprint main, Matt Roselli snatched the lead from pole sitter Nate Brinker as the 25-lapper went green. Eddie Strada was on the move early, rumbling from eighth on the grid to third by the time three laps were scored.
On a lap four restart, New Jersey's Jimmy Glenn blasted by Roselli to grab the lead while Strada and Roselli dueled for second. The second caution flag waved with six circuits complete, and the next seven revolutions produced some of the most exciting racing of the season.
With Glenn out front, Jason Swavely launched off turn two, shooting the narrow gap between Strada and Roselli and moving to the runner-up position. A half-lap later, 11th starter Tim Buckwalter made a bonzai dive under all three to snare second place. As the race neared its mid-point, Billy Pauch Jr. (started 10th), Alex Bright (started 23rd), and James Morris (started 19th) were picking their way through intense traffic and moving forward into the top six.
After a yellow flag at the halfway mark, the top five of Glenn, Buckwalter, Swavely, Pauch Jr., and Bright were under a virtual blanket and using every inch of the speedway to get around one another.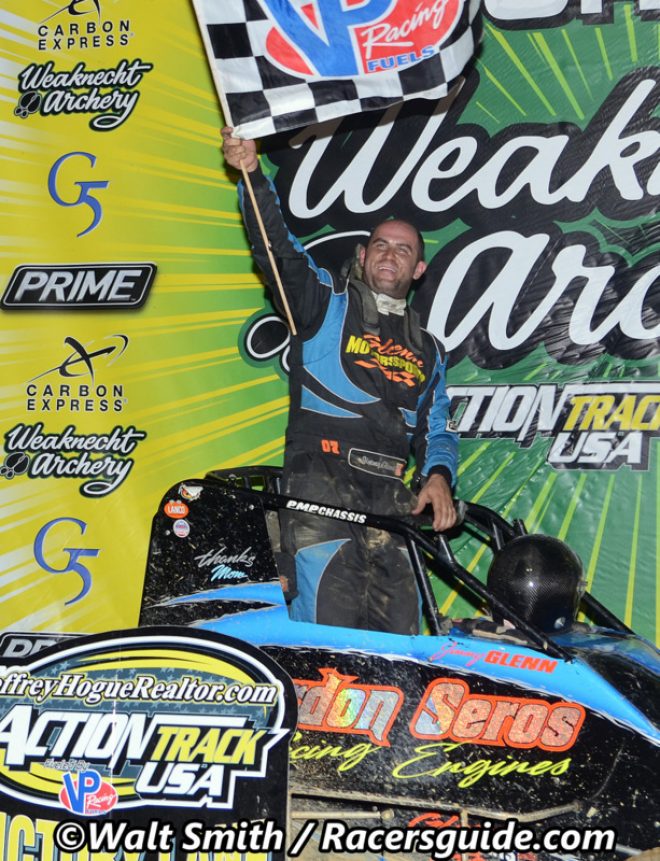 Glenn slowly and steadily pulled away from his pursuers, and Buckwalter slowed suddenly with mechanical issues in turn three and four on the final lap, giving up second place to Pauch.
At the finish, it was Jimmy Glenn who seemingly notched his first-ever Action Track USA triumph. Unfortunately, his No. 7G did not pass the post-race technical inspection, resulting in a DQ and handing the victory to Pauch Jr. It was the first 600 Sprint win for Pauch since the season opener in May of 2015.
Bright wound up second with Joe Kay third, Jesse Maurer fourth, and Roselli registered his best Action Track USA finish by placing fifth.
"The Thriller" Matt Miller started on the outside of row one in the All Star Slingshot main, but Miller quickly gassed his No. 16m into the lead as the green waved to begin the feature. Miller would go on to lead the entire 20-lap distance, but it was not a walk in the park by any means.
On several occasions, Alex Yankowski motored to the inside of the race leader and appeared primed to take over the top spot. On a couple of the race's restarts, he actually did move in front, but yellow flags waved at the wrong times (for Yankowski, anyway) and negated his passes and bids for the lead.
Near the end of the race, Dakota Kohler, in his strongest outing of the still-early campaign, wrestled the runner-up slot from Yankowski. Kohler made one last run at the leader on the final trip around the progressively banked oval, but Miller held him off to score the triumph by 0.178-seconds.
Yankowski settled for third with Brett Bieber finishing fourth and point leader Seth Spayd racing home in fifth.
The Junior Slingshots made their first appearance of the year at Action Track USA on Wednesday, and Reese Nowatarski ended a few seasons of bridesmaid and podium finishes by winning his first feature at the speedway located across the street from Kutztown University.
Driving the family-owned Specialty Rigging No. 10x, Nowatarski completed a clean sweep of the Junior Slingers' races by winning both the heat race and the 15-lap main event. The young charger led all the way in the feature, crossing the stripe by more than one second over Tyler Ulsh.
Nico Flammer, Austin Homan, and Tyler Banks completed the top five.
Action Track Sidebites:
Quote of the Night: "I didn't even know you could throw a slide job in a SpeedSTR…but Billy (Pauch Jr.) sure proved that you can. That was a lot of fun…" deadpanned James Morris after his torrid duel with Pauch in the SpeedSTR feature.
First Responder Night (where First Responders showing a valid I.D. were admitted free) presented by Glick Fire Equipment produced solid car counts of 27 SpeedSTRs; 42 Wingless 600 Sprints; 28 of the All Star Slingshots; and 10 Junior Slingshots. That's a total of 107 race cars in competition on Wednesday!
Tim Buckwalter and Pauch Jr. were the quickest SpeedSTRs in that group's time dashes, locking themselves into the main event as a result. Winning SpeedSTR heat races were Doug Manmiller, Jason Rochelle, and Morris. The B-Main was captured by Matt Janisch.
Nick Skias transferred directly to the Wingless 600 Sprint feature by winning the Pioneer Pole Buildings Mad Scramble for drivers who did not qualify for the previous week's A-Main. Tim Buckwalter, Jimmy Glenn, Jesse Maurer, and Jim Radney won heat races for the 600's. Rob Pajauis notched the C-Main victory while Alex Bright claimed the B-Main triumph.
Three throttle-jockeys who came a long way in the 600 Sprint main deserve a shout-out: Tommy Kunsman took the original green in 24th and finished sixth; Doug Snyder flipped in the B-Main, was added as a provisional starter and took the green from 26th He drove his wounded car, the Ben Fisher No. 65 to an incredible seventh-place finish! And Rob Pajauis, who won the C-Main and just missed transferring through the B-Main, was also added as a provisional starter. He wound up eighth after rolling off the staging lane in 27th position.
Timed Dashes were utilized for All Star Slingshot qualifying on Wednesday, and Alex Yankowski set quick time as the fastest 18 drivers locked into the 20-lap feature. Marc Daniels and Brett Bieber were second and third on the speed chart in the Timed Dashes. Kyle Smith won the last-chance B-Main.
Reese Nowatarski won the lone heat race for the Junior Slingshots.
Glick Fire Equipment had a huge ladder truck on display behind the grandstands. Glick Fire Equipment, now in its 30th year, is the state's leader in sales and service of fire trucks, ambulances, and other vehicles used by First Responders. See their full line of emergency response equipment at www.glickfire.com.
This Wednesday, June 7, will be the annual Flyin' Farmer 40 for the SpeedSTRs, a 40-lap main event paying $3,000 to the winner! It's Action Track USA's tribute to the late, great Tommy Hinnershitz of nearby Oley, PA, who was known throughout his stellar Sprint Car and Midget career as "the Flying Farmer".
The Hyper Racing Wingless 600 Sprints will join the USAC All Pro SpeedSTRs and the All Star Slingshots on this week's card. It will be FFA Night at the speedway, and the Old Time Plowboys will have their antique tractors on display and on the race track for an exhibition. Fans are invited to wear their best farmer apparel; the fans looking most like they are ready to milk the cows or bale some hay will be invited to victory lane for photos with the winner of the Flyin' Farmer 40.
Come get your midweek motorsports adrenaline rush at the JeffreyHogueRealtor.com Action Track USA on the Kutztown Fairgrounds…where the superstars come to race!
RESULTS:
USAC All-Pro SpeedSTRs (30 Laps) – 1. Tim Buckwalter 2. James Morris 3. Billy Pauch Jr. 4. Matt Westfall 5. Steve Drevicki 6. Mike Bednar 7. Steve Nederostek 8. Jeff Hartman 9. Briggs Danner 10. Earl Paules 11. Matt Janisch 12. Joe Mooney 13. John Bockhorn 14. Ray Nemeth 15. Jason Rochelle 16. Ed Kenderdine 17. Tom Mayberry 18. Doug Manmiller 19. Steve Buckwalter 20. Jason Miller 21. Louden Reimert 22. Joe Vaccaro 23. TJ Mayberry 24. Mike Mahaney. DNS: Kenny Brightbill, Brad Brightbill, Tim Iulg.
Hyper Racing 600 Sprints (25 Laps) — 1.Billy Pauch Jr., 2. Alex Bright, 3. Joe Kay, 4. Jesse Mauer, 5. Matt Roselli, 6. Tommy Kunsman, 7. Doug Snyder, 8.Rob Pajauis, 9.Damon Paul, 10.Colin White, 11.Branden Pavel, 12.Luke Thomas, 13.Logan Snyder, 14.Nick Skias, 15. Tim Buckwalter, 16.Kenny Miller, 17.Tyler Ulrich, 18.Jared Lilly, 19.Nate Brinker, 20.Mike Rutherford, 21.Eddie Strada, 22.James Morris, 23.Jim Radney, 24.Will Butler, 25.Jay Hartman, 26.Austin Quick.  DQ: Jimmy Glenn; Jason Swavely.
DNQ: Kameron Morrall, Duane White, Danny Buccafusca, Andrew Layser, Eric Heydenreich, Cale Mutter, Sam Kravitsky, John Willman, Ryan Groff, Tim Bauer, Joe Plunkett, Jake Roberts, Jacob Severn, Jacob Balliet.
All-Star Slingshots (20 Laps) – 1. Matt Miller 2. Dakota Kohler 3. Alex Yankowski 4. Brett Bieber 5. Seth Spayd 6. Troy Langendoermer 7. Dylan Hoch 8. Austin Stufflet 9. Kyle Smith 10. Nick Delcampo 11. Austin Daniels 12. Travis Bieber 13. Tim Roeder 14. Joey Vacarro 15. Blaire Schoenly 16. Lee Schantzenbach 17. Myron Moyer 18. Ryan Conrad 19. Cole Stangle 20. Gavin Danner 21. Mark Daniels 22. Steve Svanda 23. CJ Fritz 24. Nick Vincinguerra.  DNS: Ashley Therien, Austin Bellemare.
DNQ: Jerry Arms, Tayllor Schoenly.
Junior Slingshots (15 Laps) – 1.Reese Nowatarski, 2.Tyler Ulsh, 3.Nico Flammer, 4.Austin Homan, 5.Tyler Banks, 6.Decker Swinehart, 7.Tommy Stillo, 8.James Kostlow,9.Joshua Allen, 10.Tanner VanDoren.
Pioneer Pole Buildings 600 Sprints Mad Scramble (10 Laps) – 1.Nick Skias (Transferred to Feature & $25 from Hosensack Poker Club), 2.Joe Kay (Hoosier RR Tire), 3.Nate Brinker (10 gal. Methanol from Roadrunner Race Fuel/VP Fuels), 4.Logan Snyder (RTS Gift Certificate), 5.Austin Quick (4-FK Rod Ends), 6.Eric Heydenreich (TSL Shocks Gift Certificate), 7.Tim Bauer (Saldana Racing Products Gift Certificate), 8.Jacob Balliet (Free Reg. @ AT USA), 9.Tyler Ulrich (Free Reg. @ AT USA), 10.Joe Plunkett (Pyrotect Racing Cells Gift Certificate), 11.Luke Thomas, 12.John Willman, 13.Matt Roselli, 14.Jacob Severn