'The Jersey Jet' Joey Payne Looks To Get Season Back On Track After Rough Opening Weeks
Story By: CANDEM PROUD / OSWEGO SPEEDWAY MEDIA
Photos By: RACERSGUIDE.COM / PHOTO STAFF
OSWEGO, NY -June 2, 2017 – Longtime Oswego Speedway campaigner and fan favorite Joey Payne made waves leading up to the 2017 season after 'The Jet' landed a potent Supermodified ride in a Muldoon Chassised racer for California based car owner Don Penix.
Payne, who holds Oswego's track record in the Novelis Supermodified division with a lap of 15.802 seconds, has been off to a quick start in the Penix No. 14 with a heat race win on Opening Night before getting down to a 16.490 second lap in 'Super Spectacle' group time trials, good enough for fourth quick last weekend.
Unfortunately, Payne battled mechanical problems on Opening Night setting the team back to start the season. In heat race action for the Jim Shampine Memorial 75, Payne lost the handle on the car heading into turn one and was struck by another car while sitting stopped in the corner. This destroyed the tail section of the car, keeping Payne from contention in the main event.
Penix Racing now looks ahead to June 10th's Twin 35 show at Oswego presented by Burke's Do It Best Home Center and A&P Auto Parts which is the second race of the season at the speedway as part of the Triple Crown Championship Series of Supermodified Racing.
"We wouldn't miss it, we are there," Payne said of Oswego's next event. "Last week we didn't end up how we wanted. We got sideways in the heat, had it saved and stopped with no damage and then got hit by another car from behind. There wasn't much I could do with no tail section. I can't wait to come back in a couple weeks."
Payne joins the likes of Oswego regulars Dave Shullick Jr, Otto Sitterly, Tim Snyder, Michael Muldoon, Joe Gosek, Dave Gruel, Keith Shampine and Dave McKnight set to compete in the Triple Crown events.
The series heads to Lancaster Speedway in Erie County this Saturday, June 3 with all of those Oswego drivers plus ISMA's biggest stars expected to be in attendance, making for a huge field for the series' first showing at the speedway since 2003.
On June 10,  Burke's Home Center and A&P Auto Parts presents Autograph Night at Oswego Speedway featuring Twin 35s for the Novelis Supermodifieds and a 30-lap main event for the Pathfinder Bank SBS. Racing will begin at 7pm with autographs taking place at 5:15pm on the fronstretch. Full scheduling and ticket information can be found at OswegoSpeedway.com.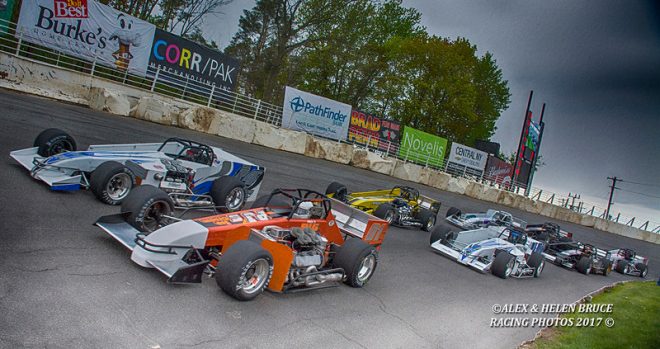 For more information on Oswego Speedway be sure to visit www.oswegospeedway.com. You can also FOLLOW on Twitter @OswegoSpeedway and LIKE on Facebook at www.facebook.com/OswegoSpeedway.
About Oswego Speedway: Oswego Speedway, a sports entertainment company, is a 5/8 mile semi-banked pavement racing oval located off the shores of Lake Ontario in scenic Oswego, NY. Oswego Speedway has been a continuously run weekly racing venue since August, 1951. The premier open-wheel pavement short track cars in the world, Supermodifieds, run weekly at Oswego Speedway making Oswego the only weekly Supermodified racing venue in the world. The Small Block Supermodifieds accompany the full blown Supers on a weekly Saturday night schedule which runs from May through September. Oswego Speedway is mentioned in racing circles as the "Indy of the East," as no fewer than a dozen past and present competitors have competed at the famed Indianapolis Motor Speedway including Mario Andretti, arguably the greatest driver of all time, two-time Indy 500 champion Gordon Johncock, along with former International Classic Champions Bentley Warren, Joe Gosek, and Davey Hamilton.