DOUBLE FEATURES FOR GATES-COLE AUTO INSURANCE MODIFIEDS HIGHLIGHT HUGE SHOW THIS SUNDAY AT UTICA-ROME SPEEDWAY
Press Release By: John Tiff / Utica Rome Speedway Media
Photos By: Jeff & Matt Clemons / Racersguide.com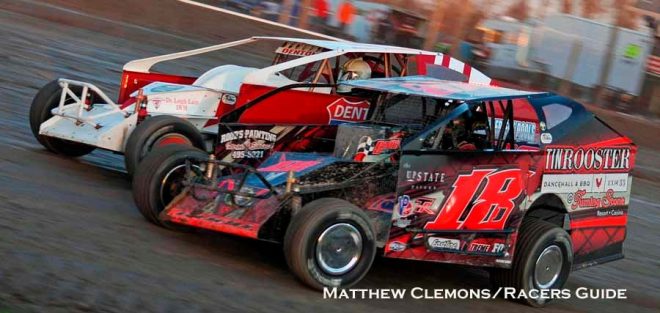 VERNON, NY- June 23, 2017- Fans attending Utica-Rome Speedway this Sunday, June 25, were already going to be treated to some great DIRTcar sanctioned action that included the second annual Mike Martin Memorial for the Broedel Energy Sportsman, which will pay $1,000 to the winner, but also the Gates-Cole Auto Insurance Modifieds, Pro Stocks, and Novice Sportsman.  And thanks to Mother Nature this past Sunday, fans will get an additional Gates-Cole Auto Insurance Modified feature event at no extra cost which will kick off the night's action on Wilber-Duck night.
Spearheaded by Carole Martin and family plus close friends, $1,500 will be added to the weekly purse providing the top ten with some extra money plus some other bonuses.  This week's 20 lap main event will pay $1,000, while the remainder of the top 10 will pay $550, $350, $250, $200, $175, $165, $155, $150, and $140 respectively.  Also, heat race winners will get $50 for efforts (based on four heats) while the ninth-place runner on lap nine will receive an additional $50.  Also, our friends at Extreme Speed and Performance are offering a $100 gift card to the first car across the line that is using Fox Shocks.  Like last, children in attendance can expect some additional activities or treats in addition to the weekly bike giveaway.
The race is dedicated to Mike Martin who was a lifelong racing enthusiast, engine builder, and consultant to many drivers at the Utica-Rome and Fonda Speedways.  His selfless passion for supporting drivers and "joining their families" in the sport will remembered by many.  Aside from his infectious laughter, he was known for his attention to detail and to "do the right thing", a belief he learned from his family.  The race bonuses and kids club sponsorship for this event was organized by Carole Martin and the Martin family.
The current top ten in the Broedel Energy Sportsman are Matt Janczuk, Chris Mackey, Kyle Inman, AJ Filbeck, Brent Joy, AJ Miller, Stephen Denton, Tyler Thompson, Jason Rood, and Dave Marcuccilli.  This event will be a draw event with drivers drawing for heat races when signing in with a feature redraw for top drivers after the heats.  The race will carry full track points.
A line of thunderstorms swept through the Vernon area this past Sunday as the Gates-Cole Auto Insurance Modified feature was on the line, causing the postponement of the feature this Sunday causing a rare Modified double header at no extra cost to the race fan. The June 18 feature will kick off the evening, followed by a full show of Gates-Cole Auto Insurance Modifieds.  At the conclusion of last week's 30 lap feature, the driver handicap will be updated to kick off a whole new show.  Matt Sheppard is the current point leader over Danny Varin, Pat Ward, Bobby Varin, Tim Fuller, Mike Mahaney, Marc Johnson, Rob Bellinger, Claude Hutchings Jr., and Alan Johnson.
With drivers such as Mike Welch, Luke Horning, Nick Stone, Todd Hoffman, Shane Henderson, Jim Normoyle, Gus Hollner, and more in a talented Pro Stock field, fans are treated to a fantastic show every week.  Often, the Pro Stock feature event is decided in the closing laps as the field races side by side throughout the event and fans should expect no less this Sunday.
The Novice Sportsman are on the schedule this weekend as well, allowing drivers with limited experience to get some valuable track time with drivers with the same skill level or experience.  The division has a limited payout and is intended for drivers to gain experience without racing against the veterans.  Utica-Rome Speedway management reserves the right to decide on a driver's eligibility to run the Novice Sportsman.
Grandstand admission for this big show is set at the standard weekly price of just $13 for adults while children 16 and under are FREE.  Gates will open at 3:30p.m. with racing set to begin at 6 p.m.
For more information, log on to www.uticaromespeedway.com or call the speedway office at (315)829-4557.  Utica-Rome Speedway is also very active through several social media platforms including Facebook and Twitter.
Gates-Cole Auto Insurance Modified feature starting lineup (from 6/18)- 1)Steve Way 2)Beth Bellinger 3)Jack Miller 4)Darwin Greene 5)Rob Bellinger 6)Claude Hutchings Jr. 7)Alan Johnson 8)Mike Mahaney 9)Marc Johnson 10)Bobby Varin 11)Pat Ward 12)Tim Fuller 13)Danny Varin 14)Matt Sheppard 15)Jessey Mueller 16)Mike Maresca 17)Brandon Walters 18)Randy Shantel 19)Jim Nagle 20)CG Morey.