FOR THE SUNDAY, JULYL 16TH MODIFIED SUMMER SLAM.  RACE NOW PAYS MINIMUM $4,000 TO WIN FOR ONLY 30 LAPS AT FMP – COULD PAY AS MUCH AS $4,750.
Press Release By: Andrew Harpell / Five Mile Poiny Speedway Media
Photos By: Dave Dalesandro / Racersguide.com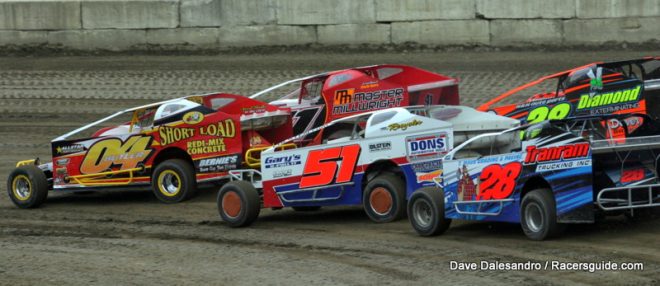 KIRKWOOD, NY.- June 22, 2017- Race number 2 of the 4 race Sunday Summer Slam for Modifieds is set to take place on Sunday, July 16th at Five Mile Point Speedway.  Thanks to Shakelton NAPA Auto & Truck Parts and Tonarlo's Restaurant the 30 lap Modified event will now pay a whopping $4,000 to the race winner.  Mike Colsten leads the points on the Sunday Summer Slam for Modifieds after his win in race number 1 back in April.
Both Shakelton NAPA Auto & Truck Parts and Tonarlo's Restaurant in Conklin, NY were already heavily supporting the Sunday Summer Slam program for Modifieds.  They have both now stepped up for race number 2 by each posting a $1,000 to the winner's share making it $4,000 to win for only 30 laps of racing.  A number of invaders are expected to take advantage of this opportunity as the race is a "non-handicapped" event.
It was announced prior to the Super DIRTcar race at Five Mile Point Speedway that the race winner in the 67 lapper would become a guaranteed starter in the second Summer Slam event and also be guaranteed in the re-draw (top 13).  Matt Sheppard was the race winner but is unlikely to be able to return as his home Sunday track Utica Rome Speedway is in action that day.  Runner-up Brett Hearn would be the next to have that opportunity after his second place finish in the SDS event and the spot was advertised to transfer as needed.
Prior to the first of four Modified Summer Slam races Shakelton NAPA Auto & Truck Parts and Tonarlo's Restaurant announced a loyalty program.  Race number 1 winner Mike Colsten will be guaranteed a $750 bonus at the conclusion of the four races just by participating in the next three events.
Shakelton Napa Auto & Truck Parts will award a $500 bonus to each Summer Slam Modified winner at the conclusion of the 4 race program based on a loyalty performance.  A team simply has to compete in all four Summer Slam Modified events to be eligible for the bonus.  This means if the Sunday, July 16th race winner participates in all four races the win would be worth $4,750 for only 30 laps of action.
George Shakelton from Shakelton Napa Auto & Truck Parts commented, "We are thrilled to be part of the Modified Summer Slam program this season at Five Mile Point Speedway.  Last year this turned out to be a great Modified race program.  This loyalty bonus will directly put extra money in to the race team's pockets."  He added, "By adding the extra money to race number 2 there will be few races anywhere this summer paying as much to win for only 30 laps of racing."
Tonarlo's Restaurant and C.G. Racing is matching the $500 per event bonus with a $250 bonus to each winning driver of the four races if they participate in all four events as well. In addition they will be matching the entry fee money collected at each event boasting revenue for positions 2nd through 10 in the final points.
The Summer Slam Champion will get $2,000.Last year Anthony Perrego and Modified rookie Brad Szulewski were co-champions of the Summer Slam.  Szulewski currently sits second in the point standings followed by Joey Grammes, Kevin Bates and Nick Rochinski after race one.
Bonuses are also in place for the Sportsman teams that compete in the Modified program. Teams utilizing the Open Sportsman motors in the Modified field will also have the option of running the "sail panels" weekly.  The weekly Open Sportsman cash bonuses will again continue this year to the top three finishers in the Modified field as follows:  1st – $150, 2nd – $125, 3rd – $100.  Last season two Sportsman powered cars won feature events with the Modifieds at the quarter mile oval.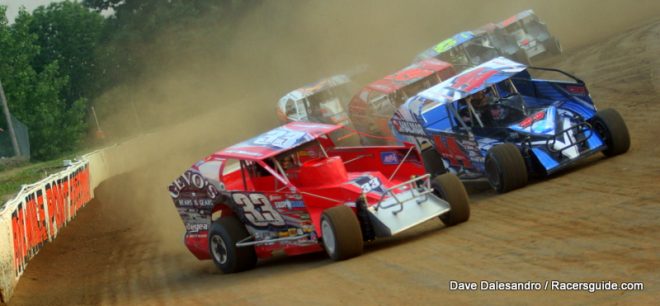 For additional information please phone 607-775-5555 or log on to www.5milepointspeedway.com.  You may also email the speedway directly at fivemilepoint1@aol.com.  Five Mile Point Speedway – "The Home Speedway of the Southern Tier" where kids 12 and younger are admitted FREE to every race event!