Brett Hearn Wins 100th Career Valley Modified Feature  
Story By: PHIL ALLAWAY / LEBANON  VALLEY SPEEDWAY MEDIA
Photos By: DAVE DALESANDRO / RACERSGUIDE.COM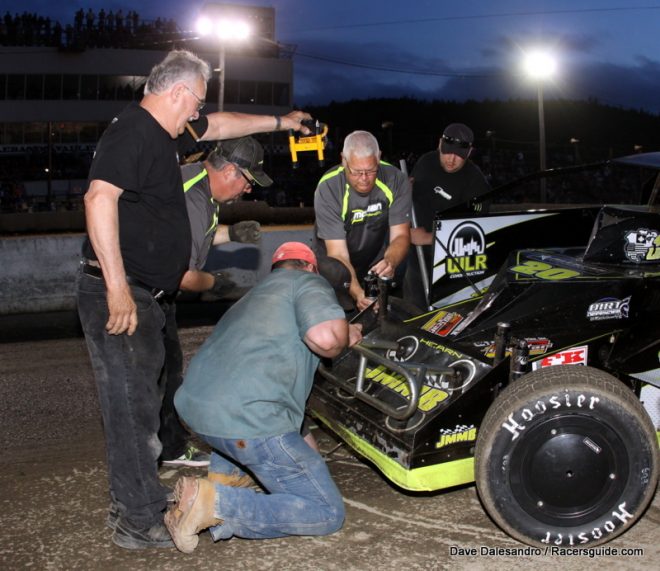 West Lebanon NY.- June 18, 2017- Saturday night brought the action back to Lebanon Valley Speedway.  Brett Hearn appeared to be a festive mood.  However, the fiesta did not come without adversity.
On the first lap of the Modified feature, Andy Bachetti and J.R. Heffner came together in turn 2, spinning out Heffner.  Hearn, Brian Berger and Kyle Sheldon were also collected.  The incident broke a shock on Hearn's car.  Given limited time the Madsen Motorsports crew replaced the shock and got Hearn back out for the restart.
A couple of yellows allowed Hearn to stay close to the leaders.  First, Mike King spun exiting turn 4, collecting Heffner and Rob Pitcher.  Both drivers continued despite damage.  A couple of laps later, Keith Flach blew his engine.  By that point, Hearn was already on his way.
Once the green came back out, Hearn picked off drivers one at a time.  By lap 10, he was up to sixth.  By lap 20, he was third.
At the front of the field, front row starters Olden Dwyer and Matt Pupello waged a race-long duel for the lead.  Pupello believed that he had the better car, but simply could not get by on the inside where his car was strongest.
Hearn approached the two leaders with eight laps to go.  It did not take for the multi-time champion to dispatch both of them.  From there, Hearn pulled away to take his third win of the year, the 100th Big Block win of his career at Lebanon Valley and the 898th win of his career.
Hearn was at a loss when asked about having 100 career Lebanon Valley wins.  However, he did state what he'd like to do before he's done.
"I would like…to be the King of Lebanon Valley," Hearn said in the pits.  "I guess I've got 28 [wins] to go."
Dwyer held on to finish second, followed by Pupello.  Wayne Jelley was fourth and Kyle Armstrong fifth.
In the Small Block Modifieds, things seemed a little familiar.  Sean Mandel started on pole and controlled the race at the front with Brandon Pitcher in tow.  Kenny Tremont Jr. started in a distant 18th and was forced to charge up from the back.  Tremont has been very happy with his Small Block Modified recently and Saturday night was no exception as he was up to tenth by lap 7.
The only yellow of the race flew on lap 4 when Frank Hoard III spun and backed hard into the wall in turn 1.  Despite the hit, Hoard was able to continue and would finish 14th.
Much like last week, Jason Herrington gave chase and was able to get past Mandel for the lead on lap 13.  Tremont continued to charge and took second shortly afterwards. Tremont then ran down the Brunswick native and fought for the lead.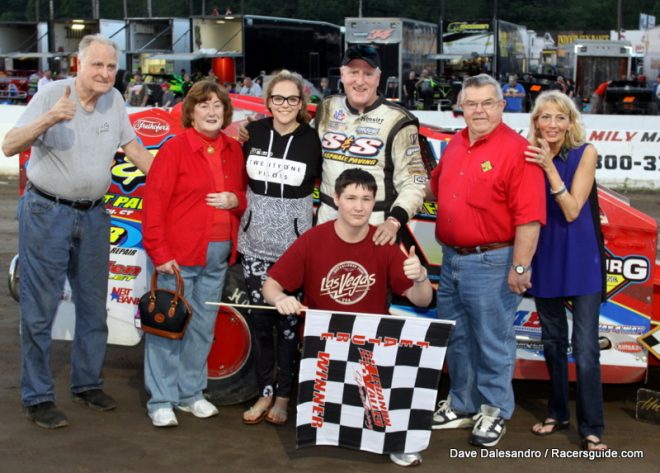 On lap 19, Herrington bobbled in turn 1, allowing Tremont past.  Tremont then pulled away to take his third Small Block win of the year.
Heffner was able to get past Herrington for second.  Mandel finished fourth, followed by Brandon Pitcher.
Pro Stock teams competed in the Bubba Tanner Prostock Classic, a special 23-lap race to commentate the memory of one of Lebanon Valley's greatest champions in full-bodied race cars.  Ultimately, the race was owned by Jay Corbin, another Lebanon Valley great in a full-bodied race car.
Corbin started from the pole and led easily early on.  However, a stack up at the start resulted in a big wreck in turn 1.  Points leader Rob Yetman was one of a number of drivers involved, but he continued without issue.
As the race continued on, last week's winner Chuck Towslee moved himself up to second and attempted to challenge Corbin.  However, Corbin seemed to have the fastest car.
A late caution due to a collision between Rich Crane and Joe LaFlamme set up a four-lap sprint to the finish.  Despite the field closing up, nothing could keep Corbin from leading flag-to-flag and picking up a winners' check for $1323.
Towslee finished second, while Yetman was able to get all the way up to third.  Rick Dempsey was fourth, while Rick Duzlak was fifth.
Sportsman saw Cody Ochs start from the pole, but he fell into a near-immediate battle with Kevin Ward.  Whitey Slavin quickly moved up from the eighth starting spot to join the lead two-some.
On lap 6, Ward was able to get by Ochs for the lead, taking Slavin with him.  For much of the rest of the race, the two drivers battled for the lead.  Unfortunately for Slavin, cautions prevented Slavin's runs from working out.
Chris Lynch did an excellent job playing the Star-Spangled Banner on his electric guitar, but his race was not the best.  After a Brandon Daley spin, Lynch spun on the restart after contact with John Virgilio.  That incident didn't put him out, but another crash on the backstretch ended his night later on.
Over the final six laps, Slavin tried to get to Ward's inside, but could not get fully alongside as Ward held on to take his first win of the year.  Slavin was second, followed by Robby Knipe.  Michael Sabia was fourth and Rob Maxon was fifth.
In Pure Stock, Shawn Perez and Ray Hall Sr. each claimed victories.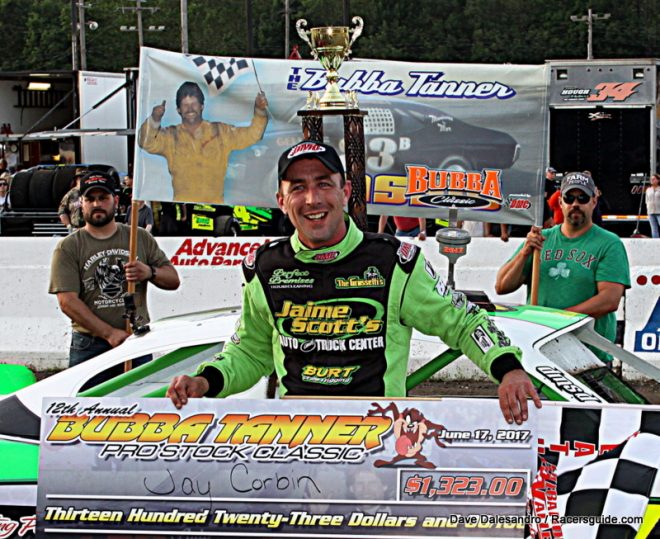 Alarms of Berkshire County/DMC Racing Products Modified Feature Results (30 laps): 1) Brett Hearn, 2) Olden Dwyer, 3) Matt Pupello, 4) Wayne Jelley, 5) Kyle Armstrong, 6) Andy Bachetti, 7) Eddie Marshall, 8) Elmo Reckner, 9) Paul Gilardi, 10) Rob Pitcher, 11) Kolby Schroder, 12) J.R. Heffner, 13) Brian Berger, 14) Kyle Hoffman, 15) Mike King, 16) Chad Jeseo, 17) Kenny Tremont Jr., 18) L.J. Lombardo, 19) Mike Keeler, 20) Keith Flach, 21) Kyle Sheldon
Small Block Modified Feature Results (24 laps): 1) Kenny Tremont Jr., 2) J.R. Heffner, 3) Jason Herrington, 4) Sean Mandel, 5) Brandon Pitcher, 6) Demetrios Drellos, 7) Timothy Davis, 8) Brian Sandstedt, 9) Chad Pierce, 10) Frank Harper, 11) Olden Dwyer, 12) Ray Hall Jr., 13) Brett Haas, 14) Frank Hoard III, 15) Brian Peterson, 16) Kenny Aanonsen Jr., 17) Peter Carlotto, 18) Michael Sabia, 19) Alan Houghtaling
Bubba Tanner Prostock Classic Results (23 laps): 1) Jay Corbin, 2) Chuck Towslee, 3) Rob Yetman, 4) Rick Dempsey, 5) Rick Duzlak, 6) Jon Routhier, 7) Jason Meltz, 8) Steven LaRochelle, 9) Jason Casey, 10) Jay Casey, 11) Hugh Page, 12) Tom O'Connor, 13) Tom Dean, 14) Joe LaFlamme, 15) Rich Crane, 16) Nick Hilt, 17) Brian Keough, 18) Don Kennedy, 19) Walt Cross, 20) Dan Cote, 21) Dave Peck, 22) Rick Spencer, 23) Todd Hoffman
Sportsman Feature Results (20 laps): 1) Kevin Ward, 2) Whitey Slavin, 3) Robby Knipe, 4) Michael Sabia, 5) Rob Maxon, 6) John Virgilio, 7) Frank Hoard Jr., 8) Cody Ochs, 9) Lem Atkins, 10) Milton Mann, 11) Vinnie Visconti, 12) Collin DuBois, 13) Nikki Ouellette, 14) Chris Lynch, 15) Mike Gramolini, 16) Brandon Daley, 17) Alan Houghtaling, 18) Harold Robitaille, 19) Nick Plumstead
Pure Stock Feature No. 1 (10 laps): 1) Shawn Perez, 2) Tim Thompson, 3) Larry Perez, 4) Zach Seyerlein, 5) Chris Murphy, 6) Evan Denue, 7) Wuggie Burdick, 8) Joe Walcott, 9) Karen Verhagen, 10) Mike Arnold, 11) Scott Morris, 12) Jordan Miller, 13) Phil Sherman, 14) Tom Murphy
Pure Stock Feature No. 2 (12 laps): 1) Ray Hall Sr., 2) Ed Hatch, 3) Gary O'Brien, 4) Jeff Kreutziger, 5) Jeff Meltz Jr., 6) Bill Deak Jr., 7) John Devine, 8) Jay Casey, 9) Dom Denue, 10) Dave Stickles, 11) Jesse Murphy, 12) Zach Sorrentino, 13) Brian Walsh, 14) Jeff Meltz Sr., 15) Lou Gancarz