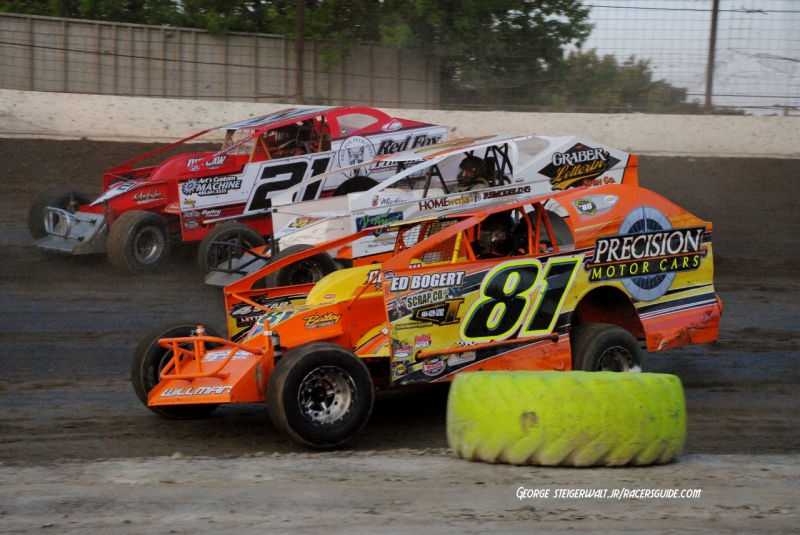 TWO TP TRAILERS NASCAR MODIFIED FEATURES PART OF A.D.MOYER LUMBER NIGHT AT GRANDVIEW THIS SATURDAY, SPORTSMAN AND BRC LATE MODELS JOIN THE ACTION
Story By: Ernie Saxton/Grandview Speedway
Photos By: George Steigerwalt Jr./RacersGuide.com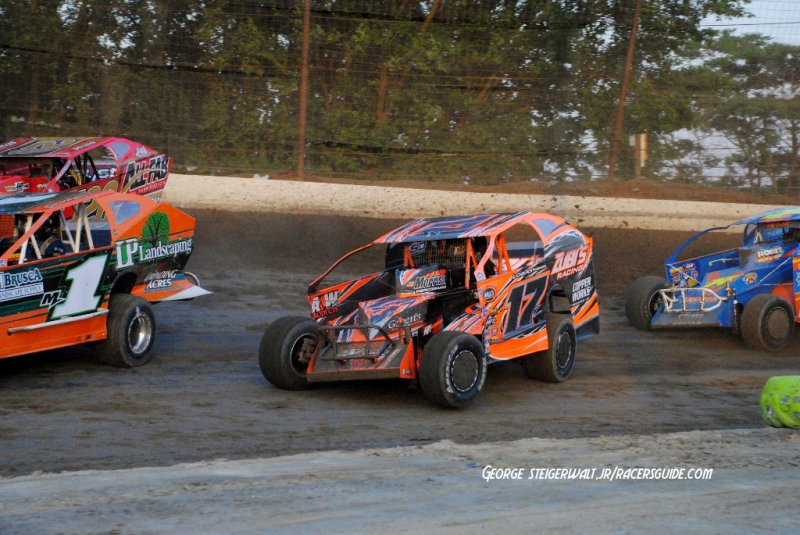 BECHTELSVILLE, PA JULY 12, 2017 . . . After nine Saturday nights of T.P.Trailers NASCAR 358 Modified stock car racing at Grandview Speedway there have been no repeat winners. In fact two of the top three in the Modified point standings have yet to win a feature. Jeff Strunk, a ten time champion, goes into the Saturday racing program leading Craig VonDohren by just four points and VonDohren is without a feature win. Duane Howard is a close third in the points but also without a Saturday night feature win. Only Strunk has a win. To say competition has been tough for the Modified racers at Grandview would be putting it mildly.
Saturday night the A.D.Moyer Lumber sponsored night of racing will include two NASCAR 358 Modified feature races. The first feature having been left from a partially rained out show a few weeks back and then there will be the regular Saturday feature. Two great opportunities for new names to be added to the list of nine different winners or perhaps the opportunity for a repeat winner or two.
For those keeping tab of these figures, there have been nine Modified features run along with nine features for the Late Models and ten for the Sportsman.
Joining the Modifieds will be the BRC Late Models coming off their big Firecracker 40 which was won by point leader Chuck Schutz. He is followed closely by veteran Ron Kline who has four feature wins to Schutz's two wins after nine features having been run.
And in the Sportsman, the third division of racing, Brian Hirthler continues to lead the standings as he has for most of the season. However Ryan Lilick is closing in and has two feature wins to his credit after 10 features presented so far this season while Hirthler had an opening night win.
There have been 22 different feature winners so far this season and it is anyone's guess as to will there be more add their name to the list or will there be repeat winners this Saturday night.
Racing action gets underway at 7:30 p.m. with spectator gates open at 5:30 p.m. The weekly Low Down and Dirty Meet & Greet takes place at 5 p.m. This gives attendees a chance to meet some of the weekly performers. This week Sportsman racers Jim Housworth and Kenny Bock along with Modified racer Mike Laise will greet fans.
Adult admission is just $15 while youngsters 11 and under are admitted free. There is free parking on the grounds of the speedway.
Then on Sunday at 1 p.m. the Blast from the Past Vintage Racers will be in action along with the Outlaw Enduro racers. Enduros will feature 100-laps for Big Cars, 100-laps for Small Cars along with Junkyard Cars for 50-laps and a Ladies race.
Coming up on Saturday, July 22nd is Hatfield Quality Meats Night featuring the Modifieds, Late Models and Sportsman along with the Blast from the Past Vintage Racers.
For information on racing at Grandview Speedway check in at www.grandviewspeedway.com or on Facebook and Twitter. Information can also be had at 610.754.7688. Sponsorship, advertising and press info is available from Ernie Saxton Communications, Inc. at Esaxton144@aol.com or telephone 215.752.7797.