[xyz-ihs snippet="Posts-Ad"]
TALKING POINTS: Week ending 9/25/16
Story By: Pete MacDonald/RacersGuide.com – Photos By: RacersGuide.com Photo Staff
FRIESEN DOUBLE DOWNS ON SATURDAY: When you think of doing the double in auto racing, you automatically think the Indy 500/Coke 600 double on Memorial Day Weekend, right? Saturday Stewart Friesen accomplished a double of his own finishing 13th in the NASCAR Camping World Truck Series race at Loudon, NH then headed off to Fonda Speedway in New York where he would compete in the Super DIRTcar Series race there ultimately ending up 5th.
BACK IN THE SADDLE: Less than 24 hours after a scary flip and fire at the Williams Grove Speedway, Danny Dietrich hopped back behind the wheel of a 410 Sprint Car and would end up finishing second to Stevie Smith in the 40-Lap, $20,000 to win affair. Kudos to Doug Esh for helping pull Danny out of the wreckage on Friday at The Grove, that was the second time in 2016 that Esh has helped a fellow driver escape a fiery crash with the first being Mike Erdley at Port Royal early on in the season.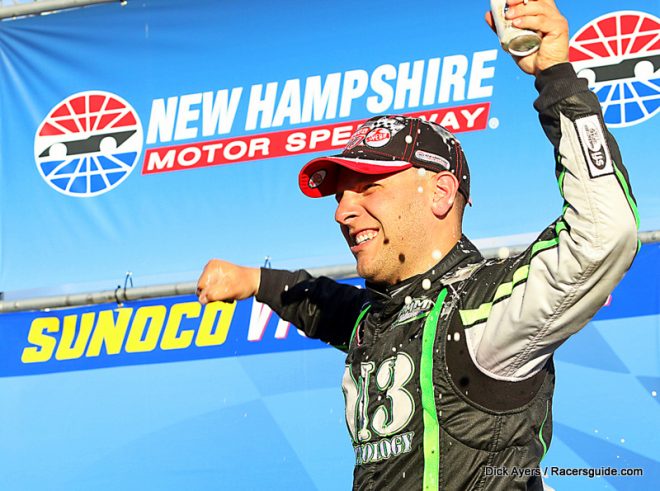 FIVE-ONE IS NUMBER ONE: Long Islander Justin Bonsignore picked up the elusive win at "The Magic Mile" on Saturday in NASCAR Whelen Modified Tour action in New Hampshire. It was Justin's first career win at Loudon which pits him just 13 points behind leader Doug Coby with just two races remaining.
KING KID: Billy "The Kid" Pauch picked up the $12,000 victory at the Bridgeport Speedway on Saturday during their inaugural "King of the Big Blocks" over a 40-car field. Pauch who started on the pole led all 50 laps on his way to the win over Jamie Mills Dominick Buffalino, Duane Howard and Brett Kressley.
PHELPS PHLIES AT FONDA: Jimmy Phelps flew to his second Super DIRTcar Series Modified win of the year at the Fonda Speedway on Saturday. Not really a strong campaigner at "The Track of Champions" over the years it was Phelps' first win there. The Super DIRTcar Series now takes off to prepare for NAPA Super DIRT Week 45 held at the Oswego Speedway in Oswego, New York.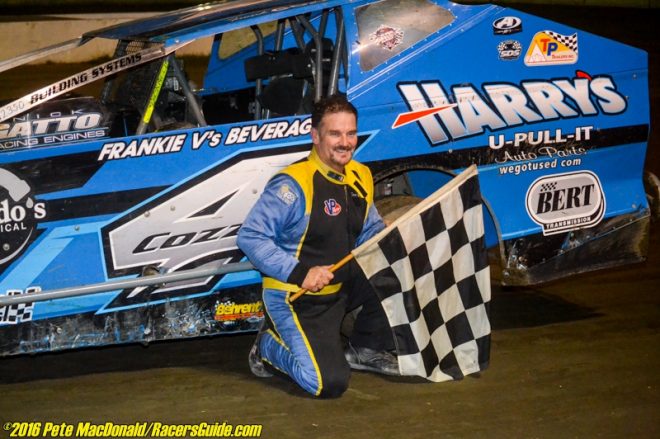 DC ELECTRIFIES THUNDER MOUNTAIN: 2016 Thunder Mountain Speedway Modified Champion Danny Creeden ended the season there in the best way possible by winning the Short Track Super Series North Wade Decker Memorial on Friday. It's a four horse race now between Erick Rudolph, Andy Bachetti, Tommy Meier and Creeden heading into the Short Track SuperNationals 9 at the I-88 Speedway next weekend.
COZZE COOL: Frank Cozze picked up his fifth win of the 2016 season in 358 Modified action on Friday at the Bridgeport Speedway after a crowd pleasing duel with Billy Pauch. It was cool to see Pauch and Cozze duke it out side-by-side for five laps straight toward the end of the feature.
What did you think of this past weekend in the world of motorsports? I can be emailed at racersguide@gmail.com or found on Twitter @PMacDonald51. Thanks for reading!
[xyz-ihs snippet="Posts-Ad"]