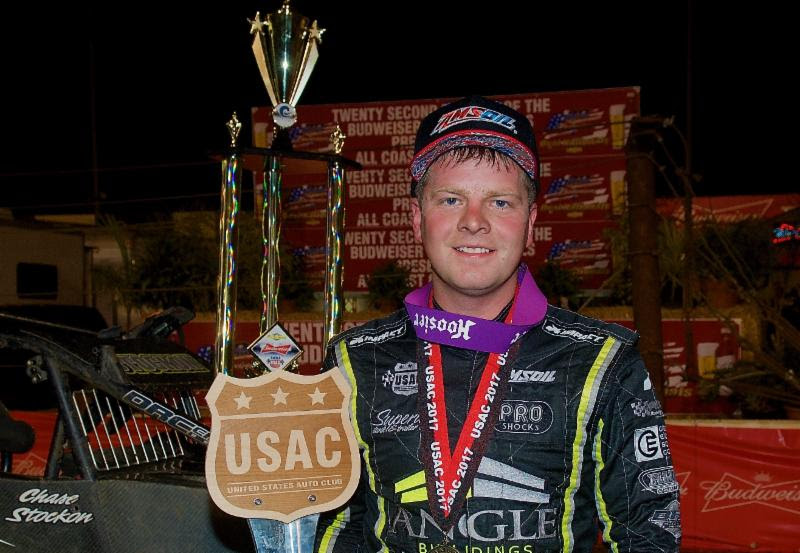 STOCKON REELS OFF 2ND STRAIGHT WIN ON NIGHT 1 OF "OVAL NATIONALS"
Story By: Richie Murray – USAC Media
Photos By: Rich Forman & Mike Grosswendt/USAC Racing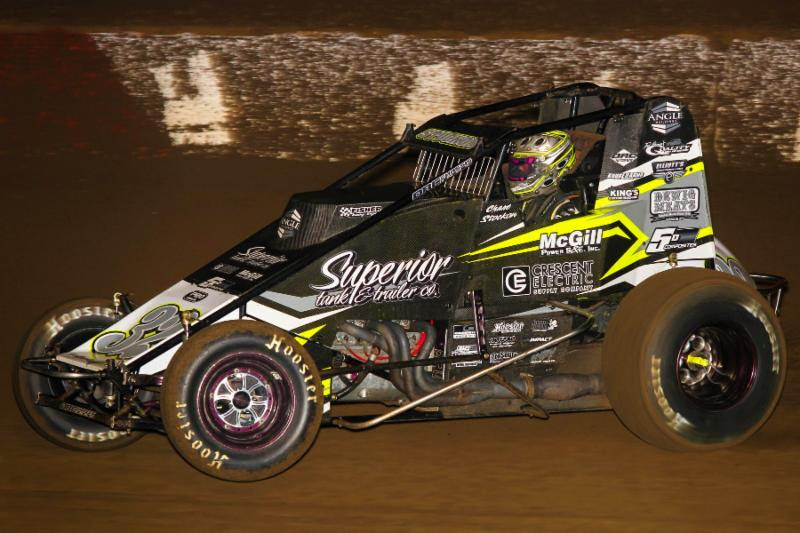 Perris, California……...It's almost a shame the racing season is nearing its end. After all, Chase Stockon's season feels like it's just beginning.
After waiting more than 15 months to get his ninth career USAC AMSOIL National Sprint Car victory last Saturday night at Arizona Speedway, the Fort Branch, Indiana driver had to wait just five more nights to get his 10th on night one of the Budweiser "Oval Nationals" presented by All Coast Construction at Perris Auto Speedway, tying him with Tony Stewart for 46th on the series' career win list.
Additionally, he's just the third driver in the history of the series to win his first two USAC National Sprint Car features of the season after the month of November, following in the steps of Damion Gardner in 2005 and Kevin Swindell in 2008.
Stockon has achieved success when the series has traveled west in prior years, but had not yet tamed Perris where he has a second-place finish to his credit during an "Ovals" prelim in 2013. That was the same era in which the team has based their recent set-ups on over the past month, and by all accounts, appears to be paying large dividends for Stockon and his 32 TBI Racing/Superior Tank & Trailer – Crescent Electric Supply/DRC/Fisher.
"We changed some stuff around in the shock package to get things a little more comfortable for me," Stockon reiterated from his interview following last week's 'Western World' victory. "On our own, with this setup and the rest of the racecar, we went back to four or five years ago and did kind of the same thing with the shock package. We've got something that works really well for us and it seems like we've been trying to hit that all year, but have struggled finding it. I'm trying to stay humble, but we go race-by-race and it can always change tomorrow."
With seemingly a new lease on life in racing terms, Stockon secured the lead at the drop of the green from his outside front row starting position and was quickly able to split to a near half-straight lead while C.J. Leary and Brody Roa worked the bottom to slip underneath pole sitter Danny Faria, Jr. on the ensuing two laps to snag second and third, respectively.
By the 11th lap, Stockon was Neil Diamondesque as he served as a solitary man, all by his lonesome, at the front of the field possessing a 1.7 second advantage. However, Josh Hodges engine began to billow with smoke as he slowed in turn two to bring out the yellow flag, bringing an end to his night and his "Oval Nationals" weekend in one fell swoop.
With the lead now erased, Stockon blasted from the launching pad and quickly constructed a sizable advantage over Leary and Roa yet again. However, soon after the halfway mark, that deficit began to shrink and the tension started to grow as Leary was close enough to duck a nose underneath Stockon in a bid for the lead on lap 19.
One lap later, Leary used a picture-perfect run on the high side of turns three and four to glide around Stockon for the race lead. Undeterred, Stockon fought his way back into the frame to rip the spot away from Leary with a turn three slider on lap 21.
Stockon's trusted line of high in turns one and two and on the bottom of three and four became a rug tugged away from him as he entered lapped traffic with Leary in tow throughout the final two-thirds of the 30-lapper. With track conditions everchanging, no piece of real estate was off-limits as the pair searched high, low and middle.
"It was kind of a tough race for me," Stockon explained. "I could feel myself slowing down in (turns) three and four as the bottom started to wear out. With C.J. behind me, I knew he was going to be charging the top. With lapped cars up there, I started moving around down in three and four. I was still able to get above a few of them before they came out to the wall on the front stretch. For the longest time, I thought the lapped cars were helping me out a little bit in that aspect. Then I kept seeing C.J.'s nose. For the whole race, he kept pressuring me and pressuring me, making me drive a little harder."
With three laps remaining, Leary raised the stakes and made his bid for the lead, entering turn one low as Stockon rode high. The two drag-raced side-by-side down the back straight as they followed the lapped car of Austin Liggett into turn three. Stockon lunged ahead entering the third turn while Leary followed him on the cushion. As the two came off four, Leary appeared poised to set up a turn one slider on Stockon. Instead, the caution was displayed for the former CFL quarterback and current Southwest Sprint Car regular Dennis Gile, who slowed to a stop in turn two and bringing an end to his USAC National and CRA Sprint Car debut.
"There at the end, at the point of the race I thought lapped traffic was helping me, from what the guys tell me, it was actually kind of hurting me," Stockon revealed. "I think that caution kind of saved us there at the end. It gave us one last chance to have a clean track for three laps and just run it as hard as we could to the finish."
And that's exactly what Stockon did as he took advantage of the traffic-less expressway that lie ahead of him and never allowed Leary another chance to retaliate, racing to a one-second victory over Leary, Roa, Kevin Thomas, Jr. and Tyler Courtney.
"C.J. and I have always raced hard and clean against each other," Stockon said. "I know there's respect between the two of us. He wants to win just as badly as I do. On that restart, I knew I had to get off four really well and get into one without making a mistake. I feel like I did that and stretched it out on him."
C.J. Leary posted a fine second-place performance in his Leary Racing/Leary Construction – Highsmith Guns/DRC/1-Way Chevy. The 2014 360-Sprint Car "Oval Nationals" champion out of Greenfield, Indiana felt that, without that last caution, this night could've belonged to him.
"It's tough to come up short there at the end," Leary lamented. "I think that if it would've stayed green, I would've had a better shot to win. Chase was pretty good and we set a really fast pace the entire time. At one point, I finally went to the top in three and four and I got by. I just don't know how he got back by us."
Garden Grove, California's Brody Roa was the top of the CRA contingent with a career-best USAC National Sprint finish of third in his BR Performance/HD Industries – Burris Racing/Maxim/Shaver Chevy.
"A year and a half ago, I would've been laughing if you told me I was going to be on the podium on any night of the 'Oval Nationals.' I think we're really getting our stuff together and my confidence is up. Everyone on the team is clicking right now and making good decisions."
Chris Windom hustled his way from 15th to seventh to earn KSE Racing Products/Saldana Racing Products/Rod End Supply Hard Charger of the Race honors. But, the seventh-place finish was even more personally rewarding as he extended his lead from three to nine over ninth-place finisher Justin Grant with just two races remaining, Friday and Saturday at Perris, until the championship is settled.
Contingency award winners Saturday night at Arizona Speedway included Kevin Thomas, Jr. (ProSource/Woodland Auto Display Fast Qualifier), Chad Boespflug (Simpson Race Products/Extreme Mufflers 1st Heat Winner), Chris Windom (Competition Suspension, Inc./Brown & Miller Racing Solutions 2nd Heat Winner and KSE Racing Products/Saldana Racing Products/Rod End Supply Hard Charger), R.J. Johnson (Chalk Stix/Circle Track Performance 3rd Heat Winner), Logan Williams (Indy Race Parts/Keizer Aluminum Wheels 4th Heat Winner), Austin Liggett (Pyrotect Racing Cells 5th Heat Winner) and Jake Swanson (Wilwood Brakes 13th Place Finisher).
————————————-
USAC AMSOIL NATIONAL & CRA SPRINT CAR CHAMPIONSHIP RACE RESULTS: November 9, 2017 – Perris Auto Speedway – Perris, California – 22nd Budweiser "Oval Nationals" presented by All Coast Construction
PROSOURCE/WOODLAND AUTO DISPLAY QUALIFYING: 1. Kevin Thomas, Jr., 9K, KT-16.303; 2. Damion Gardner, 4, Alexander-16.312; 3. Justin Grant, 11, McGhee-16.428; 4. Brody Roa, 91R, BR-16.573; 5. C.J. Leary, 30, Leary-16.576; 6. Thomas Meseraull, 19AZ, Reinbold/Underwood-16.633; 7. Richard Vander Weerd, 10, Vander Weerd-16.659; 8. Josh Hodges, 74x, Hodges-16.673; 9. Robert Ballou, 12, Ballou-16.679; 10. Austin Williams, 2, Jory-16.696; 11. Chase Stockon, 32, 32 TBI-16.715; 12. Danny Faria, Jr., 17GP, Dutcher-16.718; 13. R.J. Johnson, 51, Martin-16.741; 14. Tyler Courtney, 23c, TOPP-16.744; 15. Jake Swanson, 92, Sertich-16.758; 16. Hunter Schuerenberg, 19s, Reinbold/Underwood-16.774; 17. Chris Windom, 5, Baldwin-16.780; 18. Mike Spencer, 4s, Gansen-16.822; 19. Dave Darland, 73, Ford-16.847; 20. Brady Bacon, 63, Dooling/Hayward-16.909; 21. Michael Pickens, 81, Watt-16.973; 22. Max Adams, 5, Adams-16.999; 23. Isaac Chapple, 52, LNR/Chapple-17.044; 24. Cody Williams, 44, Jory-17.047; 25. Austin Liggett, 56, Phulps-17.047; 26. Chad Boespflug, 69, Dynamics-17.066; 27. Tommy Malcolm, 5x, Napier-17.100; 28. Kyle Edwards, 39E, Edwards-17.150; 29. Logan Williams, 5J, Jory-17.169; 30. Dennis Gile, 13, Gile-17.202; 31. Mike Martin, 16, Martin-17.226; 32. Verne Sweeney, 98v, Tracy-17.256; 33. Jace Vander Weerd, 88, Vander Weerd-17.304; 34. Stevie Sussex, 42, Cheney-17.355; 35. Trent Williams, 52v, Williams-17.387; 36. Chris Gansen, 4G, Gansen-17.478; 37. A.J. Bender, 21, Bender-17.499; 38. Jeremy Ellertson, 98, Ellertson-17.550; 39. Ronnie Gardner, 7K, Kruseman-17.551; 40. Randy Waitman, 90, Waitman-17.632; 41. Carson Macedo, 73T, Ford-18.261; 42. Gary Marshall, Jr., 72, Marshall-18.446; 43. Matt McCarthy, 28m, McCarthy-NT.
SIMPSON RACE PRODUCTS/EXTREME MUFFLERS FIRST HEAT: (10 laps, top-4 transfer) 1. Boespflug, 2. Schuerenberg, 3. Stockon, 4. Thomas, 5. Gansen, 6. Pickens, 7. Martin, 8. Meseraull, 9. Macedo. 2:55.22
COMPETITION SUSPENSION (CSI)/BROWN & MILLER RACING SOLUTIONS SECOND HEAT: (10 laps, top-4 transfer) 1. Windom, 2. Adams, 3. Faria, 4. Malcolm, 5. R. Vander Weerd, 6. Sweeney, 7. Marshall, 8. D. Gardner. NT
CHALK STIX/CIRCLE TRACK PERFORMANCE THIRD HEAT (10 laps, top-4 transfer) 1. Johnson, 2. Spencer, 3. Chapple, 4. Hodges, 5. Grant, 6. J. Vander Weerd, 7. Ellertson, 8. Edwards. 2:53.36
INDY RACE PARTS/KEIZER ALUMINUM WHEELS: FOURTH HEAT: (10 laps, top-4 transfer) 1. L. Williams, 2. C. Williams, 3. Courtney, 4. Roa, 5. Darland, 6. Ballou, 7. Sussex, 8. R. Gardner. 2:51.74
PYTROTECT RACING CELLS FIFTH HEAT: (10 laps, top-4 transfer) 1. Liggett, 2. Swanson, 3. Leary, 4. Gile, 5. Bacon, 6. T. Williams, 7. A. Williams, 8. Waitman. NT
COMPETITION SUSPENSION (CSI) SEMI: (12 laps, top-4 transfer) 1. Grant, 2. Ballou, 3. R. Vander Weerd, 4. Meseraull, 5. D. Gardner, 6. A. Williams, 7. Bacon, 8. Darland, 9. Pickens, 10. Martin, 11. T. Williams, 12. J. Vander Weerd, 13. Edwards, 14. Sussex,
15. Macedo, 16. Ellertson, 17. Bender, 18. R. Gardner, 19. Sweeney, 20. Gansen, 21. Waitman, 22. Marshall. 3:26.55
BILL PRATT FEATURE: (30 laps, starting position in parentheses) 1. Chase Stockon (2), 2. C.J. Leary (4), 3. Brody Roa (5), 4. Kevin Thomas, Jr. (6), 5. Tyler Courtney (12), 6. Robert Ballou (10), 7. Chris Windom (15), 8. Damion Gardner (26), 9. Justin Grant (7), 10. Thomas Meseraull (8), 11. R.J. Johnson (11), 12. Richard Vander Weerd (9), 13. Jake Swanson (13), 14. Mike Spencer (16), 15. Brady Bacon (25), 16. Danny Faria, Jr. (1), 17. Chad Boespflug (21), 18. Hunter Schuerenberg (14), 19. Cody Williams (19), 20. Austin Liggett (20), 21. Isaac Chapple (18), 22. Tommy Malcolm (22), 23. Logan Williams (23), 24. Max Adams (17), 25. Dennis Gile (24), 26. Austin Williams (27), 27. Josh Hodges (3). NT
——————————-
**McCarthy flipped during qualifying.
FEATURE LAP LEADERS: Laps 1-19 Stockon, Lap 20 Leary, Laps 21-30 Stockon.
KSE RACING PRODUCTS/SALDANA RACING PRODUCTS/ROD END SUPPLY HARD CHARGER: Chris Windom (15th to 7th)
WILWOOD BRAKES 13TH PLACE FINISHER: Jake Swanson
NEW USAC AMSOIL SPRINT CAR NATIONAL CHAMPIONSHIP POINTS: 1-Windom-2156, 2-Grant-2147, 3-Thomas-2083; 4-Courtney-2058, 5-Stockon-1951, 6-Boespflug-1880, 7-Leary-1789; 8-Bacon & Ballou-1696, 10-Darland-1457.
NEW USAC AMSOIL CRA SPRINT CAR POINTS: 1-D. Gardner-1459, 2-Roa-1345, 3-Swanson-1298, 4-Spencer-1123, 5-A. Williams-983, 6-C. Williams-902, 7-L. Williams-800, 8-Gansen-733, 9-Adams-732, 10-McCarthy-628.
NEXT USAC AMSOIL NATIONAL & CRA SPRINT CAR CHAMPIONSHIP RACE: November 10-11 – Perris Auto Speedway – Perris, California – 22nd Budweiser "Oval Nationals" presented by All Coast Construction