[xyz-ihs snippet="Posts-Ad"]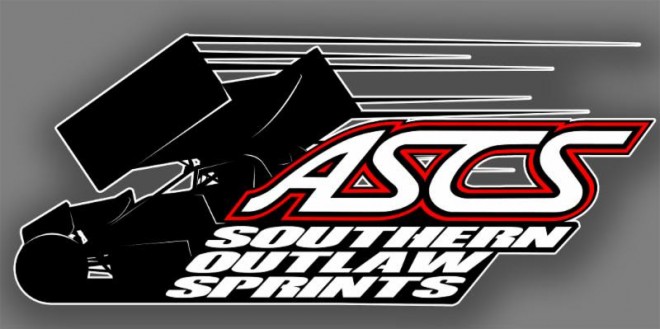 Southern Outlaw Sprints Joining ASCS in 2016
TULSA, Okla. (October 21, 2015) The American Sprint Car Series is continuing to expand and promote Sprint Car racing across the United States with the addition of the Southern Outlaw Sprints to the regional lineup in 2016.
Founded in 2013, the Southern Outlaw Sprints has sanctioned events in Alabama, Florida, Georgia, Louisiana, and Mississippi.
"I believe the three year old Southern Outlaw Sprinters combining with the American Sprint Car Series will put everything in place to be a respected and challenging Series in 2016," commented Mike Miller, who co-owns and promotes the ASCS Southern Outlaw Sprints with William Webb. "Merging with the American Sprint Car Series, we can only accelerate our growth and professionalism. The SOS looks forward to combining our brands and efforts with ASCS to promote a very fast, competitive, and safe environment for our teams starting with the 2016 season."
Miller and Webb are working on a lineup for the 2016 season. Nightly purse structure will offer drivers a $1,500 to win, $300 to start A-Feature with the chance of higher payouts depending on the event.
"We're looking forward to working the Mike and William throughout the coming seasons and helping to build their brand and continue to promote Sprint Car racing across the country," said ASCS Director, Matt Ward. "The series already utilizes our rules and format, so the sanction is there to simply help enforce the rules and give increased P.R. to the drivers and teams as well as helping to increase the series point's fund."
A 2016 schedule will be announced in the coming months as tracks finish up with their 2015 lineups. For continued updates on the ASCS Southern Outlaw Sprints, log onto http://www.ascsracing.com.
[xyz-ihs snippet="Posts-Ad"]