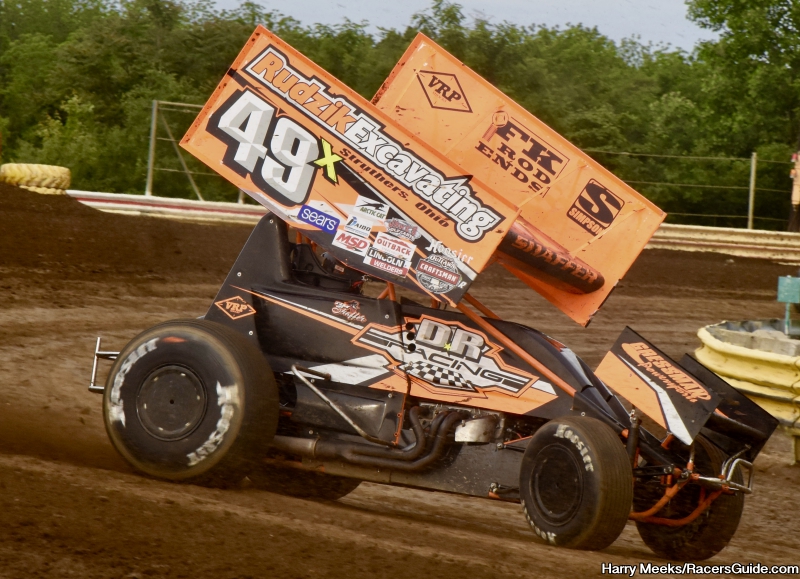 Tim Shaffer Scores Eldora Victory
Shaffer becomes 18th different winner of 2017 with WoO; Schatz and Saldana complete podium
Story By: Anthony Corini/WoO
Photos By: RacersGuide.com Photo Staff
ROSSBURG, OH – September 22, 2017 – The 'Steel City Outlaw' Tim Shaffer held off Donny Schatz to win the Night Before the 4-Crown Nationals at Eldora. Shaffer was strong all night going second quick in his Flight in qualifying, winning his heat and scoring the Craftsman Club Dash victory. As laps winded down, Schatz closed significantly in on Shaffer, but couldn't pull ahead. The margin of victory was .227 seconds. Joey Saldana came forward to complete the podium.
Shaffer earned the pole by winning the Craftsman Club Dash, where Shane Stewart moved from fourth to second to earn the other front row starting spot. Shaffer, who has an Eldora win earlier this year with the Arctic Cat All-Star Circuit of Champions, got the early jump in the Feature working the top side of the famous half-mile. Stewart was closing in on Shaffer before shredding a right rear tire on lap 13. It was the second consecutive night, dating back to last weekend at Calistoga, Stewart lost a tire running in second.
Schatz assumed second as Shaffer once again stretched his lead. With ten laps to go, Shaffer had a comfortable lead as he reached traffic. Schatz began working the line a car-length off of the cushion and closing on the leader, noticeably in turns three and four.
With two to go, Schatz looked poised to make his bid for the lead, but Shaffer's momentum on the top side of the Speedway was too much as he became the 18th different winner with the World of Outlaws Craftsman Sprint Car Series in 2017.
"That's a great team," Shaffer said in Victory Lane in regards to Donny Schatz / Tony Stewart Racing No.15 group. "We have a great team too, we keep building and getting better. We've got wins all over this year, but to get an Outlaw win at Eldora is really special. This is one tough place," Shaffer said upon exiting his Demyan-Rudzik Racing No.49X.
Schatz credited Shaffer, "Second sucks, we just couldn't find a way around them. They were really good. We'll take it and move on."
Joey Saldana completed the podium in the Indy Race Parts No.71. "We had a really good car. I felt like I could move around in lapped traffic. The track was so fast. We had a lot of fun," the Brownsburg, Indiana native said about his podium finish.
Jason Johnson and David Gravel completed the top five. Brent Marks picked up KSE Hard Charger Honors coming from 22nd to finish eighth. Early race contender Shane Stewart made it back to 13th.
The World of Outlaws Craftsman Sprint Car Series travels to Western Pennsylvania Saturday evening for the Commonwealth Clash at the Lernerville Speedway in Sarver. For more information on Saturday's event, click here.
ABBREVIATED RACE RESULTS FROM : Eldora Speedway – September 22, 2017
Feature (30 Laps): 1. 49X-Tim Shaffer [1][$10,000]; 2. 15-Donny Schatz [4][$5,500]; 3. 71-Joey Saldana [6][$3,200]; 4. 41-Jason Johnson [3][$2,800]; 5. 5-David Gravel [7][$2,500]; 6. 49-Brad Sweet [11][$2,300]; 7. 24-Rico Abreu [5][$2,200]; 8. 19-Brent Marks [22][$2,100]; 9. 10H-Chad Kemenah [19][$2,050]; 10. 17-Jac Haudenschild [13][$2,000]; 11. 9-Daryn Pittman [15][$1,500]; 12. 2-Shane Stewart [2][$1,200]; 13. 18-Ian Madsen [9][$1,100]; 14. W20-Greg Wilson [10][$1,050]; 15. 12N-Cole Duncan [21][$1,000]; 16. 1ST-Gary Taylor [12][$900]; 17. 4-Parker Price-Miller [24][$800]; 18. 7S-Jason Sides [18][$800]; 19. 1S-Logan Schuchart [17][$800]; 20. 5T-Travis Philo [23][$800]; 21. 1A-Jacob Allen [16][$800]; 22. 93-Sheldon Haudenschild [14][$800]; 23. 11K-Kraig Kinser [8][$800]; 24. 99-Brady Bacon [20][$800]; Lap Leaders: Tim Shaffer 1-30; KSE Hard Charger Award: 19-Brent Marks[+14]
Qualifying Flight-A: 1. 2-Shane Stewart, 12.899; 2. 41-Jason Johnson, 13.001; 3. 5-David Gravel, 13.058; 4. 71-Joey Saldana, 13.086; 5. 18-Ian Madsen, 13.086; 6. 9-Daryn Pittman, 13.092; 7. 1S-Logan Schuchart, 13.112; 8. 49-Brad Sweet, 13.127; 9. 17-Jac Haudenschild, 13.146; 10. 10H-Chad Kemenah, 13.15; 11. 12N-Cole Duncan, 13.173; 12. 19-Brent Marks, 13.203; 13. 4-Parker Price-Miller, 13.329; 14. 5T-Travis Philo, 13.347; 15. 39-Spencer Bayston, 13.351; 16. 17M-Max McGhee, 13.433; 17. 23-D.J. Foos, 13.445; 18. 49D-Shawn Dancer, 13.545; 19. 11N-Cap Henry, 13.561; 20. 22M-Dan McCarron, 13.66; 21. 5QB-Quentin Blonde, 14.255
Qualifying Flight-B: 1. 15-Donny Schatz, 13.017; 2. 49X-Tim Shaffer, 13.096; 3. 24-Rico Abreu, 13.135; 4. 11K-Kraig Kinser, 13.167; 5. W20-Greg Wilson, 13.167; 6. 17X-Caleb Helms, 13.18; 7. 93-Sheldon Haudenschild, 13.182; 8. 1ST-Gary Taylor, 13.273; 9. 7S-Jason Sides, 13.282; 10. 1A-Jacob Allen, 13.295; 11. 14-Tony Stewart, 13.33; 12. 13-Clyde Knipp, 13.387; 13. 20-Hunter Schuerenberg, 13.392; 14. M1-Mark Smith, 13.408; 15. OO-Dane Lorenc, 13.416; 16. 99-Brady Bacon, 13.425; 17. 7K-Cale Conley, 13.46; 18. 33M-Max Stambaugh, 13.651; 19. 27-Brad Lamberson, 13.714; 20. 45T-Bob Tucker, 15.161; 21. 45-Trevor Baker, NT