[xyz-ihs snippet="Posts-Ad"]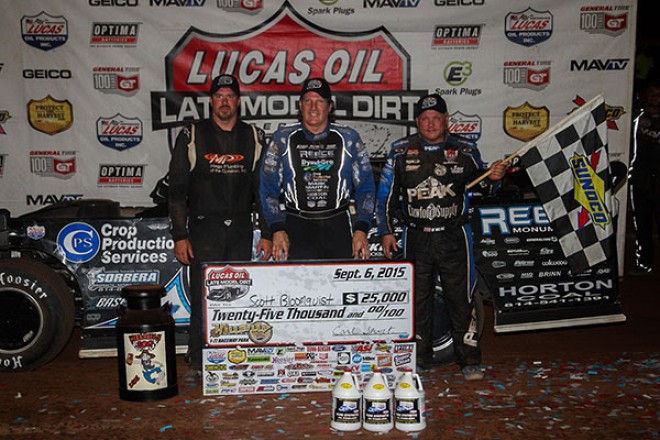 Scott Bloomquist Claims Hillbilly Hundred
RIPLEY, WV (September 6, 2015) – Scott Bloomquist took the lead from defending Hillbilly Hundred winner, Don O'Neal on lap 79 and pulled away for the victory
on Sunday
Night at I-77 Raceway Park.  It was Bloomquist's fifth straight Lucas Oil Late Model Dirt Series win, and the second of his career in the nation's oldest running dirt late model event.
O'Neal came home in second, followed by Jonathan Davenport, Steve Francis, and Devin Moran.
"What a weekend we had!  The car was just fantastic all 3 nights.  He [O'Neal] surprised me a little on that one restart. I knew if I could bide my time, we could get back around him.  He got up too high in turn four.  I don't know if he hit the wall or what, but we were able to get by him."
O'Neal grabbed the lead on a lap 39 restart from Bloomquist as the pair headed into turn number one.  O'Neal then had to battle lapped traffic, which allowed Bloomquist and Moran to stay close.
"To win five-in-a-row is pretty spectacular.  This might be the toughest series ever.  The competition is second to none.  You have to be on your game week in and week out with this deal.  I want to thank Randy Sweet, Mike Reece, Mark Martin, Ed Petroff, Crop Production Services, Horton Coal, Lucas Oil, Sorbera Chiropractic, Dyna-Gro, Andy Durham Racing Engines, my crew, and everybody else associated with our team."
O'Neal had to hold off Davenport for the runner-up spot. "We have had a really good car for the last few weeks.  Everybody is chasing the zero car and six car right now. They have made everybody step it up.  I got just a little too high in turn four and hit the wall just enough to throw the car around.  I would like to thank Clint Bowyer and everybody on the team; Peak Antifreeze and Motor Oil, Cometic Gasket, Crawford Supply, and all of other great sponsors."
Davenport maintains the series points lead with his third place finish.  "We have kind of struggled on these tight bullring tracks.  I am just not used to running on them.  The car was good tonight.  I want to thank Lee Roy and Kevin Rumley.  We definitely did the best we could tonight.  We ran really well in the heat.  No doubt 100 laps around here will wear on you.  Thanks to all the fans for coming out tonight."
Completing the top ten were Chris Brown, Earl Pearson Jr., Eddie Carrier Jr., Zack Dohm, and Travis Brookover.
In preliminary action, Earl Pearson Jr. set the overall Miller Welders Fast Time (Group A) amongst the 46 entrants, with a lap of 13.200 seconds. Jimmy Owens set the fastest time in Group B with a time of 13.590 seconds. Scott Bloomquist, Don O'Neal, Jimmy Owens, and Tyler Carpenter won their respective heat races. Jared Landers and Steve Casebolt won their respective B-Mains.
Race Summary
Sunday, September 6th, 2015
47th Annual Hillbilly Hundred
I-77 Raceway Park – Ripley, WV
Miller Welders Fast Time Group A: Earl Pearson Jr. / 13.200 seconds
Miller Welders Fast Time Group B: Jimmy Owens / 13.590 seconds
Eibach Springs Heat Race #1 Finish (15 Laps, Top 4 Transfer): Scott Bloomquist, Devin Moran, Earl Pearson, Jr., Dennis Erb, Jr., Travis Brookover, Jared Landers, Zack Dohm, Mike Benedum, Coleton Perine, Steve Lucas, Jeff Maxwell, Robbie Jewell
FK Rod Ends Heat Race #2 Finish (15 Laps, Top 4 Transfer): Don O'Neal, Eddie Carrier, Jr., Chris Brown, Freddie Carpenter, Rick Williams, Paul Wilmoth, Jr., Derek Doll, Chris Reed, Kody Frame, Dylan Bledsoe, Brock Morris
Simpson Performance Products Heat Race #3 Finish (15 Laps, Top 4 Transfer): Jimmy Owens, Jonathan Davenport, Steve Francis, Brandon Sheppard, Tim Dohm, Steve Casebolt, Kenney Newhouse, Randy Armes, JP Roberts, Robbie Bostic, Byron Meeks, Joseph Cox
QA1 Heat Race #4 Finish (15 Laps, Top 4 Transfer): Tyler Carpenter, Colton Burdette, Austin Kirkpatrick, Chris Garnes, Corey Conley, Corey DeLancey, Kevin Layne, David Gibson, Jr., Cody Rogers, Colton Collins, Craig Wolford
Fast Shafts B-Main #1 Finish (15 Laps, Top 3 Transfer): Jared Landers, Travis Brookover, Zack Dohm, Rick Williams, Derek Doll, Paul Wilmoth, Jr., Steve Lucas, Mike Benedum, Coleton Perine, Jeff Maxwell, Kody Frame, Chris Reed, Robbie Jewell, Dylan Bledsoe-DNS, Brock Morris-DNS
Keyser MFG B-Main #2 Finish (15 Laps, Top 3 Transfer): Steve Casebolt, Corey Conley, Corey DeLancey, JP Roberts, Randy Armes, Robbie Bostic, David Gibson, Jr., Kevin Layne, Craig Wolford, Cody Rogers, Byron Meeks, Tim Dohm, Kenney Newhouse, Colton Collins, Joseph Cox
Feature Finish (100 Laps):
| | | | | |
| --- | --- | --- | --- | --- |
| FINISH | START | CAR # | DRIVER NAME | HOMETOWN |
| 1 | 1 | 0 | Scott Bloomquist | Mooresburg, TN |
| 2 | 3 | 5 | Don O'Neal | Martinsville, IN |
| 3 | 6 | 6 | Jonathan Davenport | Mount Airy, NC |
| 4 | 10 | 15 | Steve Francis | Ashland, KY |
| 5 | 5 | 99m | Devin Moran | Dresden, OH |
| 6 | 11 | 21B | Chris Brown | Spring, TX |
| 7 | 9 | 1 | Earl Pearson, Jr. | Jacksonville, FL |
| 8 | 7 | 28 | Eddie Carrier, Jr. | Salt Rock, WV |
| 9 | 21 | 17d | Zack Dohm | Charleston, WV |
| 10 | 19 | 12B | Travis Brookover | Kenna, WV |
| 11 | 8 | 44 | Colton Burdette | Parkersburg, WV |
| 12 | 15 | c4 | Freddie Carpenter | Parkersburg, WV |
| 13 | 17 | 777 | Jared Landers | Batesville, AR |
| 14 | 12 | B5 | Brandon Sheppard | New Berlin, IL |
| 15 | 2 | 20 | Jimmy Owens | Newport, TN |
| 16 | 22 | c2 | Corey DeLancey | Parkersburg, WV |
| 17 | 23 | 6T | Tim Dohm | Charleston, WV |
| 18 | 12 | 11 | Austin Kirkpatrick | Ocala, FL |
| 19 | 18 | c9 | Steve Casebolt | Richmond, IN |
| 20 | 4 | 28T | Tyler Carpenter | Parkersburg, WV |
| 21 | 26 | 17N | Kenney Newhouse | Elkview, WV |
| 22 | 13 | 28e | Dennis Erb, Jr. | Carpentersville, IL |
| 23 | 16 | 42 | Chris Garnes | Evans, WV |
| 24 | 24 | B1 | Paul Wilmoth, Jr. | Clarksburg, WV |
| 25 | 25 | 24R | Robbie Bostic | Mineral Wells, WV |
| 26 | 20 | 14 | Corey Conley | Wellsburg, WV |
| 27 | 27 | 12w | Rick Williams | Beckley, WV |
Race Statistics
Entrants: 46
Lap Leaders: Scott Bloomquist (Laps 1 -39); Don O'Neal (Laps 40 – 78); Don O'Neal (Laps 40 – 78)
Cautions: Robbie Bostick (Lap 20); Jimmy Owens (Lap 25); Dennis Erb Jr. (Lap 29); Kenney Newhouse (Lap 31); Jared Landers (Lap 37); Tyler Carpenter (Lap 39)
Lucas Oil Late Model Dirt Series Provisionals: n/a
Lucas Oil Late Model Dirt Series Emergency Provisionals: n/a
Miller Welders Fast Time Provisionals: Tim Dohm, Paul Wilmoth
Track Provisionals: Robbie Bostick, Kenney Newhouse, Rick Williams
Wrisco Feature Winner: Scott Bloomquist
Optima Batteries Hard Charger of the Race: Zack Dohm (Started: 21st; Finished: 9th; Advanced 12 Positions)
Midwest Sheet Metal Spoiler Challenge Point Leader: Jonathan Davenport
Allstar Performer of the Race: Don O'Neal
Sunoco Race for Gas Highest Finisher: Don O'Neal
Rookie of the Race: Chris Brown
COMP Cams Engine Builder of the Race: Durham Race Engines
Ohlins Shocks Chassis Builder of the Race: Sweet-Bloomquist Race Cars
Outerwears Crew Chief of the Race: Jeremy Justice (Don O'Neal)
CV Products Fastest Lap of the Race: Scott Bloomquist (Lap #1 – 14.040 seconds)
Hot Rod Processing Most Laps Led: Scott Bloomquist (61 Laps)
PFC Brakes Tough Break Award: Jimmy Owens
Time of Race: 48 minutes 17 seconds
Lucas Oil Championship Point Standings:
| | | | | |
| --- | --- | --- | --- | --- |
| POS | CAR # | DRIVER NAME | HOMETOWN | POINTS |
| 1 | 6 | Jonathan Davenport | Mount Airy, NC | 5885 |
| 2 | 0 | Scott Bloomquist | Mooresburg, TN | 5795 |
| 3 | 20 | Jimmy Owens | Newport, TN | 5575 |
[xyz-ihs snippet="Posts-Ad"]