Pearson Stars in Front of Hometown Crowd
Story By: Jeremy Shields/LOLMDS
Photos By: Heath Lawson & Sally Armbruster/RacersGuide.com
WAYNESVILLE, GA (February 2, 2019) – Earl Pearson Jr. ran down Scott Bloomquist and took the lead on lap 33 en route to victory on Saturday night during the Rhino Ag Super Bowl of Racing presented by General Tire.
Pearson, the four-time series champion, won for the 38th time in his Lucas Oil Late Model Dirt Series career. He leaves Golden Isles with the series points lead heading to East Bay Raceway Park next week. Jonathan Davenport finished second in the main event and trails Pearson by 30 points in the championship chase.
Scott Bloomquist started on the pole and led 23 laps during the feature, ultimately claiming third. Tyler Erb, who won the afternoon event, took fourth, and Brandon Sheppard rounded out the top five.
In a race that saw three different leaders, Jimmy Owens led the first nine laps of the race until Bloomquist forged ahead of him. The two frontrunners then made contact with Owens spinning and getting collected along with Josh Richards. Both cars had to pit for repairs.
With Bloomquist solidly in front and seemingly pulling away, Pearson, who started fifth began to close the gap on the three-time series champion. Pearson tracked down Bloomquist using the high-side of the race track passing him on the outside coming off of turn number two on lap 33. Pearson then saw the race go caution-free until the checkers as he went to victory lane for the first-time in 2019.
In Lucas Oil Victory Lane, Pearson first mentioned his car owner Ronnie Stuckey. "He's been awful sick the past few months. This one's for him. It's always great to win here for my home fans. Me, Scott [Bloomquist] and [Jonathan] Davenport had a heck of a race," said Pearson before the cheers of the fans at the track, which is less than an hour from his home in Jacksonville, Florida.
"Scott just got caught up there with all the lapped traffic. Our car has been good all weekend. Thanks to Lucas Oil and Sunoco and all my guys who came out to help with weekend. It's a dream come true to win here again at Brunswick. I have seen so many guys that I used to race with down here. It is kind of like a home coming for us."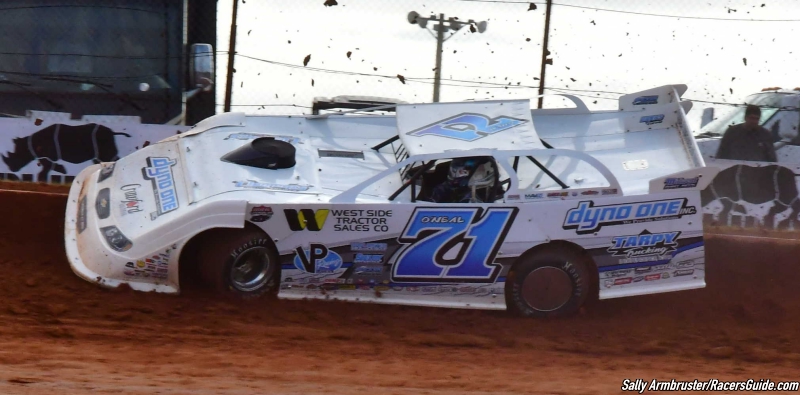 "Just like today when we got on top up there and kind of cleaned off the top. Our car worked great up top, we weren't as good on the bottom. The car has been good every time we have unloaded it this weekend."
Davenport who led the series with nine wins a year ago came home in second after starting alongside Pearson in row number three. "Running the top just seemed to kill our tires. My tires got so hot I almost felt like I was getting a flat tire. I had to get off the top and get back down on the track. I cooled my tires off and then got back up top."
Pearson's Black Diamond house car is powered by a Clements Racing Engine and sponsored by: Lucas Oil Products, Tegeler Wrecker and Crane, Sunoco Race Fuels, Moring Motorsports, Etchberger Trucking and P&W Sales.
Completing the top ten were Don O'Neal, Dennis Erb Jr., Gregg Satterlee, Chase Junghans and Jason Jameson.
Lucas Oil Late Model Dirt Series
Race Summary
Saturday, February 2nd, 2019
Rhino Ag Super Bowl of Racing presented by General Tire
Golden Isles Speedway – Waynesville, Ga.
Miller Welders Time Trials
Fast Time Group A: Earl Pearson Jr. / 14.914 seconds (overall)
Fast Time Group B: Jonathan Davenport / 15.059 seconds
Penske Race Shocks Heat Race #1 Finish (10 Laps, Top 4 Transfer): Scott Bloomquist, Earl Pearson, Jr., Brandon Sheppard, Kyle Bronson, Brandon Overton, Jason Jameson, Billy Moyer, Jr., Mark Whitener, Blair Nothdurft
FK Rod Ends Heat Race #2 Finish (10 Laps, Top 4 Transfer): Josh Richards, Ryan King, Dennis Erb, Jr., Devin Moran, Hudson O'Neal, Allen Murray, Matt Cosner, Blake Spencer, Devin Gilpin
Simpson Race Products Heat Race #3 Finish (10 Laps, Top 4 Transfer): Jimmy Owens, Jonathan Davenport, Don O'Neal, Morgan Bagley, Shanon Buckingham, Steven Roberts, Jason Fitzgerald, Ivedent Lloyd, Jr., Joel Callahan
Lucas Oil Products Penetrating Oil Heat Race #4 Finish (10 Laps, Top 4 Transfer): Tyler Erb, Chase Junghans, Jeff Mathews, Gregg Satterlee, Tim McCreadie, Justin Williams, Stormy Scott, Austin Rettig, Colton Flinner
Lucas Oil Products Red "N" Tacky Spray Grease B-Main #1 Finish (12 Laps, Top 3 Transfer): Hudson, O'Neal, Brandon Overton, Jason Jameson, Billy Moyer, Jr., Allen Murray, Matt Cosner, Blake Spencer, Blair Nothdurft, Mark Whitener, Devin Gilpin-DNS
FAST Shafts B-Main #2 Finish (12 Laps, Top 3 Transfer): Tim McCreadie, Shanon Buckingham, Steven Roberts, Justin Williams, Stormy Scott, Austin Rettig, Colton Flinner, Ivedent Lloyd, Jr.-DNS, Jason Fitzgerald-DNS, Joel Callahan-DNS
Lucas Oil Feature Finish (50 Laps):
| | | | | | |
| --- | --- | --- | --- | --- | --- |
| FINISH | START | CAR # | DRIVER NAME | HOMETOWN | EARNINGS |
| 1 | 5 | 1 | Earl Pearson, Jr. | Jacksonville, FL | $12,800 |
| 2 | 6 | 49 | Jonathan Davenport | Blairsville, GA | $6,500 |
| 3 | 1 | 0 | Scott Bloomquist | Mooresburg, TN | $4,300 |
| 4 | 4 | 1T | Tyler Erb | New Waverly, TX | $3,550 |
| 5 | 9 | 1S | Brandon Sheppard | New Berlin, IL | $2,250 |
| 6 | 10 | 5 | Don O'Neal | Martinsville, IN | $2,600 |
| 7 | 11 | 28 | Dennis Erb, Jr. | Carpentersville, IL | $2,200 |
| 8 | 16 | 22 | Gregg Satterlee | Indiana, PA | $2,000 |
| 9 | 8 | 18J | Chase Junghans | Manhattan, KS | $1,200 |
| 10 | 21 | 12J | Jason Jameson | Lawrenceburg, IN | $1,100 |
| 11 | 20 | 50 | Shanon Buckingham | Morristown, TN | $1,075 |
| 12 | 19 | 2 | Brandon Overton | Evans, GA | $1,050 |
| 13 | 15 | 1M | Devin Moran | Dresden, OH | $1,025 |
| 14 | 3 | 14 | Josh Richards | Shinnston, WV | $1,800 |
| 15 | 18 | 39 | Tim McCreadie | Watertown, NY | $1,700 |
| 16 | 22 | 111 | Steven Roberts | Jesup, GA | $1,000 |
| 17 | 17 | 71 | Hudson O'Neal | Martinsville, IN | $1,700 |
| 18 | 12 | 33 | Jeff Mathews | Brandon, FL | $1,000 |
| 19 | 7 | 1Gk | Ryan King | Seymour, TN | $1,000 |
| 20 | 14 | 14m | Morgan Bagley | Gladewater, TX | $1,000 |
| 21 | 2 | 20 | Jimmy Owens | Newport, TN | $1,900 |
| 22 | 24 | 58 | Ivedent Lloyd, Jr. | Ocala, FL | $1,000 |
| 23 | 13 | 40B | Kyle Bronson | Brandon, FL | $1,700 |
| 24 | 23 | 66c | Matt Cosner | Ridgeley, WV | $1,000 |
Race Statistics
Entrants: 37
Lap Leaders: Jimmy Owens (Laps 1 – 9); Scott Bloomquist (Laps 10 – 32); Earl Pearson Jr. (Laps 33 – 50)
Wrisco Feature Winner: Earl Pearson Jr.
Margin of Victory: 0.526 seconds
Cautions: Ryan King, Morgan Bagley, Kyle Bronson (Lap 2); Hudson O'Neal (Lap 5); Jimmy Owens, Josh Richards (Lap 10); Jimmy Owens (Lap 37)
Miller Welders Fast Time Provisionals: Matt Cosner, Ivedent Lloyd
Optima Batteries Hard Charger of the Race: Jason Jameson (Advanced 11 Positions)
Midwest Sheet Metal Spoiler Challenge Point Leader: Jonathan Davenport
Allstar Performance Power Move of the Race: Jonathan Davenport
Sunoco Race for Gas Highest Finisher: Earl Pearson Jr.
Eibach Springs Rookie of the Race: n/a
COMP Cams Engine Builder of the Race: Clements Race Engines
Ohlins Shocks Chassis Builder of the Race: Black Diamond Chassis
Outerwears Crew Chief of the Race: Garrett Alberson (Earl Pearson Jr.)
Dirty Girl Racewear Fastest Lap of the Race: Scott Bloomquist (Lap #15 – 15.056 seconds)
Hot Rod Processing Tough Break of the Race: Jimmy Owens
STEEL-IT Most Laps Led: Scott Bloomquist (23 Laps)
PFC Brakes Pole Award: Scott Bloomquist
Time of Race: 28 minutes 11 seconds