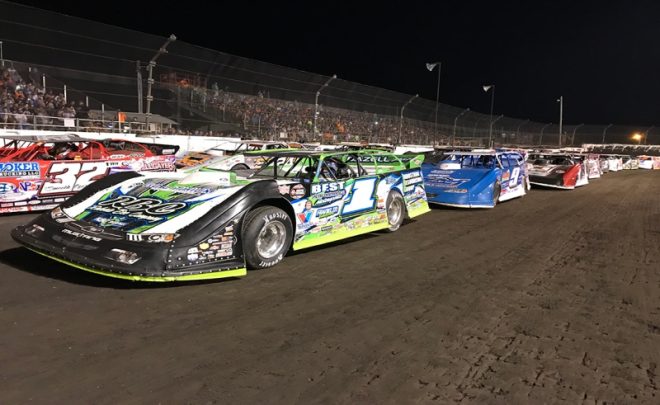 #PDC30 Showdowns at Fairbury Set Saturday's Field
Story By: Nick Graziano/WoOLMs
FAIRBURY, IL – July 26, 2019 – The most prestigious Dirt Late Model race in the great state of Illinois kicked off on Friday night with a record-setting number of "The Most Powerful Late Models on the Planet" in the Fairbury Speedway pit area. 72 World of Outlaws Morton Buildings Late Models saddled up to compete in four very entertaining Prairie Dirt Shootouts that set the first 8 rows of Saturday's 30th annual Prairie Dirt Classic presented by Bank of Pontiac.
QUALIFYING
2017 Prairie Dirt Classic winner Brandon Sheppard kicked things off in Group A Qualifying with a lap of 13.112, earning him his seventh PFC Brakes Fast Time Award of the season and 26th of his career. 2018 World of Outlaws Champion Mike Marlar laid down a lap of 13.267, good enough to take the top spot in Group B and fourth overall.
SHOWDOWN #1
Just a short time after setting quick time in Qualifying, besting the other 71 drivers in the Fairbury pit area, New Berlin, Illinois' own Brandon Sheppard once again put Rocket1 Racing's prowess on display for the thousands of Prairie Dirt Classic fans watching in the standing-room-only grandstands and online at DIRTVision.com. Leading all 25 laps and going virtually unchallenged throughout the entire night, "The Rocket Shepp" picked up $2,500 and the third Prairie Dirt Showdown win of his career. He has now won a Showdown in each year since the most recent event format change that introduced them in 2017.
With 15 laps in the books, it looked as though it may have been an all-Outlaw top-five, with four of the top five spots occupied by full-time World of Outlaws drivers. Sheppard had led since the drop of the green with Chase Junghans and rookie Cade Dillard following close behind, Darrell Lanigan riding back in fourth and Dennis Erb Jr. battling it out with Chris Simpson and Ricky Thornton Jr. for fifth. Unfortunately for Dillard, he slowed on the backstretch and ended up pulling off the track in a puff of smoke on lap 16.
This opened the door for Boom Briggs, who seemingly came out of nowhere on the lap 16 restart. From his 11th-place starting spot, Briggs steadily worked his way to ninth before the yellow came out. When the field came back to green, Boom got the jump and went from ninth to fifth in less than one lap. He went on to pass two more cars to claim his starting spot in Saturday's 100-lap finale.
An even better run came in the same race for the driver out of Carpentersville, Illinois, Dennis Erb Jr. He came from the outside of Boom Briggs in row 6 and passed five cars in less than one lap on the restart to go from seventh to second and put himself in Saturday's redraw.
Drydene Heat #1 – Flight (A) (25 Laps) – Top 4 Transfer 1. 1-Brandon Sheppard [1]; 2. 28-Dennis Erb [12]; 3. 99B-Boom Briggs [11]; 4. 11-Gordy Gundaker [9]; 5. 29-Darrell Lanigan [5]; 6. 18-Chase Junghans [2]; 7. 99RT-Ricky Thornton [6]; 8. 1m-Mike Mataragas [4]; 9. 7s-Jay Sparks [13]; 10. 26m-Brent McKinnon [16]; 11. 31AUS-Paul Stubber [10]; 12. 4G-Kody Evans [14]; 13. 51m-Joey Moriarty [15]; 14. 97-Cade Dillard [3]; 15. 32s-Chris Simpson [8]; 16. 61-Curtis Radke [17]; 17. 28m-Jimmy Mars [7]; 18. 10-Paul Parker [18]
SHOWDOWN #2
A second driver from The Land of Lincoln picked up the win in Showdown #2 – none other than Oakwood, Illinois' own Bobby Pierce. Riding the big #FALS cushion on the topside of the quarter-mile like he's done so many times before, the "Smooth Operator" led all 25 laps and scored the first Prairie Dirt Showdown win of his career.
"It went a lot smoother than about all of the other times I've been here for this race," Pierce said in Victory Lane.
That statement sheds a bit of light on last year's Prairie Dirt Classic, when Pierce set fast time over 60 other drivers but failed to transfer (or finish) out of his Showdown. This set him up for one of the greatest charges to the front (and the win) ever seen at Fairbury in the Prairie Dirt Shootout, but with the Showdown win this year, Pierce is just glad he doesn't have to deal with such a situation this time around.
"This race has become one of the toughest races to win, by far," he said. "With the amount of cars here and the competition, if you can start up front, that's 50 percent of the race, I think."
"Last year's [Prairie Dirt Shootout] was something else. That was cool, but I'd really rather not have to do that again. Fortunately, here we are."
Drydene Heat #2 – Flight (A) (25 Laps) – Top 4 Transfer 1. 32-Bobby Pierce [2]; 2. 9-Devin Moran [3]; 3. 18b-Shannon Babb [5]; 4. 99jr-Frank Heckenast [6]; 5. 24-Ryan Unzicker [4]; 6. 77m-Jay Morris [8]; 7. 84-Myles Moos [12]; 8. J12-Jason Wagner [15]; 9. 7T-Steve Thorsten [13]; 10. 4b-Bob Gardner [7]; 11. 79w-Greg Wagner [17]; 12. 87-Derek Doll [14]; 13. 9D-Daniel Flessner [11]; 14. 21B-Rich Bell [10]; 15. 1T-Tyler Erb [1]; 16. 6-Blake Spencer [16]; 17. 22s-Gregg Satterlee [9]; 18. 15-Matt Shannon [18]
SHOWDOWN #3
In what was, no doubt, the most exciting Showdown finish of the evening, Mt. Holly, North Carolina's own Chris Ferguson dug out the victory after an intense run to the checkereds with Mike Marlar and Brian Shirley.
Marlar led from the drop of the green, showing the way in the early stages ahead of Hudson O'Neal and Ferguson. Brian Shirley found his mojo on the topside and worked his way into the top three just after halfway. The big battle for the lead between Marlar, Ferguson and Shirley really began to heat up after a restart with seven laps to go, when Shirley made a great move on the top side around Ferguson for second and dove underneath Marlar for the lead into turn one with four laps remaining.
After Shirley completed the slidejob, Marlar crossed him over out of turn two as Ferguson dove to the inside, making it a three-wide battle for the lead down the backstretch and into turn three. Ferguson shot out of turn four like a cannonball and took the lead at the flag stand by inches, which he held and expanded through the next two circuits to pick up his very first career victory of any kind at Fairbury.
"I'm just so pumped to get a win here," Ferguson said. "I can quit racing, 'cause I won at Fairbury!"
"Shirley and I raced clean the whole race. I saw him peeking on the outside, so I made sure to give him room. When [Shirley and Marlar] kind-of slipped up there in [turns] one and two, I knew I had to be there to take advantage. So, we did what we did and got the win."
Ferguson's only been to Fairbury a handful of times, debuting in 2016. But when "Fergy" pulled his Sweet-Bloomquist Chassis #22 into Victory Lane on Friday night, the crowd erupted in a sea of applause and cheer, louder than any other heard that night. He's one of the sport's most popular drivers, and the number of fans he has in a state hundreds of miles away from his hometown is a testament to his appreciation of his supporters at the track and in the stands.
"If I didn't have a home track in North Carolina, it'd be here at Fairbury, just because the people here treat me so well," Ferguson said.
Drydene Heat #3 – Flight (B) (25 Laps) – Top 4 Transfer 1. 22-Chris Ferguson [3]; 2. 157-Mike Marlar [1]; 3. 3s-Brian Shirley [4]; 4. 40B-Kyle Bronson [7]; 5. 20-Jimmy Owens [6]; 6. 25D-Jonathan Davenport [8]; 7. 71-Hudson O'Neal [2]; 8. 2-Allen Murray [13]; 9. 25F-Jason Feger [12]; 10. 6m-Tim McCreadie [11]; 11. 12c-Jeff Curl [14]; 12. 11r-Justin Reed [16]; 13. 111-Steven Roberts [5]; 14. 25w-Allen Weisser [9]; 15. 77-Tyler Dietz [15]; 16. 22B-Jonathan Brauns [10]; 17. 14v-Victor Benedetto [17]; 18. 44M-Mike McGuire [18]
SHOWDOWN #4
2015 Series Champion Shane Clanton has been on a roll as of late, picking up several top-five and podium finishes since his move to Skyline Motorsports last month. He continued that success on Friday night, winning his second Showdown qualifier in three years at Fairbury over Billy Drake and Ricky Weiss.
First, Clanton had to get by polesitter Ashton Winger. "The Georgia Bulldog" passed a few cars on the top side prior to a caution on lap 9 and decided to stick with it on the restart. This proved to be the decision that won the race, and he'll now get an opportunity to start on the pole for tomorrow's finale in the redraw.
"I knew I was good on the top, I just needed clean air," Clanton said. "The exhaust from our cars helped to clean the middle groove off a little bit under caution and it gave me just enough to be tight enough across the middle and pull hard off the corner."
"I've never started this far forward before," Clanton added. "We've always run good, and even led this race before. Hopefully, we can capitalize on what we earned tonight and lead all 100 laps – that'd be phenomenal, but I hope we can just lead lap 100, because that's what pays the money."
Drydene Heat #4 – Flight (B) (25 Laps) – Top 4 Transfer 1. 25-Shane Clanton [6]; 2. 75-Billy Drake [5]; 3. 7-Ricky Weiss [4]; 4. 7r-Kent Robinson [8]; 5. 12-Ashton Winger [1]; 6. 42-Mckay Wenger [2]; 7. 89-Mike Spatola [9]; 8. 25z-Mason Zeigler [10]; 9. 35-Derek Chandler [15]; 10. B12-Kevin Weaver [3]; 11. 21-Billy Moyer [14]; 12. 10s-Scott Schmitt [7]; 13. B1-Brent Larson [13]; 14. 9z-Lyle Zanker [12]; 15. 15v-Kolby Vanderbergh [11]; 16. 14-Glen Thompson [16]; 17. O9-Cullen Breeden [17]; 18. 25k-Bill Kettering [18]
The Prairie Dirt Classic action from Fairbury Speedway continues on Saturday night, July 27, with the redraws, Last Chance Showdown events, Prairie Dirt Shootout and 100-lap, $30,000-to-win Prairie Dirt Classic. Hot laps will go live on DIRTVision.com at 5:45 p.m. central, don't miss a moment of the action! Order your Late Model Fast Pass today!
For live updates of all the action, stay tuned to our Twitter channel, @WoOLateModels.