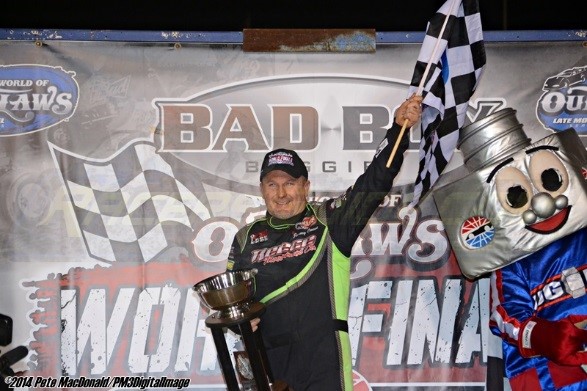 Owens Tops McCreadie & Bloomquist For Sixth-Career Bad Boy Buggies World of Outlaws World Finals Victory
Veteran Tennessee Racer Earns $12,050 in World of Outlaws Late Model Series Season Finale at The Dirt Track at Charlotte
CONCORD, N.C. – Nov. 8, 2014 – Jimmy Owens found himself in a familiar location Saturday night at The Dirt Track at Charlotte. The winningest driver in Bad Boy Buggies World of Outlaws World Finals history stood on the Victory Lane stage at Charlotte yet again after winning a wild World of Outlaws Late Model Series A-Main at the 4/10-mile oval.
Owens, 42, of Newport, Tenn., came out on top of a tight back-and-forth battle with Tim McCreadie of Watertown, N.Y., and Scott Bloomquist of Mooresburg, Tenn., midway through Saturday's 50-lap race to earn $12,050 for his record sixth World Finals victory. Owens' 10th-career WoO LMS triumph came in front of a sellout crowd as the national tour concluded its season at Charlotte's prestigious three-day event.
"It's awesome to come here and get this win," said Owens, who claimed his third WoO LMS victory of the season. "This is a really big race for us because there's always a big crowd and there's always stiff competition here. These are the best drivers in the country and to beat them never gets old."
Owens' victory gave Club 29 Race Cars a sweep of the weekend's two WoO LMS A-Mains at Charlotte. Friday's race was claimed by Club 29 founder and house car driver Darrell Lanigan of Union, Ky., who wrapped up his third WoO LMS championship with his record 17th series victory of the season.
Lanigan, who finished fifth in Saturday's A-Main, was also on the Victory Lane stage Saturday night celebrating his season title and the $100,000 champion's paycheck.
"It's been just a unbelievable year on the series," said Lanigan, who launched Club 29 Race Cars this season with veteran setup guru Ronny Stuckey. "The cars were phenomenal this weekend with a win and a top five and Jimmy winning the other one. It's just unbelievable."
Owens crossed the finish line 1.193 seconds ahead in his Reece Monument-sponsored Club 29 Race Car while McCreadie drove his Sweeteners Plus Rocket Chassis around Bloomquist late in the race to finish second. Bloomquist was third in his self-designed Sweet-Bloomquist Race Car with Billy Moyer of Batesville, Ark., fourth in his Moyer Extreme by Longhorn Chassis just ahead of Lanigan.
After slipping back to fourth early in the race, the second-starting Owens put himself back in contention when he moved by Madden for third on lap 20. Just as the sixth-starting McCreadie began to catch pole-starting Bloomquist, Owens caught both cars to make it a three-car battle for the lead.
Bloomquist and McCreadie went back and forth for the top spot on both sides of the halfway mark as McCreadie took the point on lap 24 only to give it back on the next lap. All the while, Owens was lurking just behind the two leaders and at times making it three wide for the lead.
McCreadie finally cleared Bloomquist on lap 27 and began to edge away as Bloomquist continued to fight heavy pressure from Owens' No. 20 machine. Owens finally took the second spot from Bloomquist on lap 31 and quickly reeled in McCreadie as he struggled with heavy lapped traffic.
Once he caught McCreadie, Owens wasted little time making his bid for the lead. With a pair of lapped cars separating him from McCreadie, Owens split the side-by-side slower machines entering turn three on lap 33 and continued his charge to pull alongside McCreadie in turn four. A bobble by the high-running McCreadie gave Owens the break he needed to pull ahead at the completion of the lap.
Owens never looked back from there, pulling away as the track's bottom groove began to become noticeably faster than the top. Bloomquist and McCreadie both took shots at Owens as the frontrunners ran through traffic in the closing laps, but Owens remained steady and pulled away from each challenge.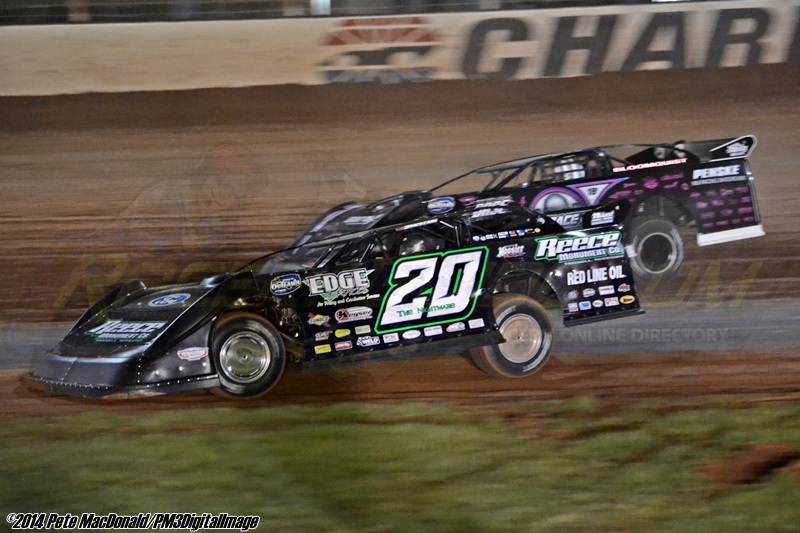 "I was just kind of taking it easy trying to bide my time a little bit," Owens said. "The harder I ran the car, the better it got. We just kept getting better and better. I didn't think we had enough for Scott, but McCreadie got in there and got Scott off that bottom. A lot of things just went our way and we were able to pull it out and get the win."
McCreadie's runner-up finish capped off a three-win season on the WoO LMS that landed the 2006 series champion third in the final series standings. The 40-year-old veteran racer appeared to be in control of the race after taking command just after the halfway point, but his high line gave way and allowed Owens to close and make the winning pass.
"I felt good and made some moves on (Bloomquist), but Jimmy came along just as that little strip of rubber was starting to lay," said McCreadie, who was denied what would have been his first-career Late Model victory at the World Finals. "I didn't know the rubber was down there. I was trying to make my hay up on the top and ride what got me to the lead, but he got us."
In settling for third, Bloomquist, the 2004 WoO LMS champion who now competes on the tour part time, finished the season without a victory in 11 WoO LMS races entered, marking just the second time since the tour's modern era began in 2004 that he's failed to win a series race. His only previous season without a WoO LMS triumph came in 2006 when he entered only four series races.
"The car was really good, but just not quite good enough," the 50-year-old Bloomquist said after notching his eighth top-five WoO LMS finish on the season. "We got a little bit loose, which made it really hard on us to get off the bottom. We'd hit the crumbs and stuff and just didn't have what it took."
Bub McCool of Vicksburg, Miss., advanced from the 12th starting spot to finish sixth with Dale McDowell of Chickamauga, Ga., seventh. Friday's runner-up Chris Madden of Gray Court, S.C., was eighth, while double-dipping Donny Schatz of Fargo, N.D., finished ninth just after wrapping up his championship-winning season on the World of Outlaws STP Sprint Car Series. WoO LMS championship points runner-up Rick Eckert or York, Pa., rounded out the top 10 finishers.
The race was slowed by two early cautions. The first appeared with nine laps complete when heat race winner Billy Moyer Jr. of Batesville, Ark., spun from the fourth position. The yellow flag again waved one lap later when Mason Zeigler of Chalk Hill, Pa., slowed in turn four, spurring a pileup that collected Eric Wells of Hazard, Ky., Austin Hubbard of Seaford, Del., and Ricky Thornton Jr. of Chandler, Pa.
Wells of Hazard, Ky., ended up 22nd in the final rundown, leaving him tied for fifth in the final WoO LMS points standings with Chub Frank of Bear Lake, Pa., who finished 15th in Saturday's race. Frank will be awarded the fifth spot by virtue of a tiebreaker, which per WoO LMS rules was determined by which driver had the most runner-up finishes since neither driver won a WoO LMS race this season.
Frank Heckenast Jr. of Frankfort, Ill., finished 23rd in Saturday's A-Main, but he had plenty of reason to celebrate after wrapping up the $10,000 WoO LMS Rookie of the Year Award. Heckenast, along with Lanigan and the rest of the WoO LMS regulars, will be honored during the tour's annual Night of Champions banquet on Sunday night at the Great Wolf Lodge in Concord.
For more information on the WoO LMS, visit www.worldofoutlaws.com. Fans can also follow the WoO LMS on Twitter at Twitter.com/WoOLateModels and Facebook at Facebook.com/WorldofOutlaws .
Results of World of Outlaws Late Model Series Bad Boy Buggies WoO World Finals at The Dirt Track at Charlotte (Finishing Position/Start/Driver/Laps Completed/Money Won):
1. (2) Jimmy Owens/50 $12,050
2. (6) Tim McCreadie/50 $5,200
3. (1) Scott Bloomquist/50 $3,150
4. (7) Billy Moyer/50 $2,700
5. (10) Darrell Lanigan/50 $2,150
6. (12) Bub McCool/50 $1,700
7. (9) Dale McDowell/50 $1,500
8. (4) Chris Madden/50 $1,450
409. (14) Donny Schatz/50 $1,850
10. (11) Rick Eckert/50 $1,500
11. (13) James Rice/50 $1,250
12. (24) Josh Richards/50 $1,300
13. (3) Jason Feger/50 $1,300
14. (18) Ryan Gustin/50 $1,100
15. (19) Chub Frank/50 $1,150
16. (5) Billy Moyer Jr./50 $1,000
17. (23) Dennis Erb Jr./50 $1,000
18. (27) Chase Junghans/50 $1,250
19. (25) Morgan Bagley/50 $1,000
20. (17) Ricky Thornton Jr./50 $1,000
21. (29) Boom Briggs/49 $110
22. (15) Eric Wells/49 $1,000
23. (22) Frank Heckenast Jr./49 $1,000
24. (21) John Blankenship/49 $1,000
25. (26) Shane Clanton/49 $1,025
26. (8) Austin Hubbard/49 $1,000
27. (28) Clint Smith/34 $110
28. (20) Jared Landers/20 $1,000
29. (16) Mason Zeigler/10 $1,000
* Earnings include Winners Circle program and cash contingency award bonuses
Time of Race: 19 Mins. 39 Secs.
Margin of Victory: 1.193 seconds
Yellow Flags: Two (laps 9 & 10)
Lap Leaders: Bloomquist (1-23, 26); McCreadie (25, 27-32); Owens (33-50)
Provisional Starters: Bagley (WoO points), Clanton (WoO points), Junghans (track) Smith (WoO emergency), Briggs (WoO emergency)
WoO LMS 'Bonus Bucks' Winner: Schatz ($500)