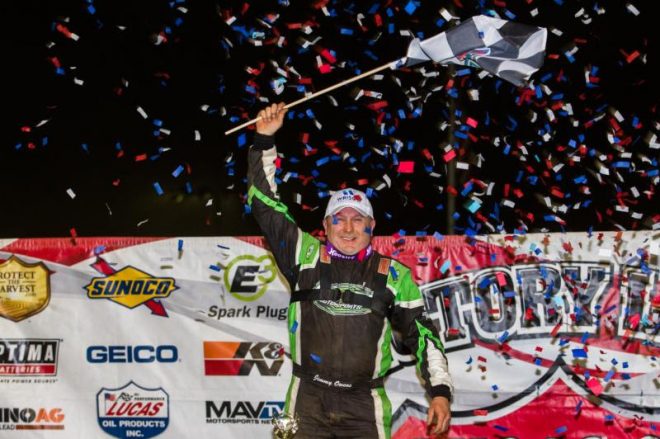 Owens Recovers for Lucas Oil Win at Atomic
Story By: Jeremy Shields/LOLMDS
Photos By: Heath Lawson/LOLMDS
CHILLICOTHE, OHIO (April 11, 2019) – Jimmy Owens recovered from mechanical issues early on Thursday night to win the 5th Annual Buckeye Spring 50 at Atomic Speedway. The three-time National Champion led all 50 laps of the event for his first Lucas Oil Late Model Dirt Series win of the season.
Owens broke a fan blade in hot laps, which relegated him to his back-up car. His backup entry proved to be the best of the night as he dominated the main event. Brandon Sheppard tried to track down Owens but came home in second-place. Jonathan Davenport came home in third. Tim McCreadie finished fourth and Earl Pearson took fifth at the finish.
Owens started third and quickly darted to the lead on the opening lap with Tyler Erb following. Having won a pair of events last September at the Ohio Speed plant, Erb was looking for his third straight win at Atomic. Erb held the second spot until Sheppard got around him. A furious battle behind Owens ensued for the runner-up slot between Sheppard and several drivers, lasting several laps. Pearson went to the outside and briefly took second from Sheppard at the halfway mark. Sheppard came back a lap later to regain the position.
Owens was set on cruise control for most of the race and was rolling around the 3/8ths mile track with as much as a straightaway lead at times. A caution flag with 43 laps complete appeared to set up a dash to the finish between Owens and Sheppard, but Owens pulled away to become the seventh different winner this year on the tour.
The 47-year-old Owens was ecstatic to finally breakthrough with his first series win of 2019. "We fixed everything on the main car this week from last Saturday. We broke a fan blade in hot laps. Then we had to get our back-up car out. My hat is off to the crew for getting this car prepared. They busted their rear ends tonight. We had a quick turnaround time to get it in line just to qualify."
"The crew gave me a good car that I could feel confident in," Owens added. "We had second quick time in our group and then we went out and won our heat race and so here we are in Victory Lane. We have a good car, a great team, and we are just as capable as anybody to run up front night in and night out. Thanks to the fans for coming tonight to watch a good show and thanks to the track crew for a well-prepared track."
Sheppard congratulated Owens on his win. "We had a really good race tonight. Jimmy and his crew are really rolling. It is a lot of fun running against these Lucas Oil guys. Everybody races each other clean and it was getting exciting. Thanks for all of the fans for coming out on a Thursday night. Thanks to Mark Richards and Steve Baker for giving me this opportunity."
Davenport was seeking his fifth series win of the season. "I tried to slide Brandon there once and couldn't quite clear him. I wanted to try again but I didn't have him cleared enough to do so and I wasn't going to take both of us out. We didn't take off like we wanted to," said the defending series champion who heads to Sharon Speedway on Friday night maintaining his points lead.
The winner's Ramirez Motorsports Rocket Chassis is powered by a Durham Racing Engine and sponsored by: Boomtest Well Service, Rhino Ag, Reece Monument Company, Tommy Pope Construction, FK Rod Ends, Keyser Manufacturing, Integra Shocks, Sunoco Race Fuels, and Red Line Oil.
Completing the top ten were Devin Moran, Tyler Erb, Steve Casebolt, Hudson O'Neal, and Colton Burdette.
Lucas Oil Late Model Dirt Series
Race Summary
Thursday, April 11, 2019
5th Annual Buckeye Spring 50
Atomic Speedway – Chillicothe, Ohio
Miller Welders Time Trials
Fast Time Group A: Kyle Bronson / 13.459 seconds
Fast Time Group B: Josh Richards / 13.267 seconds (overall)
Penske Race Shocks Heat Race #1 Finish (10 Laps, Top 4 Transfer): RJ Conley, Tyler Erb ®, Kyle Bronson, Frank Heckenast, Jr., Stormy Scott, Freddie Carpenter, Ryan King, Derek Davis, Jackie Boggs
FK Rod Ends Heat Race #2 Finish (10 Laps, Top 4 Transfer): Jimmy Owens, Don O'Neal, Steve Casebolt, Billy Moyer, Jr., Rod Conley, Chris Garnes, Colten Burdette, Jason Brennan
Simpson Race Products Heat Race #3 Finish (10 Laps, Top 4 Transfer): Josh Richards, Brandon Sheppard, Earl Pearson, Jr., Tyler Carpenter, Shanon Buckingham, Gregg Satterlee, Jonathan Henry, Kyle Thomas
Lucas Oil Products Penetrating Oil Heat Race #4 Finish (10 Laps, Top 4 Transfer): Devin Moran ®, Jonathan Davenport, Hudson O'Neal, Tim McCreadie, Kody Evans, Jason Jameson ®, Todd Brennan, Colton Flinner
Lucas Oil Products Red "N" Tacky Spray Grease B-Main #1 Finish (12 Laps, Top 3 Transfer): Colten Burdette, Stormy Scott, Rod Conley, Jackie Boggs, Freddie Carpenter, Ryan King, Jason Brennan, Derek Davis, Chris Garnes
FAST Shafts B-Main #2 Finish (12 Laps, Top 3 Transfer): Shanon Buckingham, Kody Evans, Jason Jameson ®, Jonathan Henry, Gregg Satterlee, Kyle Thomas, Todd Brennan, Colton Flinner
Lucas Oil Feature Finish (50 Laps):
| | | | | | |
| --- | --- | --- | --- | --- | --- |
| FINISH | START | CAR # | DRIVER NAME | HOMETOWN | EARNINGS |
| 1 | 3 | 20 | Jimmy Owens | Newport, TN | $12,800 |
| 2 | 6 | 1S | Brandon Sheppard | New Berlin, IL | $5,500 |
| 3 | 8 | 49 | Jonathan Davenport | Blairsville, GA | $4,600 |
| 4 | 16 | 39 | Tim McCreadie | Watertown, NY | $3,450 |
| 5 | 10 | 1 | Earl Pearson, Jr. | Jacksonville, FL | $3,050 |
| 6 | 4 | 1M | Devin Moran ® | Dresden, OH | $2,600 |
| 7 | 5 | 1T | Tyler Erb ® | New Waverly, TX | $2,200 |
| 8 | 11 | C9 | Steve Casebolt | Richmond, IN | $1,300 |
| 9 | 12 | 71 | Hudson O'Neal | Martinsville, IN | $1,900 |
| 10 | 17 | 44B | Colten Burdette | Parkersburg, WV | $1,100 |
| 11 | 18 | 50 | Shanon Buckingham | Morristown, TN | $1,075 |
| 12 | 7 | 5 | Don O'Neal | Martinsville, IN | $1,850 |
| 13 | 13 | 99JR | Frank Heckenast, Jr. | Frankfort, IL | $1,025 |
| 14 | 19 | 2s | Stormy Scott | Las Cruses, NM | $1,000 |
| 15 | 24 | 4B | Jackie Boggs | Grayson, KY | $1,000 |
| 16 | 14 | 28 | Tyler Carpenter | Parkersburg, WV | $1,000 |
| 17 | 23 | 1Gk | Ryan King | Seymour, TN | $1,000 |
| 18 | 15 | 21 | Billy Moyer, Jr. | Batesville, AR | $1,700 |
| 19 | 1 | 71C | RJ Conley | Wheelersburg, OH | $1,000 |
| 20 | 9 | 40B | Kyle Bronson | Brandon, FL | $1,700 |
| 21 | 22 | 12J | Jason Jameson ® | Lawrenceburg, IN | $1,700 |
| 22 | 21 | 71R | Rod Conley | Wheelersburg, OH | $1,000 |
| 23 | 2 | 14 | Josh Richards | Shinnston, WV | $1,900 |
| 24 | 20 | 4G | Kody Evans | Camden, OH | $1,000 |