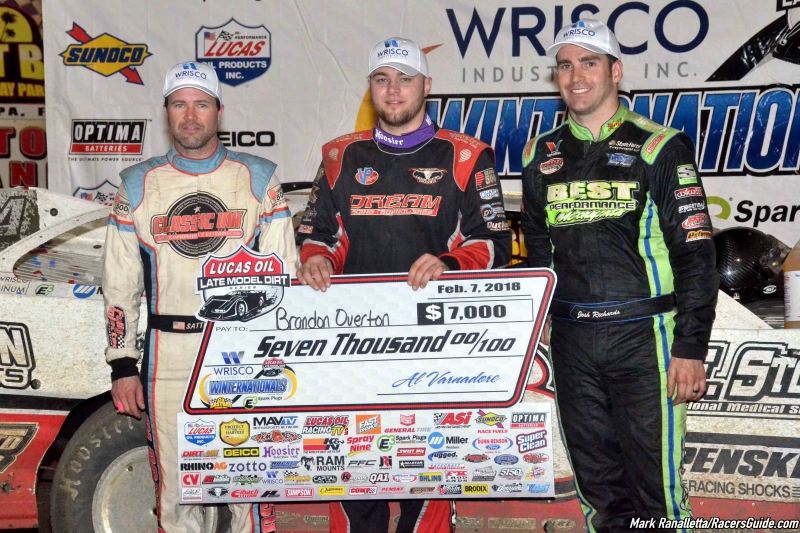 Overton Strikes at East Bay
Story By: Jeremy Shields/LOLMDS
Photos By: Mark Ranalletta/RacersGuide.com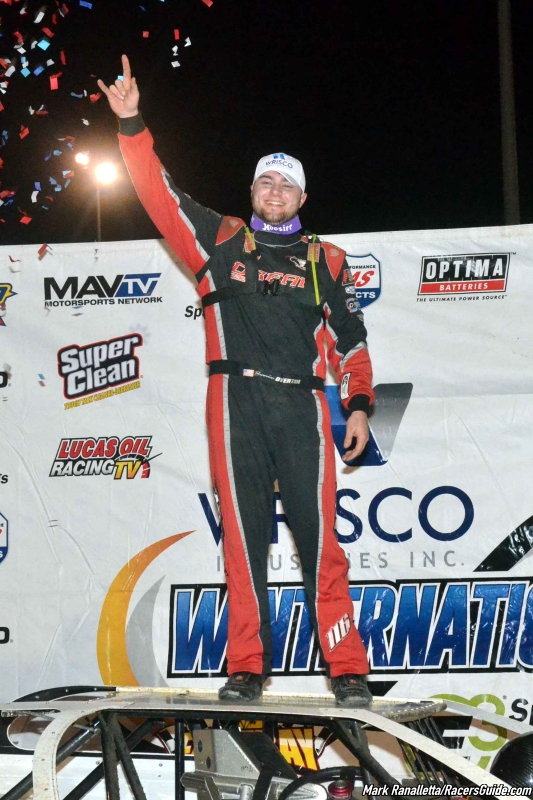 TAMPA, FL (February 7, 2018) – Brandon Overton took the lead on lap 26 from Josh Richards and led the remaining 14 laps to capture his first career East Bay Raceway Park win on Wednesday night. The 42nd Annual Wrisco Industries Winternationals – presented by E3 Spark Plugs produced another spectacular feature race, as the 40-lapper saw three different leaders, and lots of action throughout the field.
Overton's third career Lucas Oil Late Model Dirt Series victory came over Josh Richards, Gregg Satterlee, Jonathan Davenport, and Bobby Pierce.
Overton pilots the Chip Stone and Randy Weaver-owned Longhorn Chassis and started on the outside of the front row. He fell back to as far as fourth in the opening laps of the race, as a torrid battle between Jimmy Owens and Richards took place in front of him. Owens led the first three laps, before relinquishing the top spot to Richards. Overton worked his way back into the top three as he passed Satterlee and then set his sights on Richards.
Overton chased down Richards passing him for the lead. Richards and Satterlee tried to run down Overton late in the race, but Overton crossed the line in first to give Longhorn Chassis back-to-back wins for the week.
"I probably don't have 100 laps total in racing at this track. We have had so much stuff go wrong in these two weeks. We had to borrow an engine from Randy Clary just to run this week. This track changes so much, but it's bad to the bone for sure. We nearly got Jonathan [Davenport] for the win last night and to start on the front row tonight I thought was going to help, but we lost some spots at the start. We were able to gain some ground on those guys up front and the cautions helped as well. I got underneath Josh [Richards] there a few times before I passed him. It's great to finally get a win here! Again, we haven't run here that much in the past, but I am really looking forward to the rest of the week."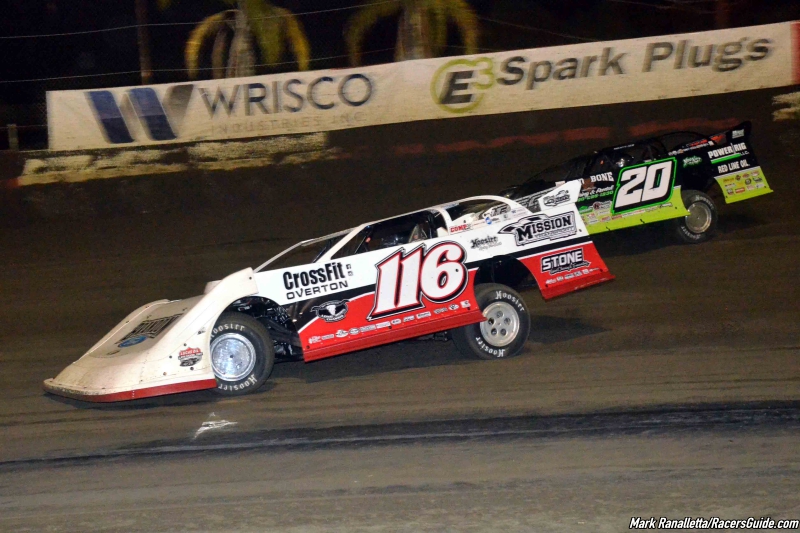 Richards tried to stay close to Overton but wound up holding off Satterlee for the runner-up position. "We are going in the right direction," said the defending Lucas Oil National Champion. "Congratulations to Brandon on the win, he earned it. Our car was getting much better tonight as we keep tweaking on it. We should be really good by the end of the week when the points start back up."
Satterlee had a solid run going on Tuesday night and was pleased with his third-place finish tonight. "We had a good race car last night. We didn't get the finish we wanted, so we worked on some things today to make it better, and it was. I thought I could get under Josh for a moment, but to finish third with these guys, that says a lot. Thanks everyone who helps us out, we appreciate it."
The winner's Longhorn Chassis is sponsored by: Brandon Ford, Crossfit by Overton, A.F. Stone Professional Medical Services, Henderson Motorsports, Dream Racing Technologies, Dierck's LTD, Mission Transport, Outlaw Graphics, and Ted Brown's Quality Paint and Body Shop.
Completing the top ten were Dennis Erb Jr., Billy Moyer Jr., Tyler Erb, Kyle Bronson, and Darrell Lanigan.
Lucas Oil Late Model Dirt Series
Race Summary
Wednesday, February 7, 2018
Wrisco Industries Winternationals – presented by E3 Spark Plugs
East Bay Raceway Park – Tampa, FL
Miller Welders Fast Time Group A: Boom Briggs / 14.807 seconds
Miller Welders Fast Time Group B: Mike Benedum / 14.524 seconds
Eibach Springs Heat Race #1 Finish (10 Laps, Top 3 Transfer): Jimmy Owens, Boom Briggs, Shane Tankersley, Tim Dohm , Nick Davis, Coleby Frye, Greg Oakes, Allen Murray, Doug Drown-DNS
FK Rod Ends Heat Race #2 Finish (10 Laps, Top 3 Transfer): Josh Richards, Jesse Stovall, Tyler Erb, Kyle Bronson, Travis Stemler, Earl Pearson, Jr., Joey Moriarty, Bob Geiger, Craig Wolford
Simpson Performance Products Heat Race #3 Finish (10 Laps, Top 3 Transfer): Gregg Satterlee, Timothy Culp, Austin Hubbard, Scott Bloomquist, Chase Junghans, Jonathan Rowan, Corey Conley , Bob Gardner
QA1 Heat Race #4 Finish (10 Laps, Top 3 Transfer): Brandon Overton, Billy Moyer, Jr., Hudson O'Neal, Mason Zeigler, Jason Jameson, Mike Benedum, Blake Spencer, Tim McCreadie, Byron Meeks
Wrisco Industries Heat Race #5 Finish (10 Laps, Top 3 Transfer): Dennis Erb, Jr., Bobby Pierce, Darrell Lanigan, Don O'Neal, Freddie Carpenter, Morgan Bagley, Jeff Mathews, Ryan King
E3 Spark Plugs Heat Race #6 Finish (10 Laps, Top 3 Transfer): Jonathan Davenport, Devin Moran, Brian Shirley, Donald McIntosh, Shanon Buckingham, Brandon Sheppard, Rance Garlock, Carder Miller
Penske Racing Shocks B-Main #1 Finish (12 Laps, Top 2 Transfer): Kyle Bronson, Scott Bloomquist, Tim Dohm , Chase Junghans, Nick Davis, Earl Pearson, Jr., Travis Stemler, Corey Conley , Coleby Frye, Jonathan Rowan, Greg Oakes, Joey Moriarty, Craig Wolford, Bob Gardner, Bob Geiger, Allen Murray, Doug Drown-DNS
Fast Shafts B-Main #2 Finish (12 Laps, Top 2 Transfer): Mason Zeigler, Don O'Neal, Brandon Sheppard, Shanon Buckingham, Morgan Bagley, Rance Garlock, Freddie Carpenter, Blake Spencer, Ryan King, Carder Miller, Jason Jameson, Tim McCreadie, Jeff Mathews, Donald McIntosh-DNS, Mike Benedum-DNS, Byron Meeks-DNS
DirtOnDirt.com Strawberry Dash Finish (8 Laps): Brandon Sheppard, Tim Dohm, Morgan Bagley, Shanon Buckingham, Chase Junghans, Nick Davis, Rance Garlock, Jonathan Rowan, Coleby Frye, Freddie Carpenter, Carder Miller, Blake Spencer, Travis Stemler, Corey Conley, Greg Oakes
Race Statistics
Entrants: 51
Lap Leaders: Jimmy Owens (Laps 1 – 3); Josh Richards (Laps 4 – 25); Brandon Overton (Laps 26 – 40)
Cautions: Boom Briggs, Mike Benedum (Lap 9); Mason Zeigler (Lap 17)
Lucas Oil Late Model Dirt Series Provisionals: Tim McCreadie, Earl Pearson Jr.
Wrisco Aluminum Fast Time Provisional: Mike Benedum
Lucas Oil Late Model Dirt Series Emergency Provisionals: N/A
Wrisco Feature Winner: Brandon Overton
Optima Batteries Hard Charger of the Race: Brandon Sheppard (Started: 26th; Finished: 12th; Advanced 14 Positions)
Midwest Sheet Metal Spoiler Challenge Point Leader: Josh Richards
Allstar Performance Power Move of the Race: Billy Moyer Jr.
Sunoco Race for Gas Highest Finisher: Josh Richards
Hot Rod Processing Rookie of the Race: N/A
COMP Cams Engine Builder of the Race: Durham Racing Engines
Ohlins Shocks Chassis Builder of the Race: Longhorn Chassis
Outerwears Crew Chief of the Race: Robbie Allen (Gregg Satterlee)
Fastest Lap of the Race: Josh Richards (Lap #10 – 14.7143 seconds)
Most Laps Led: Josh Richards (21 Laps)
Dirty Girl Racewear Farthest Traveler: Joey Moriarty
PFC Brakes Pole Award: Jimmy Owens
Time of Race: 17 minutes 13 seconds
Feature Finish (40 Laps):
| | | | | | |
| --- | --- | --- | --- | --- | --- |
| FINISH | START | CAR # | DRIVER NAME | HOMETOWN | EARNINGS |
| 1 | 2 | 116 | Brandon Overton | Evans, GA | $7,000 |
| 2 | 3 | 1R | Josh Richards | Shinnston, WV | $3,500 |
| 3 | 5 | 22 | Gregg Satterlee | Indiana, PA | $2,000 |
| 4 | 6 | 49 | Jonathan Davenport | Blairsville, GA | $1,500 |
| 5 | 10 | 32 | Bobby Pierce | Oakwood, IL | $1,400 |
| 6 | 4 | 28 | Dennis Erb, Jr. | Carpentersville, IL | $1,300 |
| 7 | 8 | 21JR | Billy Moyer, Jr. | Batesville, AR | $1,200 |
| 8 | 15 | 91 | Tyler Erb | New Waverly, TX | $1,100 |
| 9 | 19 | 40B | Kyle Bronson | Brandon, FL | $1,000 |
| 10 | 16 | 14 | Darrell Lanigan | Union, KY | $950 |
| 11 | 9 | 00 | Jesse Stovall | Billings, MO | $900 |
| 12 | 26 | 1s | Brandon Sheppard | New Berlin, IL | $850 |
| 13 | 17 | 11 | Austin Hubbard | Bridgeville, DE | $800 |
| 14 | 12 | 9 | Devin Moran | Dresden, OH | $750 |
| 15 | 18 | 22* | Brian Shirley | Chatham, IL | $725 |
| 16 | 21 | 0 | Scott Bloomquist | Mooresburg, TN | $700 |
| 17 | 24 | 1 | Earl Pearson, Jr. | Jacksonville, FL | $700 |
| 18 | 14 | 71 | Hudson O'Neal | Martinsville, IN | $700 |
| 19 | 11 | C8 | Timothy Culp | Prattsville, AR | $650 |
| 20 | 25 | 25B | Mike Benedum | Salem, WV | $625 |
| 21 | 13 | T31 | Shane Tankersley | Morganton, GA | $625 |
| 22 | 1 | 20 | Jimmy Owens | Newport, TN | $600 |
| 23 | 20 | 25Z | Mason Zeigler | Chalk Hill, PA | $600 |
| 24 | 23 | 39 | Tim McCreadie | Watertown, NY | $600 |
| 25 | 22 | 5 | Don O'Neal | Martinsville, IN | $600 |
| 26 | 7 | 99B | Boom Briggs | Bear Lake, PA | $600 |