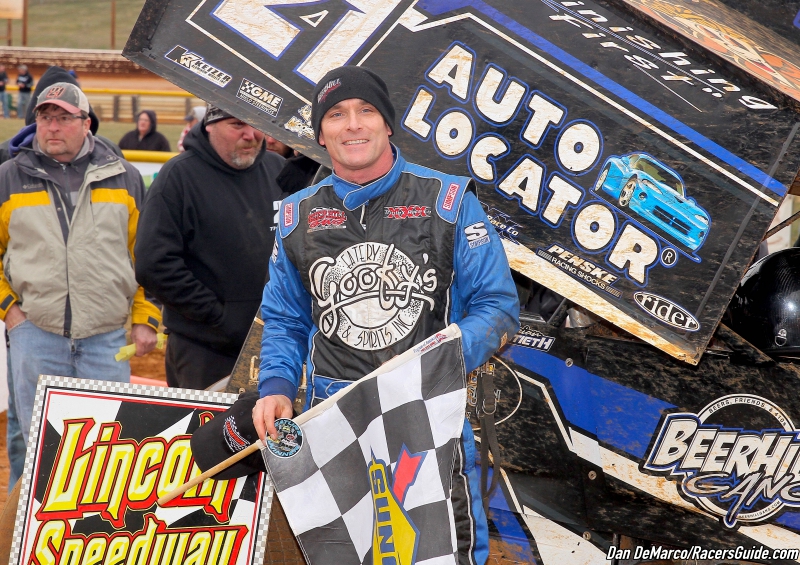 MONTIETH WINS LAST LAP THRILLER FOR 56TH CAREER WIN AT LINCOLN SPEEDWAY;
Jeremy Ott claims first career win in Central PA Legends season opener
Story By: Bill Meyer/Lincoln Speedway
Photos By: Dan DeMarco/RacersGuide.com
ABBOTTSTOWN, PA 3/17/2018 – Montieth drove under race-long leader Alan Krimes with the white flag waving entering the first and second turns, and raced away to his historic 56th career win in the 25-lap 410 sprint feature at the Fabulous Lincoln Speedway Saturday afternoon.
"That was my only shot," said Montieth following his dramatic last lap pass for the win Saturday afternoon. "Alan (Krimes) was better than me in clean air…I was just hoping we'd get to lapped traffic sooner. (Krimes) had a 50-50 shot there on that one, and so did I, but we came out ahead."
"I can't say enough more about this Triple-X ride, Penske, and my boys. It's going to be a long season I think for them because we might tear some stuff up. But it's going to be fun."
It looked like Alan Krimes had the field covered, leading the first 23 laps from his pole starting position. But then Montieth "happened".
Montieth was charging through the field from his 9th starting position to move into second place by the 16th lap. But with Krimes effortlessly working through lapped traffic early on it didn't appear Montieth would have a shot at the win.
A series of fortuitous cautions kept giving Krimes a clear track and clean air to remain in control as the laps wound down. Following the final caution restart with six laps to go Krimes finally caught lapped traffic with two laps to go. And Montieth was there.
"The track was a little narrow…I'll be so glad when the lights are back on" reflected Montieth on his drive to the front in the final day race of the season at Lincoln Speedway. "There was a lot of passing out there and a lot of young guys out there holding there own for a long time. The track was demanding. It just shows you the competition that is here."
With the white flag waving, Krimes got bottled up behind lapped cars entering the first and second turns. Montieth dove under Krimes and grabbed the lead exiting the second turn heading up the backstretch. Montieth held on through the final two turns to claim his first win of 2018.
"This is a new one," said Montieth on this No.21 sprint car in victory lane after his crash the week before at Williams Grove. "That one got wrecked so they just put another one together…every week is a new week so we'll see what happens."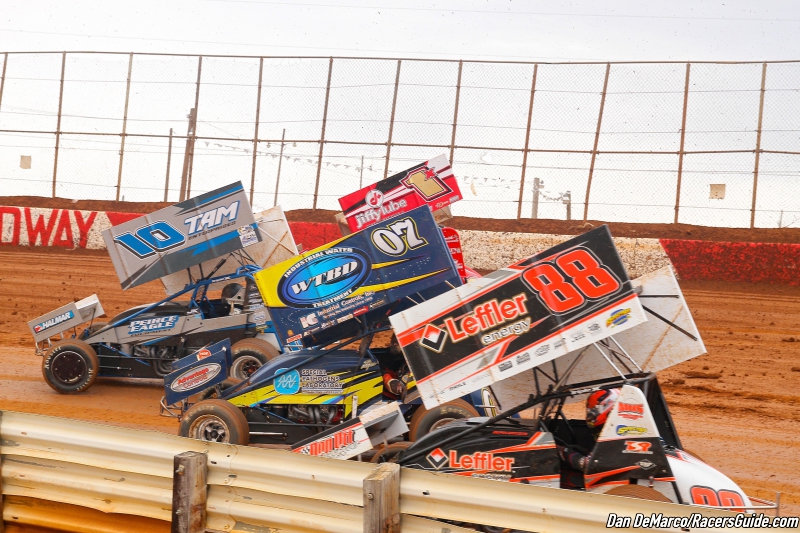 Krimes settled for the runner-up finish, with sixth-starting Cory Haas third, 10th-starting Kyle Moody fourth, and Jim Siegel fifth.
Completing the top-10 were Lucas Wolfe, Anthony Macri, Glenndon Forsythe, Greg Hodnett, and Caleb Helms
"It's good to see the guys come in," Montieth added about the teams who traveled to Lincoln to take advantage of the early-season racing. "It helps you gauge how you stack up against others around the country."
Heats for the 27 410 Sprinters were won by Krimes, Brett Michalski, and Cole Young.
The fans who remained following the 410 sprint feature and braved the chilly afternoon weather got to see a great race-long battle in the season-opening 20-lap Central PA Legends feature. When the checkered flag waved, Carlisle's Jeremy Ott was in front to notch his first career Legends victory.
Early race leader Donnie Leiby surrendered the top spot on lap nine to a charging Mason Chaney who was coming from his eighth starting position.
But Ott, who started ninth, kept pace with Chaney and made his race-winning pass on the 12th lap. Ott then held off Chaney the final eight laps to record his inaugural Legends victory.
10th-starting Travis McClelland finished third, fifth-starting Travis Perry finished fourth, and 19th-starting Lucas Montgomery finished a remarkable run in fifth.
Completing the top-10 were Leiby, Bill Diehl, 20th-starting Trent Yoder, 14th-starting Rick Hartwig, and 12th-starting Auston Bellemare.
Heats for the 30 Pizza Shop of Etters Central PA Legends were won by Chaney, Scott Haudeshell, and Perry, with Montgomery winning the consolation.
Lincoln Speedway switches to night time racing next Saturday, March 24th at 6 PM, with the 410 Sprints being joined by the 358 Sprints. Gates will open at 4 PM, with hot laps getting underway at 5:30 PM, and heats at 6 PM.
To get all the latest news, results, schedule changes and rule changes, visit Lincoln Speedway's website at http://www.lincolnspeedway.com to stay up-to-date on all the action or pending weather conditions at Central Pennsylvania's "Premier" Saturday night race track – The Fabulous Lincoln Speedway.
RACE RESULTS
Saturday, March 17, 2018
LINCOLN SPEEDWAY
Abbottstown, PA
LAWRENCE CHEVROLET 410 SPRINTS
410 Sprint Feature Finish (25 Laps) – 1. 21-Brian Montieth ($3,500); 2. 87-Alan Krimes; 3. 39-Cory Haas; 4. 99M-Kyle Moody; 5. 59-Jim Siegel; 6. 24-Lucas Wolfe; 7. 39M-Anthony Macri; 8. 2W-Glenndon Forsythe; 9. 27-Greg Hodnett; 10. 17C-Caleb Helms; 11. 73B-Brett Michulski; 12. 07-Gerard McIntyre, Jr.; 13. 1X-Chad Trout; 14. 19-Landon Myers; 15. 69-Tim Glatfelter; 16. 35-Tyler Esh; 17. 10K-Joe Kata, III; 18. 22T-Matt Boland (DNF); 19. 17-Cole Young (DNF); 20. 48-Danny Dietrich (DNF); 21. 88-Brandon Rahmer (DNF); 22. 17B-Brett Michulski (DNF); 23. 51-Freddie Rahmer (DNF); 24. 3-Chris Prior (DNF). No Time
Lap Leaders – Alan Krimes (1-24), Brian Montieth (25)
410 Sprint Heat One Finish (10 laps/6 to qualify) – 1. 87-Alan Krimes; 2. 19-Landon Myers; 3. 51-Freddie Rahmer; 4. 99M-Kyle Moody; 5. 39M-Anthony Macri; 6. 1X-Chad Trout; 7. 07-Gerard McIntyre, Jr.; 8. 35-Tyler Esh; 9. 49H-Bradley Howard (DNF). No Time
410 Sprint Heat Two Finish (10 laps/6 to qualify) – 1. 73B-Brett Michalski; 2. 2W-Glenndon Forsythe; 3. 59-Jim Siegel; 4. 17B-Bill Balog; 5. 10-Joe Kata, III; 6. 24-Lucas Wolfe; 7. 88-Brandon Rahmer; 8. 21T-Scott Fisher (DNF); DNS – 7K-Cole Conley. No Time
410 Sprint Heat Three Finish (10 laps/6 to qualify) – 1. 17-Cole Young; 2. 39-Cory Haas; 3. 21-Brian Montieth; 4. 48-Danny Dietrich; 5. 17C-Caleb Helms; 6. 69-Tim Glatfelter; 7. 27-Greg Hodnett; 8. 22T-Matt Boland; 9. 3-Chris Priar (DNF). Time – 2:19.282
PIZZA SHOP AT ETTERS CENTRAL PA LEGENDS
Legends Feature Finish (20 Laps) – 1. 10-Jeremy Ott; 2. 8CR-Mason Chaney; 2. 51-Travis McClelland; 4. 19-Travis Perry; 5. 00-Lucas Montgomery; 6. 19L-Donnie Leiby; 7. 53-Bill Diehl; 8. 66-Trent Yoder; 9. 9-Rick Hartwig; 10. 8-Auston Bellemare; 11. 93-Brent Marquis; 12. 5C-Josh Schrum; 13. 7MD-Nate Renfro; 14. 14-Brian Racine; 15. 14W-Stephen Wurtzer; 16. 8-Robert Shaw; 17. 4X-Brendon Ort; 18. 79-Ed Trump; 19. 18J-Jorgie Sweger; 20. 5-Scott Haudeshell; 21. 75-Chandler Pagnotta; 22. 40-Kevin Nowak; 23. 15H-Harlon Leppo; 24. 58Z-Zachary Settle
Lap Leaders – Donnie Leiby (1-8), Mason Chaney (9-11), Jeremy Ott (12-20)
Legends Heat One Finish (8 laps/6 to qualify) – 1. 8CR-Mason Chaney; 2. 53-Bill Diehl; 3. 18J-Jorjie Sweger; 4. 75-Chandler Pagnotta; 5. 58-Zachary Settle; 6. 79-Ed Trump; 7. 7MD-Nate Renfro; 8. 8-Robert Shaw; 9. 14-Brian Racine; 10. 66-Trent Yoder (DNF). No Time
Legends Heat Two Finish (8 laps/6 to qualify) – 1. 5-Scott Haudeshell; 2. 51-Travis McClelland; 3. 8-Austin Bellemere; 4. 15H-Harlon Leppo; 5. 9-Rick Hartwig; 6. 4X-Brandon Ort; 7. 14W-Stephen Wurtzer; 8. 42-Scott Lee; 9. 18-Chris Transeau (DNF); 10. 00-Lucas Montgomery (DNF). No Time
Legends Heat Three Finish (8 laps/6 to qualify) – 1. 19-Travis Perry; 2. 19L-Donnie Leiby; 3. 10-Jeremy Ott; 4. 40-Kevin Nowak; 5. 5C-Josh Schrum; 6. 93-Brent Marquis; 7. 30-Alex Robinson; 8. 17B-Brian Blank; 9. 83-James Snow; 10. 17-Chris Kennedy. No Time
Legends Consolation Finish (8 laps/6 to qualify) – 1. 00-Lucas Montgomery; 2. 66-Trent Yoder; 3. 14W-Stephen Wurtzer; 4. 7-Nate Renfro; 5. 30-Alex Robinson; 6. 8-Robert Shaw; 7. 14-Brian Racine; 8. 17-Chris Kennedy; 9. 88J-James Snow; 10. 42-Scott Lee (DNF); 11. 17B-Brian Blank (DNF); DNS – 18-Chris Transeau. No Time