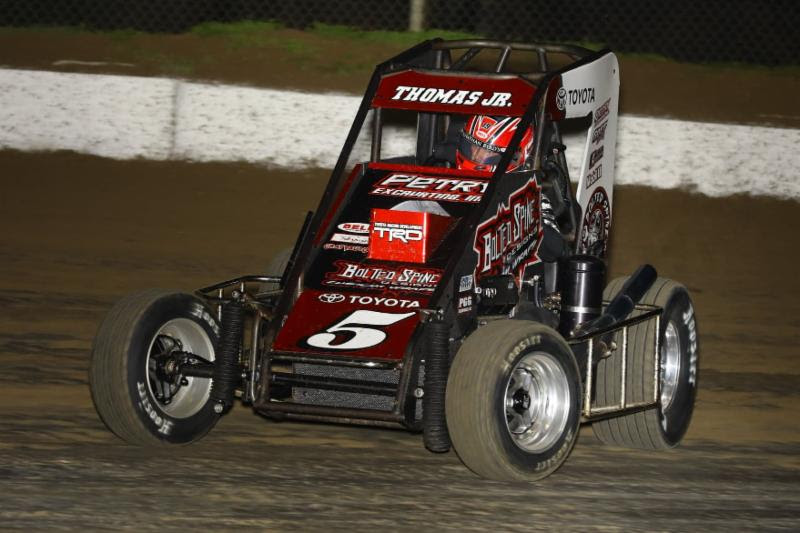 KEVIN THOMAS, JR. LEADS ALL IN OCALA MIDGET PRACTICE NIGHT
Story By: Richie Murray – USAC Media
Photo By: Rich Forman/USAC Racing
Ocala, Florida (February 7, 2019)………Kevin Thomas, Jr. led all 26 drivers on hand during Thursday's USAC NOS Energy Drink Midget National Championship/"Winter Dirt Games X" practice night at Bubba Raceway Park.
Cullman, Alabama's Thomas, in his Petry Motorsports/Bolted Spine Designs – Petry Excavating – Gray Auto/Bullet/Speedway Toyota, set the time in the first of the four sessions with a time of 14.263. C.J. Leary was second at 14.305, followed by Chris Windom (14.420), Chase Jones (14.427) and Tyler Courtney (14.450).
Thomas began his 2018 campaign with Petry, winning a pair of midget races on the 3/8-mile, D-shaped dirt track.
Past series champion Tanner Thorson (2016) was eighth at 14.468, while 2006-07 titlist Jerry Coons, Jr. was tenth and reigning series king Logan Seavey was 22nd.
A full slate of racing for the USAC NOS Energy National Midgets are on tap the next two nights, Friday and Saturday, February 8-9 at Bubba Raceway Park. Pits open at 3pm Eastern each day. Grandstands open at 5pm on Friday and 4pm on Saturday. Cars hit the track for engine heat at 6:30pm Eastern on Friday and at 5:30pm on Saturday.
All nights of racing from Ocala will be live on http://www/FloRacing.com/.
————————————-
USAC NOS ENERGY DRINK MIDGET NATIONAL CHAMPIONSHIP PRACTICE RESULTS: February 7, 2019 – Bubba Raceway Park – Ocala, Florida – "Winter Dirt Games X"
PRACTICE: 1. Kevin Thomas, Jr., 5, Petry-14.263; 2. C.J. Leary, 76m, FMR-14.305; 3. Chris Windom, 17BC, Clauson/Marshall-14.420; 4. Chase Jones, 57B, Ecker-14.427; 5. Tyler Courtney, 7BC, Clauson/Marshall-14.450; 6. Tanner Carrick, 71K, Kunz/Curb-Agajanian-14.454; 7. Zeb Wise, 39BC, Clauson/Marshall-14.459; 8. Tanner Thorson, 3c, Tri-C-14.468; 9. Adam Pierson, 74m, Mancini/Manafort-14.544; 10. Jerry Coons, Jr., 25, Petry-14.587; 11. Tyler Thomas, 91T, Thomas-14.595; 12. Cole Bodine, 15, Petry-14.636; 13. Karter Sarff, 21KS, Reynolds-14.647; 14. Steve Buckwalter, 0, Buckwalter-14.654; 15. Sterling Cling, 35, Petry-14.669; 16. Tucker Klaasmeyer, 27, Kunz/Curb-Agajanian-14.676; 17. Chad Boat, 84, Tucker/Boat-14.698; 18. Zane Hendricks, 27z, Hendricks-14.838; 19. Sam Johnson, 19J, Reynolds/Jetson-14.898; 20. Andrew Layser, 47BC, Clauson/Marshall-14.943; 21. Ethan Mitchell, 19m, Bundy Built-15.014; 22. Logan Seavey, 67, Kunz/Curb-Agajanian-15.014; 23. Holley Hollan, 67K, Kunz/Curb-Agajanian-15.066; 24. Karsyn Elledge, 1, Tucker/Boat-15.120; 25. Jesse Colwell, 71, Kunz/Curb-Agajanian-15.218; 26. Noah Gass, 20G, Gass-15.524.