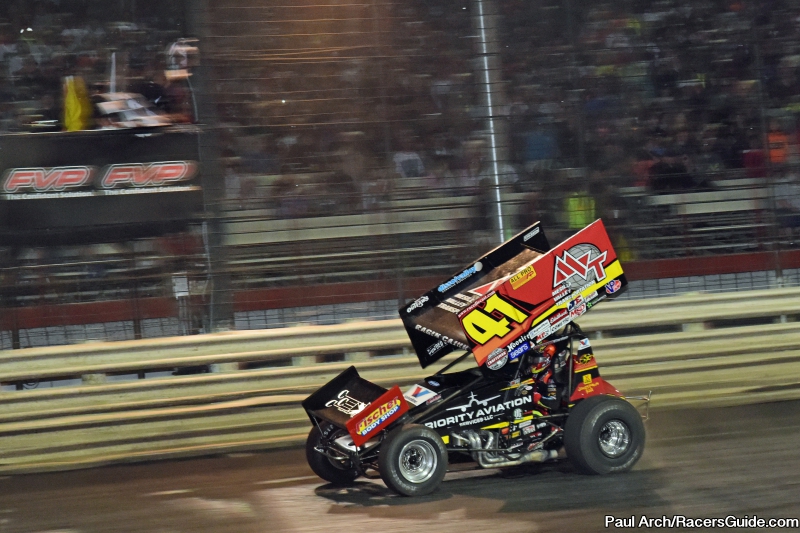 Jason Johnson Sweeps Friday Night's Events at 5-Hour ENERGY Knoxville Nationals
Schuchart comes from 11th to lock into Saturday's main event
Story By: Anthony Corini/WoO
Photos By: Dick Ayers & Paul Arch/RacersGuide.com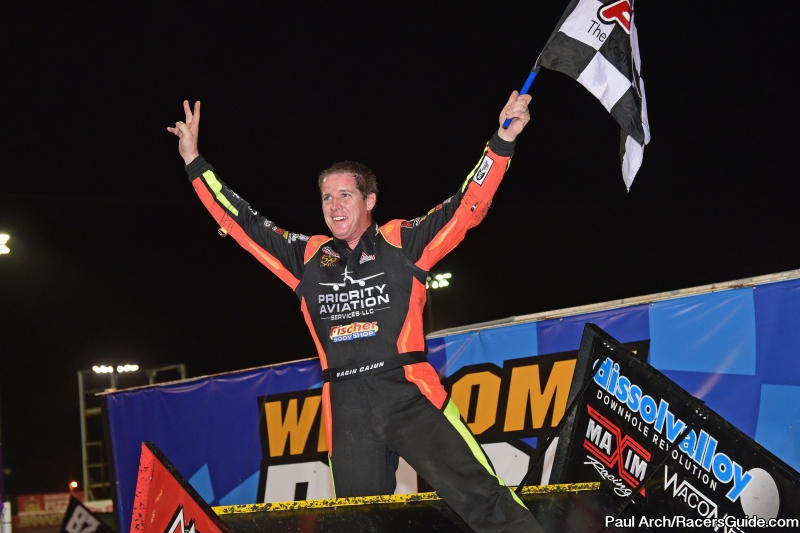 KNOXVILLE, IA – August 11, 2017 – Defending 5-Hour ENERGY Knoxville Nationals Champion Jason Johnson had two opportunities to lock-in to Saturday Night's finale and took advantage of both them sweeping both the Friday night feature and the SPEED SPORT World Challenge. World of Outlaws Craftsman Sprint Car Series Driver Logan Schuchart, Texas wheelman Aaron Reutzel and California's Cory Eliason also punched their tickets into Saturday night's 50-lap, $150,000 to-win feature Friday night at Knoxville.
Johnson set quick time in his group, won his heat race and dominated the 25-lap Feature. "We came back with confidence after last night. I just needed to hit my marks and do my job," Johnson said. Johnson's win will line him up 17th in tomorrow's 50-lap Feature. When asked about how he will approach the Feature starting further back then last year Johnson said, "It's a mindset difference. Obviously, you want to start on the front row but you just have to sit down with yourself and know it will be a different outcome. The best we could do tonight was win and start 17th tomorrow and we did that."
Jacob Allen started on the pole and led the opening circuit before giving way to Johnson. Allen stayed with Johnson throughout the early portion of the race. A lap four red flag for Lynton Jeffrey bunched the field together, which was exactly what Allen's teammate, Logan Schuchart needed. Schuchart, who originally started 11th, restarted eighth and begun his charge on the bottom of the half-mile. Schuchart worked his way through the field and overtook Eliason for the fourth and final transfer spot. A lap later Schuchart breezed by both his teammate Allen and Reutzel to move into the runner-up position, where he would finish.
Reutzel got by Allen and a lap later Allen hit the inside berm the wrong and allowed Eliason to sneak underneath the #1A off of turn four. 20th starting Chad Kemenah charged his way forward but was unable to get by Eliason for the final spot.
Johnson would go on to win by 4.535 seconds. Schuchart, who locked into his second consecutive Knoxville Nationals Feature, becomes the seventh World of Outlaws Craftsman Sprint Car Series driver to lock-in to tomorrow's Feature. "We've had a lot of ups and downs this season. I'm happy for my team. We had a lot of confidence coming in for our qualifying night but we blew up. I felt like we had a good shot at it tonight and I'm glad we were able to lock in to the Feature tomorrow," a happy Schuchart said.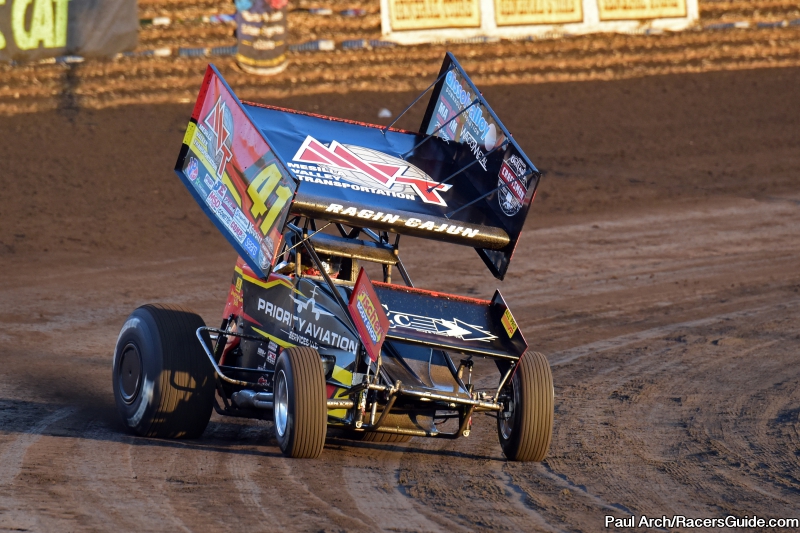 Aaron Reutzel and Cory Eliason both qualified for their first Knoxville Nationals A-Main.
Jason Johnson was not done there. He started fourth in the SPEED SPORT World Challenge and passed race-long leader James McFadden on lap seven and never looked back. McFadden settled for second with 14th starting Brad Sweet, Dominic Scelzi and Brian Brown completing the top five.
Saturday night the 5-Hour ENERGY Knoxville Nationals come to an end, concluding with a 50-lap, $150,000 to-win Feature. There will be an E-Main, D-main, C-Main and Last Chance Showdown leading up the finale.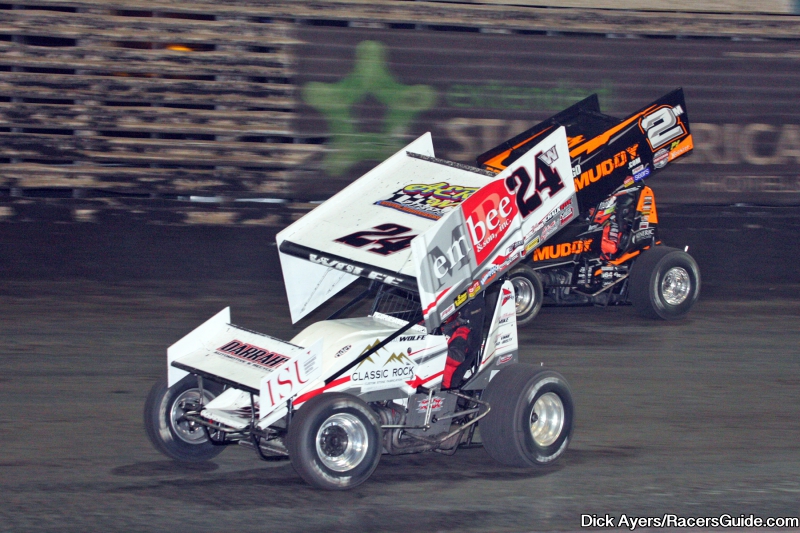 ABBREVIATED RACE RESULTS FROM: FVP Preliminary Night of 5-Hour ENERGY Knoxville Nationals:
FEATURE (25 Laps): 1. Jason Johnson (2); 2. Logan Schuchart (11); 3. Aaron Reutzel (3); 4. Cory Eliason (4); / 5. Chad Kemenah (20); 6. Spencer Bayston (7); 7. Sheldon Haudenschild (9); 8. Brooke Tatnell (15); 9. Tim Kaeding (12); 10. Sammy Swindell (14); 11. Kraig Kinser (16); 12. Jacob Allen (1); 13. Joey Saldana (5); 14. Brent Marks (10); 15. Bill Balog (21); 16. Brady Bacon (17); 17. Cole Duncan (6); 18. James McFadden (24); 19. Jeff Swindell (8); 20. Jac Haudenschild (22); 21. Scott Bogucki (23); 22. Sam Hafertepe Jr. (18); 23. Dane Lorenc (13); 24. Lynton Jeffrey (19); Lap Leaders: Allen 1, Johnson 2-25; Hard Charger: Kemenah
Flight A: 1. 1A, Jacob Allen, Hanover, PA (27), 15.691; 2. 87, Aaron Reutzel, Clute, TX (13), 16.002; 3. 51, Joey Saldana, Brownsburg, IN (28), 16.002; 4. 12, Lynton Jeffrey, Sydney, NSW, Aust. (21), 16.012; 5. 17B, Bill Balog, Hartland, WI (6), 16.059; 6. 39, Spencer Bayston, Lebanon, IN (16), 16.074; 7. 93, Sheldon Haudenschild, Wooster, OH (3), 16.083; 8. 1S, Logan Schuchart, Hanover, PA (35), 16.126; 9. 1, Thomas Kennedy, Winnipeg, MB, Can. (30), 16.157; 10. 00, Dane Lorenc, Lancaster, NY (23), 16.159; 11. 55, Brooke Tatnell, Sans Souci, NSW, Aust. (31), 16.181; 12. 99, Brady Bacon, Broken Arrow, OK (2), 16.221; 13. 99G, Skylar Gee, Leduc, ALB, Can. (1), 16.233; 14. 81, Lee Jacobs, Dalton, OH (10), 16.245; 15. 22, Rager Phillips, Pleasantville, IA (18), 16.259; 16. 4X, Dakota Hendrickson, Omaha, NE (26), 16.264; 17. 3G, Carson Macedo, Lemoore, CA (11), 16.272; 18. 84, Scott Bogucki, McLaren Vale, SA, Aust. (36), 16.277; 19. 21AU, Jordyn Brazier, Maroochydore, QLD, Aust. (12), 16.312; 20. W20, Greg Wilson, Benton Ridge, OH (17), 16.335; 21. 53, Jack Dover, Springfield, NE (20), 16.341; 22. 71A, RJ Johnson, Tampa, FL (14), 16.361; 23. 35V, Jamie Veal, Warrnambool, VIC, Au (34), 16.374; 24. 70, Clint Garner, Sioux Falls, SD (25), 16.380; 25. 1B, Dustin Selvage, Indianola, IA (29), 16.387; 26. 3P, Sawyer Phillips, Pleasantville, IA (32), 16.430; 27. 85, Chase Wanner, Agency, IA (33), 16.530; 28. 5J, Jeremy Schultz, Beaver Dam, WI (15), 16.532; 29. 9X, Jake Bubak, Arvada, CO (9), 16.541; 30. 26, Tayler Malsam, Sammamish, WA (5), 16.578; 31. 13, Clyde Knipp, California, MO (24), 16.595; 32. 8H, Jason Kendrick, Perth, WA, Aust. (8), 16.597; 33. 9Z, Jared Goerges, Brainerd, MN (4), 16.807; 34. 13V, Seth Brahmer, Norfolk, NE (19), 16.907; 35. 9C, Roger Campbell, Clyde, OH (22), 17.044; 36. 1P, Curtis Evans, Norborne, MO (7), 17.102;
Flight B: 1. 41, Jason Johnson, Eunice, LA (3), 15.872; 2. 17, Jac Haudenschild, Wooster, OH (15), 16.002; 3. 10H, Chad Kemenah, Alvada, OH (30), 16.085; 4. 71, Kevin Thomas Jr., Cullman, AL (28), 16.156; 5. 2MM, Matt Moro, Polk City, IA (14), 16.170; 6. 5H, Cory Eliason, Selma, CA (22), 16.196; 7. 12N, Cole Duncan, Lockbourne, OH (31), 16.206; 8. 94, Jeff Swindell, Bartlett, TN (7), 16.232; 9. 19, Brent Marks, Myerstown, PA (10), 16.250; 10. 3K, Tim Kaeding, San Jose, CA (23), 16.271; 11. 3S, Sammy Swindell, Germantown, TN (8), 16.274; 12. 11K, Kraig Kinser, Bloomington, IN (36), 16.298; 13. 1Z, Dale Blaney, Hartford, OH (33), 16.305; 14. 17W, Harli White, Lindsay, OK (21), 16.306; 15. 3, James McFadden, Ormeau, QLD, Aust. (11), 16.317; 16. 17X, Josh Baughman, Odessa, TX (1), 16.324; 17. 15H, Sam Hafertepe Jr., Sunnyvale, TX (2), 16.393; 18. 1X, Don Droud Jr., Lincoln, NE (20), 16.400; 19. 67X, Parker Price-Miller, Kokomo, IN (24), 16.425; 20. 9N, Wade Nygaard, Grand Forks, ND (4), 16.458; 21. 49J, Josh Schneiderman, West Burlington, IA (25), 16.487; 22. 68, Chase Johnson, Penngrove, CA (17), 16.491; 23. 1M, Danny Lasoski, Dover, MO (5), 16.566; 24. 44, Chris Martin, Ankeny, IA (13), 16.579; 25. 17M, Max McGhee, Camby, IN (6), 16.580; 26. 56N, Davey Heskin, St. Michael, MN (26), 16.627; 27. 7W, Tasker Phillips, Pleasantville, IA (19), 16.701; 28. 15M, Bobby Mincer, Burlington, IA (12), 16.827; 29. 19L, Todd King, Sheboygan Falls, WI (35), 16.862; 30. X1, Mason Moore, Chico, CA (18), 16.931; 31. 12W, Josh Walter, Plymouth, WI (16), 16.938; 32. 19P, Paige Polyak, Tiffin, OH (9), 16.974; 33. 95, Matt Covington, Glenpool, OK (34), 17.317; 34. 23W, Scott Winters, Butterfield, MN (32), 17.388; 35. 10V, Kyle Reinhardt, Neptune City, NJ (29), 17.600; 36. 83C, Adam Cruea, Troy, OH (27), 17.667;