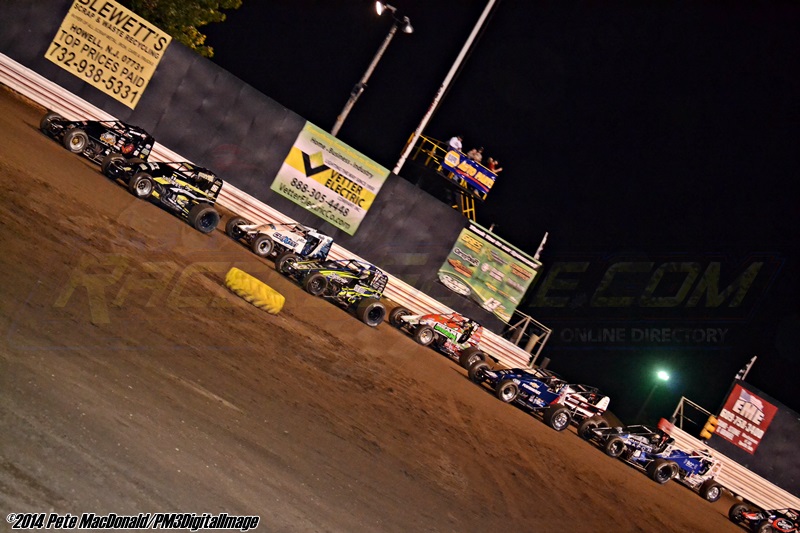 FOR IMMEDIATE RELEASE
NOVEMBER 11, 2014
DICK JORDAN
EAST BAY EXPANDS FLORIDA "WINTER DIRT GAMES" TO 6 RACES
It's destination Florida for race fans in February. That's nothing new except it has been expanded this year with a three-night AMSOIL USAC National Sprint car weekend at East Bay Raceway in Gibsonton February 26-28. An open practice night is on tap February 25.
These three races are added to the already-announced February 19-21 races at Bubba Raceway Park in Ocala, creating more than $130,000 in prize money up for grabs for USAC participants to kick off the 2015 National campaign! The now six-race "Winter Dirt Games VI" schedule throws a healthy dose of wingless sprint car racing into Florida's season kickoff calendar while making USAC's lone visit to the "Sunshine State" an even stronger trip.
Damion Gardner, who will lock down his third AMSOIL USAC/CRA title this weekend at Peoria, Ariz., swept a pair of races at East Bay in 2010. Four years earlier the track hosted its initial USAC races, a trio of Ford Focus events.
The Sprint cars then converged on Ocala for races beginning in 2011 and 2015 marks the fifth straight year that the "Winter Dirt Games" will return to Bubba Raceway Park. Just one week later they will now race at East Bay, closing the track's "Winter Nationals" schedule.
Ironically, Brady Bacon and Bryan Clauson won the 2014 Ocala openers. They run 1-2 in the National standings entering this coming weekend's finales in Arizona.
"We are delighted to announce these additional February dates for our participants," says series coordinator Jason McCord. "Florida has always been a destination during this time and it's fun to get out of the Midwestern cold and enjoy the sunny atmosphere down south. We have enjoyed great success with the Ocala races and the addition of the East Bay events now enhances the vacation opportunities for our valued fans."
USAC Sprint racing dates all the way back to USAC's inception (1956), when they competed at West Palm Beach, Jacksonville and Miami. Bob Sweikert won the first USAC Sprint race ever at West Palm Beach.
The ensuing years have included USAC Championship Car, Silver Crown, Formula 2000, Midget, Sprint, Sports Car and Ford Focus competition as a number of speedways across the state.
–USAC-