[xyz-ihs snippet="Posts-Ad"]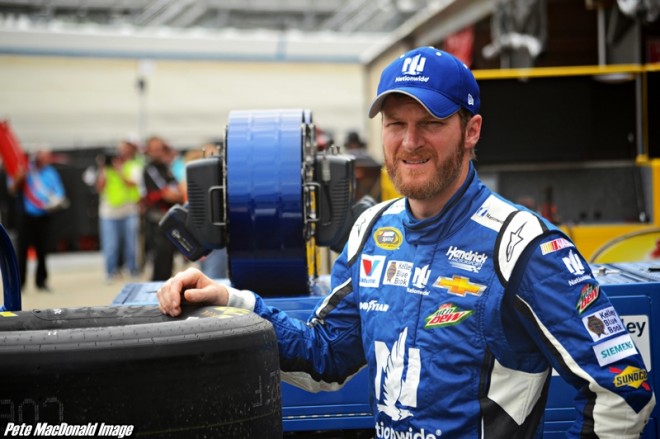 Earnhardt classy in defeat despite Chase elimination
Oct. 25, 2015
By Mark McCarter
NASCAR Wire Service
TALLADEGA, Ala. – This wasn't the storybook finish that fans of Dale Earnhardt Jr. coveted.
Earnhardt came into Sunday's CampingWorld.com 500 needing a victory to advance to the Eliminator Round of the Chase for the Sprint Cup. As a six-time winner at Talladega Superspeedway, it was very much within the realm of possibility and something he sensed.
"Just been real nervous, feeling sick to my stomach," said Earnhardt, describing the way he felt all weekend.
With the race on the line, he was on the inside of the front row, alongside Joey Logano, for a green-white-checkered restart that was aborted a split-second before the green flag dropped. An accordion pileup of cars on the row behind Earnhardt prompted the caution.
Then, on the restart that counted, Kevin Harvick triggered a wreck that brought out another quick caution before the leaders could reach turn one. After poring over replays, NASCAR officials ruled that Logano was a ahead of Earnhardt when the caution came out.
While many fans were dissatisfied, Earnhardt handled things with characteristic class and refused to be drawn into the controversy.
"I felt like, per the rule book, it sorted out and I finished second," Earnhardt said. "I'm OK with that. We could argue they could have waited another hundred feet to throw the caution, but they didn't have to. They threw it when they needed to. I'm fine with that.
"I know those guys up in the booth, and I really believe in the choices they make and decisions they make for the sport, whether it's in the middle of a race or a new rule in the middle of the week, whatever it is."
He didn't rant about the rule, saying "I can live with it." He recognized that two previous finishes in the Contender Round were devastating.
"I can look back on a lot of different things that put me in this situation right now, starting with the first two races in this round where we didn't run well," Earnhardt said. "We got wrecked by the 19 (Carl Edwards), and just didn't run well at Kansas."
Instead, he merely raved about his car and its performance. It wasn't always an easy day. He felt a vibration midway through the race that couldn't have been helpful to a nervous stomach. He was penalized when one of his crew members climbed over the pit wall too soon. Earnhardt caught a break when, moments before being passed to go a lap down, a caution came out on lap 133.
He was "just real happy with how we ran today. I'm more proud of the drive I had today than the two wins this year. The two wins came a lot easier than this second place did."
A season ago, he was left disappointed after Talladega only to go to Martinsville the next weekend and win.
"The best thing that could happen for us is the same thing that happened last year, go win," Earnhardt said. "We're disappointed today.
"If we can go to the race track and win," he said, "it certainly makes our situation much more bearable."
[xyz-ihs snippet="Posts-Ad"]