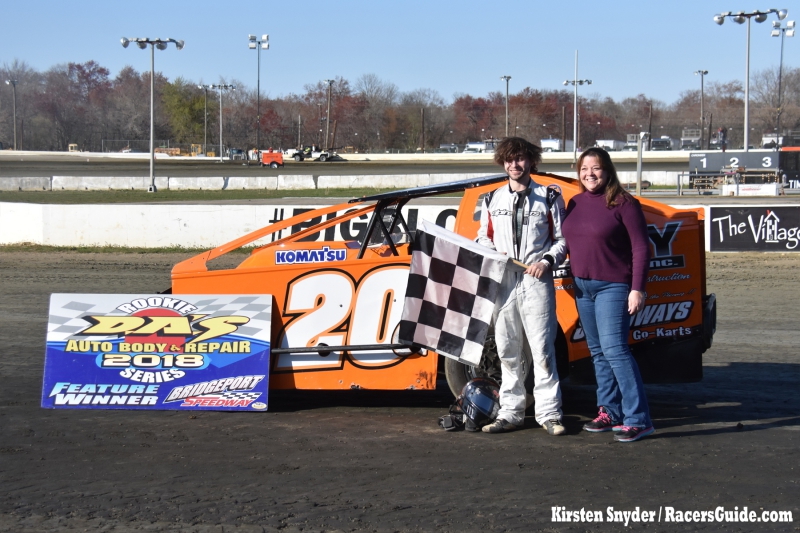 DA'S AUTO BODY & REPAIR RETURNS AS TITLE SPONSOR OF BRIDGEPORT ROOKIE CLASS
Story By: Deb Smith/Bridgeport Speedway
Photo By: Kirsten Snyder/RacersGuide.com
The Bridgeport Speedway welcomes back DA's Auto Body & Repair as the title sponsors for the 2019 Rookie Division at the Logan Township facility.
Dave Adams, owner/operator of DA's Auto Body & Repair, has supported this Rookie division from the beginning – even going back to Bridgeport's "Young Gun" program years ago. A former racer, himself, Adams knows the value the the Rookie program brings to these first time competitors. "That seat time with drivers of comparable experience is huge," Adams explained. "We go over some of the basics — getting on and off the track, getting the car in gear, what the flags mean – before we let them out on the track for the first time. Then we get them together again after their first practice session to answer any questions."
The Young Gun program produced several well-known competitors in today's starting line-ups like Billy Pauch, Jr., Jesse Hill and Kyle Strickler. DA's Auto Body & Repair Rookie Champions include Ian Humphries, Matt Peck, Steve Kemery, Chuck Sayre, Jim Gallagher and Sammy Martz, Jr.
Anyone interested in competing in year's Rookie class at the Bridgeport Speedway can contact Danny Serrano at (609) 433-4487 or at bridgeportspeedway@gmail.com.
The Bridgeport Speedway will open the 5/8th mile track for practice on Saturday, March 23rd with the season opener – the 60 Over-Doug Hoffman Memorial Race – coming one week later on March 30th, featuring the Big Block Modifieds, 602 Crate Sportsman and Outlaw Stocks.