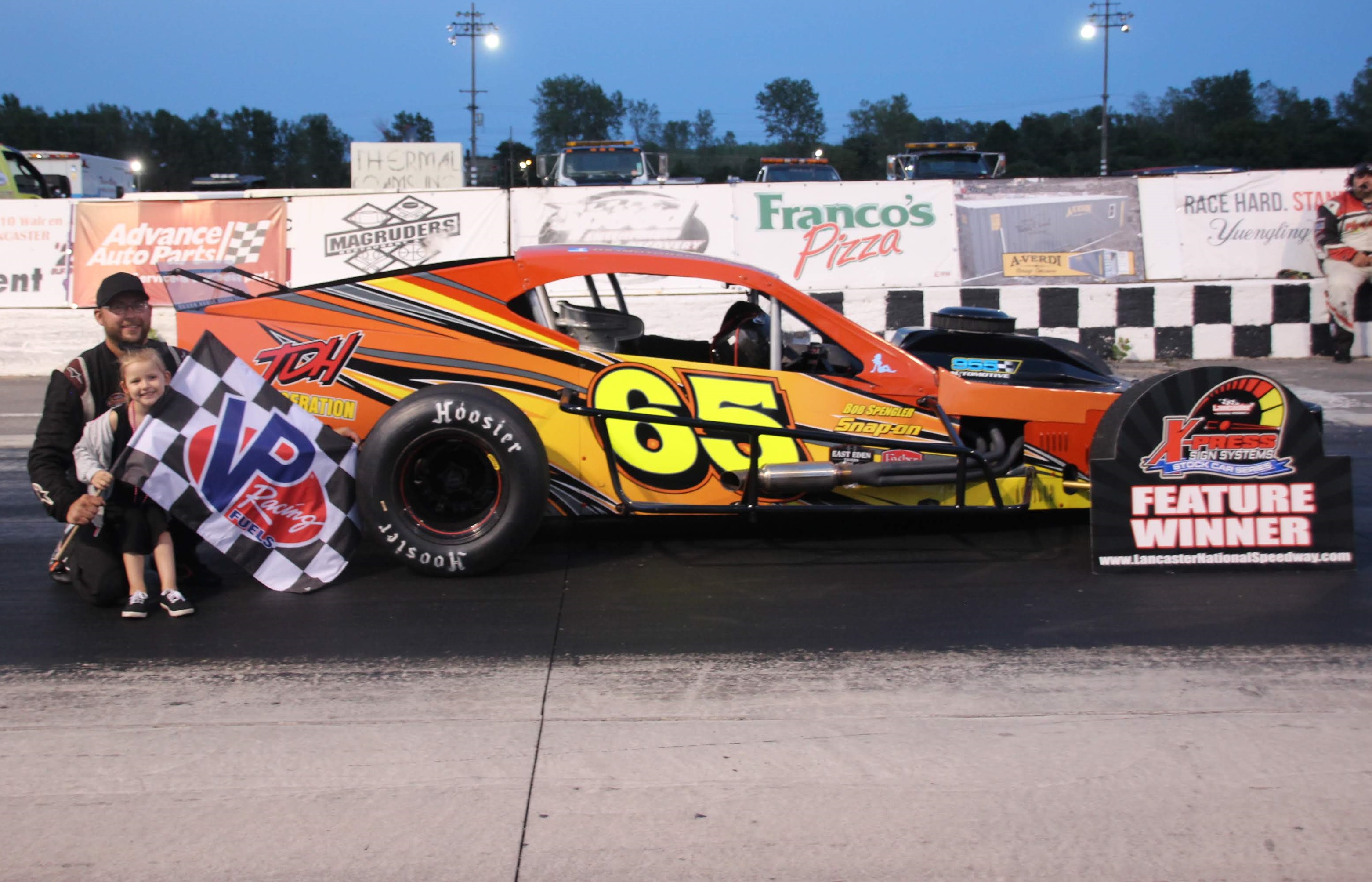 CRYAN HONORS FALLEN CHAMPION JULICHER WITH KEN HECKLER TRIBUTE 51 WIN AT LANCASTER
Skora, Sprgaue & Palmer score victories
Story By: Dave Buchanan / Lancaster National Speedway
Photos By: Paula Thompson / Lancaster National Speedway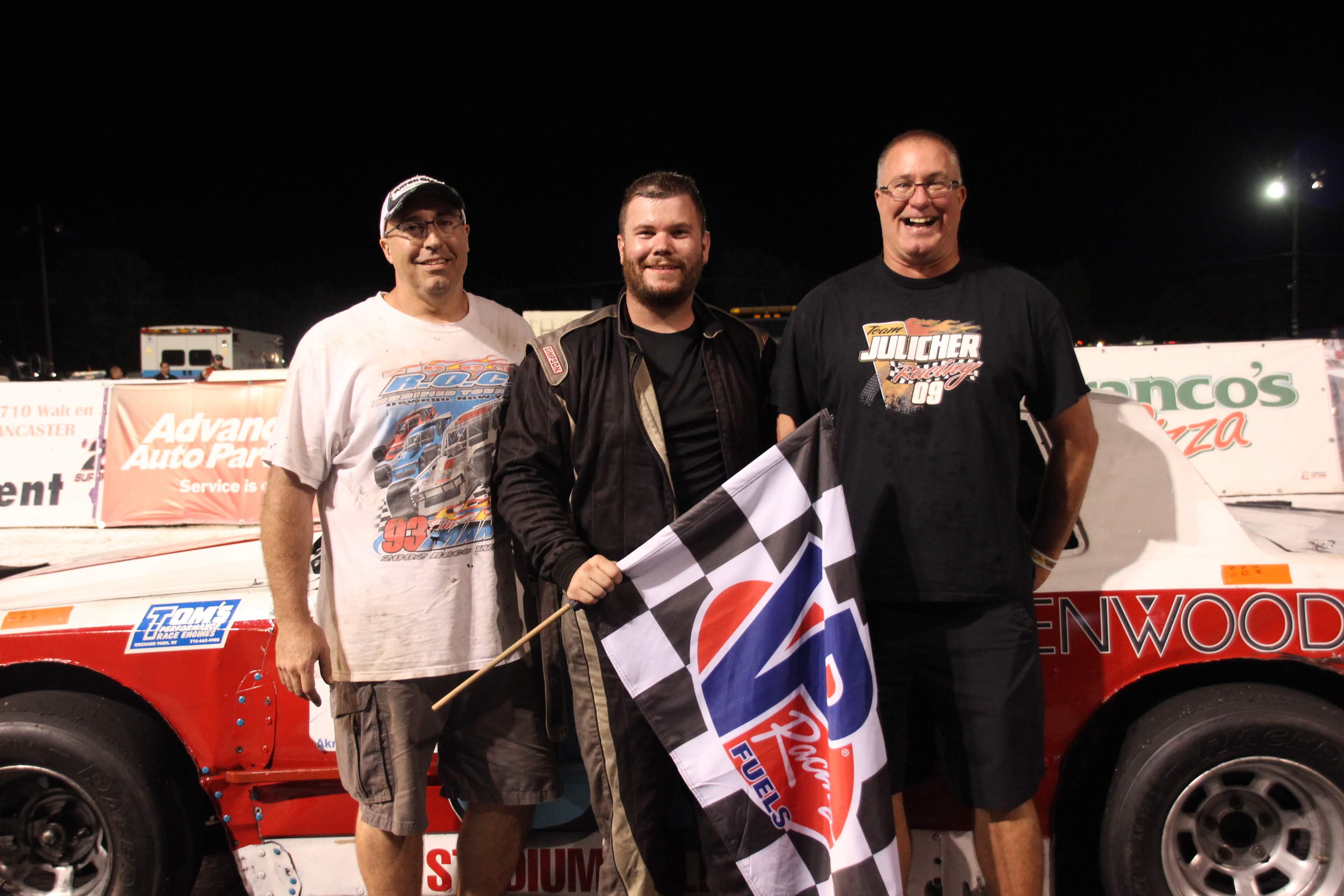 LANCASTER, N.Y. (August 11, 2018) – Andy Cryan's eighth Advance Auto Parts Street Stock win of the season might have been his most meaningful as he captured the 2nd annual Ken Heckler Tribute 51 on Saturday night at Lancaster National Speedway.
The win by Cryan came just two days after the passing of nine-time Late Model track champion, John Julicher. Julicher had been a mentor to Cryan during the past couple seasons, and his son, Brad Julicher, serves as Cryan's crew chief. Cryan runs the #09 and sports a paintscheme that is similar to Julicher's Late Models as a tribute the winningest Late Model driver in track history.
Cryan lined up ninth in the 22-car field for the Ken Heckler Tribute 51 lap race. The event pays tribute to former racer and track official, Ken Heckler, who passed away suddenly in 2017. Garrett Cleversley and Bob Palmer started on the front row. Cleversley grabbed the early lead followed by Tim Welshans, Mike Dalfonso and Tommy Wentland.
Welshans took the lead from Cleverlsey on lap 3 and Dalfonso followed him into second place. Dalfonso took the top spot from Welshans eight laps later just before the yellow flag waved after Ken Camidge's engine expired in turn four. The race restarted with Dalfonso leading Dave Vona, Welshans, Tommy Wentland, and Nik Welshans.
The trio of Dalfonso, Vona and Wentland pulled away from the field until lap 25 when the yellow flag was displayed again. This caution period was for the mandatory field inversion. A random draw between 2-12 decided how many cars would be inverted. The Heckler family drew the number 12 for the inversion, which meant the leader was dropped to 12th place, and the 12th place car moved to first.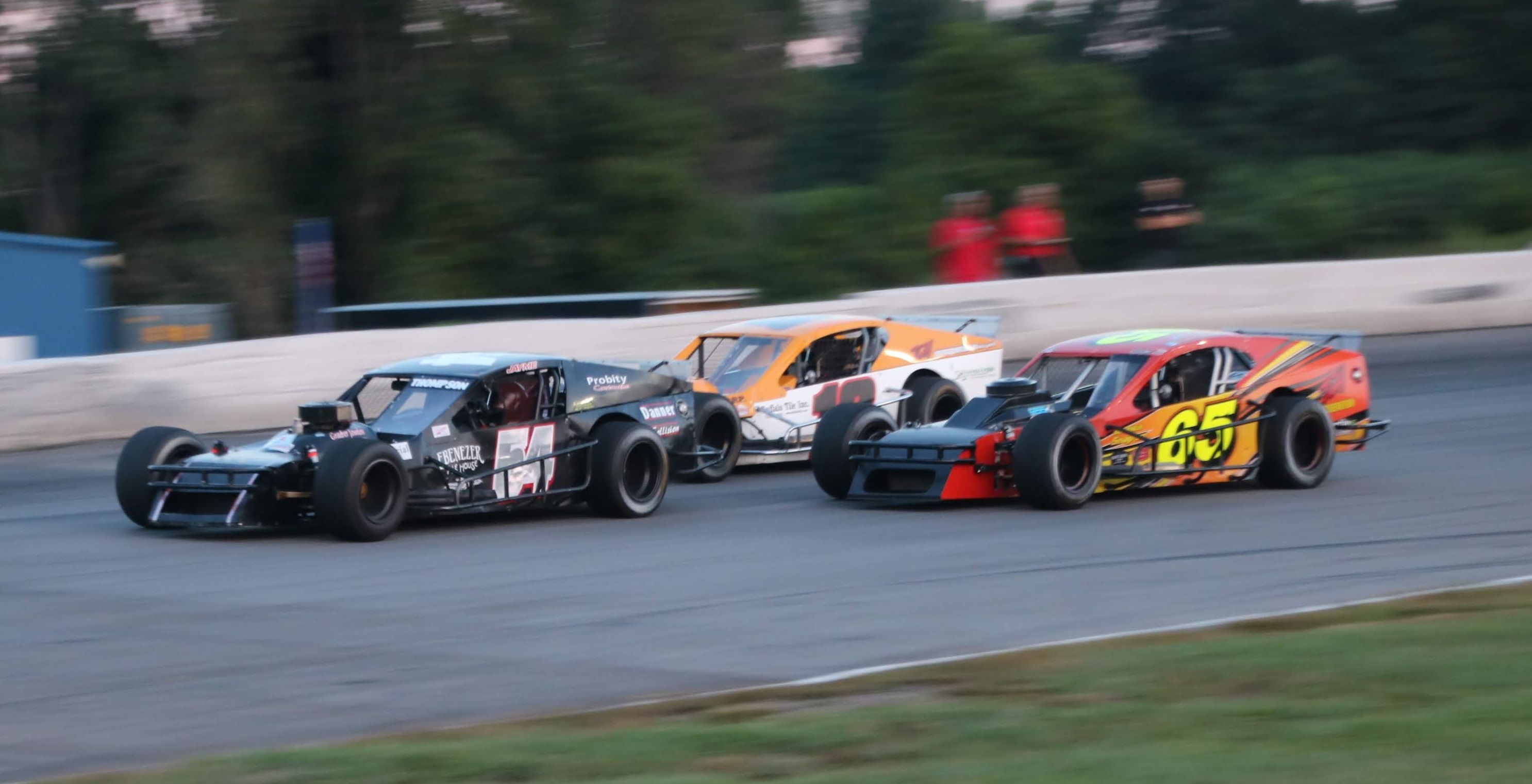 Chris Powers became the leader of the race following the inversion followed by Jarrod Brown, Jerome Hruby, Tim Welshans and Mark Hoch. Powers jumped out to the lead following the restart with Brown and Welshans battling for second. Tim Welshans took the lead from Powers on lap 28 with his brother, Nik, following him into second place. Nik Welshans grabbed the lead from his brother just one lap later.
Cryan restarted eighth following the inversion after making his way up to fifth before the mandatory caution. The invert forced Cryan to start his trek to the front of the field all over again with the same amount of laps he would have for a normal Saturday night feature. Cryan quickly made his way to second place by lap 30. Three laps later he was able to pass Welshans to take the lead.
Tim Welshans night came to an end on lap 39 when he tangled with Rich Sharpe and Tommy Wentland on the front straightaway. Welshans hit in the inside retaining wall to take him out of competition. The final caution period of the race happened on lap 43 when polesitter Cleversley plowed into the Thermal Foam blocks in turn two.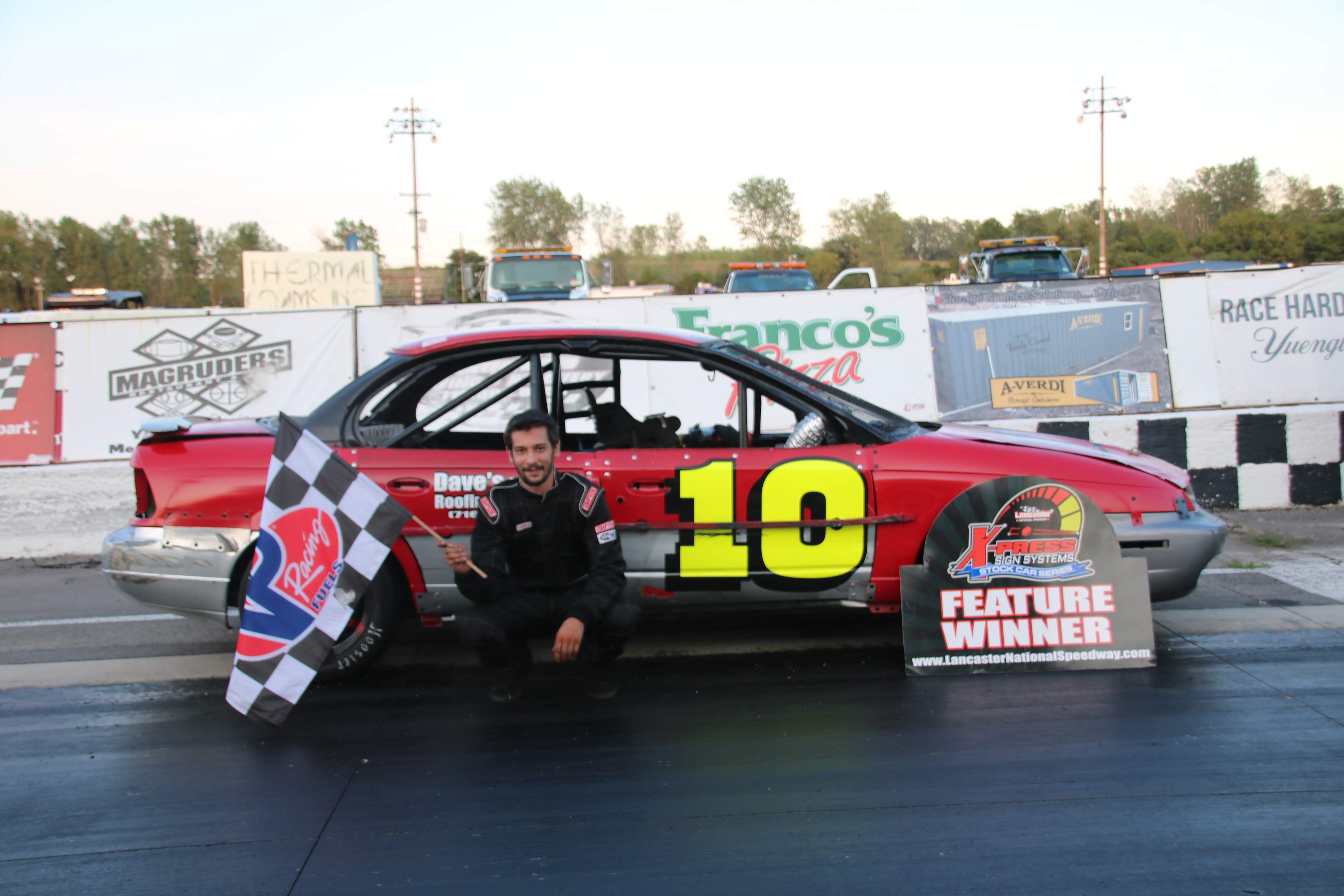 The race restarted with Cryan leading Nik Welshans, Brian Hoffman, Wentland and Mark Hoch. Hoffman was making his second Lancaster start of the season after winning in his season debut on July 14. He quickly dispatched of Welshans after the final restart of the night to move into second place with seven laps to go.
Hoffman tried to hang with Cryan at the front of the field, but he lost sight of the leader in the closing laps. Cryan cruised to his eighth Street Stock win of the season. He was joined in victory lane by the Julicher family and friends.
Hoffman finished second followed by Nik Welshans, Sharpe and Wentland. Sharpe came back through the field late in the race after pitting following the incident on lap 32 with Tim Welshans. Hoch, Vona, Hruby, Powers and Jay Canonico rounded out the top ten.
In additional X-Press Signs Stock Car Series action, George Skora III of Eden, N.Y. won the 35-lap VP Racing Fuels Sportsman feature. Skora passed Jayme Thompson for the lead on lap five of the event. He then held off division points leader Owen Bednasz in the closing lap to score his first win of the season.
The victory serves as a tune up for Skora as he looks to defend his Tommy Druar/Tony Jankowiak Memorial 110 title next week against the rest of the Race of Champions Modified Series field. Skora scored his first career RoC Series in last year's Tommy/Tony 110.
Bednasz finished second to maintain his lead in the point standings. Shawn Nye finished third followed by Dave Kozlowski and Leo Becker.
The Midwest Compact Series made their debut at Lancaster on Saturday on the ½-mile oval. The series based out of Ohio gave many four cylinders racer their first chance to tackle the big track after competing on the inner oval. Brian Sprague of Brookville, PA won the 25 lap feature. Sprague passed Don Rufener, Jr. for the lead on lap three, and then held off Jacob Gustafsson in the closing laps to score the win.
Jake Alrbight of Dover, OH was one of the pre-race favorites following the heats, but he developed engine issues after a lap 10 restart while running second. The restart gave Gustafsson a shot the win as he was running a straightaway behind Sprague and Albright before the caution came out.
Charles Palmer of Cheektowaga won the 25-lap Roaming Buffalo 4-Cylinder for his second victory of the season. Palmer passed Andy Danielwicz for the lead on lap three and then drove away to a large lead. He was able to pull away as several drivers competed fiercely for second place on back.
Dave Brunka won out the battle to finish second. Jason Anasiewicz, Chris Pennell and Dan Dressel rounded out the top five.
Next week is one of Lancaster National Speedway's most prestigious events of the year, the 29th annual Tommy Druar/Tony Jankowiak Memorial 110 for the Race of Champions Modified Series. The Race of Champions Super Stocks, Street Stocks and 4-Cylinders will also be in action. Racing start at 6:30 p.m.
About Lancaster National Speedway & Dragway: Founded in 1959, Lancaster National Speedway and Dragway, WNY's Premier Motorsports and Event Facility, is a multi-use facility located on 77 acres just outside of metropolitan Buffalo, N.Y. The facility features a 1/8-mile drag strip, a 1/2-mile oval track and hosts several non-motorsports events such as car shows and concerts. For the latest information on Lancaster National Speedway & Dragway check out our website www.lancasternationalspeedway.com. Additional information for racers and fans can be found on our Facebook page (www.facebook.com/LancasterSpeedway) and on Twitter (@LancasterSpdwy).
RESULTS
VP RACING FUELS SPORTSMAN
Heat Winner: Jayme Thompson
Feature: GEORGE SKORA III, Owen Bednasz, Shawn Nye, Dave Kozlowski, Leo Becker, Tony Carbone, John Barber, Jayme Thompson, Eddie Hawkins, Mark Pennell
ADVANCE AUTO PARTS STREET STOCKS
Heat Winners: Mike Dalfonso, Tim Welshans, Andy Cryan
Ken Heckler Tribute 51 Finish: ANDY CRYAN, Brian Hoffman, Nik Welshans, Rich Sharpe, Tommy Wentland, Mark Hoch, Dave Vona, Jerome Hruby, Chris Powers, Jay Canonico, Bob Palmer, Jeff Szafraniec, Mike Rogers, Bob Blaszak, Jr., Scott Soos, Rick Meyers, Garrett Cleversley, Tim Welshans, Ted Welshans, Mike Dalfonso, Jarrod Brown, Tim Garlock, Jerry Kosmowski, Ken Camidge
ROAMING BUFFALO 4-CYLINDERS
Heat Winners: Joe Brunka, Jason Anasiewicz
Feature: CHARLES PALMER, Dave Brunka, Jason Anasiewicz, Chris Pennell, Dan Dressel, Joe Brunka, Andy Danielwicz, Dave Evans, Kevin Bainbridge, Kenny Hejna, Ryan Palmer
MIDWEST COMPACT SERIES
Heat Winners: Jake Albright, Jacob Gustafsson
Feature: BRIAN SPRAGUE, Jacob Gustafsson, Jody London, Craig Orr, Kenny Hejna, Jason Anasiewicz, Charles Palmer, Dan Rufener Jr., Kelly Lillie, Ryan Palmer, Jake Albright, Bob Bogner, Joe Brunka, Dave Brunka, Tim Durfy, Jeff Szafraniec, Josh Schosek, Dave Milbrand, Jr.