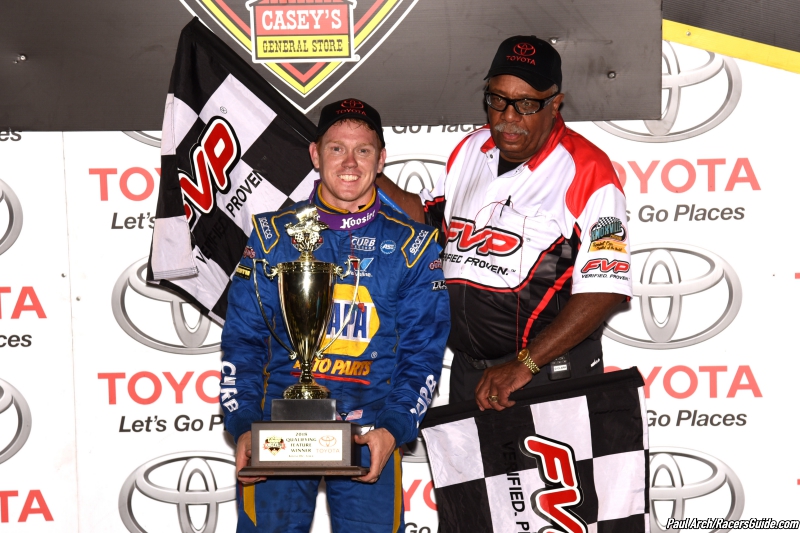 Brad Sweet Dominates Night Two of Nationals to Earn Pole for Saturday's Finale
Story By: Anthony Corini/WoO
Photos By: Paul Arch & Dick Ayers/RacersGuide.com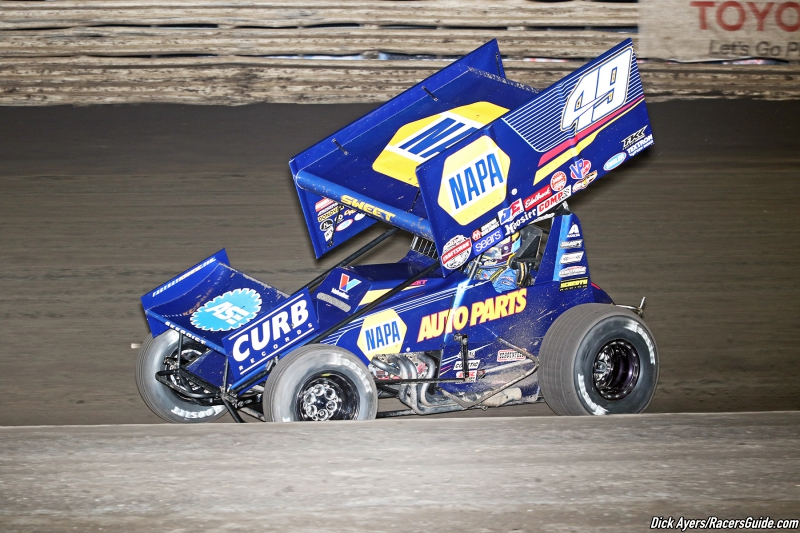 KNOXVILLE, IA – August 9, 2018 – Brad Sweet made an exclamation point to the Sprint Car world on the second night of the 5-Hour ENERGY Knoxville Nationals, storming from sixth to the lead on the opening lap. Sweet never looked back and cruised to the Feature win and accumulated enough points to start on the pole for Saturday's $150,000 to win Knoxville Nationals Finale. Rico Abreu finished second with David Gravel coming from 11th to third to complete the podium.
The front row for the 25-lap Feature was North Dakota's Mark Dobmeier and California's Rico Abreu, but it was the current runner-up in the World of Outlaws Points Standings Brad Sweet blasting from his sixth starting position to lead the opening lap.
"Rob Cappetta has really found something in these engines, we're not blowing people away in time trials by two-tenths or anything, but it runs excellent for the first lap. I think that's what people saw on Sunday [in the Pole Shuffle at the Capitani Classic] as well, combine that with a car that handles great and we've been pretty good," Sweet said in his post-race press conference. Sweet was dominant in his Heat Race opening lap as well, fueling his charge from eighth to second in that event.
A pair of cautions during the opening two laps kept the field close to Sweet, but that was as close as the competition would get to the driver known as 'The Big Cat'.
"I've never had this much confidence heading into Nationals, but I know the job is far from done," Sweet said about earning the pole for the biggest Sprint Car race in the world. "Donny [Schatz] and Kyle [Larson] and a whole bunch of others are going to be right there, but we're certainly going to give it our best shot," Sweet said about his NAPA Racing No.49 team on Saturday.
Rico Abreu quickly moved into second and never relinquished that position, despite heavy pressure from 11th-starting David Gravel.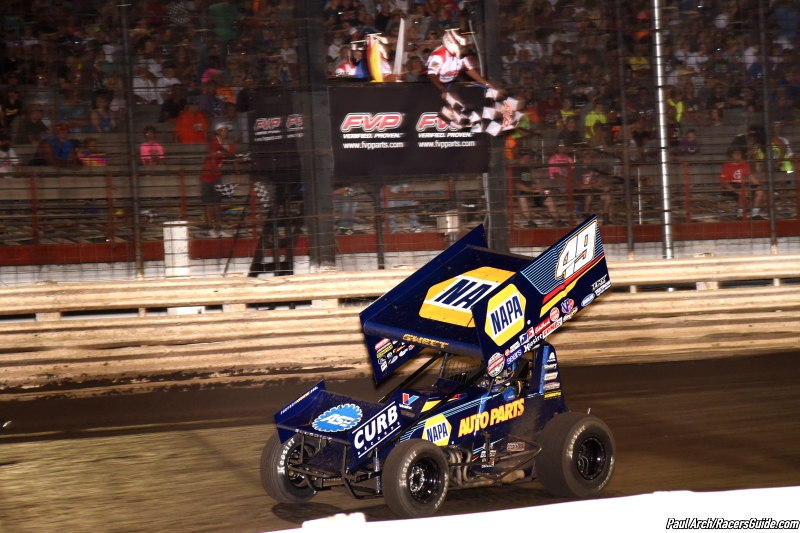 "We just keep getting our car better and better this year. I'm really proud of my young team, we've battled a lot of issues this year, but we've become a good unit because of it. Three years in a row to be locked into the A Main at the Knoxville Nationals shows how good this team is," an enthusiastic Abreu said after being interviewed post-race.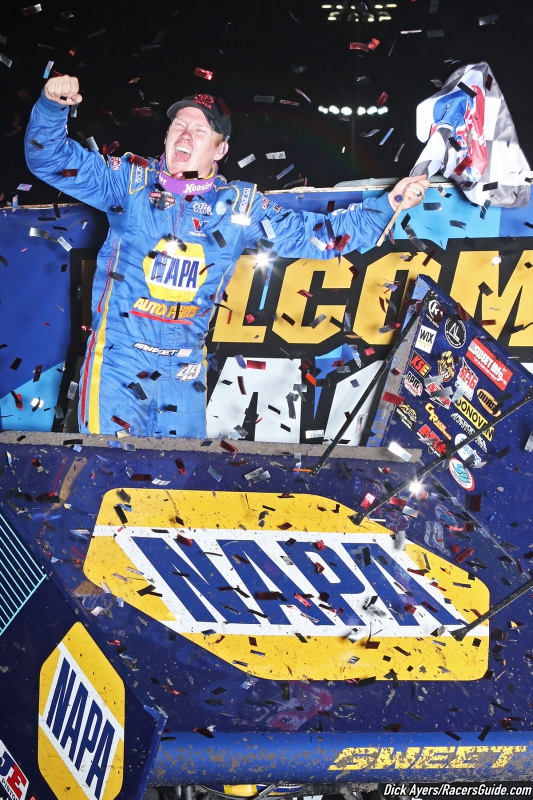 Gravel muscled his way forward through the field quickly from his 11th-starting position, obtaining seventh by Lap 2 and getting to third by Lap 8. Despite finishing third, because of a poor Qualifying time and 4th-place run in his Heat, Gravel will start seventh in the B-Main/Last Chance Showdown on Saturday.
"We know we have the car speed at the end of the night and tonight showed that, but we were pretty disappointed with our Qualifying run. We really needed to win our Heat to help our points," Gravel said in the post-race press conference. "We know at the end of the night, we have a very good car and there's a lot of good cars up front in the B, but we have a lot of confidence that we can pass some cars," Gravel said in confidence about his CJB Motorsports No.5 team.
Tim Kaeding was strong all night in a second Jason Sides Motorsports entry and finished fourth to lock-in to Saturday's finale. Terry McCarl finished fifth in the Feature and accumulated just enough points to lock-in to Saturday's Feature as well.
KSE Hard Charger Honors went to Shane Stewart who surged from 23rd to eighth and locked in to Saturday's Feature with the 15th highest point total. Carson Macedo aboard the Jason Johnson Racing No.41 set Quick Time and came from 21st to ninth and locked the JJR No.41 into the Saturday Feature with the eighth highest point total.
Feature (started), 25 Laps, NT: 1. Brad Sweet (6); 2. Rico Abreu (2); 3. David Gravel (13); 4. Tim Kaeding (5); 5. Terry McCarl (4); 6. Chad Kemenah (8); 7. Cory Eliason (10); 8. Shane Stewart (23); 9. Carson Macedo (21); 10. Kraig Kinser (11); 11. Mark Dobmeier (1); 12. Jacob Allen (7); 13. Sam Hafertepe Jr. (15); 14. Parker Price-Miller (22); 15. Spencer Bayston (9); 16. Wayne Johnson (18); 17. Jamie Veal (24); 18. Sammy Swindell (17); 19. John Carney II (3); 20. Chris Martin (19); 21. Gary Taylor (20); 22. Dave Blaney (16); 23. Harli White (12); 24. Josh Schneiderman (14). Lap Leader: Sweet 1-25. Hard-charger: S. Stewart (+15)