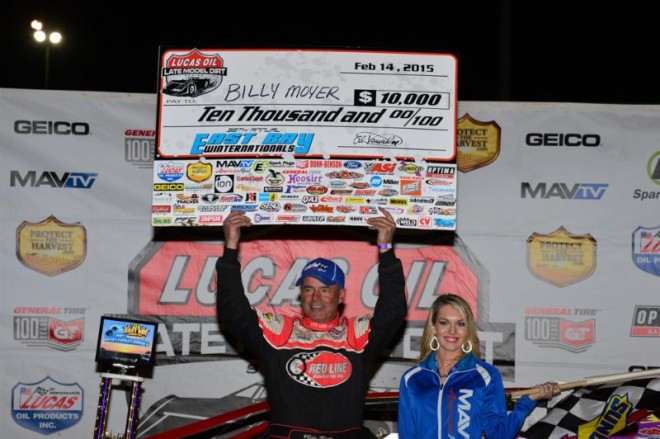 TAMPA, FL (February 14, 2015) – Billy Moyer picked up his third victory of the week in the 39th Annual East Bay Winternationals on Saturday Night. Moyer pulled away late to win for the 26th time in his Hall-of-Fame career at East Bay Raceway Park. Moyer survived a side-by-side tussle with Jimmy Owens to take the win in the Lucas Oil Late Model Dirt Series sanctioned event.
Defending LOLMDS National Champion, Don O'Neal, finished second, followed by Jonathan Davenport, Owens, and Jared Landers.
Owens led the first 28 laps of the 50 lap main event with Moyer following closely the entire time. The two had a fierce battle for the lead for several laps until Moyer was able to forge ahead.   O'Neal, Davenport, and Owens had a closely contested battle for second as Moyer pulled away.
"First off, I have to thank my crew. We broke a rear end on the car on our second lap of qualifying. As quickly as they move the show along here, if we were in the first heat, I don't think we would have been able to make it out," said the winner, who made the call in time to keep his pole-starting spot in the second heat race.
"We are always prepared, we had a spare rear end ready to go. We had my crew and Billy Jr.'s crew there all helping. The track was the best it's been all week. All of us drivers could run anywhere on it. They watered the top more today, and I think that helped me. I could get up there and get some traction," said the 57-year-old in Lucas Oil Victory Lane.
"Jimmy and I had a heck of a race. I mean we were running hard and didn't touch. It just shows you that you can race hard and clean and not tear up everybody's equipment. The way the track was tonight, you could bounce through a hole and hit somebody, but that didn't happen. The track had a lot of character in it, and we're happy to come home with the win."
Moyer's Longhorn Chassis is powered by a Clements Racing Engine and sponsored by Henderson Motorsports, Sunoco, Red Line Oil, Royal Jones, Messilla Valley Transportation, Garnant Family Farms, and Watters Auto Land.
O'Neal, in the Clint Bowyer Racing, Barry Wright Chassis was real happy with his finish. "We haven't been that good this week, but the crew worked hard on this car, Lance, Barry, Jeremy, and Tony did a great job. Billy was just better than all of us tonight. I want to thank Peak Antifreeze and Motor Oil, Crawford Supply, and Georgia Boot."
Davenport, who won the LOLMDS event last Saturday Night at Golden Isles had his best East Bay finish of the week with a third place. "We kind of got shuffled back on that one restart, but I was able to get the car to work up top better. I ran down Jimmy and Don. I thought I could get Don on the last lap, but we couldn't quite make the pass. The track was real racy tonight. I have to thank Kevin and LeRoy Rumley, Longhorn Chassis, TS Crane Service, Sundance Flowback and Mega Plumbing of the Carolinas."
Completing the top ten were Mike Benedum, Tim Dohm, Devin Moran, Steve Francis and Eddie Carrier Jr.
In preliminary action, Tim Dohm set the overall Miller Welders Fast Time (Group A) amongst the 35 entrants, with a lap of 15.103 seconds. Scott Bloomquist set the fastest time in Group B with a time of 15.368 seconds. Tim Dohm, Billy Moyer, Jimmy Owens and Earl Pearson Jr. won their respective heat races. Stormy Scott and Dan Stone won their respective B-Mains.
For the latest breaking news on the Lucas Oil Late Model Dirt Series, log onto www.lucasdirt.com and follow the series on www.facebook.com/lucasdirt, www.twitter.com/lucasdirt, and www.instagram.com/lucasdirt.
Lucas Oil Late Model Dirt Series
Race Summary
Saturday, February 14th, 2015
39th Annual Winternationals
East Bay Raceway Park – Tampa, FL
Miller Welders Fast Time Group A: Tim Dohm / 15.103 seconds
Miller Welders Fast Time Group B: Scott Bloomquist / 15.368 seconds
Eibach Springs Heat Race #1 Finish (10 Laps, Top 4 Transfer): Tim Dohm, Jared Landers, Eddie Carrier, Jr., Steve Francis, Chris Brown, Bobby Pierce, Dustin Mitchell, Doug Blashe, Freddie Carpenter
FK Rod Ends Heat Race #2 Finish (10 Laps, Top 4 Transfer): Billy Moyer, Jonathan Davenport, Ricky Weiss, Jason Papich, Stormy Scott, Gregg Satterlee, Austin Rettig, Chad Hollenbeck, Gregg Hill
Simpson Performance Products Heat Race #3 Finish (10 Laps, Top 4 Transfer): Jimmy Owens, Don O'Neal, Devin Moran, Brandon Sheppard, Terry English, Justin Rattliff, Scott Bloomquist, James O'Hara, Allen Murray
QA1 Heat Race #4 Finish (10 Laps, Top 4 Transfer): Earl Pearson, Jr., Dennis Erb, Jr., Davey Johnson, Mike Benedum, Dan Stone, Billy Moyer, Jr., Mark Dotson, Nick Davis
Fast Shafts B-Main #1 Finish (12 Laps, Top 3 Transfer): Stormy Scott, Bobby Pierce, Gregg Satterlee, Doug Blashe, Dustin Mitchell, Freddie Carpenter, Chad Hollenbeck, Gregg Hill, Austin Rettig, Chris Brown
Keyser MFG B-Main #2 Finish (12 Laps, Top 3 Transfer): Dan Stone, Terry English, Scott Bloomquist, Justin Rattliff, Billy Moyer, Jr., Allen Murray, James O'Hara, Mark Dotson, Nick Davis
Non-Qualifier Race Finish: Justin Rattliff, Dustin Mitchell, Freddie Carpenter, Doug Blashe, Nick Davis, James O'Hara, Allen Murray-DNS, Gregg Hill-DNS, Mark Dotson-DNS
Feature Finish (50 Laps):
| | | | | |
| --- | --- | --- | --- | --- |
| FINISH | START | CAR # | DRIVER NAME | HOMETOWN |
| 1 | 3 | 21 | Billy Moyer | Batesville, AR |
| 2 | 6 | 5 | Don O'Neal | Martinsville, IN |
| 3 | 7 | 6 | Jonathan Davenport | Mount Airy, NC |
| 4 | 2 | 20 | Jimmy Owens | Newport, TN |
| 5 | 5 | 777 | Jared Landers | Batesville, AR |
| 6 | 16 | 25 | Mike Benedum | Salem, WV |
| 7 | 1 | 6T | Tim Dohm | Charleston, WV |
| 8 | 10 | 99m | Devin Moran | Dresden, OH |
| 9 | 13 | 15 | Steve Francis | Ashland, KY |
| 10 | 9 | 28 | Eddie Carrier, Jr. | Salt Rock, WV |
| 11 | 4 | 1 | Earl Pearson, Jr. | Jacksonville, FL |
| 12 | 14 | B5 | Brandon Sheppard | New Berlin, IL |
| 13 | 17 | 2s | Stormy Scott | Las Cruses, NM |
| 14 | 25 | 21jr | Billy Moyer, Jr. | Batesville, AR |
| 15 | 18 | 21d | Dan Stone | Thompson, PA |
| 16 | 8 | 28e | Dennis Erb, Jr. | Carpentersville, IL |
| 17 | 19 | 32 | Bobby Pierce | Oakwood, IL |
| 18 | 24 | 21b | Chris Brown | Spring, TX |
| 19 | 15 | 91p | Jason Papich | Nipomo, CA |
| 20 | 21 | 22 | Gregg Satterlee | Rochester Mills, PA |
| 21 | 22 | 0 | Scott Bloomquist | Mooresburg, TN |
| 22 | 26 | 4-Ds | Chad Hollenbeck | Montrose, PA |
| 23 | 11 | 7w | Ricky Weiss | Headingley, MB |
| 24 | 20 | 96 | Terry English | Benton, KY |
| 25 | 12 | 1J | Davey Johnson | Greensburg, PA |
| 26 | 23 | 94 | Austin Rettig | Sikeston, MO |
Race Statistics
Entrants: 35
Lap Leaders: Jimmy Owens (Laps 1 – 28); Billy Moyer (Laps 29 – 50)
Cautions: Chris Brown (Lap 16); Davey Johnson (Lap 22); Gregg Satterlee (Lap 30)
Lucas Oil Late Model Dirt Series Provisional: n/a
Lucas Oil Late Model Dirt Series Emergency Provisionals: n/a
Miller Welders Fast Time Provisionals: Austin Rettig, Chris Brown, Billy Moyer Jr.
DirtonDirt.com Strawberry Dash Provisional: Chad Hollenbeck
Wrisco Feature Winner: Billy Moyer
Optima Batteries Hard Charger of the Race: Billy Moyer Jr. (Started: 25th; Finished: 14th; Advanced 11 Positions)
Midwest Sheet Metal Spoiler Challenge Point Leader: Earl Pearson Jr.
Allstar Performer of the Race: Don O'Neal
Sunoco Race for Gas Highest Finisher: Billy Moyer
Rookie of the Race: n/a
COMP Cams Engine Builder of the Race: Clements Racing Engines
Ohlins Shocks Chassis Builder of the Race: Longhorn Chassis
Outerwears Crew Chief of the Race: Jeremy Justice (Don O'Neal)
CV Products Fastest Lap of the Race: Jimmy Owens (Lap #3 – 16.447 seconds)
Hot Rod Processing Most Laps Led: Jimmy Owens (28 Laps)
PFC Brakes Tough Break Award: Austin Rettig
Bad Boy Mowers TV Race Winner- Billy Moyer
Time of Race: 24 minutes 15 seconds