[xyz-ihs snippet="Posts-Ad"]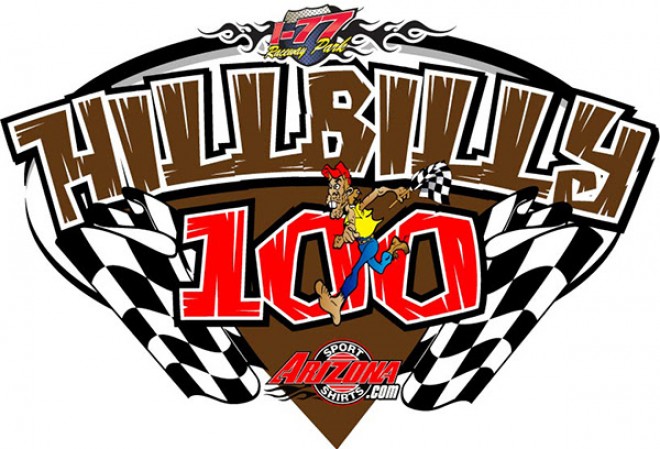 47th Annual Hillbilly Hundred Quickly Approaching!
WAYCROSS, GA (
August 18, 2015
) – The oldest running event in dirt late model racing is just around the corner. The 47th Annual "Hillbilly Hundred" will take place on
September 5th-6th
at I-77 Raceway Park in Ripley, WV.
The stars of the Lucas Oil Late Model Dirt Series will battle regional stand-outs such as Tim Dohm, Jared Hawkins, and Freddie Carpenter, all chasing a $25,000 top prize. I-77 Raceway Park is accustomed to thrilling, edge of your seat racing action. In 2014, Don O'Neal fended off race-long charges from Jimmy Owens (2nd) and Steve Francis (3rd) to claim his first-career "Hillbilly Hundred" victory. Dennis Erb Jr. and Jonathan Davenport rounded out the top five finishers.
The festivities will kick off on Saturday, September 5th with the "Hillbilly Fifty," which pays $4,000-to-win for Steel Block Late Models.Saturday's program will also include a $5,000-to-win event for Fastrak Crates and a $1,000-to-win event for AMRA Modifieds.
The action heats up on Sunday, September 6th when the Lucas Oil Late Model Dirt Series takes center stage for the "Hillbilly Hundred". The event will include a complete program of: Miller Welders Time Trials, Heat Races, B-Mains, and the 100-lap, $25,000-to-win main event. A pre-race concert with West Virginia natives, The Marshall Lowry Band is also on tap from 3:00pm – 5:30pm.
To purchase tickets or find more information on the 47th Annual "Hillbilly Hundred," visit: www.racei77.com or call the speedway office at (304) 373-1110.
Jonathan Davenport of Blairsville, Georgia leads the current Lucas Oil Late Model Dirt Series Championship standings over three-time champion, Jimmy Owens. Two-time champion, Scott Bloomquist is third, followed by four-time champion, Earl Pearson Jr. Defending champion, Don O'Neal completes the top five in series standings. Sixth through eleventh are: Brandon Sheppard, Dennis Erb Jr., Steve Francis, Eddie Carrier Jr., Jared Landers, and Chris Brown.
Track Information:
I-77 Raceway Park
Phone Number: 304-373-1110
Tracks Promoter: Kenney Newhouse
Location: 63 Cedar Lakes Drive, Ripley, WV 25271
Website: www.racei77.com
Lucas Oil Late Model Dirt Series Tire Rule:
Left Rear/Fronts – Hoosier Rib 1300, 1425 (no white dots)
Right Rear – Hoosier 01, 04, 06, LM40
Previous Hillbilly Hundred Winners:
1967 – Don Gregory
1968 – Ray Neece
1969 – No Race Held
1970 – Clate Husted
1971 – Danny Dean
1972 – Dorus Wisecarver
1973 – Bob Wearing Sr.
1974 – Bob Wearing Sr.
1975 – Bob Wearing Sr.
1976 – Bob Wearing Sr.
1977 – No Race Held
1978 – Gene McNeely
1979 – Danny Dean
1980 – Rodney Combs
1981 – Freddy Smith
1982 – Charlie Swartz
1983 – Freddy Smith
1984 – Larry Moore
1985 – Jack Boggs
1986 – Jack Boggs
1987 – Jack Boggs
1988 – Donnie Moran
1989 – Donnie Moran
1990 – Buck Simmons
1991 – Rodney Combs
1992 – Rodney Combs
1993 – Davey Johnson
1994 – Bill Frye
1995 – Bart Hartman
1996 – Todd Andrews
1997 – Rod Conley
1998 – Steve Shaver
1999 – Davey Johnson
2000 – Davey Johnson
2001 – Donnie Moran
2002 – Billy Moyer
2003 – Chub Frank
2004 – Mike Marlar
2005 – Clint Smith
2006 – Earl Pearson Jr.
2007 – Eddie Carrier Jr.
2008 – Jimmy Owens
2009 – Ray Cook
2010 – Scott Bloomquist
2011 – No Race Held
2012 – Mike Marlar
2013 – Jimmy Owens
2014 – Don O'Neal
For the latest breaking news concerning the Lucas Oil Late Model Dirt Series, including the latest series standings, 2015 tour schedule, driver information, and more visit the official website at:
www.lucasdirt.com
.
About Lucas Oil Late Model Dirt Series
Founded in 2005, the Lucas Oil Late Model Dirt Series is the nation's premier dirt late model sanctioning organization.  In 2015, the LOLMDS will sanction 50 events in 19 states.  The series is owned by the parent company Lucas Oil Products Inc. and receives national exposure through a TV package filmed, produced and edited by Lucas Oil Production Studios.  LOLMDS events will be broadcast on four TV Networks including CBS, NBC Sports, CBS Sports Network and the MAVTV. For more information about the Lucas Oil Late Model Dirt Series visit the official website at:
www.Lucasdirt.com
.
About MAVTV
Owned and operated by Lucas Oil Products, MAVTV is a television network with its roots deep in the automotive world.  MAVTV offers an unparalleled line-up of exclusive motorsports, that includes prestigious events such as the Chili Bowl, The AMA Pro Motocross series, the Lucas Oil Challenge Cup and NHRA Drag Racing.  But MAVTV goes far beyond the national mainstream events and also covers multitudes of grassroots series' from across the globe: Drag boats, sprint boats, drag racing, pro pulling, rally racing, drifting, dirt racing, ice racing and everything in between.
MAVTV also knows you don't have to be a race fan to be an automotive enthusiast, which is why we have developed a package of automotive reality and custom build shows that is truly second to none.  If it has a motor, it's on MAVTV…MAVTV is THE motorsports network. To learn more about MAVTV go to:
www.mavtv.com
.
About Lucas Oil Products
Founded in 1989 by Forrest and Charlotte Lucas, Lucas Oil Products, Inc. has established itself as one of the fastest-growing lubrication product lines in the consumer automotive aftermarket, featuring a line of engine oils, greases, gear lubes, problem-solving additives, and car-care products.  Through innovative product research and development, along with aggressive marketing programs, Lucas Oil has established itself as a worldwide leader in the lubrication industry.  Motorsports has always been part of the Lucas Oil culture and the cornerstone of the company's marketing strategy.  Such passion for motorsports has inspired Lucas Oil to sponsor many race teams, events and series at all levels, including, NHRA, IRL, ASCS, NASCAR, IHRA and many more.  Lucas Oil has also taken ownership and operational control of a number of high profile racing properties, such as: Lucas Oil Off Road Racing Series, Lucas Oil Drag Boat Series, Lucas Oil Pro Pulling League, Lucas Oil Late Model Dirt Series, Lucas Oil Modified Series, Lucas Oil Speedway in Wheatland, MO. and the Lucas Oil I-10 Speedway in Blythe, CA.
In 2007 Lucas Oil founded its own production house, Lucas Oil Production Studios, dedicated to producing high action motorsports television. Currently Lucas Oil Production Studios produces over 300 hours of original programming for networks such as CBS, CBS Sports, NBC Sports and MAVTV.  More information about Lucas Oil Products, Inc. visit the company website at:  
www.lucasoil.com
.
[xyz-ihs snippet="Posts-Ad"]