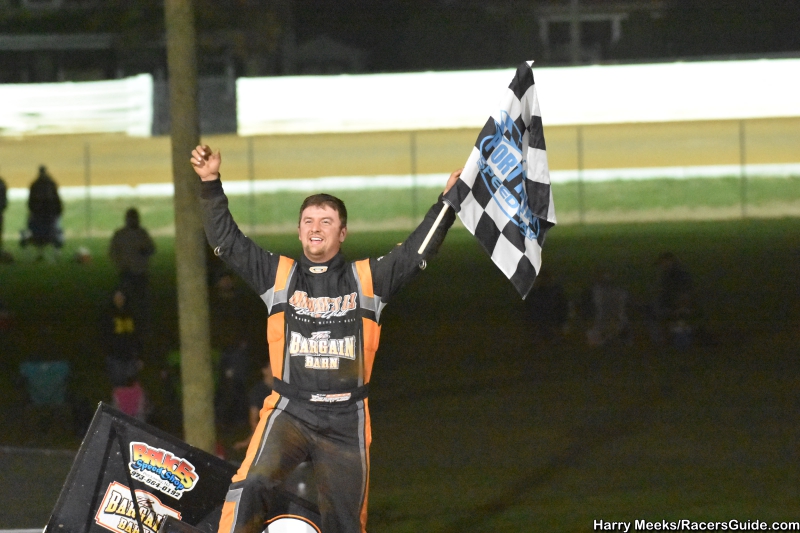 Zearfoss, Hodnett And Bishop Close Port Royal Season With Wins
Story By: Port Royal Speedway Media
Photos By: Harry Meeks/RacersGuide.com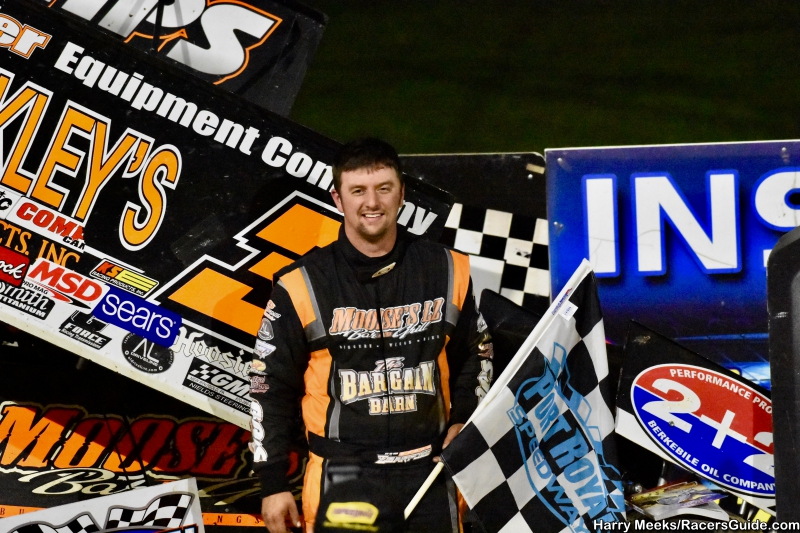 PORT ROYAL, Pa. – With over 80 sprint cars in the pit area, Port Royal Speedway capped off the highly successful 2017 season on Saturday night with Brock Zearfoss, Greg Hodnett and Austin Bishop claiming the 410 sprint, URC sprint and 305 sprint mains, respectively.
In the 25-lap 410 sprint main, polesitter Dylan Cisney beat Brock Zearfoss into the first turn only to see Zearfoss take the lead as the pair shot onto the backchute.
The reigning 2017 track champion, Zearfoss of Jonestown set a blistering pace around the oval during the early going, entering the backmarkers on the seventh tour with Cisney and fourth starter Danny Dietrich in tow.
At the halfway point, Zearfoss had a 1.1 second lead over Cisney as the race for second heated up between Cisney and Dietrich.
After repeated attempts, Dietrich was able to secure second spot and complete lap 18 just before the only caution flag of the race unfurled for a stopped Kody Lehman.
Dietrich followed Zearfoss high into the first corner when action resumed and then made his swooping attempt for the lead as the pair shot into the third turn.
However the Gettysburg driver came up short of completing his slide job attempt in the fourth turn and instead settled into second, where he would finish.
The $4,000 victory was the fifth of the season at the Port Royal oval for Zearfoss who took the checkers by a 1.926 second advantage.
Anthony Macri of Dillsburg rode home a fine third followed by Cisney and Jason Shultz.
Sixth through 10th went to 18th starter Greg Hodnett, Lucas Wolfe, Steve Buckwalter, Davey Sammons and Cory Haas.
Heats went to Macri, Zearfoss, Justin Barger and Shultz in what was two rounds of heats for each of two heat groups.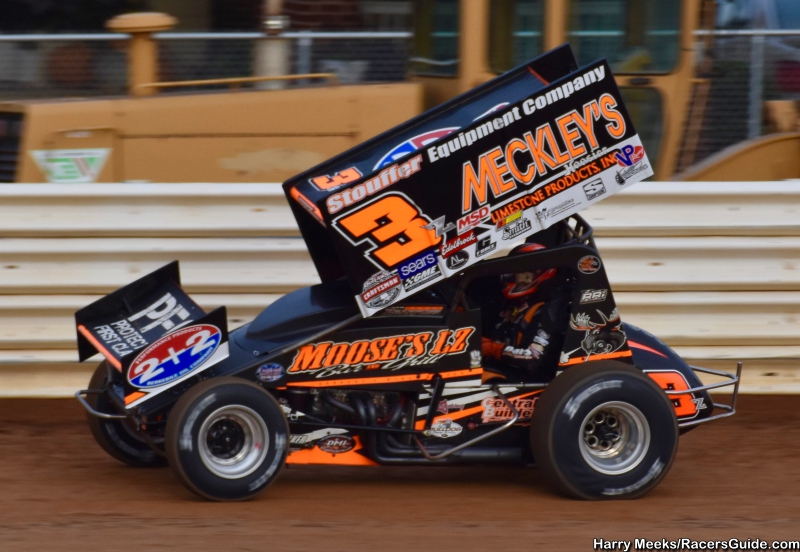 Lucas Wolfe led the first lap of the 25-lap URC sprint main before fourth starter Chad Layton took over and entered lapped traffic on the sixth tour.
Greg Hodnett started seventh in the field and bolted to the front of the race with lightning speed during the early going, up to third with five laps recorded.
As Layton worked through traffic, Hodnett rapidly closed the gap on the two leaders before pulling off a high-flying two-car pass of both Wolfe and Layton for position plus at least one backmarker in the third and fourth turns of the ninth lap.
And once at the front, Hodnett drove off from the field only to be slowed by the caution flag with nine laps to go.
Wolfe got a clean shot on the restart only to see Hodnett drive off before another yellow with six laps to go again bunched the field.
Another restart produced the same result with Hodnett staying out front only this time 10th starter Brock Zearfoss motored by Wolfe into second before trying to run down the pacesetter.
Zearfoss did his best to close the gap but came up short at the finish by .537 seconds.
Wolfe was third followed by Curt Michael and Mark Smith.
Sixth through 10th went to Jason Shultz, Justin Barger, 21st starter Chuck Hebing, Layton and Josh Weller.
Heats went to Wolfe, Hodnett, Chris Coyle and Barger with Hebing scoring the consolation race.
With the win, Hodnett scored $2,000 and also swept both URC events held at Port Royal in 2017.
Austin Bishop of Elverson wired the 20-lap 305 sprint main with a flag to flag performance.
The only caution of the race took place with just one lap to go and it produced a wild final lap and a four-car race for the win back to the line.
Jeff Miller restarted second with Nate Gramley and 12th starter Kyle Smith following and Miller went for the lead when action resumed.
But Bishop moved down to block his advance on the backstretch and Miller climbed his tail tank before jerking sideways toward the inside fence and then somehow saving the car.
This bottled up Gramley and allowed Smith to motor by both he and Miller during the final half lap.
Miller crossed the line in third followed by Gramley and Cale Riegle.
Sixth through 10th went to Dylan Shatzer, Nick Sweigart, Kassidy Kreitz, Scott Lutz and Drew Ritchey.
Heats went to Miller, Shatzer and Smith with the consolation race going to Brad Mellott.
Stay up to date with all the latest Port Royal news and information by visiting the oval's official website at www.portroyalspeedway.com or by following the track on Facebook or Twitter.
October 21, 2017
Feature Finishes:
410 sprints, 25 laps: 1. Brock Zearfoss, 2. Danny Dietrich, 3. Anthony Macri, 4. Dylan Cisney, 5. Jason Shultz, 6. Greg Hodnett, 7. Lucas Wolfe, 8. Steve Buckwalter, 9. Davey Sammons, 10. Cory Haas, 11. TJ Stutts, 12. Tyler Reeser, 13. Mike Wagner, 14. Brett Michalski, 15. Joey Hershey, 16. Troy Fraker, 17. Kody Lehman, 18. Justin Barger
URC sprints, 25 laps: 1. Greg Hodnett, 2. Brock Zearfoss, 3. Lucas Wolfe, 4. Curt Michael, 5. Mark Smith, 6. Jason Shultz, 7. Justin Barger, 8. Chuck Hebing, 9. Chad Layton, 10. Josh Weller, 11. Brett Wanner, 12. Chase Dietz, 13. Jason Cluass, 14. Derek Locke, 15. Robbie Stillwaggon, 16. Bill Unglert, 17. Matt Tanner, 18. Steve Drevicki, 19. Brent Shearer, 20. Chris Coyle, 21. Jim Shuster, 22. Chris Allen Jr., 23. Adam Carberry, 24. Bryn Gohn, 25. Jimmy Stitzel
DNQ: Kevin Nagy, Clay Dow, Will Hull, Troy Betts, Kris Lillick, Brandon McGough, Mark Sasso, Chris Priar, Mallie Shuster, Justin Whittall
305 sprints, 20 laps: 1. Austin Bishop, 2. Kyle Smith, 3. Jeff Miller, 4. Nate Gramley, 5. Cale Riegle, 6. Dylan Shatzer, 7. Nick Sweigart, 8. Kassidy Kreitz, 9. Scott Lutz, 10. Drew Ritchey, 11. Zach Newlin, 12. Kyle Cracker, 13. Dale Schweikart, 14. Brad Mellott, 15. Kurt Knepper, 16. Reed Thompson, 17. Fred Arnold, 18. Colton Hoover, 19. John Fiore, 20. Wallie Eshenaur, 21. Erin Statler, 22. Dave Guss Jr., 23. Josh Guiher, 24. Tylor Cochran
DNQ: Andrew Hake, Brian Sweitzer, Ken Duke Jr., Kirsten Hess