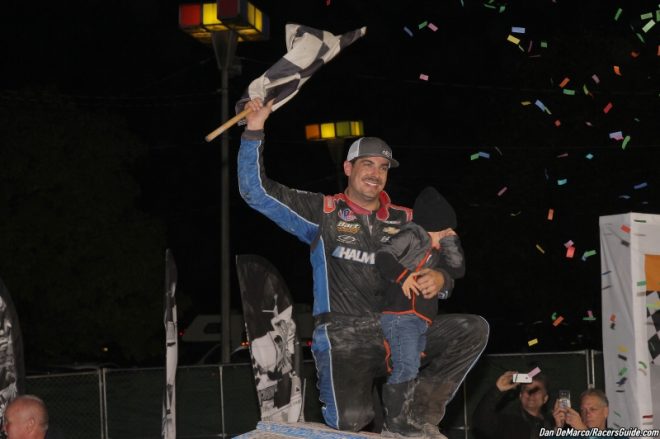 Friesen From 44th To First In Eastern States 200
Story By: Pete MacDonald/RacersGuide.com
Photos By: Dan DeMarco/RacersGuide.com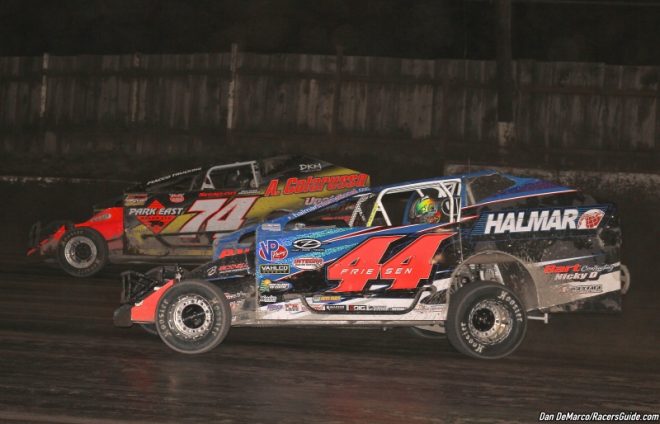 Middletown, NY – Stewart Friesen picked up his third Eastern States 200 victory in four years on Sunday at the famed Orange County Fair Speedway.
Friesen who would miss all of Friday's activities at OCFS due to his NASCAR Gander Outdoor Truck Series efforts, started 44th on the field after taking a past winners provisional took the lead for good on lap 129 from Billy Decker and never looked back. The Sprakers, NY native also scored the win on Thursday night in Short Track Super Series action bringing his win totals to over $50,000 on the weekend.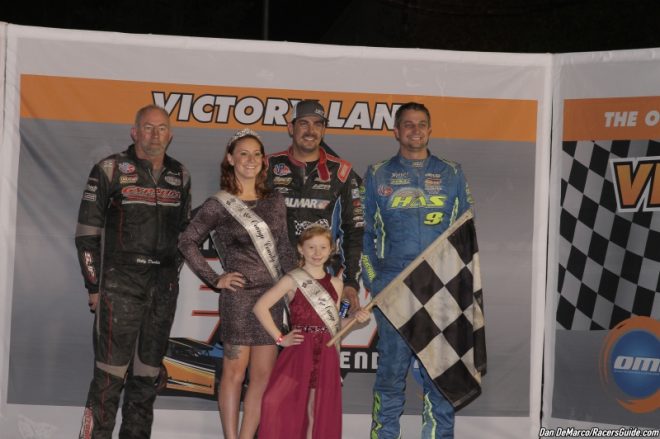 Matt Sheppard, Billy Decker, Danny Johnson and Larry Wight completed the top five.
Following heavy rains throughout Sunday morning a yeoman's effort was put into getting the entire 200 laps in on Sunday with the Modified feature taking the checkered flag right around 11pm. The staff at OCFS deserves all the credit that they can get for not pulling the plug and not making everyone come back next Sunday to finish.
Prior to the feature events on Sunday, Friesen shook down the famed Batmobile No. 112 machine that Gary Balough, Kenny Weld and the Ferraiuolo Bros built and changed the DIRT Modified game with in 1980. Friesen was unofficially clocked at 23.270 which would have put him a remarkable third fastest in time trials on Friday against the field of cars from today's era. Friesen feels the car still had another half-second worth of speed in it and was just a bit too tight.
Eastern States 200 Results: 1) Stewart Friesen 2) Matt Sheppard 3) Billy Decker 4) Danny Johnson 5) Larry Wight 6) Jimmy Phelps 7) Tim Fuller 8) Tim McCreadie 9) Billy Dunn 10) Mat Williamson 11) Erick Rudolph 12) Pat Ward 13) Anthony Perrego 14) Marc Johnson 15) Peter Britten 16) Mike Gular 17) Mike Mahaney 18) Craig Mitchell 19) Jessica Friesen 20) Tyler Boniface 21) Dillon Steuer 22) Billy VanInwegen 23) Danny Creeden 24) Jeff Strunk 25) Richie Eurich 26) JR Heffner 27) Bobby Hentschel 28) Jack Lehner 29) Rick Laubach 30) Brett Hearn 31) LJ Lombardo 32) Matt Janiak 33) Michael Storms 34) John Ferrier 35) Max McLaughlin 36) Jimmy Horton 37) Matt Hitchcock 38) Andy Bachetti 39) Kenny Tremont 40) CG Morey 41) Jeff Heotzler 42) Ryan Godown 43) Tommy Meier 44) Jerry Higbie