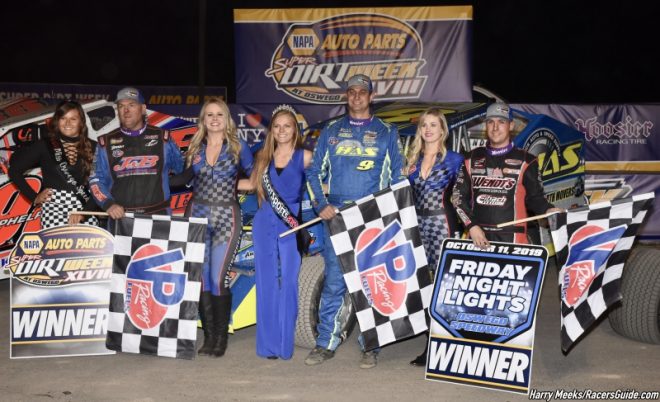 Huge Friday at NAPA Super DIRT Week Sees Feature Events Take Shape
Intense action among 305 cars in Oswego pit area highlights DIRTcar Day
Story By: Joe Grabianowski, Jordan DeLucia, Robby Knowles, Bill Foley and Chris Dolack/DIRTcar
Photos By: Harry Meeks/RacersGuide.com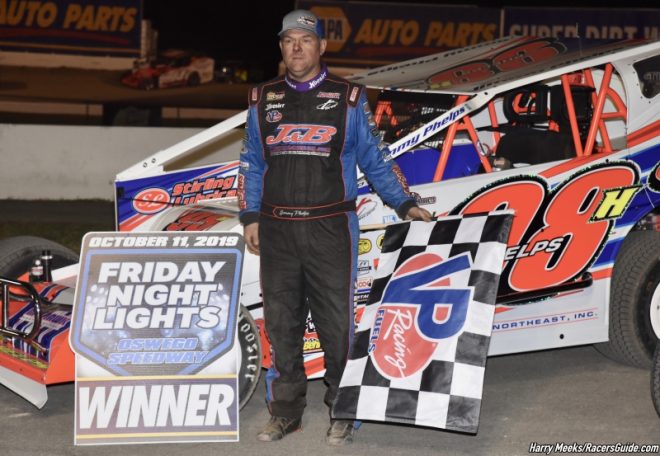 OSWEGO, NY — Oct. 11, 2019 — From hot laps and time trials under the bright sun to intense heat race competition under the lights to a concert just outside the pit area, Friday's NAPA Auto Parts Super DIRT Week action at Oswego Speedway did not disappoint.
With a combined 305 cars in the pits, all four racing divisions competed on Friday, which has become known locally as DIRTcar Day with special offers for local residents and college students:
Super DIRTcar Series — The legacy of NAPA Super DIRT Week's previous home, New York State Fairgrounds, has been retained in many ways at historic Oswego Speedway. One of the most important are the large, extra distance Heat Races that set the Feature lineups from position seven to 30th.
At Oswego, they've been upgraded to 30-lap Heat Races, but the mystique remains. In the first of three Triple 30s, Jimmy Phelps rocketed by leader Tim Fuller on a lap 11 restart to get himself in Victory Lane for the second time in the night as Phelps parked his DIRTcar 358 in Victory Lane too.
While it hasn't been a race reason to remember for Phelps, he's happy to be picking up momentum in October.
"It feels really good to be up front," Phelps said. "It's one of those deals where we haven't had a whole lot to show for the whole season. I guess if you are going to get the monkey off your back, this is the place to do it," said Phelps.
Looking ahead to the Billy Whittaker Cars 200 on Sunday, Phelps is cautiously optimistic.
"We have a long way to go but it feels really good to be where we are at right now," he said. "I think the track during the Big Block race was close to what we'll see on Sunday. That made me feel good that our car was decent."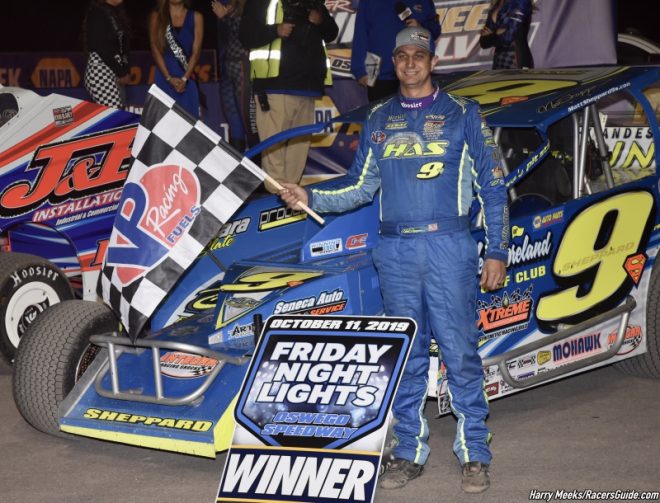 Triple 30 number two winner, Matt Sheppard, who despite his success, never seems satisfied. Sheppard put the No. 9s on the outside pole for the Billy Whittaker Cars 200 and still wanted more.
"We threw a whole different set up in the car from what we had in Time Trials," Sheppard noted. "It was good enough to win the race and that's good, but I still don't think we are where we need to be to win this race on Sunday."
Sheppard has another day of work before strapping into his Big Block Modified on Sunday. He and his team will use Saturday's practice session for fine tuning.
"I think we learned some things tonight and hopefully we'll make the right calls tomorrow and get it dialed in a little bit better," he said.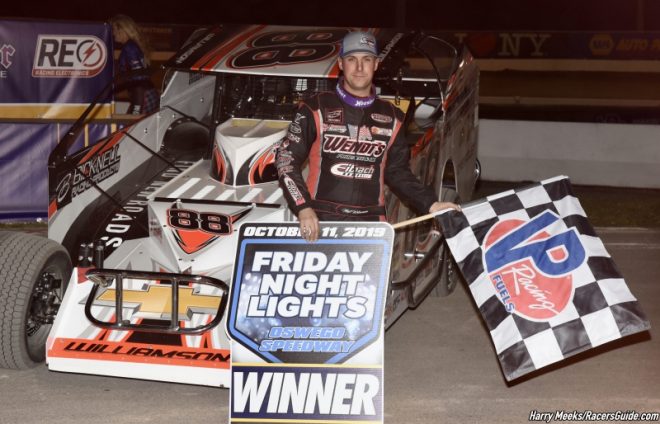 In the third and final Triple 30 Heat Race, Mat Williamson kept the Buzz Chew No. 88 squarely in front for most of the race. However, Erick Rudolph, was not about to let Williamson run away with it.
Rudolph made a few strong attempts on the race-winner but failed to clear him. In frustration Rudolph drove up along the No. 88 under caution and made his presence known.
"Erick is fun to race with," Williamson said. "We all get emotional and I guess you could say we have a rivalry. It's fun racing. We kind of grew up together. But it's great for the fans."
It took the first quarter of the season for Williamson and his Buzz Chew team to get in the groove. First, they became consistent and constantly on the podium and then the team broke through with back-to-back wins at Brewerton and Mohawk International Raceway, launching him up in the points.
"Every person I have behind me has had something to do with this. These guys deserve it way more than I do. It's just awesome to be a part of it."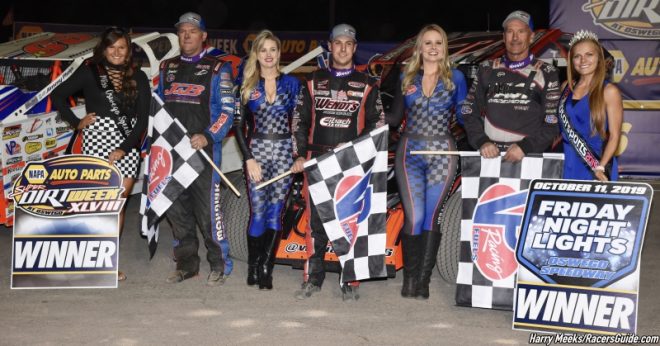 DIRTcar 358 Modifieds — Jimmy Phelps, Mat Williamson and Tim Fuller collected wins in the DIRTcar 358 Modified Series Triple 25s.
Phelps held off Justin Haers on a lap 22 restart to capture the victory in the first 25 lap qualifying event. Phelps restarted on the inside and slid up to the cushion, breaking Haers' momentum and opening up a hole for Michael Maresca to take the second spot away on the inside.
"We got a little surprise from the 3 car (Haers) on the restart," Phelps said. "We both really wanted to win it, but we survived. We will just watch the weather and keep an eye on the track for tomorrow."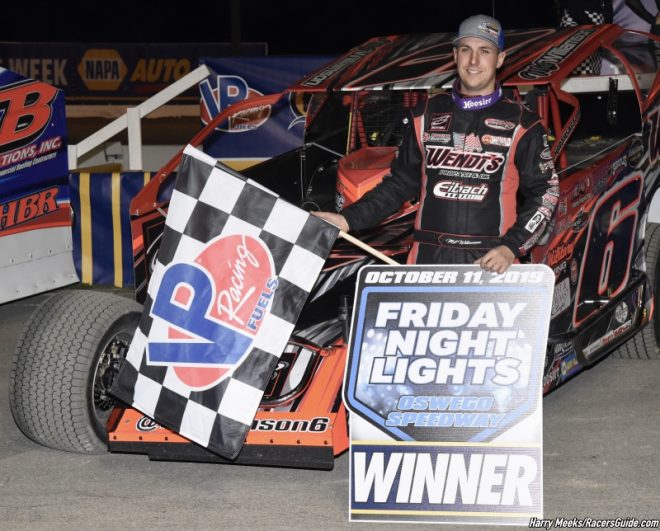 Maresca hung on for the second spot, while Haers had to settle for third. Dave Marcuccilli and Billy Decker rounded out the top five. Brett Hearn drove from position 14 up to sixth, Billy Whittaker, Ryan Susice, Danny Johnson and David Hebert completed the top 10 and are all qualified for Saturday's 150-lap event.
In the second Heat Race, Williamson survived four restarts with Erick Rudolph to pick up the win in the second 25 lap qualifying event.
"I have to thank my good car owners for the success we've been having," Williamson said. "We have a good hot rod, so we'll see what we can do this weekend."
Rudolph had cleared Williamson in turn two on lap 11, but Ryan Bartlett came to a halt in turn three, negating the pass and bringing out a yellow flag.
Larry Wight and Kenny Tremont Jr. were both on the move at the halfway point. Wight had worked from position 13 up to sixth and Tremont Jr. from position 18 to 10th.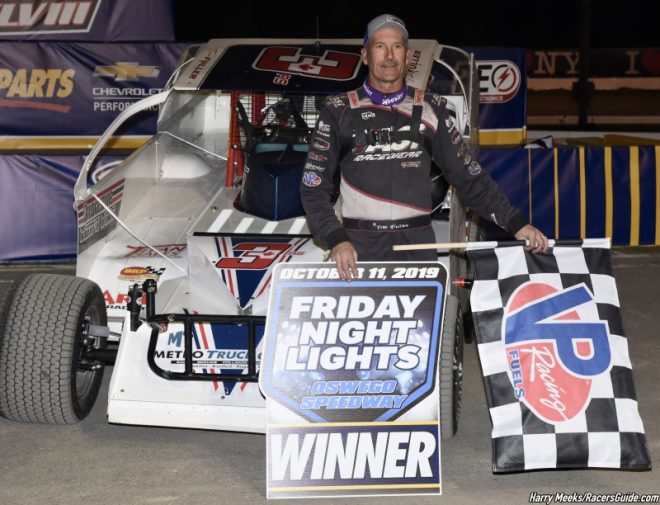 On a lap 23 restart, Mike Mahaney and Peter Britten were both in a qualified spot, but got together in turn two, ending the run for both drivers. Rudolph finished in second, with Wight completing the top three. Apparent fourth place finisher, Tim Sears Jr., didn't make weight in post-race inspection, placing Tremont fourth and Billy Dunn fifth. Gary Lindberg, Chris Hile, Alan Johnson, Jessica Friesen and Pat Ward finished sixth through tenth and are qualified for the 150-lap event.
Fuller used a lap 3 restart to retake the lead and cruise to victory in the third 25-lap qualifying event. Corey Wheeler rolled the inside lane and worked around Todd Root to take the second spot away on lap 18. Mario Clair's car came to life in the final 10 laps, as he launched off the inside of the second turn to get around Root and Anthony Perrego for third. Perrego would rally on the final lap though, as he drove his number 18 machine deep into turns three and four to take the third spot away.
Clair finished in the fourth spot, and Root crossed the line fifth. Root, who is already qualified for the 150-lap event from time trials on Thursday, was disqualified from the 25-lap event for being too light on the scales. Ronnie Davis III was placed fifth, while Jessey Mueller, Jack Lehner, Michael Parent, Demetrios Drellos and Tyler Meeks completed the top 10 and are qualified for Saturday's event.
Last Chance Showdowns will take place on Saturday morning and will mark the final chance for teams to punch their ticket into the Salute the Troops 150 on Saturday afternoon.