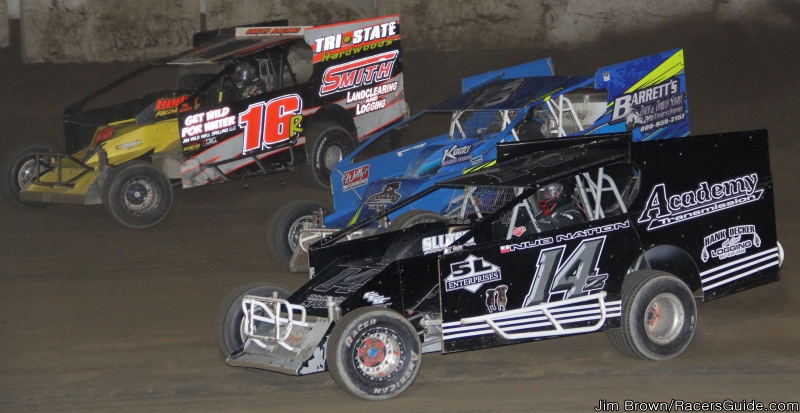 WINDSOR'S BRIAN WEAVER A FAVORITE ENTERING THIS WEEKENDS NATIONAL QUARTER MILE DIRT TRACK CHAMPIONSHIP WEEKEND. GARY'S U-PULL IT OFFICIAL WEEKEND SUPPORTER OF TWO DAY EVENT.
Story By: Andy Harpel/Five Mile Point Speedway
Photos By: Jim Brown/RacersGuide.com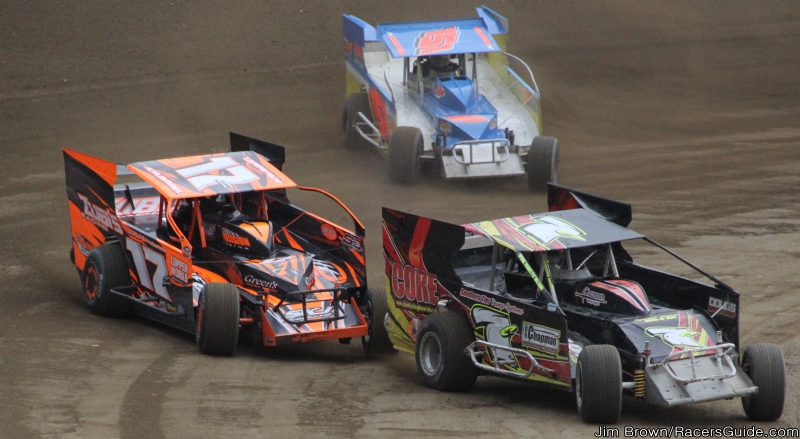 KIRKWOOD, NY…The biggest weekend of racing for 2017 takes place this Friday and Saturday at Five Mile Point Speedway. Brian Weaver fresh off his remarkable 150th career Modified feature win back on September 19th is one of the pre-race weekends. The National Quarter Mile Dirt Track Championship Weekend features a special Modified 35 lap event paying $3,500 to win. Racing on Friday begins at 7:00 p.m. Racing on Saturday begins at 4 p.m.
The two-day National Quarter Mile Dirt Track Championship Weekend is a long standing tradition at Five Mile Point Speedway. The historic weekend event will see race fans and teams from all over the northeastern United States. The Friday Modified event will serve as the final Modified race of the season. Gary's U-Pull It on Colesville Road in Binghamton, New York has signed on as the official weekend sponsor. They will have $2 off grandstand admission coupons for both days of racing.
Brian Weaver, from Windsor is one of the pre-race favorites in the big Friday night racing card. Weaver, a three-time feature winner in 2017 captured his 150th career Modified victory in his last outing at the speedway. Weaver has collected wins in New York, Pennsylvania, New Jersey, Maryland and Ohio over his impressive racing career. He will certainly be looking to take the top honors this Friday evening at Five Mile Point Speedway. The special 35 lap Modified feature event will pay an impressive $3,500 to the race winner. Last year 60 Modified teams converged on the quarter mile oval for this race weekend.
Joining the Modifieds on Friday will be the GRIT Crate Sportsman in a $1,000 to win special, the Xcel 600 Modifieds and a Four Cylinder Open competition event. Racing on Friday evening begins at 7 p.m.
On Saturday racing will begin at 4 p.m. with a jammed packed lineup of action on the quarter mile oval. The GRIT Crate Sportsman will return for day 2 with a $2,000 to win special event. The Fight Night All-Star Street Stocks will do battle in a 25 lap event paying $500 to win and a guaranteed starting spot in the World 100 at the Outlaw Speedway.
Saturday competition will also see a National event for the Tobias Slingshots, FWD Four Cylinders, Factory Stocks, Xcel 600 Modifieds and Empire Sport Trucks.
Kids 12 years old and younger will be admitted FREE both days. Five Mile Point Speedway is the only southern tier speedway to provide free admission for children 12 years old and younger.
For additional information please phone 607-775-5555 or log on to www.5milepointspeedway.com. You may also email the speedway directly at fivemilepoint1@aol.com. Five Mile Point Speedway – "The Home Speedway of the Southern Tier" where kids 12 and younger are admitted FREE to every race event!