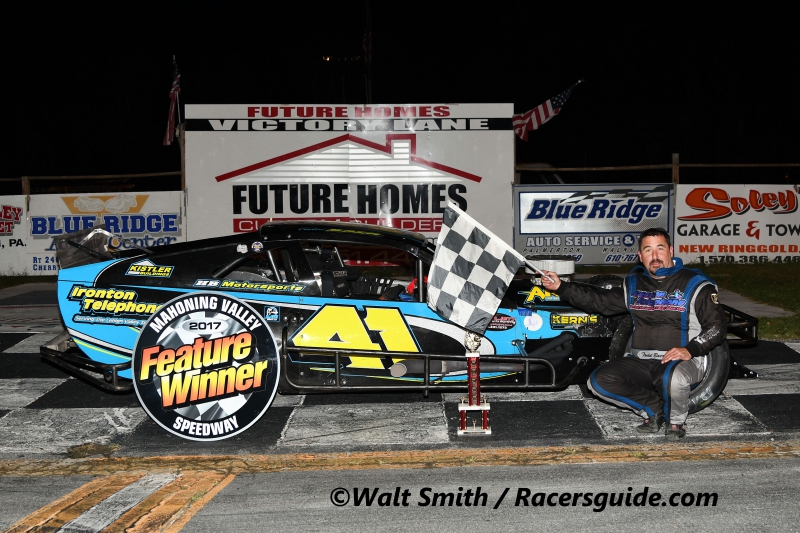 Todd Bear, Lou Strohl Capture Thrilling Twin 50 Modified Features
Story By: DINO OBERTO/Mahoning Valley Speedway
Photos By: Walt Smith/RacersGuide.com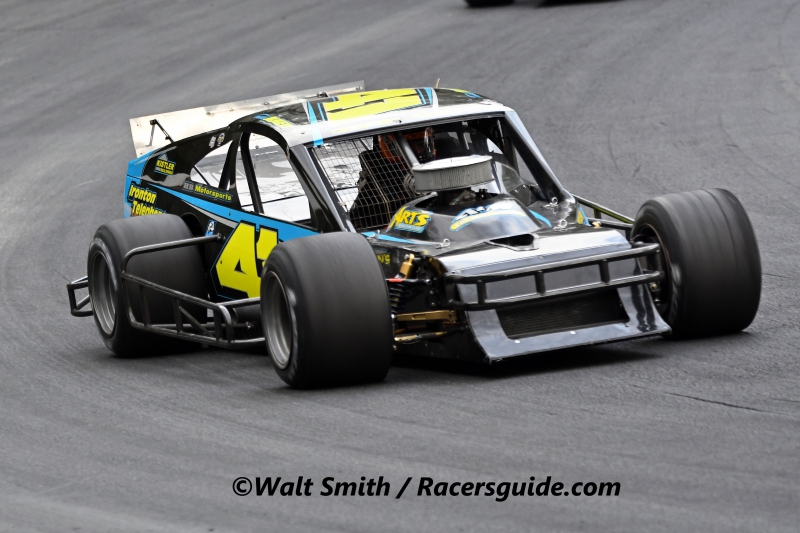 (LEHIGHTON, PA. 9-30-17) The Modified Twin-50's at Mahoning Valley Speedway saw plenty of intense close action and a pair of crafty veterans claim victories as Todd Bair and Lou Strohl drove to convincing wins.
For Strohl, it was a banner night as he had led the brunt of laps in the first feature and was a solid second to Baer while in the follow-up race he was stronger yet. He led the final 18 laps and at most times by a substantial distance.
When the first 50 got underway rookie Jacob Kerstetter was the pole sitter and would lead the first six laps before Strohl took control. The race was being run at a speedy pace as the field went until lap 37 before the first of only two cautions waved.
Under that stretch Strohl was holding off a double line of two wide competition that was nothing short of exhilarating. Kevin Graver Jr., and Baer were guiding that group and laying on the pressure to Strohl. Gene Bowers stepped into the fray just past midrace and was alongside Baer while each making continual stabs at the leader.
By lap 30 Baer was beginning to get an edge on Strohl through the inside lane and would finally snatch the top spot with the conclusion of the 33rd go-around.
"I saw Louie (Strohl) looking like he was getting tight and I was bidding my time and I didn't know who was coming behind me since we went all those laps nonstop. But I knew I couldn't wait around too long so we went for it and thanks to Lou for running us clean," said Baer.
After getting the lead Baer was looking capable and nearly home free. But, with two laps to go the second and final caution waved for a spinning Joey Jarowicz. Despite that he confidently held off Strohl.
"I didn't like the caution on lap 34 and I certainly didn't like that last one either," said Bear, who won for the second time in three races.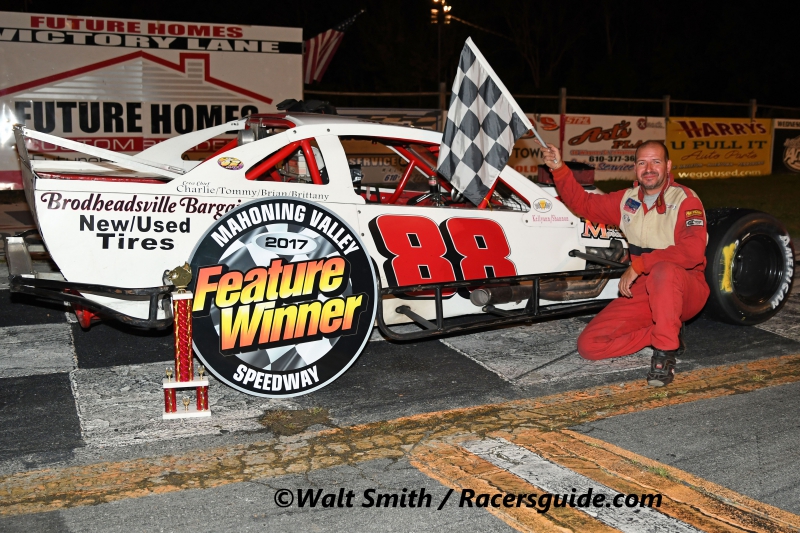 "We went over this car during the off season and the Hirschman's helped us out a ton. Kevin (Hoffman) and Nick (Bear) have been working their tails off and did a hell of a job with the setup. I can't thank them and all our sponsors enough."
In the second 50 Kerstetter again led the field to the green but before a lap could be scored there was a huge melee in turn three that saw virtually the entire grid scatter. After all was cleared Nick Baer would hold the early lead and in much the same fashion as the first race there was double file action taking place.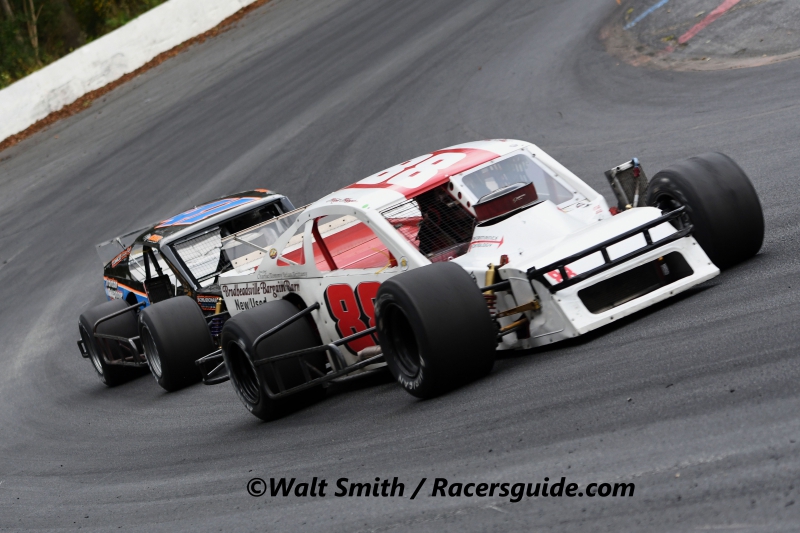 N. Baer, son of T. Baer, had everyone thinking it could be a family affair in Victory Lane. Of course with all of the closeness going on the outlook was beginning to change rapidly. Bowers was charging hard and began a torrid assault on the leader, eventually taking over with 13 laps in.
Determined N. Baer would then return the favor and reassume his position two laps later. Also showing great poise was James Pritchard Jr., who was having his best run in some time by hanging intently with the lead pair.
By lap 19 Strohl had entered the front fold and within a lap made a sweeping move from third to first. Subsequently he then powered ahead to a commanding lead while Bowers and Pritchard dueled for second.
Over the final 10 laps championship contender Brian DeFebo had the afterburners kicked in and was in a sizzling battle for second spot with Kyle Strohl. He then had a last chance shot at overtaking L. Strohl when a caution brought the field together with one to go.
Being shut out of victory for three years though wasn't going to go one more week for L. Strohl as he took the stirring triumph, the 34th of his 20-plus year career.
"It was like old times because I knew I had such a good car and it feels real good," stated Strohl.
"It really didn't bother me that that last caution came out because the car was that good and I didn't really push it after the restart. We lost a little bit of stagger in the first race during that long run or I'm confident we would have had a sweep tonight."
Frankie Althouse won his fifth Late Model feature of the season and gave him a glimmer of hope in staying alive with two races to go and a shot at bypassing Mike Sweeney for the championship.
Althouse actually lucked his way into the win when front runners Lorin Arthofer II and Sweeney had an incident. Arthofer was leading but got a nudge from Sweeney in turn four and spun with four laps remaining. Althouse was a very close third and just missed episode.
For the restart he was elevated to the front and would hold off Broc Brown en route victory.
In Street Stock action Rick Reichenbach would take the lead from Shayne Geist on lap 10 of 30 and once ahead there was no looking back.
Reichenbach fended off BJ Wambold and Todd Ahner with an impressive defensive drive for his second win of the year.
Mike Stofflet may have gotten his unprecedented 13th Dirt Mod win of the season but it was hard fought thanks to the awesome battle waged with Billy Lowden Jr.
Lowden and Stofflet went toe-to-toe over the first dozen tours while weaving in and out of lapped traffic. The action was fierce until Stofflet finally got to the inside of Lowden and was then clear to the checkers.
Kevin Stein moved one step closer to the Pro 4 championship by winning for a fifth time. Stein took to the lead after a lap one restart and stayed the course for the remaining 19 circuits.
Jake Kibler and Johnny Bennett gave him a good run but Stein was able to hold his own to the finish.
By notching his third Hobby Stock win of the season, Devin Schmidt has moved to within five points of Austin Beers that will make the final two races quite exciting for top division honors. Beers made a late race run and ended second.
1st Modified Feature Finish (50 Laps): 1. Todd Baer, 2. Lou Strohl, 3. Kyle Strohl, 4. Bobby Jones, 5. Brian DeFebo, 6. Gene Bowers, 7. John Markovic, 8. Don Wagner, 9. DJ Wagner, 10. Kris Graver, 11. Kevin Graver Jr., 12. James Pritchard Jr., 13. Jacob Kerstetter, 14. Joey Jarowicz, 15. Ron Haring Jr., 16. Nick Baer, 17. Scott Miller
2nd Modified Feature Finish (50 Laps): 1. Lou Strohl, 2. DeFebo, 3. Kyle Strohl, 4. Jones, 5. Kris Graver, 6. Markovic, 7. Don Wagner, 8. Bowers, 9. Kevin Graver, 10. Nick Baer, 11. DJ Wagner, 12. Haring Jr., 13. Kerstetter, 14. Miller, 15. Pritchard, 16. Todd Baer, 17. Jarowicz
Late Model Feature Finish (25 Laps): 1. Frankie Althouse, 2. Broc Brown, 3. George Ramos, 4. Dylan Osborn, 5. Lorin Arthofer II, 6. Jeremy Miller, 7. Jacob Kerstetter, 8. Mike Sweeney, 9. Kenny Hein DNS: Adam Santee
Street Stock Feature Finish (30 Laps): 1. Rick Reichenbach, 2. BJ Wambold, 3. Todd Ahner, 4. Jillian Long, 5. Jared Ahner, 6. Stacey Brown, 7. Zach Graver, 8. Shayne Geist, 9. Mark Deysher, 10. Cody Geist, 11. Corey Edelman, 12. Alan Schlenker, 13. Jamie smith, 14. Ken Erney III, 15. Kevin Weierbach, 16. Bobby Kibler Jr., 17. Steve Hoffman, 18. Eric Kocher, 19. Dennis Buss
Dirt Mod Feature Finish (20 Laps): 1. Mike Stofflet, 2. Billy Lowden Jr., 3. Bill Sittler Jr., 4. Vincent Fegley Jr., 5. Patrick Corrigan, 6. Denis Devine
Pro 4 Feature Finish (20 Laps): 1. Kevin stein, 2. Jake Kibler, 3. Johnny Bennett, 4. Jason Finken, 5. Cody Kohler, 6. Tucker Muffley, 7. Jeremy Guerra, 8. Randy Schaffer
Hobby Stock Feature Finish (25 Laps): 1. Devin Schmidt, 2. Austin Beers, 3. Rich Mutarelli, 4. Scott Adams, 5. Travis Solomon, 6. Michael Wambold, 7. Ryan Berger, 8. Al Arthofer, 9. Justin Merkel, 10. Trisha Connolly, 11. Avery Arthofer, 12. Paul Effrig, 13. Samantha Osborn 14. Peyton Arthofer, 15. Beau Drobot, 16. Kevin Behler, 17. Jake Oswald, 18. Lyndsay Buss, 19. Shawn Kistler