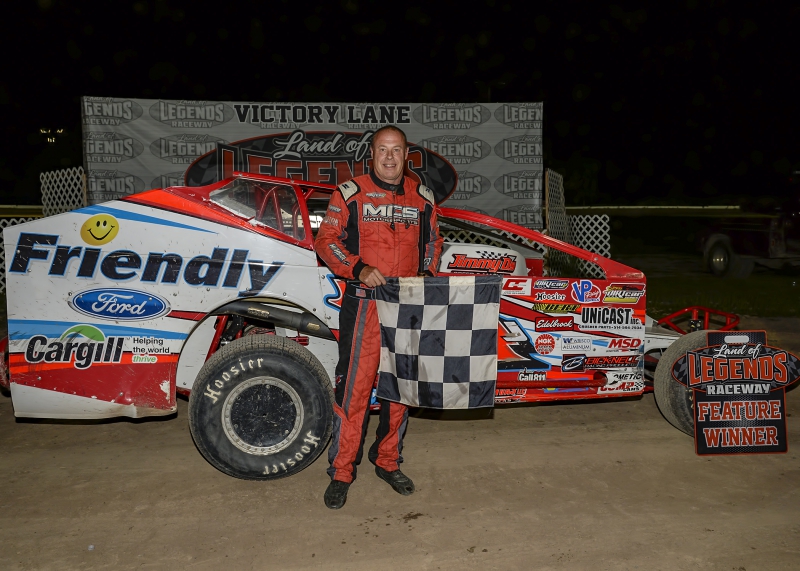 Win #123 And Counting As Alan Johnson Extends Career Mark In Canandaigua
Ruggles & DePuy continue to dominate, Gray & Hoxie add third victories of season at LOLR
Story By: Tom Skibinksi/Land of Legends Raceway
Photos By: Don Romeo /Land of Legends Raceway
Canandaigua, NY – Starting it all off as a teenager with his first-ever feature win at Land Of Legends Raceway in 1975, Alan Johnson continued to add to his all-time track-best total, tallying Pepsi Big-Block Modified victory #123 in the 'Saturday Spectacular' presented by L&L Transmissions and the Ontario County Fairboard.
"I think that first race at Canandaigua was the third time I even went to a dirt track," recalled Johnson, now 60, after launching his speedway career in 1974 at the same half-mile oval that would become a weekend hangout for the next four decades. "Before that I went to Waterloo in the early 60s to watch my dad race and then to Rolling Wheels after it first opened around 1970. Probably saw more asphalt races at Lancaster where my father ran a lot back in those days."
On this day, joining Johnson in victory lane were point leaders Darryl Ruggles after his sixth Mike Emhof Motorsports 305 Sprint Car win and Adam DePuy following his eighth Big Dog Country Street Stock triumph. Both Steve Gray (Donath Motor Worx Sportsman) and Sam Hoxie (New Legends Sportsman) took their third checkered flags in the final full month of racing at the fairgrounds.
Venturing trackside at just 3-1/2 yrs. old, Nicholas Kolosek "out popped" four other youngsters to claim first-place in the unique Power Wheel Demo Derby staged on the homestretch during intermission. Younger brother of current LOLR 305 sprint driver Johnny Kolosek from Marion, Kolosek outlasted Lucas Newton (6 yrs.), Emily Hearns (4), Jonah Campfield (4) and Hunter Smith (3-1/2) as he was the last one remaining with at least one air-filled balloon attached to his vehicle at the end.
Johnson, whose first Canandaigua win came at age 16, filed in eighth on the 20-car Big-Block starting grid and watched as 16 year-old Jeff Daugherty led at the drop of the green. Speedway veteran Steve Paine chased down Daugherty on lap five before 'A.J. Slideways' took command underneath as the lead duo exited turn two on lap 14.
Ninth-place starter Matt Sheppard motored into second on the 15th circuit of the headline 35-lapper, and at the halfway point Erick Rudolph, Paine and Justin Haers filled out the front-five. Johnson's first win of the year came in mid-May when rain shortened the Modified main to 25 laps —just after he had just passed last week's winner Justin Wright— yet this time around A.J. would have to hold off current point leaders Sheppard and Rudolph with still 20 to go and and skies overhead clearer than the traffic ahead.
"There was a lot of brown down low but the outside got a little slick," noted Johnson, a five-time LOLR Big-Block points champion with two more wins scored at Canandaigua in 358-Modified Series events. (Outside) wasn't bad in (turns) three and four but one and two went away pretty good. I was comfortable down low so that's where I stayed."
Lap after lap the leaders navigated high and low through traffic, Johnson hugging the inside lane in the Jimmy D's-powered no. 14J Friendly Ford-Cargill-Conley Farms/Bicknell ride for owner Mark Spoor while Sheppard constantly tested the outside line as Rudolph searched for any way past. Lapped cars heightened the drama before Johnson managed to hold on for a two-car length victory in the caution-free finale.
"Probably lucky I started in front of (Matt)," smiled Johnson, whose father Milt captured the 1961 Sportsman points title at Canandaigua. "Figured if he was better he'd have to go around me so I tried staying on the bottom as much as I could. It wasn't easy, I slipped up a few times, the car was just that good."
"Traffic really wasn't too bad with the track being good up high in three and four, don't think I would get around anybody in one and two. Could pretty much drive around them if I was behind going into three and four. The track has been fantastic, really surprised it could make such a comeback in so short a period of time. Figured it would take a couple weeks, usually does, but the (surface) came back nice," added Johnson, referencing the dry and dusty track conditions that plagued the race program in recent weeks.
Currently ranking one-two in points, Sheppard (804) and Rudolph (794) settled for second and third, with teammates Jimmy Phelps and Max McLaughlin sandwiching fifth-place finisher Paine at the stripe. Johnson sits fifth on the chart with only two point shows remaining before the 2018 Big-Block champion is crowned on Aug. 25.
Taking advantage of the tacky surface en route to his 30th career Sportsman triumph at the Land of Legends, Gray also commended the track crew for the track conditions that played into his favor come feature time.
"We won so we think the track is phenomenal, wish it was like this every week," remarked Gray, 42, the 2014 LOLR Sportsman season champion, who remains fifth in the standings heading down the stretch. "With the Teo Pro car it makes it harder to get bite on a slick surface so this kind of evened the playing field tonight."
While the Big-Block feature ran green to checkers in less than 12 minutes, an opening lap skirmish that sent Nate Peckham sliding into the front infield was all that prevented the 25-lap Sportsman finale from running non-stop. New Legends graduate Billy Paine led his first lap in his seventh start before Tim Baker grabbed the top slot the second time around.
Beginning fifth in the 23-car feature field, Gray ducked under Paine for second on lap three and needed seven more circuits to power around Baker and force the final lead change. Starting in the row behind Gray, Ricky Newton was a man on the move midway through, using the high side to steal second from Baker on lap 15.
The lead trio pulled away from the pack over the next five laps as Paul Guererri joined the fray in traffic followed by division points leader Dave Marcuccilli as Baker faded out of contention. Guererri secured the runner-up position with two laps to go yet could only close to within five car-lengths of Gray in the winning no. 29G Proctor Enterprises-Bussey Painting & Refinishing/Teo entry.
"Just knew I had to get (front) before Newton, he's fast obviously, think he showed himself on the bottom side a couple times," Gray said. "I knew he was close seeing him there and checking the scoreboard. Could see him behind me and hear him a couple times, knew he was closing the gap."
"I just had to make sure the car could run in clean air and I could get around the lapped cars as fast as possible and not get pinned in behind them. Fortunately the car was good, the track had enough bite in it tonight so things went our way and we're definitely glad to be here," Gray added.
Ruggles retained his status as the hottest driver at the track, wrapping up win number five in the past seven 305 Sprint outings, including a pair of CRSA tour victories on home soil.
"Probably never been on a run like this before, maybe in the microsprints, but nothing like against the caliber of cars here at Canandaigua," figured Ruggles, 52, a winner in every major division at LOLR during his life-long racing career on the fairgrounds. "My goal this year was five wins so we passed that. Just have a solid car right now and with a really good track tonight things couldn't have gone better."
Brandyn Griffin charged from third to first to lead off the 20-lap 305 A-Main with eighth starting Ruggles quickly advancing into the top-five. Ruggles dueled for third with defending points champion Jason Whipple before Mike Jackson smacked the turn four outside wall to incur a yellow flag on lap six.
Griffin and Ruggles pulled away from the pack on the ensuing restart with Johnny Kolosek and Dan Bennett both getting past Whipple before the halfway mark. And that's when Ruggles made the winning move, throwing his no. 48jr. Danny Willmes Enterprses-VanBortel Trucking/Eagle past Griffin on lap 10 and never looking back.
Third-place running Kolosek drifted high over the bank between turns one and two on the last lap to bring out a second yellow flag, yet nothing changed up front as the Hopewell pilot cruised home for a comfortable six car-length victory. Griffin, Alysha Bay, Jesse Pruchnik and Whipple completed the final top-five.
"Have to thank the track crew for taking care of business," added Ruggles, after posting his 33rd career sprint car win at LOLR. " Just a few weeks ago (track) was definitely on the edge but they've really turned things around. It was real good tonight and that made it a lot of fun getting around."
DePuy needed only four trips around the fast half-miler to dispose of early race leader Jason Quigley, but the fun really began when chief rival Marc Minutolo moved into second after slipping under Todd Hayward on lap six of the 15-lap Street Stock main event. Minutolo out-jumped DePuy on a lap eight restart but officials called for a re-do and the #99 Fox's Auto-Nance's Mustard-A.E.Y. Enterprises/Chevrolet Camaro regained a lead that the Macedon chauffeur would not relinquish.
"You just have to run your own race and not worry about anybody else," stated DePuy, after scoring his 37th career full-fender win at LOLR. "If they're going to pass you, they're going to pass you one way or another. Marc has his wins, we'll get ours and just keep going."
DePuy sped out to a 10 car-length victory margin under the checkers, followed by Minutolo with Hayward, Brad Steinruck Jr. and Rick Crego securing front-five spots.
"The track came around for us, was afraid it was going to slick up," added DePuy, after extending his lead to 56 points over four-time winner Minutolo. "It had multiple grooves and that's the way I like to race. Hopefully there's cars that can get up to the top or the bottom and we'll all have a good race."
Hoxie ran uncontested in the 10-lap New Legends Sportsman race, leading the biggest entry-level field (7 cars) of the season over the entire distance aboard his double-zero numbered Barber's Automotive-Bliss Speedway/Bicknell machine. Kevin Gray, son of Sportsman winner Steve, looped the #29G Teo Pro entry on lap seven for the lone slowdown, with Hoxie forging a five car-length victory over Western New Yorkers Mike Martin and points leader Tyler Vinson.
"I didn't hear anything behind me until that last restart and after that nothing at all so I knew we were okay," said Hoxie from Bliss. "We got a good starting spot tonight and it was nice to finish things off without any mistakes."
LEGEND LEDGER:
Speedway action continues August 11 at Land of Legends Raceway with Youth Football Night highlighting the 'Saturday Spectacular' featuring the mighty Pepsi Big-Block Modified, Donath Motor Worx Sportsman, Big Dog Country Street Stock and New Legends Sportsman divisions plus a final appearance by the CRSA 305 Sprints.
Congratulations are once again extended to the Dutch Hoag, Glenn Donnelly and Bob McCreadie families after their memorable inductions into the Land of Legends Raceway Wall of Fame during the past three months. The final WoF ceremony in 2018 will be held on Sat., Aug. 25 with active —and still winning— all-star Alan Johnson the fourth honoree.
Be sure to follow the point standings down to the wire as well as breaking news online by visiting www.LandOfLegendsRaceway.com. Advance sale tickets remain available for purchase online throughout the upcoming months. Log into the website (LandOfLegendsRaceway.com), hit the red "Buy Tickets" button on the homepage, then make a selection from the list of dates & events highlighted.
Land of Legends Raceway is located at the Ontario County Fairgrounds, east of the city on Town Line Road (County Road 10), with easy access off either Exit 43 (Manchester, Route 21 South) or Exit 44 (Farmington, Route 332 South) of the New York State Thruway, just ½-hour southeast of Rochester.
Land of Legends Raceway Event Summary – August 11, 2018
L&L Transmissions and Ontario Co. Fairboard present Saturday Spectacular
Pepsi Big-Block Modified
*Feature (35 laps): 1. 14j-Alan Johnson ($2,000), 2. 9s-Matt Sheppard, 3. 25-Erick Rudolph, 4. 98h-Jimmy Phelps, 5. 7x-Steve Paine, 6. 6h-Max McLaughlin, 7. 3-Justin Haers, 8. 3rs-Billy Dunn, 9. 23-Kyle Coffey, 10. 77-Lance Dusett, 11. 22-Jeff Daugherty, 12. 22g-Gil Tegg Jr., 13. 19w-Justin Wright, 14. 28p-Eldon Payne,Jr., 15. 31m-Jimmy Maier, 16. 21p-Derrick Podsiadlo, 17. 16k-Kaitlin Pashina, 18. 11j-James Sweeting, 19. 83x-Bryan Faulkner, 20. 12-Brian Sage.
Heats (8 laps)
#1: Haers, Johnson, Rudolph, Daugherty, Phelps, Dunn, Sweeting, Maier, Payne, Dusett.
#2: Sheppard, Paine, Tegg, Wright, Coffey, McLaughlin, Pashina, Podsiadlo, Sage, Faulkner.
Donath Motor Worx Sportsman Modified
*Feature (25 laps): 1. 29g-Steve Gray, 2. 7-Paul Guererri, 3. 11n-Ricky Newton, 4. m1-Dave Marcuccilli, 5. 9-Tim Baker, 6. 31-Kane Bristol, 7. 12g-Matt Guererri, 8. 2k-Anthony Kimble, 9. 20x-Kevin Ridley, 10. 25g-Nick Guererri, 11. 713-Tommy Collins Jr., 12. 1-Billy Paine, 13. 1f-A.J. Lloyd, 14. 21x-Eric Williams, 15. 2-Loren Lincoln, 16. 2kx-Kyle Kiehn, 17. 01-Doug Smith, 18. 50-Tim Downs, 19. 13t-Trevor Years, 20. 90-Nathan Peckham, 21. 56-Alan Bratek, 22. 8-Joe Cook, 23. 35-Nick Cooper.
Heats (8 laps)
#1: Kimble, N.Guererri, Gray, Lloyd, Lincoln, Ridley, Years, Collins.
#2: P.Guererri, Bristol, Kiehn, Smith, Bratek, Downs, Peckham, Cook(DNS).
#3: Baker, Newton, Paine, Williams, Marcuccilli, M.Guererri, Cooper.
Mike Emhof Motorsports 305 Sprint
*Feature (20 laps): 1. 48jr.-Darryl Ruggles, 2. 75-Brandyn Griffin, 3. 48a-Alysha Bay, 4. 42-Jesse Pruchnik, 5. 38-Jason Whipple, 6. 26j-Johnny Kolosek, 7. 23-Tyler Cartier, 8. 66-Erik Karlsen, 9. X-Dan Bennett, 10. 18c-Dan Craun, 11. 19em-Emily VanInwegen, 12. 65-Levi Arthur, 13. 74-Eric Kurtz, 14. 4-Tim Smith, 15. 19j-Mike Jackson.
Heats (8 laps)
#1: Whipple, Bay, Craun, Kolosek, VanInwegen, Jackson, Arthur, Smith.
#2: Bennett, Griffin, Ruggles, Karlsen, Cartier, Pruchnik, Kurtz.
Big Dog Country Street Stock
*Feature (15 laps): 1. 99-Adam DePuy, 2. 25b-Marc Minutolo, 3. 57j-Todd Hayward, 4. 02-Brad Steinruck Jr., 5. 5c-Rick Crego, 6. 4j-Jason Doty, 7. 12s-Dakota Sharp, 8. 74-Ronald "Bundy" Metcalf, 9. 34q-Jason Quigley, 10. 55b-Blane Smith, 11. 69r-Carl Whittaker, 12. 8-Mike Welch, 58L-Jim LaRock(DNS), 86L-Shawn Lloyd(DNS).
Heats (6 laps)
#1: Minutolo, Crego, Quigley, Smith, Sharp, Lloyd, LaRock(DNS).
#2: DePuy, Welch, Hayward, Steinruck, Metcalf, Whittaker, Doty.
New Legends Sportsman
*Feature (10 laps): 1. 00-Sam Hoxie, 2. 99-Mike Martin, 3. 93-Tyler Vinson, 4. 23b-Timmy Borden Jr., 5. 14n-Dwight Nichols, 6. 4-Eric Years, 7. 29g-Kevin Gray.
Power Wheel Demo Derby Winner (5 entries)
Nicholas Kolosek (3-1/2 yrs. old)
NEXT EVENT: Saturday Spectacular, August 18 @ 7pm; Big-Block Modified/Sportsman/CRSA 305 Sprint/Street Stock plus New Legends Sportsman on Youth Football Night.
Track Instant Info
Website: www.LandOfLegendsRaceway.com
E-Mail: info@LandOfLegendsRaceway.com
Twitter: @LandofLegendsNY
Facebook: @LandofLegendsNY
Instagram: @LandofLegendsNY
Along with recognizing its weekly 50/50 raffle fund beneficiaries, Land of Legends Raceway is proud to salute several sponsors and corporate partners that continue to help bring its fans the best Saturday night racing show in the Northeast. Listed alphabetically are division sponsors Big Dog Country 103.5FM Radio, Donath Motor Worx, Mike Emhof Motorsports, Pepsi/Geneva Club Beverage; event sponsors Admar Construction Equipment & Supply Company, A-Verdi Storage Containers, Daldry Canvas, Geneva Club Beverage/Mountain Dew, Honeoye Auto Parts/Auto Value, L&L Transmission & Towing, Pampered Parents, Phelps Cement Products, Pilat Graphic Design, Proctor Enterprises, Product 9, Red Osier Restaurant, Tradition Automotive Group; promotional partners Champion Power Equipment, D.C. Rauscher Inc., Dig Safely New York 811, Hoosier Racing Tire, Ontario County Fairboard, Sherwin-Williams Paint Stores, Star Headlight & Lantern Co., VP Racing Fuels and charitable beneficiaries 4-H Club, American Foundation For Suicide Prevention, Autism Up of Rochester, Camp Good Days, Canandaigua Emergency Squad, Care Net, Colony Caregivers–Cats, Crosswinds Sharing & Caring, Disabled American Veterans (DAV) Chapter 4 of the Finger Lakes, Embrace Your Sisters–Cancer, Friendship House (Middlesex NY), Hearts for Heroes, Justin Vecchiolo Scholarship, Miss Lizzie Deville & CNY RockaBetties, New 2 U Rescue Dogs, Oasis Adaptive Sports, Safe Harbors, The Spot, Wings For Cystic Fibrosis, Youth Baseball, Youth Football.