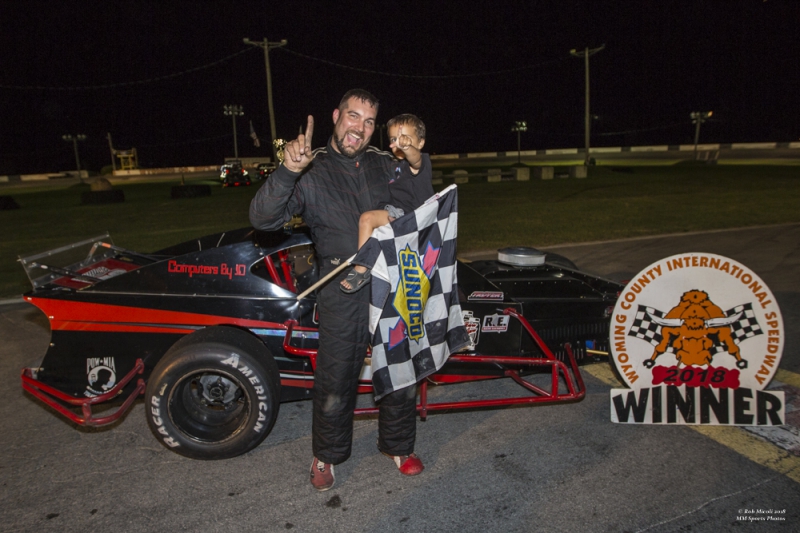 Knapp gets 3rd and Majchrzak, Moldt both get their 2nd for 2018 
Story By: Dan Turner/Wyoming Cnty Intl. Speedway
Photos By: Rob Micoli/Wyoming Cnty Intl. Speedway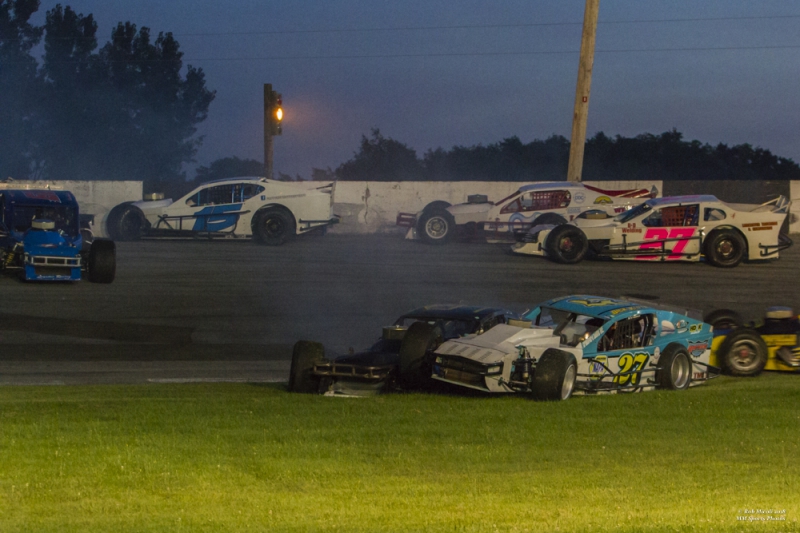 With just two more regular weeks of racing in the 2018 season, before our "Shootout at the Bullring" the point chase is on in all our weekly racing classes. Knapp leads Majchrzak by 78 points, in the SST Modifieds. Kathie Richetson leads Dave Heimes by 14 going into tonight's program. Zach Meyers leads Eric Hastreiter by only 27 markers. Each and every nights of racing is getting more and more critical to gather as many points as possible. Some drivers as Rick Knapp have seemed to be in stride from the opening night back in mid-May along with Zach Meyers and Eric Hastreiter. Other drivers that seem to be just peeking as the season winds down, like Toad Bradshaw, picked up his second win of his career a few weeks ago and has been strong the past few weeks along with Cassie Logsdon in her modified and Cole Hicks in his Super Stock. Then we have a few drivers with great equipment and just can't buy a break. Drivers like Mike Chenaille, that has the car and the talent to run up front but his darn luck will not get better. Joe Horvatits, another super driver with great equipment and crew to help him out, but lady luck has not been Joe's friend with mechanical issues and wrecks. Thou Joe is still in the top 5 in points with 2 wins. Tom Alloco another drive that was seen more than his share of bent or broken parts in 2018, but when running, the #6 is fast. So let's get back to last night's action on Ladies night at the speedway.
Rookie front row to start the 4 cylinders off. 17 year old, flat track motorcycle racer, rookie to four wheels, Jon Klamut in his #7 machine and flanking him is the #14s of Seam Sickles. These two rookies brought the field to green and battled a few laps before the Flat track racer, Klamut assumed the lead. Thou only for a short time, Klamut showed his learning curve was progressing nicely as he was smooth and good car control without rookie jitters. Then the power houses of the 4 cyl. class started their march to the front. First was Heimes in his Honda #8 to get by the Klamut #7 then Jimmie Pierce Jr. then last week's winner Greg Moldt. Pierce would run down and catch the flying Heimes machine and as Pierce worked on passing Moldt would catch the front two. As Pierce and Heimes battled, this left the opening on the bottom and Moldt show the grandstands his first win was no fluke. Pierce eventually passed Heimes and took home 2nd.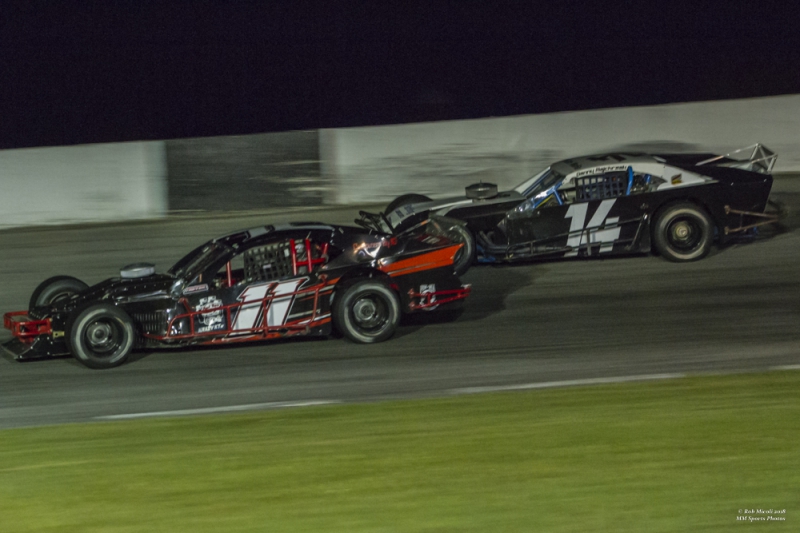 Something to be said about Super Stocks at the Bullring, it does not get much better for the true race fan. Also another rookie front row for the division. 4 cylinder stand out for the past few years Paul Flye was on the front row with Frank "Capt. Caveman" Kile in the retro looking tribute car to the ol days of the Orange and white #33, Dick Flagg. Flye was had many issues with the #94 ride in 2018 but seems to have worked put a bunch of them. Kline has jumped from the Concession stand cook to part time racer in 2017 and now a formidable competitor in the Super Stock division. Flye would get the early jump and take the lead then it was Scott Gleed in his sharp looking #03 machine. Gleed would hold the lead til the charging Danny Majchrzak would come to the front and take the top spot. Lap 14 saw the Hastreiter #47 machine spin off turn 2 and this would draw the yellow and send him to the tail of the field along with the Meyers #17x machine as he may have made contact with the Hastreiter machine. Caution would come out again as Kory Lanni's #29 would lose the left front fender and he would go pit side for repairs. It was Majchrzak on cruise control as he picked up his second feature in the Super stock for 2018 and eased the TWR sponsored ride to victory lane. Followed by Mike Chenaille, Eric Stone and Zach Meyers recovering to a decent finish.
SST Modified action was the last division for the night's program. 3 of the front 6 spots on the Mod's line were filled by our lady competitors. That is being said with NO disrespect towards them, they all have earned their way into this division. Pole position was Billy Kosachook and outside was the #6j machine of Carrie Bolton. Jen Dennie started, forth and Cassie Logsdon fifth. The front rows stayed 2×2 for the first few laps til Bolton took the lead then a maylay in turn one that collected a bunch of good cars. Kosachook spun and the mad scramble was on, Alloco hard into the wall after a easy heat win earlier. Virts in her 27v involved along with Kevin lewis in Dick Kluth's 27, Cassie Logsdon spun to avoid and did it well as she returned to race, and Damon Frutchey also involved but return to race. After the wild start everyone settled in and ran 23 green flag laps with Toad Bradshaw going to the very bottom and making it 3 wide coming off the forth corner. Bradshaw was starting to stretch out a lead til Dan Majchrzak caught him and looking to double up on features tonight. Also High poiny man Rick Knapp Jr broke pack and was on his way to see if he could notch victory #3. On lap 17, caution would come out again with Knapp out front, Majchrzak running second and Bradshaw third. But it was for the #14 of Majchrzak. Knapp had cleared the Lap car and as Majchrzak passed the lapper, the two touched and it send Majchrzak around with broke parts ending his night. Caution was out again at lap 27 when the Dennie #22 machine lost the handle off turn two. On the restart the Bolton and Michielsen machine tangled causing an instant yellow. Call it good or bad luck struck as the yellow flew and third place runner Bro Bradshaw realized his left front wheel was loose. Good he had the caution to get it fixed without a crash, bad it took him out of a podium finish, but recover for a seventh place finish. The green white checkered went smooth as the Rocket man Tricky Knapp Jr picked up feature number 3 for 2018. " I really can only say the car is good, really good, hard work by Dad and all the guys and my Wife for letting me putting the long hours at the shop, thank you all" Said Knapp in victory lane.
Wyoming County Intl. Speedway is off next week 8/18/2018 due to Wyoming County Fair.
Racing resumes, 8/25/2018 DOUBLE POINTS NIGHT
Gates open at 5pm Adults $12
Practice at 5:30pm Students (10-16) $5
Drivers meeting 6:30 Kids FREE
Racing at 7pm
4 cylinders: Heats: K.Ricketson, G.Moldt
1)G.Moldt,
2)J.Pierce Jr,
3)D.Heimes,
4)O.Bradshaw,
5)K.Ricketson,
6)J.Klamut,
7)S.Sickles,
8)J.Parthermer,
9)M.Hurlburt,
10)M.Bradshaw (DNS)
Super Stocks: Heats: S.Greed, M.Chenaille
1)D.Majchrzak,
2)M.Chenaille,
3)E.Stone,
4)Z.Meyers,
5)S.Gleed,
6)E.Hastreiter,
7)J.Malaber,
8)P.Flye,
9)F.Kline,
10)T.Lewis,
11)C.Hicks,
12)K.Lanni,
13)J.Horvatits
SST Modifieds: Heats: T.Alloco, T.Bradshaw, D.Majchrzak
1)R.Knapp Jr,
2)T.Bradshaw,
3)S.Fuchs,
4)S.Sherwood,
5)C.Logsdon,
6)J.Dennie,
7)B.Bradshaw,
8)D.Futchey,
9)C.Bolton,
10)N.Michielsen,
11)B.Kosachook,
12)Z.Kosachook,
13)D.Majchrzak,
14)T.Weist,
15)A.Bookmiller,
16)K.Lewis,
17)B.Kosachook Sr,
18)T.Alloco,
19)M.Virts