Watts Earns $6,000 Pay Day With Money in the Mountains Win At Big Diamond Speedway
Story By: SHAWN T WOOD / BIG DIAMOND SPEEDWAY MEDIA
Photos By: GEORGE STEIGERWALT / RACERSGUIDE.COM
FORESTVILLE, PA. –June 4, 2017 – There were postponements, fire and rain.Not even an electrical issue could stop the 5th annual Money in the  Mountains 40-lap big block/small block show from finally happening.
Ryan Watt led 37 laps to become the first repeat winner of the event on Slifko Service Center Night/Gone But Not Forgotten Memorial/US.S. Achey night.
Other winners on Friday night were Matt Stangle (U.S.S. Achey  sportsman), Jim Kost (Savage 61 roadrunners); Jeff Haag (No Sweet Service Group street stock).
The speedway returns action on Tuesday, June 6 for the Short Track Super Series North/South Region event which sees the modified racing for 50
laps for $5,000 to win. Also on the racing card will be the sportsman and the roadrunners.
On Tuesday, the pit gates will open at 4 p.m. with the grandstands opening at 5. Hot laps are slated for 7:15 with qualifying getting underway at 7:45.
Admission for Tuesday is $25 while kids 12-and-under and active military with a valid ID are free.
Watt was one of three drivers to utilize a big-block engine on Friday night and the extra horsepower showed as he came from his sixth starting
position to take the lead on lap 3 after Duane Howard led the opening two circuits.
From there Watt had to negotiate lapped traffic on several occasions as Rick Laubach, the defending winner of the race, who had moved into
second on lap 5, was keeping Watt at bay.
Laubach used lapped traffic to his advantage to pull to within two car lengths at times of the leader.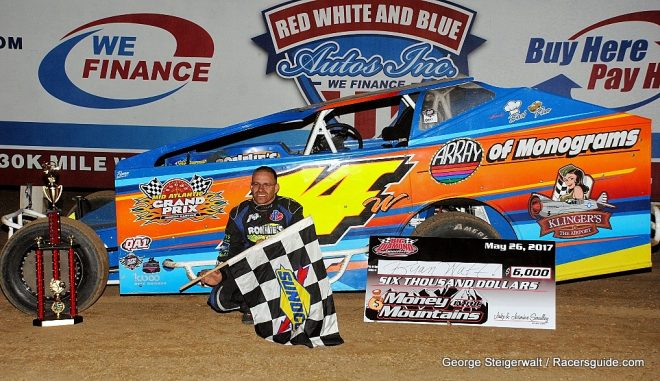 Watt would hold off Laubach on a lap 15 restart only to have the race  stopped for a short-lived fuel fire for Scott Albert. The driver was OK.
At the halfway point, Watt still showed the way over Laubach with pole  sitter and early race leader Howard sitting in third.
Watt opened his lead up again on lap 30 only to have Laubach close in  two laps later, however, with five to go, Watt opened his lead again and
he crossed the line .974 seconds ahead of Laubach for the win and the automatic starting spot in Tuesday's STSS race.
"I've been running the big blocks for quite a few years and I just  prefer running the big block when we travel," Watt said. "Rick (Laubach)
runs here weekly, he knows this place and I knew that if he got ahead of me on the restarts, I probably wasn't going to get back by him.
Ryan Godown who started 11th, came home third with Howard and inaugural MITM winner Jeff Strunk, fifth.
Sixth through 10th were Craig VonDohren, Jared Umbenhauer, Jimmy Horton, Brett Kressley, and Ryan Grim. Heats for the 37 modifieds were won by Watt, Godown, John Willman and  Umbenhauer. VonDohren won the consolation event.
Dave Dissinger seemed to have the field covered in the 20-lap sportsman  feature but raced around the outside of the veteran on a lap 19 restart
to take the lead in Turn 2 and go on to score his second win of the  season at the speedway.
"I liked having those long green-flag laps as I was catching Dave on the bottom and once that caution (lap 19) came out, I didn't think my car
was that good on the top side, we got lucky I guess," Stangle said.
Dissinger took control of the race from the green flag and checked out  from the field while Stangle, who started ninth, moved his way into the
runner-up spot on lap 6. From there he closed in the race leader but was  not able to do anything with him on a lap 12 restart.
The caution flew on the final lap for a spin in Turn 4 which set up the  one-lap dash.
Dissinger used the low side on the restart while Stangle was on the high side and made the winning move in the apex of Turns 1 and 2.
Mike Mammana, who was the only driver to pull double-duty on the night snuck in a runner-up spot at the line after having started 12th with
Dissinger settling for third.
Ray Woodall Jr., and Wayne Witmer completed the top five.
Sixth through 10th were Billy Moyer, Shawn Light, Glenn Rowan, Ray Woodall Sr. and Rob Light. Heat winners were Stangle, D. Dissinger and
Moyer, Jr.
Jim Kost scored his first win in nearly two year as he scored the win in the 20-lap roadrunner feature.
Kost was in a three-car battle for the lead early on with Terry Kramer and Kody Sites before taking the lead for good on a lap four restart.
"Once I got out in front, I just tried to race my race and get through the turns as good as I can and just keep going," Kost said.
Once out in front, Kost pulled away while Kramer, Sites and Devin  Trexler battled for the runner-up spot with Sites taking the position  late in the race.
Third was Trexker while Mike Reichert came from 10th to finish fourth and Kramer rounded out the top five.
Sixth through 10th were Andy Fayash III, Shawn Mulhall, Jon Schlauch, Nate Hill and Shon Elk. Heat winners were Mulhall and Trexler.
In a very exciting street stock feature Jeff Haag held off Chris Heller  on a lap 5 restart at the pair raced for side-by-side for nearly three
turns before Haag powered to the lead going into Turn 3 as we would go on and score the 20-lap feature win.
Heller would stay within a car length of Haag over the final few circuits but would finish second with Joey Hoffa, Elvin Brennan III and
Eric Tripp rounding out the top five.
Sixth through 10th were Chris Derr, Bobby Kupp, Justin Rhoads, Butch Helsel and Kevin Heckman. Heat winners were Dean Hine and Jasen Geesaman.
For the latest information, be sure to like the Big Diamond Speedway
 Facebook page; www.facebook.com/Bigdiamondspeedway and follow the track
 on Twitter, @BigDSpdwy
 Big Diamond Speedway
 Results: June 2, 2017 Slifko Service Center Night/Gone But Not Forgotten Memorial/US.S. Achey Night
 5th annual Money in the Mountains big block/small block challenge
 Modified feature (40 laps): 1. Ryan Watt, 2. Rick Laubach, 3. Ryan  Godown, 4. Duane Howard, 5. Jeff Strunk, 6. Craig VonDohren, 7. Jared
Umbenhauer, 8. Jimmy Horton, 9. Brett Kressley, 10. Ryan Grim, 11. Frank Cozze, 12. Kevin Beach Jr., 13. Mike Lisowski, 14. Roger Manning, 15.
Steve Davis, 16. Jimmy Reppert, 17. Kyle Borror, 18. Scott Albert, 19. David VanHorn, 20. John Willman, 21. Mike Dougherty, 22. Tim
Fitzpatrick, 23. Billy Pauch Jr. DNS: Shawn Fitzpatrick.
Heat winners: Watt, Godown, Willman, Umbenhauer. Consolation winner: VonDohren.
 DNQ: Billy Lasko, Andy Burkhart, Craig Whitmoyer, Frank Porreca, Danny
Bouc, Bobby Gunther Walsh, Clay Butler, Justin Grim, Bobby Trapper,
Heatg Metzger, Moyer, Mike Mammama, Dale Hartz
 U.S.S. Achey sportsman feature (20 laps): 1. John Stangle, 2. Mike Mammana, 3. Dave Dissinger, 4. Ray Woodall Jr., 5. Wayne Witmer, 6.
Billy Moyer, 7. Shawn Light, 8. Glenn Rowan, 9.  Ray Woodall Sr., 10.  Rob Light, 11. Nate Mohr, 12. Tim Fitzpatrick, 13. Gary Wagner, 14. Ed
Mrochko, 15. Mike Burrows, 16. Dylan Smith, 17. Kevin Brady, 18. Daryl  Dissinger, 19. Matt Clay, 20. Gary Grim, 21. Doug Hendricks, 22. Todd
Huffman, 23. Chuck Fayash, 24. Tyler Reber. Heat winners: Stangle, D.  Dissinger, Moyer Jr.
 Savage 61 roadrunner feature (20 laps): 1. Jim Kost, 2. Kody Sites, 3. Devin Trexler, 4. Mike Reichert, 5. Terry Kramer, 6. Chris Holland, 7.  Andy Fayash III,                                                                                                                   8. Shawn Mulhall, 9. Jon Schlauch, 10. Nate Hill, 11. Shon Elk, 12. Fred Everly, 13. Jeremy Rock, 14. Andrew Buchinski, 15. Chrid Reichert. Kyle Wingle, DNS. Heat winners: Mulhall, Trexler.
No Sweat Service Group street stock feature (20 laps): 1. Jeff Haag, 2.
Chris Heller, 3. Joey Hoffa, 4. Elvin Brennan III, 5. Eric Tripp, 6. Chris Derr, 7. Bobby Kupp, 8. Justin Rhoads, 9. Butch Helsel,10. Kevin  Heckman,                                                                                                                                  11. Mike Radocha, 12. Robin Wagner, 13. Jesse Krasnitsky, 14.  Billy Wentz, 15. Dean Hine, 16. Tyler Stump, 17. Joey Brennan, 18. Jasen  Geesaman. Heat winners: Hine, Geesaman.
Past Money in the Mountains Winners
2017 Ryan Watt
2016 Rick Laubach
2015 Ryan Watt
2014 Ryan Godown
2013 Jeff Stunk
 Big Diamond Speedway Point Standings
 As of June 2
 Steel & Metal Service Center 358 modifieds
1. Craig VonDohren 621
2. Jeff Strunk 610
3. Duane Howard 588
4. Billy Pauch Jr. 529
5. Rick Laubach 519
6. Shawn Fitzpatrick 498
7. Jared Umbenhauer 491
8. Mike Lisowski 463
9. Ryan Krachun 462
10. Kevin Beach 451
 U.S.S. Achey Sportsman
1. Mike Mammana 1175
2. Wayne Witmer 1048
3. Matt Stangle 1009
4. Shawn Light 993
5. Doug Hendricks 858
6. Glenn Rowan 823
7. T.J. Fitzpatrick 787
8. Daryl Dissinger 784
9. Billy Moyer Jr 768
10. Nathan Mohr 696
Savage 61 Roadrunners
1. Kody Sites 1488
2  Devin Trexler 1426
3. Terry Kramer 1350
4. Mike Reichert 1323
5. Jim Kost 1307
6. Shon Elk 1210
7. Shawn Mulhall 1050
8. Kyle Wingle 899
9. Jon Schlauch 875
10. Chris Holland 771
 No Sweat Service Group Street Stocks
1. Elvin Brennan III 1149
2. Eric Tripp 1111
3. Chris Derr 995
4. Chris Heller 989
5. Jasen Geesaman 968
6. Joey Brennan 935
7. Tyler Stump 876
8. Jeff Haag 857
9. Justin Rhoads 822
10. Bobby Kupp 749
 Updated Big Diamond Schedule
Tuesday, June 6 Short Track Super Series
Modified 50, $5,000 to win, sportsman, roadrunners
Friday, June 9
Savage 61 Night
Roadrunner Back Yard Brawl 25, $661 to win, 358 modifieds, sportsman,
street stocks plus the 358 modified feature from May 12.
Friday, June 16
Sportsman, Roadrunners, Street Stocks, Vintage Cars.  Kim's Kreations
Mechanics Race.
Friday, June 23
Modifieds, URC Sprint Cars, Roadrunners, Enduro Dash 50.
Friday, June 30
Jasen's Automotive Night.
Street Stock Summer Shootout 30, $1,081 to win.
Modifieds, Sportsman, Roadrunners. Rain date 7-28.