Tremont and Heffner Beat The Rain to Score High Banks Checkers
Story By: PHIL ALLAWAY / LEBANON VALLEY SPEEDWAY MEDIA     Photos By: DAVE DALESANDRO / RACERSGUIDE.COM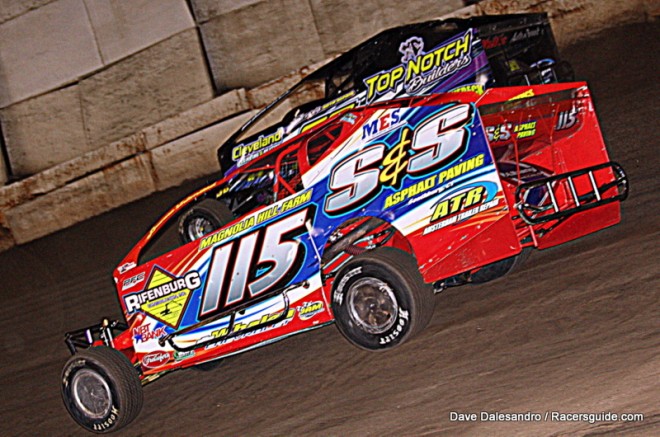 WEST LEBANON, NY- August 1, 2016- Once again, Lebanon Valley Speedway had to fight the rain in order to get their night of racing in.  Sprinkles were felt prior to warm-ups starting and persisted for most of the night.  However, the steady stuff didn't come in until after the Modified feature ended.  The Sportsman feature was rained out and will be made up at a future date.
In the Modified feature, Mike Keeler inherited the pole after Olden Dwyer had issues prior to the race.  The Connecticut was able to open up a good gap on the pack.  Meanwhile, the action was fast and furious further back.  Kolby Schroder and Eddie Marshall had incidental contact entering turn 1 on lap 4.  However, both drivers were able to continue.  Despite the contact, Schroder was able to move forward and move into second on lap 7.
Shortly afterwards, Jeff Sukup had trouble in turn 4 to bring out the first caution in a Modified feature since Jul. 2.  That bunched up the field and allowed Schroder a shot at Mike Keeler.  It also allowed Kenny Tremont, Jr., who started ninth, to catch up as well.
Going into turn 3 on the restart, Schroder was able to take the advantage away from Keeler.  Tremont followed into second and put the pressure on Schroeder.  A short battle ensued before Tremont was able to get past and take the lead on lap 13.
From there, Tremont pulled away from the pack to take his second win of the season and 127th of his career.  With Brett Hearn retiring due to a driveline issue, it was also a great points night for the West Sand Lake native as well.
Afterwards, Tremont was very pleased with his chariot.
"I was really happy with the adjustments to the chassis," Tremont said.  "I think that was the difference between last week and this week."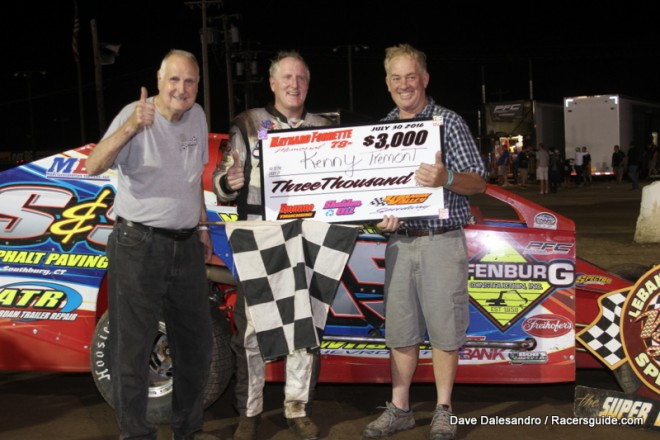 Behind Tremont and Schroder was Elmo Reckner in third.  Eddie Marshall finished fourth, while Keith Flach was fifth.
In the Small Block Modifieds, Kenny Aanonsen, Jr. started from the pole and put on a pretty good display of speed in keeping the rest of the pack back early on.  The race was not so good for Frank Harper, who spun on lap 2 and was hit by Alan Houghtaling to bring out a yellow.  Harper was able to continue after repairs, but Houghtaling was done for the night.
On the restart, third-place starter Frank Hoard, III began putting pressure on Aanonsen, Jr. for the advantage.  Aanonsen, Jr. was able to hold Hoard back for a couple of laps, but the Vermont native was able to take the lead on lap 6.
When Hoard took the lead, Jason Herrington and J.R. Heffner followed past.  A couple of laps later, Heffner took second away from Herrington and set off to run down Hoard.  Heffner ran down Hoard fairly quickly.  Getting past was another story.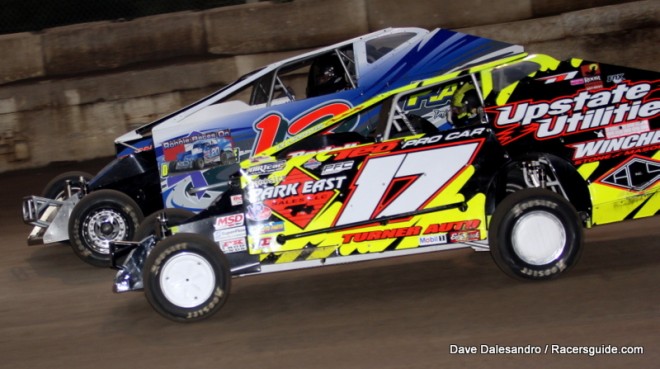 Heffner spent a number of laps trying to get past Hoard, but Hoard took away his preferred line.  Heffner kept on working the inside until the final lap.  After Hoard held him off in turns 1 and 2, Heffner got a run off of turn 4 and just managed to beat Hoard to the line by .016 of a second to take his first Small Block win of the year.
Behind Heffner and Hoard was Tremont in third.  Herrington was fourth, while Brett Haas was fifth.
In Pro Stocks, 26 cars took the green flag.  Joe LaFlamme started from the pole, but lost control in turn 1 and spun.  The result was a pile-up that involved roughly half the field.  A number of notable drivers were involved, including Jay Corbin, Ron Yetman and Jon Routhier.  All but Victor Hopkins and Kyle Hosier were able to continue.
Ray Hall, Jr. assumed the lead after the crash, followed by Paul LaRochelle.  Shortly after the restart, Paul LaRochelle, using a new setup on his No. 78, was able to snatch the lead away from Hall.
A number of early cautions kept the pack close.  First, Tom O'Connor spun in turn 3 after getting hit.  Then, on the restart from that incident, Daniel Sanchez spun in turn 1 and collected Rick Dempsey, Rich Crane and more.
Hall kept tabs with Paul LaRochelle until the second restart.  Suddenly, mechanical issues struck, forcing Hall to pull in right before the final restart.  That elevated Nick Hilt, Jr. to second.

Over the second half of the race, Paul LaRochelle was able to hold the rest of the field at bay without too much of an issue to take his second win of the year.  Hilt was not far behind, but just edged Rick Duzlak for second.  Steven LaRochelle charged up from 22nd on the grid to finish fourth, while Rob Yetman finished fifth in his damaged No. 7.
In Pure Stock, Zach Seyerlein, Scott Morris and Gary O'Brien won features.
TRUSTCO Bank/Sheldon Oil/Buanno Trucking Maynard Forrette Memorial Results (30 laps): 1) Kenny Tremont, Jr., 2) Kolby Schroder, 3) Elmo Reckner, 4) Eddie Marshall, 5) Keith Flach, 6) Andy Bachetti, 7) Guy Sheldon, 8) J.R. Heffner, 9) Kyle Armstrong, 10) Mike Keeler, 11) Rob Pitcher, 12) Matt Pupello, 13) Chad Jeseo, 14) Mike King, 15) Justin Boehler, 16) Steve Hough, 17) John Ruchel, 18) Brian Berger, 19) Brett Hearn, 20) Jeff Sukup, 21) Dave McFeeters, 22) Kyle Sheldon, 23) Paul Gilardi, 24) Olden Dwyer
Small Block Modified Feature Results (24 laps): 1) J.R. Heffner, 2) Frank Hoard, III, 3) Kenny Tremont, Jr., 4) Jason Herrington, 5) Brett Haas, 6) Steve Hough, 7) Kenny Aanonsen, Jr., 8) Brian Sandstedt, 9) Brett Hearn, 10) Peter Carlotto, 11) Olden Dwyer, 12) Joey Scarborough, 13) Ray Hall, Jr., 14) Ryan Charland, 15) Ricky Davis, 16) Frank Harper, 17) Chad Pierce, 18) Alan Houghtaling. DNS: Kim LaVoy
Pro Stock Feature Results (20 laps): 1) Paul LaRochelle, 2) Nick Hilt, Jr., 3) Rick Duzlak, 4) Steven LaRochelle, 5) Rob Yetman, 6) Daniel Sanchez, 7) Chuck Towslee, 8) Jon Routhier, 9) Rick Dempsey, 10) Jay Corbin, 11) Nick Stone, 12) Tom O'Connor, 13) Joe LaFlamme, 14) Scott Govertsen, 15) Brian Keough, 16) Matt Cross, 17) Bob Camilli, 18) Rich Crane, 19) Jeff Kelmel, 20) Jeremy Cole, 21) Tom Dean, 22) Ray Hall, Jr., 23) Rich Spencer, 24) Victor Hopkins, 25) Kyle Hosier, 26) Hugh Page
Pure Stock Feature No. 1 Results (8 laps): 1) Zach Seyerlein, 2) Chris Streeter, 3) Bob Palmer, 4) Bill Deak, Sr., 5) Brian Walsh, 6) Dom Denue, 7) Tim Thompson, 8) Joe Walcott, 9) Zach Sorrentino, 10) Karen Verhagen
Pure Stock Feature No. 2 Results (8 laps): 1) Scott Morris, 2) Dennis O'Connor, Jr., 3) John Devine, 4) Clifford Booth, 5) Shawn Perez, 6) Kevin Paul, 7) Bill Deak, Jr., 8) Keri VanDenburg, 9) Dave Fachini, 10) Mark Dwyer
Pure Stock Feature No. 3 Results (12 laps): 1) Gary O'Brien, 2) Ray Hall, Sr., 3) Al Relyea, 4) Jeff Kreutziger, 5) Jason Meltz, 6) Larry Perez, 7) Mike Arnold, 8) Jeff Meltz, Sr., 9) Jay Casey, 10) Harold Robitaille, 11) Chris Murphy, 12) Wuggie Burdick