After Weeks of Mechanical Issues and Bad Luck, Tom Sears Jr. Finally Closed the Deal Saturday Night at Fulton; Holds Off Pat Ward to Take 35-Lap Feature
Story By: MATT NOLES / RACERSGUIDE.COM     Photos By: JAY FISH / RACERSGUIDE.COM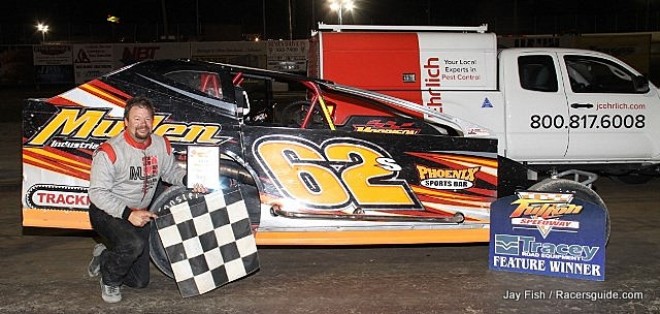 SPRAKERS, NY- August 1, 2016- There are times in racing when if it weren't for bad luck, some drivers would have no luck at all.
For Tom Sears Jr., the 2016 season at the famed high banks of the Fulton Speedway in Fulton, New York has been one of his better years behind the wheel of a northeast dirt modified. Unfortunately for the driver of the familiar No. 62S, mechanical issues and constant bad luck kept the veteran competitor from reaching victory lane; until Saturday night.
After starting at the front of the field for the 35-lap feature, Sears Jr. rocketed out to the lead and held off a hard-charging Pat Ward to claim victory at the Oswego county facility. Needless to say, it was a hard-earned and extremely popular win for the Mullen sponsored team.
Though he found himself amidst prime real estate for the modified feature, that didn't make the going any easier especially given the stout competition in the Fulton modified division. "It's actually really hard when you start up front because you don't know where the fast lane is," stated Sears Jr. Saturday night. "I have a little experience and I felt that I wasn't very good on the bottom so I just moved around to where I felt comfortable and rode it out."
Rode it out is an understatement as Sears Jr. blistered the top of the speedway for the majority of the feature event. "I saw Ryan [Phelps] up top before the yellow came out," continued Sears Jr. "I kind of figured that I had to get up there, hold my line and see what happened."
There's nothing more stressful in racing than to have a great car, a great crew and still miss victory on many nights. That had been the story thus far into the season for Sears Jr. and his recent triumph at Fulton finally relieved more than a small amount of stress.
"It feels really good to close one out finally," He said. "This has been one of our better seasons as far as finishes go with a lot of top-fives and we've had a lot of opportunities but we missed out either because of driver error or other issues so to get the monkey off our back is great and now we can go racing some more."
In the latter stages of the event, it almost seemed as if victory may have been snatched away yet again as Pat Ward began to mount a challenge for the lead and Tom Sears Jr. certainly knew he was there. "I saw him [Ward] come underneath me a little bit towards the end," remarked Sears Jr. "But I didn't really see anything more of him after that and I didn't change my line or do anything stupid and it's so tough to win here because usually there's always somebody coming at the end so you have to be prepared."
With the season heading into August, Sears Jr. was about as prepared as he could hope to be. "We definitely had our ducks in a row tonight," remarked Sears Jr. "Things had gone downhill with engine issues and flat tires and this weekend, we regrouped and we were good again. We definitely had a good car and luck on our side tonight."
With fall closing in, Tom Sears Jr. hasn't ruled out the idea of hitting the road once the regular season winds down at the end of the month. "We might do a little bit of traveling here and there," He concluded. "We're not sure yet because all my guys work and they have to take time off to do it and when you try to travel to some of those races, you can't go alone. It makes it hard, but we have definitely had a good year and we definitely have some momentum on our side and that makes a difference whether we travel or not too. We'll just have to wait and see."
Matt Noles is a contributing writer for Racers Guide and Dirt Track Digest. He currently resides in Sprakers, New York and can be reached via e-mail at matt_noles@yahoo.com.