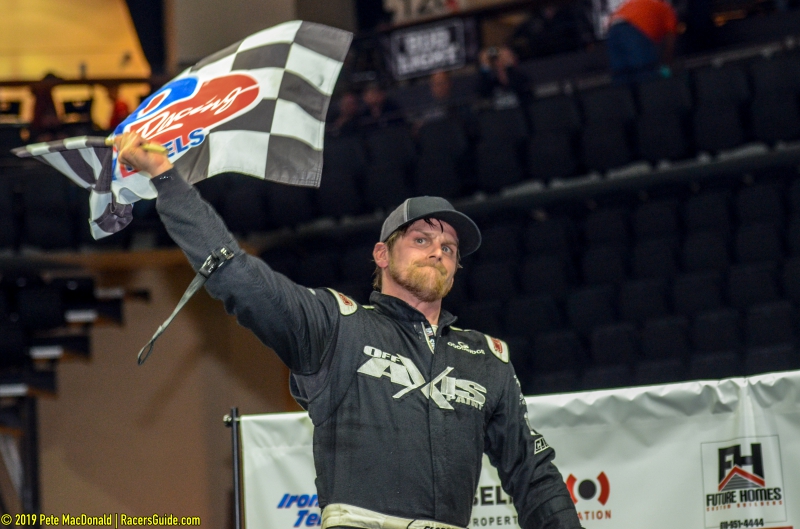 RYAN FLORES RACES TO INDOOR AUTO RACING SERIES THREE QUARTER (TQ) MIDGET FEATURE VICTORY; SLINGSHOT CO-FEATURE WIN EARNED BY JARED SILFEE
INDOOR RACING ACTION HEADS TO ATLANTIC CITY JANUARY 25-26
Story By: Ernie Saxton/Allentown Indoor Race
Photos By: Pete MacDonald/RacersGuide.com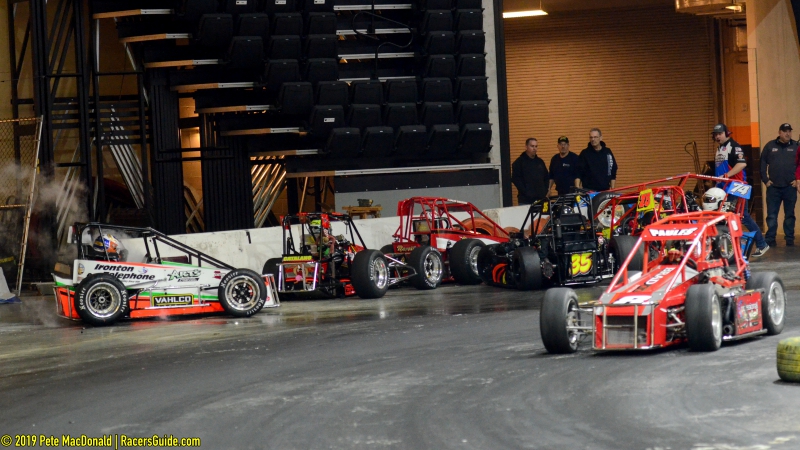 ALLENTOWN, PA (Sat.) – Ryan Flores of Troutman, NC, raced to the 40-lap TQ Midget feature race victory Saturday night inside Allentown, PA's PPL Center. Flores took the lead from Kyle Reinhardt on the tenth lap of the Ironton Telephone Presented by BELFOR headliner and raced to the exciting win ahead of Scott Kreutter, Eddie Strada, Erick Rudolph and Earl Paules, who started the race from 23rd starting position.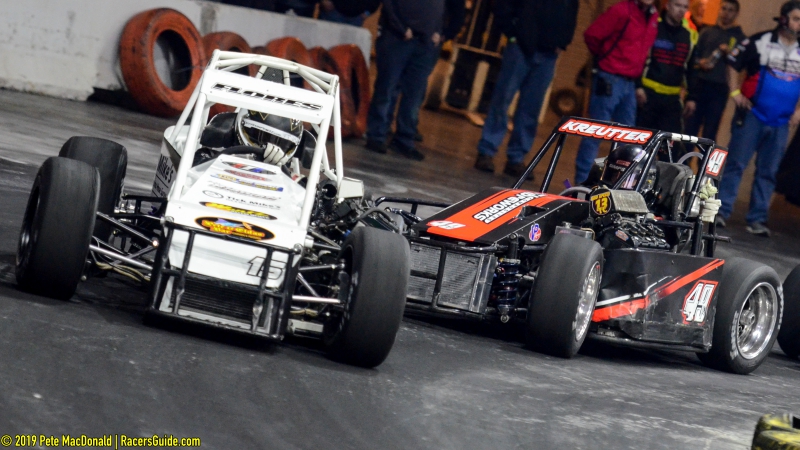 Flores was accompanied by his wife and 17 month old daughter to post race celebrations.
"Jimmy Blewett, who has worked on my car for years, made a bunch of changes on the car between Friday and Saturday and it paid off," Flores said.
Andy Jankowiak came back from an overnight motor change and a mid-race penalty to finish sixth with Ryan Tidman, Tyler Thompson, like Jankowiak rebounding from a penalty, early race leader Reinhardt, and Justin Bonsignore who finished tenth.
In the companion 20-lap Slingshot main event, Jared Silfee took the lead three laps into the feature after disposing of front row starters Matt Mertz and Michael Lapicki. He then withstood Mertz' and Lapicki's follow-up challenges to win. Brett Bieber and Dylan Koch completed the top five.
Kyle Herve, Tyler Truex, Seth Spayd, Kurt Bettler and Matt Dealaman completed the top ten in the Slingshot headliner.
Four TQ Midget heat races that helped set the field for the headliner were won by Flores, Matt Janisch, who had won the Friday night PPL Center race, Kreutter and Joey Payne. Last Chance TQ B-Mains were won by Matt Roselli and Anthony Sesely.
Slingshot prelims went to Mertz, Lapicki and Silfee with the B Main by Anthony Raisner.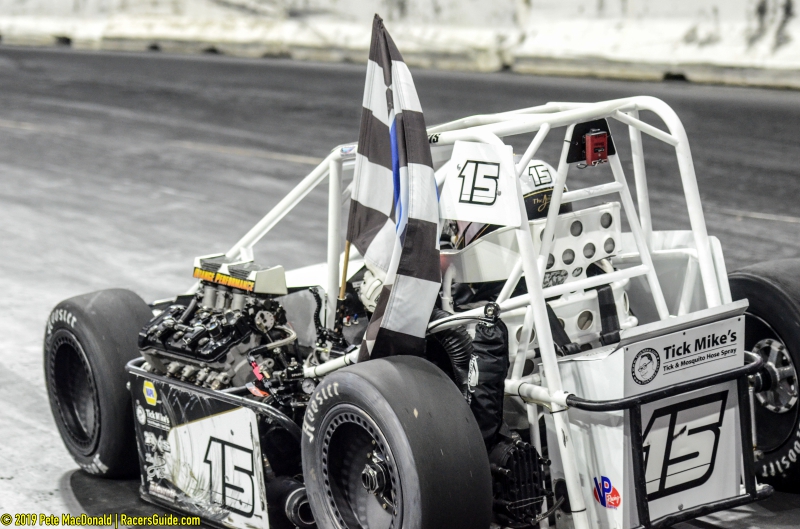 The Indoor Auto Racing Series Presented By VP Race Fuels scene now shifts to Boardwalk Hall in Atlantic City, NJ for the running of NAPA Auto Racing Weekend on January 25 and 26, 2019.
TQ Midget Feature (40 Laps): 1. Ryan Flores, 2. Scott Kreutter, 3. Eddie Strada, 4. Erick Rudolph, 5. Earl Paules, 6. Andy Jankowiak, 7. Ryan Tidman, 8. Tyler Thompson, 9. Kyle Reinhardt, 10. Justin Bonsignore, 11. Matt Roselli 12. Tim Buckwalter, 13. Lou Cicconi, 14. Briggs Danner, 15. Jonathan Reid, 16. Chad Jones, 17. Anthony Sesely, 18. Timmy Catalano, 19. Andrew Molleur, 20. Matt Janisch, 21. Tommy Catalano, 22. Joey Payne, 23. Andrew Nye, 24. Anthony Payne.
Slingshot Feature (20 Laps): 1. Jared Silfee, 2. Matthew Mertz, 3. Michael Lapicki, 4. Brett Bieber, 5. Dylan Hoch, 6. Kyle Herve, 7. Tyler Truex, 8. Seth Spayd, 9. Kurt Bettler, 10. Matt Dealaman, 11. Austin Silfee, 12. Neil Rutt III 13. Dakota Kessler, 14. Brett Putnam, 15. Billy Both, 16. Bryan Oshee, 17. Cody Kline, 18. Anthony Raisner, 19. Cody Kohler, 20. Paul Hartwig, Jr.