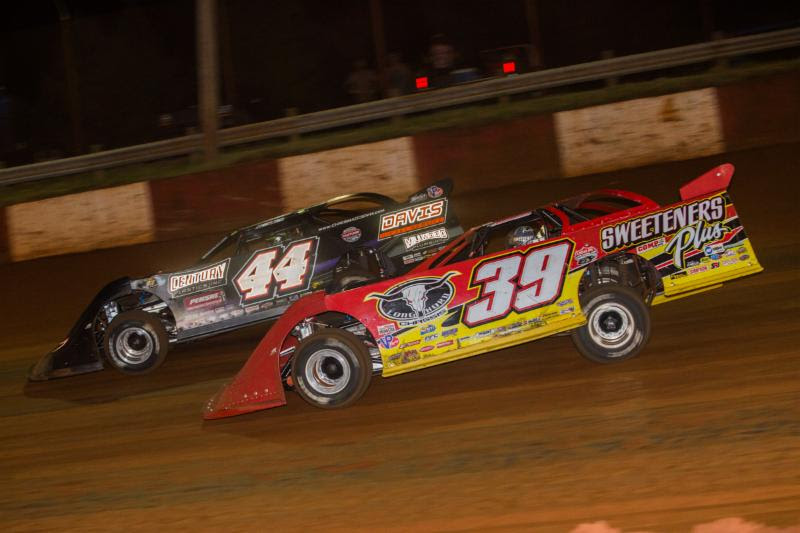 Rome Showdown Goes to Chris Madden
Story By: Jeremy Shields/LOLMDS
Photo By: Heath Lawson/LOLMDS
ROME, GA (September 30, 2018) – Chris Madden found his way to Victory Lane on Sunday night at Rome Speedway to become the twentieth different winner in Lucas Oil Late Model Dirt Series competition this season.
The South Carolina-native held off a charging Tim McCreadie to win the Lucas Oil Rome Showdown. Jonathan Davenport finished third, with Tyler Millwood and Dale McDowell rounding out the top five.
Madden made a daring move around Jimmy Owens and race-leader Scott Bloomquist after a lap-eight restart to take control of the race. The South Carolina native then had to withstand not only a number of caution flags, but a hard-charging from McCreadie, who came from his tenth starting spot to challenge Madden for the top spot. A restart with two laps to go set-up a dramatic finish with Madden holding off McCreadie to score his first Lucas Oil victory of the year.
Madden, in Lucas Oil Victory Lane for the ninth-time in his career, commented "With about 20-23 laps to go I developed a skip in the motor. It was down just a little bit, but it worked out for us. I knew we had to get the lead pretty early if we were going to have a shot at the win. I was trying to set my own pace, but that is so difficult now in our sport because the competition is so stout."
"This is awesome," Madden said when informed that he was another new winner on the series tour in 2018. "I told Barry I wanted to go to Rome today. We traveled eight hours from Ohio. My crew did a heck of a job getting this car ready today. Thanks to everyone that is a part of our sport and our team."
"The track was a really awesome tonight. When we first got here I saw how wet the bottom was and thought that it was going to be a bottom-feeding race track. I didn't get a glimpse of Tim [McCreadie] there at the end. I figured he was in the middle or top of the track. We had a good race car. It's good to win in front of this big crowd."
McCreadie felt like the last caution doomed his chances of overtaking Madden for the win. "The last caution didn't help me. It was a green-white-checkered finish I was hoping it was going to be something different. On the long green flag runs I started to track Chris [Madden] down a little bit. I didn't know if he could see me or not. The oil tank got knocked out of the car in hot laps after we were really good. That put us behind. We only got one-lap to time and that kind of put us behind as well. To overcome that and pass a bunch of cars in the feature we are really happy about that."
Davenport leaves the race with a 300-point stranglehold on the championship standings. "I was just points racing tonight. I tried to stay off the cushion. I was just biding my time tonight. I got caught behind one car there and on the restarts, he would get passed me and then I would pass him back. I finally got clear of him and got to rolling pretty decent on the bottom. Congrats to Chris, Barry and Lance on the win. This is probably one of the best group of drivers ever assembled on a touring series. I hate it for Josh tonight, he was up on the wheel doing what he had to do. We are close to our ultimate goal of winning the championship."
The winner's Barry and Lance Wright-owned Barry Wright ICON Chassis is powered by a Clements Racing Engine and sponsored by: Harrod Logging, C&H Paving, Davis Diesel Service, Century Plastics, Penske Racing Shocks, Millwood Plumbing, Henderson Amusement, Modern Images, Crowder Trucking, VP Fuels, and All-Star Performance.
Completing the top ten were Michael Page, Jason Hiett, Dennis Erb Jr., Clint Smith, and Gregg Satterlee.
Lucas Oil Late Model Dirt Series
Race Summary
Sunday, September 30, 2018
Lucas Oil Rome Showdown
Rome Speedway – Rome, Ga.
Miller Welders Time Trials
Fast Time Group A: Earl Pearson Jr. / 13.127 seconds (overall)
Fast Time Group B: Scott Bloomquist / 13.442 seconds
Eibach Springs Heat Race #1 Finish (10 Laps, Top 4 Transfer): Earl Pearson, Jr., Shane Clanton, Darrell Lanigan, Michael Page, John Henderson, Justin Shipley, Austin Horton, Kyle Bronson, Zach Leonhardi
FK Rod Ends Heat Race #2 Finish (10 Laps, Top 4 Transfer): Chris Madden, Casey Roberts, Jonathan Davenport, Gregg Satterlee, Jason Hiett, Bobby Pierce, Brian Connor, Blake Spencer, Austin Tyler Smith
Simpson Performance Products Heat Race #3 Finish (10 Laps, Top 4 Transfer): Scott Bloomquist, Tyler Millwood, Tim McCreadie, Brandon Overton, Don O'Neal, Jason Croft, Will Roland, Scott Groves, Frank Ingram
QA1 Heat Race #4 Finish (10 Laps, Top 4 Transfer): Jimmy Owens, Josh Richards, Dennis Erb, Jr., Dale McDowell, Mason Zeigler, Clint Smith, Cla Knight, Aaron Wilson, Steven Roberts
Penske Racing Shocks B-Main #1 Finish (12 Laps, Top 3 Transfer): Jason Hiett, John Henderson, Justin Shipley, Kyle Bronson, Bobby Pierce, Austin Horton, Austin Tyler Smith, Blake Spencer, Brian Connor, Zach Leonhardi-DNS
FAST Shafts 
B-Main #2 Finish (12 Laps, Top 3 Transfer): Don O'Neal, Mason Zeigler, Clint Smith, Jason Croft, Will Roland, Aaron Wilson, Cla Knight, Scott Groves, Frank Ingram, Steven Roberts
Lucas Oil Feature Finish (50 Laps):
| | | | | | |
| --- | --- | --- | --- | --- | --- |
| FINISH | START | CAR # | DRIVER NAME | HOMETOWN | EARNINGS |
| 1 | 3 | 44 | Chris Madden | Gray Court, SC | $10,000 |
| 2 | 10 | 39 | Tim McCreadie | Watertown, NY | $6,200 |
| 3 | 11 | 49 | Jonathan Davenport | Blairsville, GA | $4,400 |
| 4 | 6 | 31T | Tyler Millwood | Kingston, GA | $2,750 |
| 5 | 16 | 17m | Dale McDowell | Chickamauga, GA | $2,250 |
| 6 | 13 | 18x | Michael Page | Villa Rica, GA | $1,800 |
| 7 | 17 | 1J | Jason Hiett | Oxford, AL | $1,500 |
| 8 | 12 | 28 | Dennis Erb, Jr. | Carpentersville, IL | $2,000 |
| 9 | 22 | 06 | Clint Smith | Senoia, GA | $1,200 |
| 10 | 15 | 22 | Gregg Satterlee | Indiana, PA | $1,800 |
| 11 | 2 | 0 | Scott Bloomquist | Mooresburg, TN | $1,875 |
| 12 | 23 | 32 | Bobby Pierce | Oakwood, IL | $1,750 |
| 13 | 9 | 14 | Darrell Lanigan | Union, KY | $1,725 |
| 14 | 5 | 25C | Shane Clanton | Zebulon, GA | $1,000 |
| 15 | 14 | 76 | Brandon Overton | Evans, GA | $950 |
| 16 | 1 | 1 | Earl Pearson, Jr. | Jacksonville, FL | $1,825 |
| 17 | 8 | 1R | Josh Richards | Shinnston, WV | $1,900 |
| 18 | 19 | 2x | John Henderson | North Augusta, SC | $875 |
| 19 | 21 | 08 | Justin Shipley | Douglasville, GA | $850 |
| 20 | 24 | 6X | Kyle Bronson ® | Brandon, FL | $925 |
| 21 | 18 | 5 | Don O'Neal | Martinsville, IN | $1,600 |
| 22 | 4 | 20 | Jimmy Owens | Newport, TN | $1,600 |
| 23 | 20 | 25Z | Mason Zeigler ® | Chalk Hill, PA | $1,500 |
| 24 | 7 | 101 | Casey Roberts | Toccoa, GA | $800 |
Race Statistics
Entrants: 36
Lap Leaders: Scott Bloomquist (Laps 1 – 9); Chris Madden (Laps 10 – 50)
Wrisco Feature Winner: Chris Madden
Margin of Victory: 0.297 seconds
Cautions: Shane Clanton (Lap 8); Gregg Satterlee (Lap 14); Mason Zeigler (Lap 22); Jimmy Owens (Lap 23); Scott Bloomquist (Lap 27); Josh Richards (Lap 37); Justin Shipley (Lap 38); Brandon Overton (Lap 42); Don O'Neal (Lap 48)
Series Provisionals: Bobby Pierce, Kyle Bronson
Optima Batteries Hard Charger of the Race: Clint Smith (Advanced 13 Positions)
Midwest Sheet Metal Spoiler Challenge Point Leader: Jonathan Davenport
Allstar Performance Power Move of the Race: Scott Bloomquist
Sunoco Race for Gas Highest Finisher: Jonathan Davenport
Hot Rod Processing Rookie of the Race: Kyle Bronson
COMP Cams Engine Builder of the Race: Clements Racing Engines
Ohlins Shocks Chassis Builder of the Race: Barry Wright Race Cars
Outerwears Crew Chief of the Race: Philip Snellen (Tim McCreadie)
Fastest Lap of the Race: Chris Madden (Lap #10 – 14.0999 seconds)
STEEL-IT Most Laps Led: Chris Madden (41 Laps)
Dirty Girl Racewear Farthest Traveler: Tim McCreadie
PFC Brakes Pole Award: Earl Pearson Jr.
Time of Race: 37 minutes 35 seconds