Richards Takes Tuesday's Wrisco Industries Winternationals Victory
Story By: JEREMEY SHIELDS / LUCAS LATE MODEL SERIES MEDIA
Photos By: PAUL ARCH / RACERSGUIDE.COM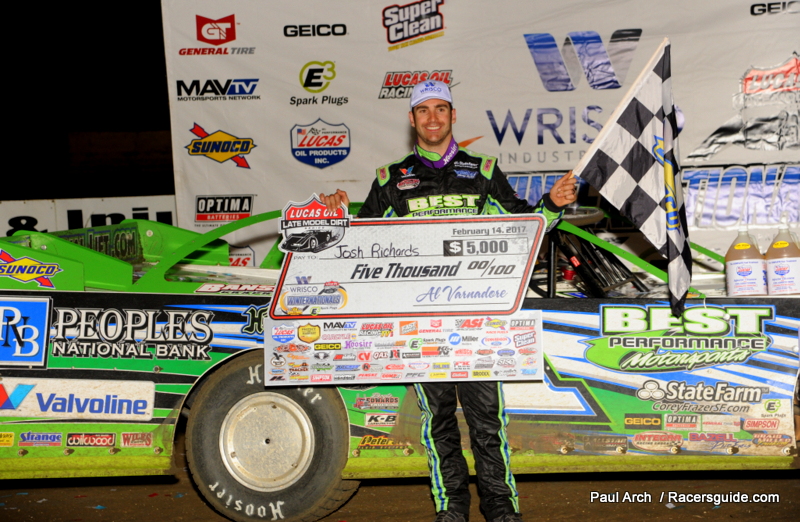 TAMPA, FL – February 15, 2017 – Josh Richards took the lead from Davey Johnson on lap five of the 25-lap main event on Tuesday night at East Bay Raceway Park during the 41st Annual Wrisco Industries Winternationals – presented by E3 Spark Plugs. Richards had to fight off fellow West Virginia driver, Tim Dohm for his seventh career win at "The Clay by the Bay."
Richards, in the Best Performance Motorsports, Rocket Chassis, Dargie-powered entry earned the outside front row for the main event after a last-lap pass on Austin Hubbard in a pivotal heat race number three.
Hubbard in the Mid-Coastal Siding, Trinity Logistics, Rocket Chassis came home in third followed by Devin Moran in the Tye Twarog, Rocket Chassis and David Breazeale in the Henderson Motorsports, Moyer Victory Race Car who rounded out the top five.
"We made a lot of changes from last night, we worked our way back to seventh last night, so tonight was a whole lot better. The pass on Austin [Hubbard] on the final lap of that heat race was crucial. Davey [Johnson] started off good. We stayed right with him until we were able to get around him."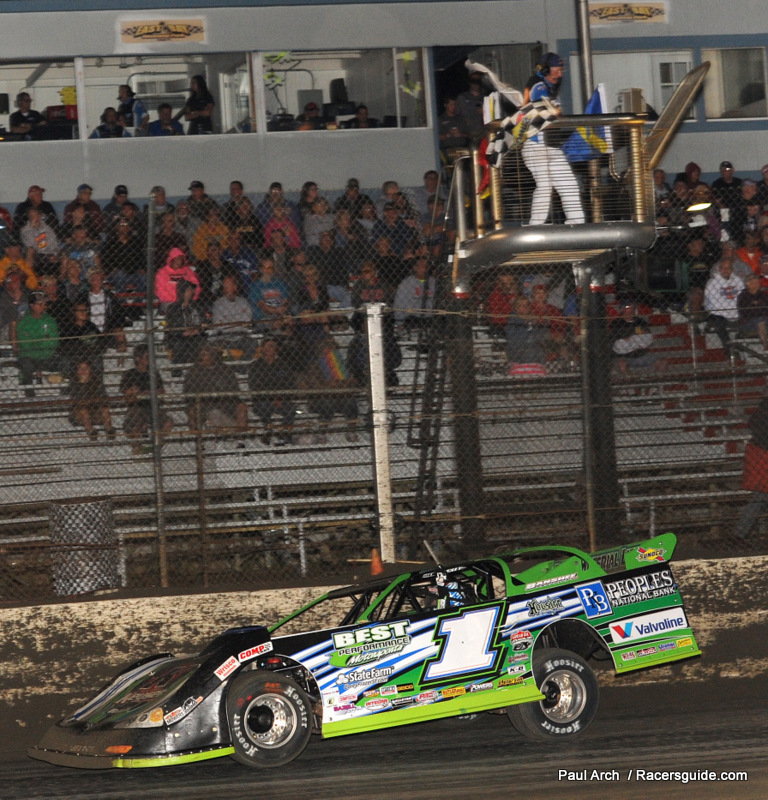 "Thanks to the team for a great job. That makes it two for four with Randall Edwards and all the other guys. I am grateful for this opportunity to drive this car. Thanks to Peoples National Bank, Valvoline, Corey Frazier-State Farm Insurance, Keyser, Riggs Motorsports, Integra, and Sunoco Race Fuels."
"I didn't know how many wins we could get down here. That's two already. I really couldn't see who was behind me. It felt like the car was leaning over there at the end. The tires might have been burned off I am not sure right now. We are still learning the communications between Randall and myself. It's always good to win here at East Bay." Said the 28-year-old in Lucas Oil Victory Lane.
Dohm – a former winner at East Bay – was happy with his second-place finish. "To run second behind Josh Richards, it was a good night then. I love East Bay. I was way better tonight than I was last night. I hope the track stays like this all week. When you can hit the brown surface instead of that little sliver of black out there it sure makes for a better race," said the driver of the Dohm's Cycle, Swartz Chassis.
Hubbard's third-place run continues improvement for the driver who suffered through a tough 2016 season. "This was another good finish for us. I kept the car straight, and it gets better every night. I am getting back in the groove. We are on the podium, so it's one step closer to winning. Josh passed me on the last lap of the heat and that prevented me from starting on the front row. He ran a great race so congratulations to him and his team."
Completing the top ten were Tyler Erb, Hudson O'Neal, Michael Lake, Ricky Weiss, and Dennis Erb Jr.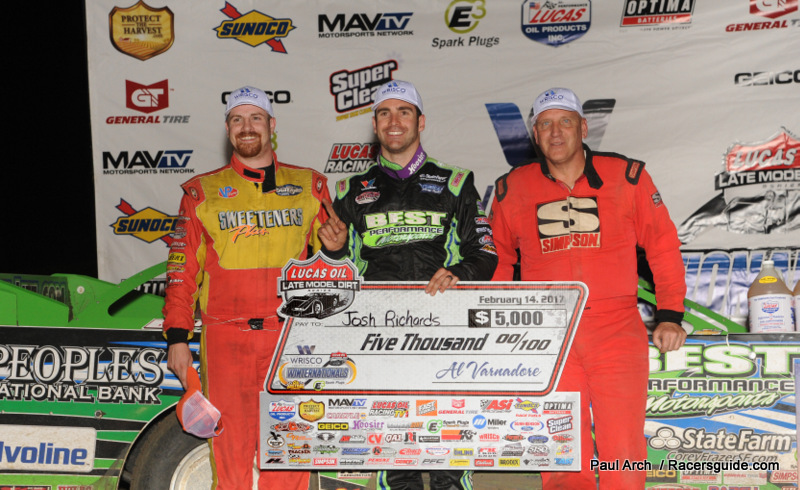 Lucas Oil Late Model Dirt Series
 Race Summary
 Tuesday, February 14th, 2017
 Wrisco Industries Winternationals – presented by E3 Spark Plugs
 East Bay Raceway Park – Tampa, FL
Miller Welders Fast Time Group A: Davey Johnson / 14.878 seconds
 Miller Welders Fast Time Group B: Josh Richards / 14.547 seconds
 Eibach Springs Heat Race #1 Finish (10 Laps, Top 4 Transfer): Davey Johnson, Michael Lake, Jimmy Owens, Devin Moran, Craig Wolford, Brian Ligon, Bob Gardner, Timothy Culp, Boom Briggs, Billy Moyer, Jr., Gregg Satterlee, Todd Frank-DNS
FK Rod Ends Heat Race #2 Finish (10 Laps, Top 4 Transfer): David Breazeale, Kenny PettyJohn, Dennis Erb, Jr., Earl Pearson, Jr., Mason Zeigler, Nick Davis, Tim McCreadie, GR Smith, Dustin Linville, Austin Rettig, Brian Shirley-DNS
 Simpson Performance Products Heat Race #3 Finish (10 Laps, Top 4 Transfer): Josh Richards, Austin Hubbard, Steve Francis, Tyler Erb, Ricky Weiss, Brandon Sheppard, Brent Larson, Gordy Gundaker, Stephen Breeding, Shan Smith, Nick Kurtz, Kyle Bronson
QA1 Heat Race #4 Finish (10 Laps, Top 4 Transfer): Tim Dohm, Hudson O'Neal, Freddie Carpenter, Frank Heckenast , Jr., Jared Miley, Corey Conley, Doug Drown, John Gardner, Greg Oakes, Pancho Lawler, Chad Hollenbeck
Penske Racing Shocks B-Main #1 Finish (12 Laps, Top 3 Transfer): Nick Davis, Tim McCreadie, Bob Gardner, GR Smith, Timothy Culp, Gregg Satterlee, Billy Moyer, Jr., Mason Zeigler, Boom Briggs, Brian Ligon, Austin Rettig, Craig Wolford, Dustin Linville, Todd Frank-DNS, Brian Shirley-DNS
Fast Shafts B-Main #2 Finish (12 Laps, Top 3 Transfer): Ricky Weiss, Brandon Sheppard, Brent Larson, Doug Drown, Gordy Gundaker, Stephen Breeding, John Gardner, Pancho Lawler, Shan Smith, Jared Miley, Corey Conley , Greg Oakes-DNS, Nick Kurtz-DNS, Chad Hollenbeck-DNS, Kyle Bronson-DNS
 DirtonDirt.com Strawberry Dash Finish: Gregg Satterlee, Stephen Breeding, Pancho Lawler, Timothy Culp, Billy Moyer, Brian Ligon, Shan Smith, John Gardner-DNS, Austin Rettig-DNS, Jared Miley-DNS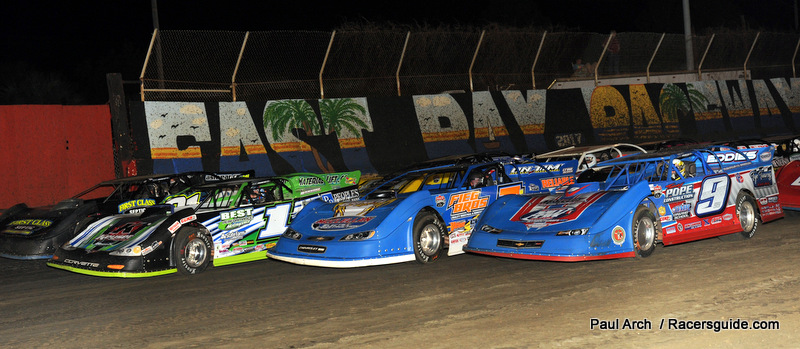 Race Statistics  
Entrants: 46
Lap Leaders: Davey Johnson (Laps 1-5); Josh Richards (Laps 6-25)
Cautions: Hudson O'Neal (Lap 2); Brandon Sheppard (Lap 4); Davey Johnson (Lap 8); Bob Gardner, Kenny PettyJohn, Gregg Satterlee, Greg Oaks, Frank Heckenast Jr., Steve Francis, Nick Davis, Ricky Weiss (Lap 8)
Lucas Oil Late Model Dirt Series Provisionals: n/a
Lucas Oil Late Model Dirt Series Emergency Provisionals: n/a
Miller Welders Fast Time Provisionals: Greg Oakes, Mason Zeigler
Wrisco Winternationals Provisional: Corey Conley
Strawberry Dash Provisional: Gregg Satterlee
Wrisco Feature Winner: Josh Richards
Optima Batteries Hard Charger of the Race: Brent Larson (Started: 22nd; Finished: 12th; Advanced 10 Positions)
Midwest Sheet Metal Spoiler Challenge Point Leader: n/a
Allstar Performance Power Move of the Race: Ricky Weiss
Sunoco Race for Gas Highest Finisher: Josh Richards
Hot Rod Processing Rookie of the Race: n/a
COMP Cams Engine Builder of the Race: Cornett Racing Engines
Ohlins Shocks Chassis Builder of the Race: Rocket Chassis
Outerwears Crew Chief of the Race: Randall Edwards (Josh Richards)
Fastest Lap of the Race: Tim Dohm (Lap #10 – 15.1295 seconds)
Safecraft Most Laps Led: Josh Richards (20 Laps)
PFC Brakes Pole Award: Davey Johnson
Time of Race: 30 minutes 7 seconds
Visit Us on Your Favorite Social Media Outlets!
Like us on Facebook  Follow us on Twitter
View on Instagram
 
Lucas Oil Late Model Dirt Series Marketing Partners Include: Allstar Performance, Andy Durham Racing Engines, AR Bodies, ASi Racewear, Bad Boy Mowers, Barry Wright Race Cars, Black Diamond Chassis, Sweet-Bloomquist Race Cars, BRODIX, Clements Race Engines, Capital Race Cars, COMP Cams, CV Products, DirtonDirt.com, Dunn-Benson Ford, E3 Spark Plugs, Earnhardt Technologies Group, Edelbrock, Eibach Springs, Fast Shafts, Fast Orange, FK Rod Ends, GEICO, General Tire, Heath Lawson Photography, Hoosier Tire, Hot Rod Processing, JRi Shocks, Keyser MFG, K&N Engineering, Lucas Oil Products, Lucas Oil Racing TV, Longhorn Chassis, MAVTV Motorsports Network, Midwest Sheet Metal, Miller Welders, Öhlins Shocks, Optima Batteries, Outerwears, Performance Bodies, PFC Brakes, Pierce Race Cars, Pro Power Racing Engines, Protect The Harvest, QA1, Ram Mounts, Rhino AG, Rocket Chassis, Safecraft, Simpson Race Products, Spray Nine Sunoco Race Fuels, Super Clean, WELD Racing, Wrisco Aluminum, 5150 Race Trailers 
 
About Lucas Oil Late Model Dirt Series
Founded in 2005, the Lucas Oil Late Model Dirt Series is the nation's premier dirt late model sanctioning organization.  In 2016, the LOLMDS will sanction 53 events in 19 states.  The series is owned by the parent company Lucas Oil Products Inc. and receives national exposure through a TV package filmed, produced and edited by Lucas Oil Production Studios.  LOLMDS events will be broadcast on four TV Networks including CBS, NBC Sports, CBS Sports Network and the MAVTV Motorsports Network. For more information about the Lucas Oil Late Model Dirt Series visit the official website at: www.LucasDirt.com.