Nicole Flood's Racing Roots Run Deep
Story By: DAN DEMARCO / RACERSGUID.COM 
Photos By: RACERSGUIDE.COM PHOTO STAFF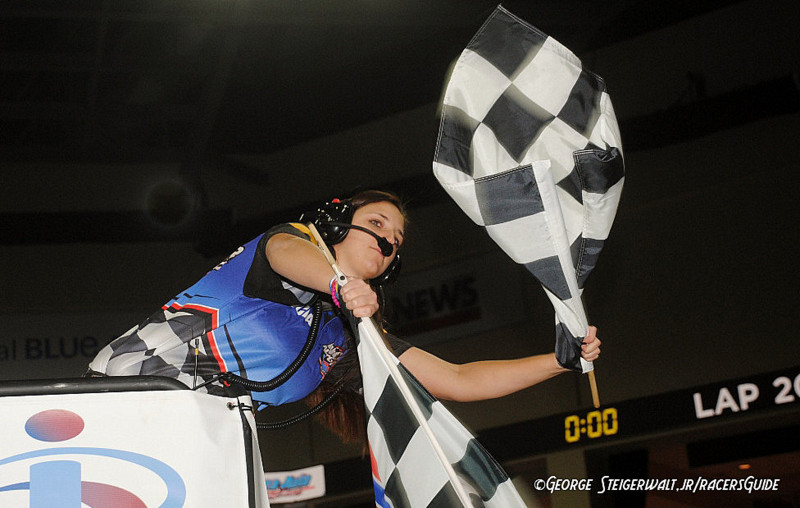 Fort Washington Pa.- February 15, 2017- I had a chance to catch up with good friend, and fellow racing enthusiast, Nicole Flood at Motorsports 2017. Nicole was there to participate in this years Miss Motorsports competition. Where she finished 4th overall and won the award for best interview! While engaging in a short chat with her before the competition? Nicole and I had some time to share some of our experiences in the sport with each other. I found her story to be very intriguing. So much so in fact, that I asked her if she would be willing to sit down with me for an interview? Because I felt that all racing fans would be as interested as I was in hearing about her experiences? She anxiously and graciously accepted.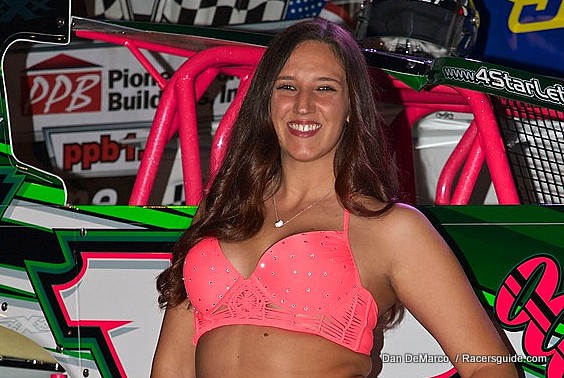 Nicole was born into a family that was deeply rooted in the sport of auto racing. And they shared their love for the sport with her. And today? Nicole's love for our sport is stronger than ever. Nicole's commitment to our sport runs very deep. And when she talks racing? One cannot help but notice the love and passion she holds for our sport, the competitors and the fans. They are infectious. Nicole's experiences in the sport of racing have ranged from that of a competitor, to a pit official, to an assistant starter and starter. In addition, Nicole is a strong supporter of Racers Against Bullying. Nicole's experiences make for quite an interesting and impressive resume.
RG: When did you first become interested in auto racing?
Nicole: I was born into a devout racing family. We lived only a short distance away from Grandview Speedway. My family began taking me to the races when I was 3 years old. So I was indoctrinated into the sport at a very early age. My earliest recollections of attending auto races are those I have of attending the races at Grandview Speedway with my family.
RG: What level of racing were you involved in as a competitor?
Nicole: I competed in the ¼ midgets at Phoenixville, Black Bird, West End, ATCO and Hagerstown Speedways. I garnered four of my five career wins at my home track, Phoenixville Speedway. And I managed one win at West End Speedway.
RG: What led to you becoming a starter?
Nicole: I volunteered to fill in for the regular starter one night at Phoenixville Speedway. And I loved it!
RG: How long have you been a starter?
Nicole: I have been a starter for eight years. I began starting at age 19.
RG: What types of officiating experience have you had thus far?
Nicole: In addition working as a starter? I have worked as a pit steward and a scorer. My experience includes working shows involving the ¼ midgets, USAC sprints, midgets and Silver Crown cars, indoor TQ's and modified's at New Egypt.
RG: Whether attending the races as a spectator? Or, working at a race in an official capacity? Do you prefer a particular type of racing?
Nicole: Yes! I really enjoy the modified's and the wingless midgets the most!
RG: What do you feel are some of the larger challenges that you face as a starter?
Nicole: Well for myself personally? Being second guessed after I make a call can be tough. Whether the second guessing occurs at the track, or on social media? I do my best not to let it bother me. Also trying to do my best to see everything that is happening on the track.
RG: What do you love most about being a starter?
Nicole: Being able to contribute and give back to the sport. And the adrenaline rush it gives me!
RG: What do you feel are some attributes that are important for a starter to possess?
Nicole: I believe that patience and courage, along with a thorough understanding of racing from the driver's perspective, are needed to be a good starter.
RG: What are some of your most memorable moments as a starter?
Nicole:  Working the ¼ Midgets of America Grand Nationals. Having had the opportunity to work shows that my sister was competing in. Working a USAC 4 Crown show at Eldora. And flagging the final USAC Silver Crown race during Super Dirt Week at the Syracuse State Fairgrounds.  Note…Nicole's sister was herself a 4 time USAC National ¼ midget champion.
RG: Have you tried to emulate any one particular starter?
Nicole: Not really? I have several that I really admire. And whenever I attend a race anywhere? I observe the starters. If I see one of them do something I really like? I may consider adopting it? I work the closest with Warren Alston and USAC's official starter Tom Hansing. I've learned so much from them. And I aspire to some day be as good as they are.
RG: Have you set any long- term goals for yourself as a starter?
Nicole:  Not really? I just love being in the starters stand! And I would consider any opportunities that come my way?
RG: What do you feel is the most important piece of advice you've received so far?
Nicole:  Keep your head up after a bad night. You are only human.
RG: What do you love the most about the sport of auto racing?
Nicole: I love the fans and meeting new people!  And getting to know the competitors! The racing community is one gigantic family. They are always there to support and help each other. The sport has become my sanctuary. I love spending time with those who share my love and passion for the sport! And I love the adrenaline rush auto racing gives me!
RG: Are there any particular people you would like to thank for helping you along the way?
Nicole: Absolutely! There are so many people who have helped and supported me along the way? And I am grateful to all of them. But at the top of the list is my family. They are my rock. They have been with me every step of the way. I am who I am because of them.  I would not be able to live my dream without their love and support. I have been truly blessed. They are the best and I love them dearly. And I would also like to pay a special thanks to my good friends, and fellow starters, Warren Alston and Tom Hansing. They have helped me in so many ways? And they have taught me so much about starting. I would not be the starter I am without their help and support.
RG: Nicole, I would like to thank you for taking some time out of your busy schedule in granting Racers Guide, and myself, the opportunity to conduct this interview?  I am not surprised you won the best interview award at the Miss Motorsports competition? You give a great interview!
Nicole: You are very welcome! And thank you! It was my pleasure! I had a blast!