[xyz-ihs snippet="Posts-Ad"]
PREECE AND BLEWETT ARE WALL TURKEY DERBY MOD CHAMPS
WALL TOWNSHIP, N.J. ~ During a weekend that offered as many slow speed track drying laps by safety vehicles and a jet dryer as it did high speed laps by powerful racecars Ryan Preece of Berlin, Ct. and Jimmy Blewett of Howell were crowned Modified champions during the 42nd Turkey Derby stock car classic at Wall Stadium. Despite the fact that the third mile paved oval had to be dried on Friday morning, Saturday morning, late Saturday afternoon and Sunday morning all racing events were completed.
In Saturday's Tour Type Modified 150-lapper Matt Hirschman of Northampton, Pa. led early until slipping into the pit area for tires. Holmdel's Andrew Krause was then the leader before Dave Sapienza of Riverhead, N.Y. took over the top spot.
On lap 112 late on Saturday afternoon the rain started falling and it was over two hours before the track could be dried. Sapienza was still the leader when the race restarted but his tires were wearing which allowed Preece to take the lead late in the contest. Matt Hirschman came back from his pit stop for second with Doug Coby of Milford, Ct., Matawan's Anthony Sesely and Ronnie Silk of Norwalk, Ct. wrapping up the top five.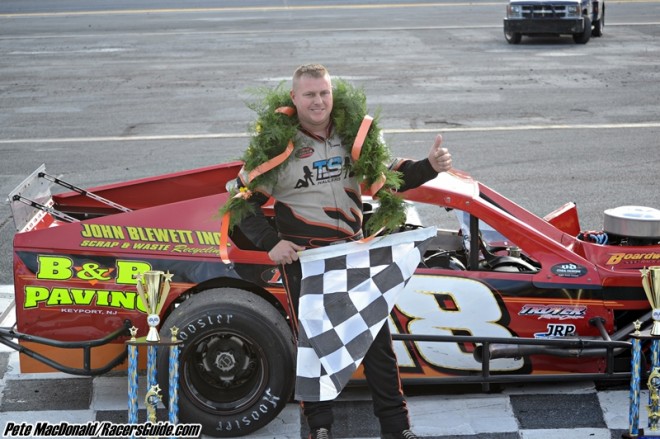 The Wall/SK Modified 100-lapper was pushed back to Sunday after a late Saturday evening rain shower dampened the track. In the Wall/SK race track champion Steven Reed of Jackson was in control through lap 80 when worn tires forced him to spin. Derek Hopkinson of Toms River then moved to the front before Blewett, now an eight-time Turkey Derby winner, took over the lead in the final ten laps.
Blewett then powered to the win with Hirschman posting his second runner-up finish of the weekend. Howell's Eric Mauriello, Trevor Alspach of Willingboro and Brick's Shawna Ingraham wrapped up the top five. Reed recovered from a late race pit stop for sixth.
Dirt Modifieds raced in a 50-lapper that saw numerous battles and passes for position. Blewett won this Saturday evening event over Joey Payne, Andrew Krause, Dakota Kessler and Rich Coons.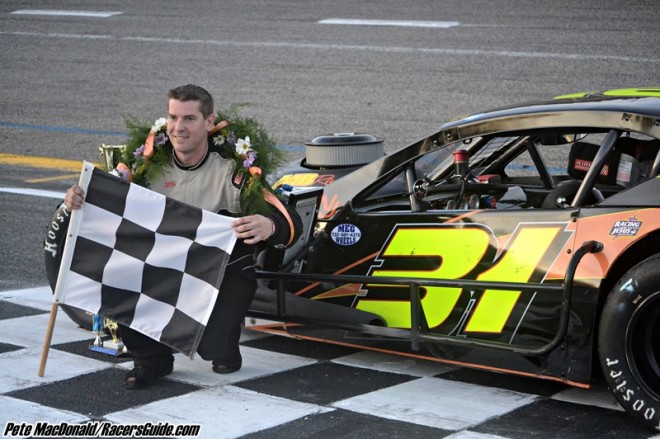 On Friday afternoon Shannon Mongeau of Manchester won the 50-lapper for the Sportsman cars over Kenny Van Wickle of Manasquan, Andrew Krause, Howell's Jason Caruso and Holmdel's Dominic Casola. Mongeau then made it two in a row winning the 40-lap main event for the Factory Stocks. Union's Joey Helberg, Joe Mongeau of Brick, Rob McCormick and Scott Riggleman wrapped up the top five.
Mike Alcaro of Milford won Friday's 30-lapper for the Legend Cars over Brad VanHouten, Devin O'Connell, Kyle Ellwood and Joe Ryan Osborne. Also on Friday Brick's Robert Sutphin won a 40-lap 4 Cylinder Stock race with Howell's Darren Burdge, Brian Osborne of Brick, Mike Wahl and Christian LaCicero wrapping up the top five.
In a 50-lap Limited Late Model race that was pushed to Sunday by wet weather Shanon Mongeau took his third win of the weekend after a tooth and nail battle with former champion Brian Doyle. Brick's Marc Rogers, Ray Minieri, John Kopf and Dave Hunt were second through fifth at the finish line.
Also on Sunday Joe Mongeau of Brick won the 50-lap Factory Stock main event over Joey Helberg, Shanon Mongeau, Marty Van Druten and Lee Allen. Brick's Robert Sutphin won Sunday's 70-lap 4 Cylinder Stock feature over Darren Burdge, Ronnie Mullen, Chris Thomas and Todd Dige. Sunday's 20-lapper for the Legend Cars was won by Kyle Ellwood with Kevin Nowak, Brian Kelly, Joe Ryan Osborne and Brendon Bock wrapping up the top five.
Erick Rudolph won the main event for the Three Quarter Midgets.
Wall Stadium Speedway officials are now working on the 2016 schedule with an opening date planned for spring. The speedway is located on Route 34 in Wall Township, N.J., just one mile north of Garden State Parkway exit 98 and Interstate 195 exit 35B. The speedway hotline number is 732-681-6400 and email address is CKMotorsports@aol.com.
TOUR TYPE MODIFIED – 150 Laps – 1. RYAN PREECE, BERLIN, CT., 2. Matt Hirschman, 3. Doug Coby, 4. Anthony Sesely, 5. Ronnie Silk, 6. Steven Reed, 7. Andrew Krause, 8. Shaun Carrig, 9. Brian DeFebo, 10. Austin Kochenash, 11. Woody Pitkat, 12. Dave Sapienza, 13. Max Zachem, 14. Eric Kocher, 15. Cory Midgett, 16. Joey Payne, 17. Keith Rocco, 18. Jimmy Blewett, 19. Jason Treat, 20. Andy Jankowiak, 21. Danny Bohn, 22. Zack Alspach, 23. Shawna Ingraham, 24. Les Hinckley, 25. Eric Mauriello
WALL/SK MODIFIED – 100 Laps – 1. JIMMY BLEWETT, HOWELL, 2. Matt Hirschman, 3. Eric Mauriello, 4. Trevor Alspach, 5. Shawna Ingraham. 6. Steven Reed, 7. Jason Hearne, 8. Shaun Carrig, 9. Jonathan Mandato, 10. Danny Bohn, 11. Chris Lane, 12. Jason Treat, 13. Justin Gumley, 14. Dom Fattaruso, 15. Michael Gervais, 16. Chas Okerson, 17. Chris Reynolds, 18. Derek Hopkinson, 19. Ken Matlach, 20. Andrew Krause, 21. Zack Alspach, 22. Adam LaCicero, 23. Anthony Sesely, 24. Ron Frees
DIRT MODIFIED – 50 Laps – 1. JIMMY BLEWETT, HOWELL, 2. Joey Payne, 3. Andrew Krause, 4. Dakota Kessler, 5. Rich Coons, 6. Aleia Geisler, 7. Mickey Kessler, 8. Ricky Ross, 9. Jack Ely, 10. Chuck Stone, 11. Jeff Richardson, 12. Bill Briggs, 13. Jason Kosch, 14. Scott Adams, 15. Rick Yetter, 16. Jeff Parker, 17. John Cook, 18 Jeff Sargent
SPORTSMAN FEATURE – 50 Laps – 1. SHANON MONGEAU, MANCHESTER, 2. Kenny Van Wickle, 3. Andrew Krause, 4. Jason Caruso, 5. Dominic Casola, 6. Tyler Truex, 7. Eric Lane, 8. Jarrett DeGiantomasso, 9. Chris Owsik, 10. Robbie Walton, 11. Roland DeMartino, 12. Robert Sutphin, 13. Trevor Alspach, 14. Joe King, 15. Ray Fattaruso, 16. Matt Langbein, 17. Larry Thompson, 18. Scott Brannick, 19. Mike Smith, 20. Rob Silver, 21. Dakota Kessler
1ST FACTORY STOCK FEATURE – 40 Laps – 1. SHANON MONGEAU, MANCHESTER, 2. Joey Helberg, 3. Joe Mongeau, 4. Rob McCormick, 5. Scott Riggleman, 6. Gerry Koenig, 7. Mike Montano, 8. Josh Matthews, 9. AJ Jadacki, 10. Ronnie Mullen, 11. Scott Sipe, 12. Whitey Miller, 13. Tim O'Shea, 14. Bill Stockert, 15. Jason Lane, 16. Tom Rajkowski, 17. Tony Bartone, 18. Animal, 19. Ron Booth, 20. Marty Van Druten, 21. Scott Maher, 22. Lee Allen, 23. Dan Springfield, 24. Brian Brown
2ND FACTORY STOCK FEATURE – 50 Laps – 1. JOE MONGEAU, BRICK, 2. Helberg, 3. Shanon Mongeau, 4. Marty Van Druten, 5. Lee Allen, 6. Mike Montano, 7. Gerry Koenig, 8. Josh Matthews, 9. Neil Rutt, 10. Ron Booth, 11. Whitey Miller, 12. Scott Sipe, 13. Jason Lane, 14. Tom Rajkowski, 15. Matt Badessa, 16. Eric Finkbein, 17. Ronnie Mullen, 18. Tim O'Shea, 19. Bill Stockert, 20. Aaron Leinemann, 21. Brian Brown, 22. Rob McCormick, 23. Scott Riggleman, 24. Scott Maher
1ST 4 CYLINDER STOCK FEATURE – 40 Laps – 1. ROBERT SUTPHIN, BRICK, 2. Darren Burdge, 3. Brian Osborne, 4. Mike Wahl, 5. Christian LaCicero, 6. Jeff Ackerman, 7. Ray Herman, 8. Todd Pilla, 9. Randy Hart, 10. Mike Lavery, 11. Chuck McDonald, 12. Lance Barthelemy, 13. Darianne McLaren, 14. Cody Mount, 15. TJ Graves, 16. Jason Lane, 17. Ronnie Mullen, 18. Matt Wahl, 19. Fred Cannock, 20. JC Duvall
2ND 4 CYLINDER STOCK FEATURE – 70 Laps – 1. ROBERT SUTPHIN, BRICK, 2. Darren Burdge, 3. Ronnie Mullen, 4. Chris Thomas, 5. Todd Dige, 6. Mike Lavery, 7. TJ Graves, 8. Fred Cannock, 9. Matt Wahl, 10. Ray Hernan, 11. Darianne McLaren, 12. Jeff Ackerman, 13. Brian Osborne, 14. JC Duvall, 15. Chuck McDonald, 16. Rich Massaro, 17. James White, 18. Cody Mount, 19. Jason Lane
1ST LEGEND CARS FEATURE – 30 Laps – 1. MIKE ALCARO, MILFORD, 2. Brad VanHouton, 3. Devin O'Connell, 4. Kyle Ellwood, 5. Joe Ryan Osborne, 6. Mitchell Dowd, 7. Rich Davidowitz, 8. Robert French, 9. Kevin Nowak, 10. Jim Sylvester, 11. Vinny Delaney, 12. Todd McCollum, 13. Gillian Kirkpatrick, 14. Greg Harris, 15. James Van Wickle, 16. Josh Andrews, 17. Don Deibert, 18. Casey Robicheau, 19. Luck Marzano, 20. Lowbed Johnson, 21. Vinny Colletti, 22. Chris Gall, 23. Brendon Bock, 24. Kyle Dealaman
2ND LEGEND CARS FEATURE – 20 Laps – 1. Kyle Ellwood, 2. Kevin Nowak, 3. Brian Kelly, 4. Joe Ryan Osborne, 5. Brendon Bock, 6. Kyle Dealaman, 7. Greg Harris, 8. John O'Sullivan, 9. Vinny Delaney, 10. Jordan Churchill, 11. Eugene Drew, 12. Todd McCollum, 13. Chris Gall, 14. Mitchell Dowd, 15. Steven Woytysiak, 16. Joe Fresco, 17. Jim Sylvester, 18. Devin O'Connell, 19. Rob McCormick, 20. Ricky Collins, 21. Rich Davidowitz, 22. TJ Thompson, 23. Gillian Kirkpatrick, 24. James Van Wickle, 25. Brandon Oltra, 26. Josh Andrews
LIMITED LATE MODEL – 50 Laps – 1. SHANON MONGEAU, MANCHESTER, 2. Marc Rogers, 3. Ray Minieri, 4. John Kopf, 5. Dave Hunt, 6. Chris Turbush, 7. Brian Doyle, 8. Mike Tillett, 9. John Parker, 10. Brandon Turbush, 11. Rob McCormick, 12. Jim Moorman, 13. Bill Frisbie, Jr., 14. Howie Conk, 15. Wayne Coury, 16. Brian Midgett, 17. Dave Roys, 18. Daryn Miller, 19. Tom Catanzaro, 20. Chris Halstead, 21. James White, 22. Greg Miranda, 23. Greg Gastelu.
[xyz-ihs snippet="Posts-Ad"]