Earl Paules and Frankie Althouse Romp to Modified and Late Model Wins at Mahoning Valley Speedway
Story By: DINO OBERTO / MAHONING VALLEY SPEEDWAY MEDIA
Photos By: WALT SMITH / RACERGUIDE.COM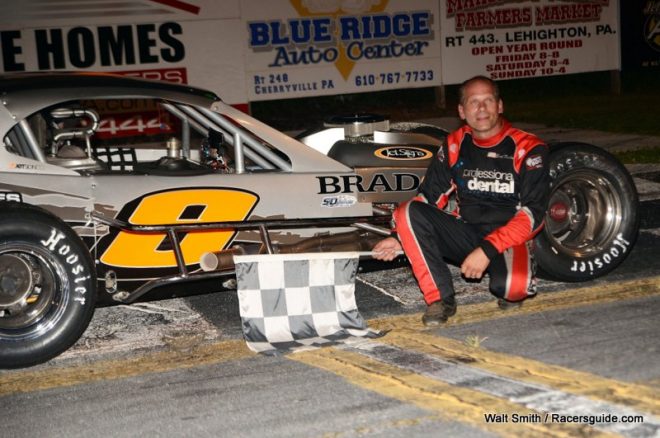 LEHIGHTON, Pa. -September 12, 2016- With just two regular season point races to go most of the Modified contenders at Lehighton's Mahoning Valley Speedway are conceding to Eric Beers who has a considerable lead in the standings.
But, as far as runner-up there remains a tight battle amongst several drivers and in Saturday night's 35-lap feature those in the hunt all contended for spots and precious points. At the conclusion of the run it was Earl Paules who was victorious over Kyle Strohl and Don Wagner. The aforementioned trio along with Kris Graver are all within 30 markers of each other and fighting hard for second place honors.
"We never give up and we'll try to run for second in points. We won't give up and if you did give up may as well stay home," said Paules who won for a third time this season.
Sixth starting Paules was running second to Brian DeFebo by lap seven. Three laps later he slipped to the inside and powered into the lead. It was a then a race for second as he drove effortlessly from there to his 25th win in a Modified and 56th overall at Mahoning Valley.
"It was a good run. I took my time getting around Brian (DeFebo) because he's been having a lot of bad luck here and I certainly didn't want to get into him and he gave me the room and the respect," said Paules, who now sits just eight points behind Graver for second in points.
"All year I've been driving around with a right-front bent spindle and finally broke down and put on a new one on and that really brought the car around. It was amazing and I really couldn't believe a spindle would mean that much but it did. Everyone here at Mahoning Valley does a great job and this is a great place to race."
While Paules was running away with the race there was a very close duel that waged between Strohl and Wagner. Both cars ran beside one another in a thrilling clash and it wasn't until five laps to go that Strohl finally shook free and drove on to second spot.
"My car was tight all night and there was no catching Earl (Paules) once he got the lead so we just made the best of it and here we are with another second place," said Strohl, who for the second straight week claimed the runner-up position.
"We worked for the spot too. Donny (Wagner) was very tough and it was a great battle and he made me work for it but that's the way it should be. We'll take second any day to a guy like Earl."
Beers was fourth and John Markovic, who led the first three laps, took fifth.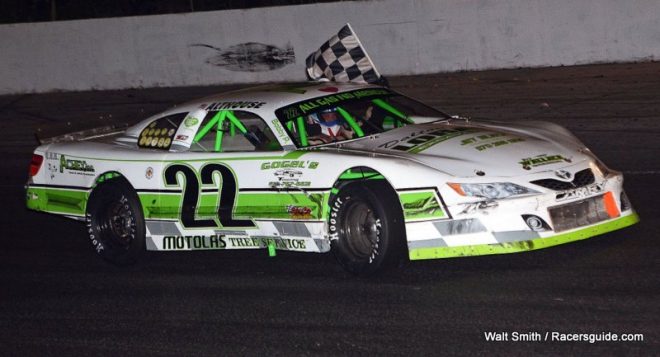 In the late Model feature Frankie Althouse used a lap eight restart to take over the lead from Jeremy Miller and afterwards pulled steadfastly away to his second win and in doing so continued a streak of fifth or better in every race this season.
Althouse wasted no time in getting behind early front runners Lorin Arthofer II and Miller who were in a fierce side-by-side duel. Miller had taken the lead by lap six but was still under heavy pressure as Arthofer and Althouse stalked him quite closely.
On lap eight Arthofer suddenly got loose and spun while heading into turn one. The incident also collected several others including Paul Koehler Jr., and Kenny Hein. When the field was reset to take the green Althouse blasted around Miller for the top spot and there was no looking back from there on.
Miller settled for second while point leader Mike Sweeney notched third with Jacob Kerstetter and Don Wagner rounding out the top five.
Mark Martini scored his second Street Stock win of the year in a race that say two Rookie of the Year contenders waging a torrid campaign to the checkers.
Martini went by Dennis Buss on lap seven and from there on was holding back a very determined Rick Reichenbach who continually made stabs at him. Never wavering, however, Martini stood his ground as the pair crossed the finish line bumper-to-bumper.
In the ongoing clash for the top rank in the Dirt Modifieds, Billy Lasko emerged the winner in the latest round between him and Ricky Yetter.
Lasko would jump out to the opening lap lead and never looked back as he hustled undauntedly to his third win of 2016 and remains locked in sizzling fight for the class championship with Yetter. With just two races to go the pair are separated by only two points which is leading up to an amazing showdown.
Making an 8-hour drive from North Carolina to race on Saturday night paid off in a big way for reigning Pro 4 champion Cody Kohler as he took his third win in the special $400 to win 35-lap event and kept his hopes of a title repeat alive in the process.
Kohler, who is in his first year of college thus the long haul to the track, took the lead from Johnny Bennett on lap nine and then was locked in a crowd pleasing three car battle to the finish that included Jake Kibler. Holding a solid line of defense on each passing lap, Kohler was able to take the verdict by a slim margin as Kibler and Bennett were all over him at the finish.
The Hobby stock class at Mahoning Valley continues to amaze as yet again another winner emerged. Jeff Biegley went into the lead with seven laps in and then held off Michael Wambold for his first victory in over two years. Biegley is the 13th different driver to win a race in 17 events held thus far.
Modified Feature Finish (35 Laps): 1. Earl Paules, 2. Kyle Strohl, 3. Don Wagner, 4. Eric Beers, 5. John Markovic 6. Kris Graver, 7. Brian DeFebo, 8. DJ Wagner, 9. Joey Jarowicz, 10. Matt Higgins, 11. Nick Baer, 12. Brian Labar, 13. Todd Baer, 14. Terry Markovic, 15. Puda Heintzelman, 16. Daniel Paules, 17. Tommy Flanagan, 18. Jack Ely, 19. Jon Moser DNS: Rob Shultz
Late Model Feature Finish (25 Laps): 1. Frankie Althouse, 2. Jeremy Miller, 3. Mike Sweeney, 4. Jacob Kerstetter, 5. Don Wagner, 6. Chris Anderson, 7. Jacob Nemeth, 8. Paul Koehler Jr., 9. Broc Brown, 10. Geno Steigerwalt, 11. Robbie Kutz, 12. Lorin Arthofer II, 13. Kenny Hien, 14. George Ramos
Street Stock Feature Finish (30 Laps): 1. Mark Martini, 2. Rick Reichenbach, 3. Randy Ahner Jr., 4. Zach Graver, 5. Jonathan Tracy, 6. Corey Edelman, 7. Dan Freundt, 8. Greg Long, 9. Todd Ahner, 10. Stacey Brown, 11. Jason Kuhn, 12. Dennis Buss, 13. BJ Wambold, 14. Jason Frey, 15. Mike Piechota, 16. Josh Mooney, 17. Jon Moser, 18. Jared Ahner, 19. Brian Labar, 20. Steve Hoffman DNQ: Justin Mooney, Mark Deysher, Jamie Smith, Devin Schmidt, Eric Kocher, Josh Uber
Dirt Mod Feature Finish (25 Laps): 1. Billy Lasko, 2. Ricky Yetter, 3. Ray Deemer, 4. Frank Parastino, 5. Charles Sabella
Pro 4 Feature Finish (35 Laps): 1. Cody Kohler, 2. Jake Kibler, 3. Johnny Bennett, 4. Bobby Kibler Jr., 5. Bryan Ahner, 6. Josh Scherer, 7. Chris Kuronya, 8. Kailyn Beers, 9. Tyler Stangle 10. Ryan Graver, 11. Bobby Kibler Sr., 12. Gary Shock
Hobby Stock Feature Finish (20 Laps): 1. Jeff Biegley, 2. Michael Wambold, 3. Nicholas Kerstetter, 4. Cody Geist, 5. Kevin Behler, 6. Jesse Strohl, 7. Travis Solomon, 8. Austin Beers, 9. Ryan Berger, 10. Tiffany Wambold, 11. Rich Mutarelli, 12. Shayne Geist, 13. Avery Arthofer, 14. Randy Sicher, 15. Ken Reeder, 16. Kyle Krempasky
COMING EVENTS:
Sept. 17 No Racing … RoC Weekend
Sept. 24 @ 6:00 pm All regular track classes + Small Car Enduro
Oct. 1 @ 6:00 pm Modified twin 50s + all regular track classes Final Points
Oct. 8 @4:00 pm Small Car Enduro – Big Car Enduro – Jr. Enduro – Big Car Demo Derby – Small Car Demo Derby