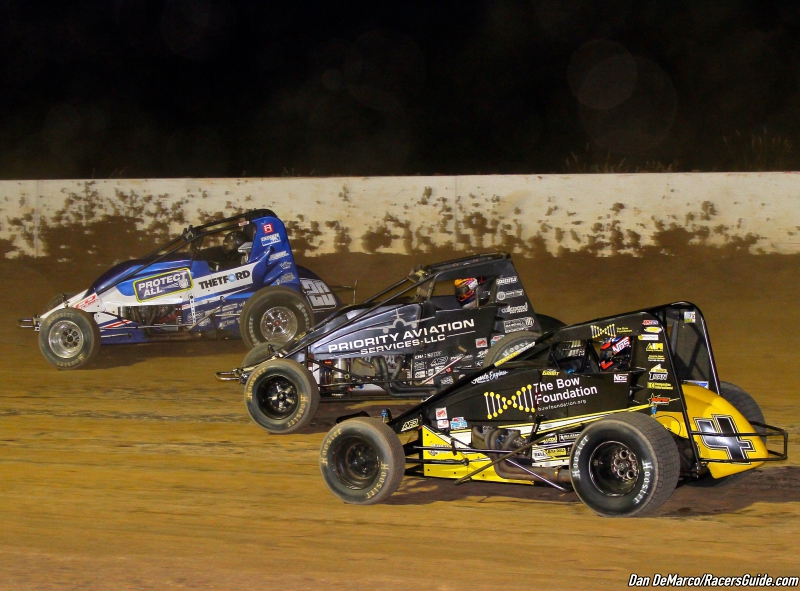 OVAL NATIONALS ENTRY LIST FIVE PREVIOUS WINNERS AND TITLE CHASES TO BOOT
Story By: Richie Murray/USAC Racing
Photos By: Dan DeMarco/RacersGuide.com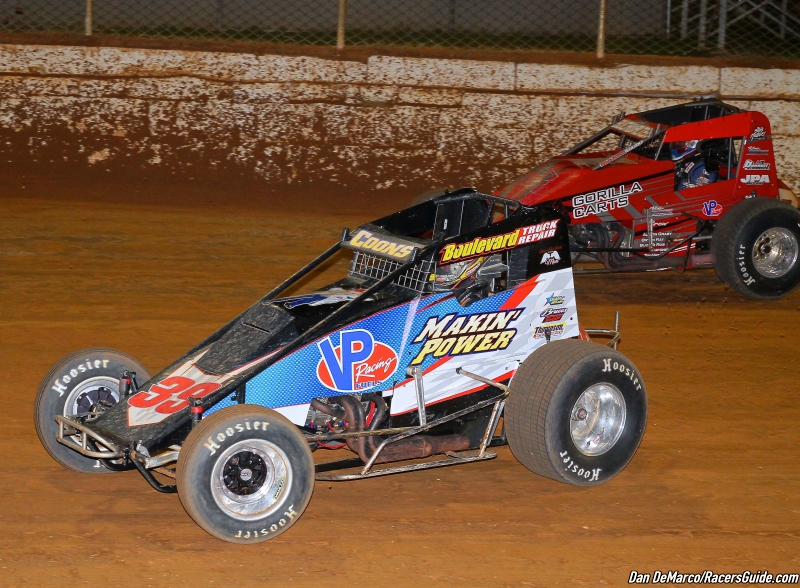 Perris, California………Forty-five cars have pre-entered for the 23rd annual Budweiser "Oval Nationals" presented by All Coast Construction on November 8-9-10 at Perris Auto Speedway.
The prestigious event on the southern California half-mile presents three-straight nights of racing starting this Thursday night and concluding Saturday night, which pays a whopping $25,000-to-win and serves as the season finale for both the USAC AMSOIL National and CRA Sprint Cars.
The race includes past "Ovals" winners Bud Kaeding Damion Gardner, Dave Darland, Chris Windom and Kevin Thomas, Jr., plus 2018 USAC AMSOIL National Sprint Car feature winners Justin Grant, Tyler Courtney, C.J. Leary, Chase Stockon and Brady Bacon and 2018 USAC/CRA Sprint Car feature winners Austin Williams, Max Adams, Jake Swanson, Chase Johnson, Austin Liggett, Jace Vander Weerd and Brody Roa as well as five-time USAC Southwest Sprint Car titlist R.J. Johnson, 2018 Southwest champion Charles Davis, Jr., past West Coast Sprint champ Danny Faria, Jr. and current USAC Light Up The World Beverages Western States Midget point leader Michael Faccinto, among many others.
A tight points race is also in play in both the National and CRA divisions. Kevin Thomas, Jr. leads the National points by just two points over Tyler Courtney while reigning champ Chris Windom sits in third, 50 out of the lead. Damion Gardner overtook Brody Roa for the CRA point lead in last Saturday's Western World finale at Arizona Speedway and now stares down his sixth consecutive CRA championship trophy, and seventh overall, with a nine-point lead in the standings.
On Thursday and Friday, the pits open at noon, front gates open at 4pm, drivers meeting at 4:30pm and cars on track at 5:30pm. On Saturday, the pits open at noon, front gates open at 3pm, autograph session from 3-4pm, drivers meeting at 4:30pm and cars on track at 5:15pm.
All three nights will be live on http://www.SpeedShiftTV.com/ with live audio also available on the USAC app.
2018 BUDWEISER OVAL NATIONALS ENTRIES
Car # / Driver / Residence / Car Owner
2 Austin Williams / Yorba Linda, CA / John Jory
4 Justin Grant / Ione, CA / TOPP Motorsports
4D TBA / Gansen Motorsports
4G Chris Gansen / Verdemont Heights, CA / Gansen Motorsports
4x Damion Gardner / Concord, CA / Mark Alexander
5 Chris Windom / St. Louis, MO / Baldwin Brothers
5J Logan Williams / Yorba Linda, CA / John Jory
5m Max Adams / Loomis, CA / Max Adams
5T Tye Mihocko / Peoria, AZ / Tye Mihocko
5x Tommy Malcolm / Corona, CA / Dino Napier
7BC Tyler Courtney / Fishers, IN / Clauson Marshall Newman Racing
8 Michael Faccinto / Hanford, CA / Jim Richardson
10 Richard Vander Weerd / Visalia, CA / Vander Weerd Racing
12 Dave Darland / Lincoln, IN / Ballou Motorsports
12B Joel Rayborne / West Covina, CA / Rodney Rayborne
13 Dennis Gile / Mesa, AZ / Gene Gile
15 Danny Sheridan / Santa Maria, CA / Rick Johnson
16 Bud Kaeding / Campbell, CA / Mike Martin Racing
19AZ Andy Reinbold / Gilbert, AZ / Andy Reinbold & Todd Underwood
19s Jason McDougal / Broken Arrow, OK / Andy Reinbold & Todd Underwood
21 A.J. Bender / Ramona, CA / Richard Bender
28 Matt McCarthy / Riverside, CA / Matt McCarthy
30 C.J. Leary / Greenfield, IN / Chuck Leary
32 Chase Stockon / Fort Branch, IN / Chase Stockon
34AZ Jake Swanson / Anaheim, CA / Grau/Burkhart
39E Kyle Edwards / Fountain Valley, CA / Gordon Edwards
42 Danny Faria, Jr. / Tipton, CA / Dwight Cheney
44 Cody Williams / Corona, CA / John Jory
50 Charles Davis, Jr. / Buckeye, AZ / Charles Davis Jr.
51 Austin Ervine / Bakersfield, CA / James Ervine
52 Isaac Chapple / Wilkinson, IN / Isaac Chapple
55 Tony Everhart / El Cajon, CA / Tony Everhart
68 Chase Johnson / Penngrove, CA / Shawn Thomas
69 Kevin Thomas, Jr. / Cullman, AL / Dynamics, Inc.
72 Gary Marshall, Jr. / Pomona, CA / Gary Marshall Sr. & Jr.
74x Josh Hodges / Tijeras, NM / Jack Hodges
83 Austin Liggett / Tracy, CA / Tim Liggett
88 Jace Vander Weerd / Visalia, CA / Vander Weerd Racing
90 Randy Waitman / Ramona, CA / Randy Waitman
91R Brody Roa / Garden Grove, CA / BR Performance
92 R.J. Johnson / Laveen, AZ / Tom & Lauri Sertich
92x TBA / Tom & Lauri Sertich
98 Jeremy Ellertson / Lawndale, CA / Jeremy Ellertson
98v Verne Sweeney / Lomita, CA / Ken Tracy
99 Brady Bacon / Broken Arrow, OK / Brady Bacon Racing