[xyz-ihs snippet="Posts-Ad"]
Melvin Joseph Memorial Notebook
By: Pete MacDonald
Made the trek down to Georgetown Speedway this past weekend for the 2016 Short Track Super Series South opener, it's amazing what some clean up and a fresh coat of paint can do to a race track as Brett and Heather Deyo had the place looking great. They were rewarded with a standing room only crowd and a pit area packed full of race cars.
I really don't think that the Delaware Modified guys get enough respect. Yes, I get it that it's not Central New York and the hotbed of Dirt Modified racing but they still have a bunch of solid racers down there like Jordan Watson, Matt Jester, Beau Wilkins, Norman Short, Howard O'Neal, Shawn Ward, Brad Trice and more.
43 Big/Small Block Modifieds entered the program. With the car count being so high Short Track Super Series Director Brett Deyo bumped the starting field to 30.
David VanHorn will pick and choose his schedule throughout the 2016 season. A former competitor at both the Orange County Fair Speedway and New Egypt Speedway welcomed his first child into the world over the offseason. DVH debuted a brand new Teo Pro car which was purchased at the beginning of the 2015 season; another big change for VanHorn was the switch over to Fox Shocks. A rather impressive run from seventeenth to second has the season started off right for the third generation driver.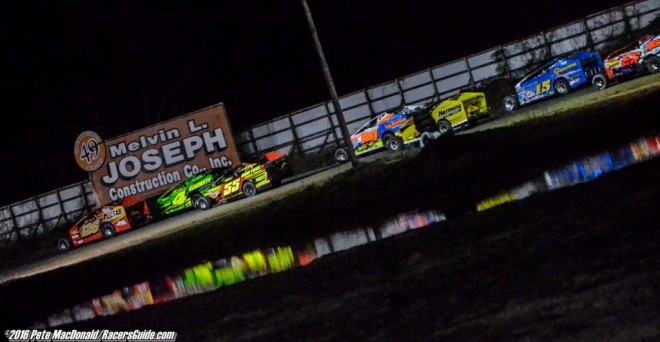 Jeff Strunk had the one of, if not the fastest car in the feature on Saturday until a broken axle ended his night while leading and pulling away late. Strunk who quit smoking during the off season is excited to get to New Egypt this weekend with the Hyneman No. 126.
Both Stewart Friesen and Duane Howard had both big and small blocks unloaded for Friday night's practice session. Friesen chose the big block to race on Saturday.
One notable that was missing that seems to race just about wherever and whenever he can was Danny Johnson.
Matt Sheppard has reunited with Norm Hansell for a part time schedule in 2016. Sheppard's first race in Hansell's potent No. 357 resulted in a seventh place finish.
Billy Pauch Jr. had a rather rough go of it on Saturday eventually ending up 12th. His next race will be New Egypt on Saturday behind the wheel of Rick Holsten's No. 96.
Drivers from six states (New York, New Jersey, Pennsylvania, Massachusetts, Delaware, and Maryland) took part in the event. Drivers from three different states swept the podium (New York – Anthony Perrego, New Jersey – David VanHorn and Massachusetts – Andy Bachetti).
Matt Jester is not racing anywhere this coming weekend; instead he is having his bachelor party in Atlantic City.
I really think that Andy Bachetti's No. 4 will be one of the best looking modifieds this season. I'm really glad they went back the the 4 instead of the 34 that he has run in years past.
Scary moment during the feature when Jamie Mills got loose and spun in front of the field collecting Mike Barone, Danny Creeden, Rick Laubach, Billy Pauch Jr., Shawn Ward and suffering the most damage was Jimmy Horton who was making his debut in the beautifully lettered Wescott No. 51.
Was nice to see some engineering going into the bodies of some cars over the weekend, HJ Bunting, and both Billy Pauch and Billy Pauch Jr. extended the height of their doors. Speaking of Bunting, his drive on the top side from last to a qualifying spot in his heat race was nothing but impressive.
Next up for the Short Track Super Series is the Orange County Fair Speedway on April 2nd with the North region lid-lifter followed by the South Jersey Shootout at the Bridgeport Speedway on April 17th.
I'm off to New Egypt for this weekend. Any questions or comments I can be reached at racersguide@gmail.com or found on Twitter @PMacDonald51.
[xyz-ihs snippet="Posts-Ad"]