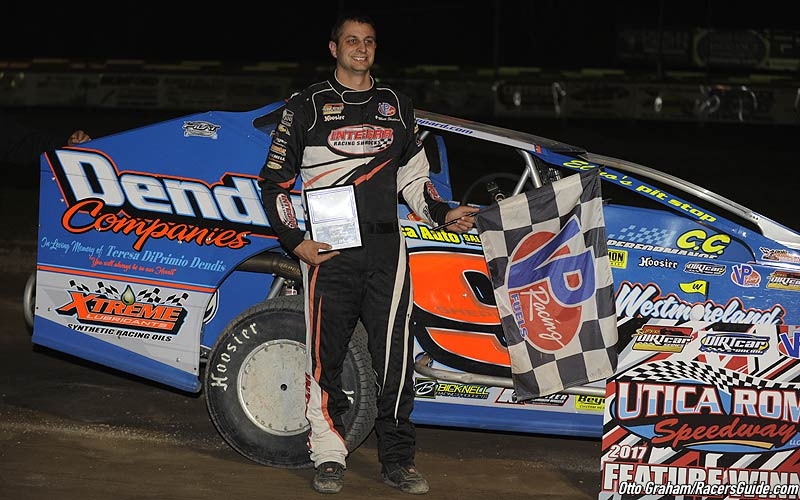 Matt Sheppard dominates stellar field to take big Jan Corcoran Memorial win at Utica-Rome Speedway
Story By: John Tiff/Utica Rome Speedway
Photos By: Otto Graham/RacersGuide.com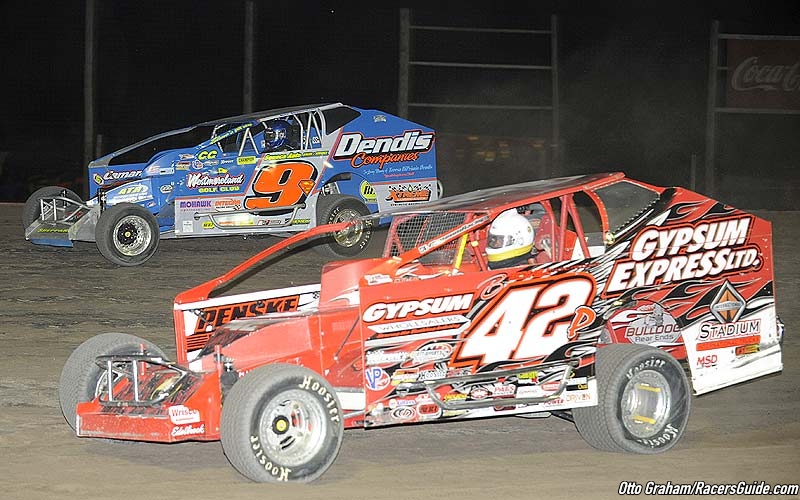 VERNON, NY- This past Sunday evening, Matt Sheppard would continue his assault on the Utica-Rome Speedway record books as he would collect his second win of this season by taking the checkered in the $3,064 to win 8th Annual Jan Corcoran Memorial for the Big Block and Small Block Modifieds. The win Northeast Race Products and Power Seal night moves him into a second place on the all-time win list, tied with Dale Planck and trailing only Stewart Friesen. Matt Janczuk would score the $640 win in the Broedel Energy Sportsman while Pete Stefanski dominated the Ted's Body Shop Pro Stocks for his second win of the season. Scott Mallette would win the rain delayed Rookie Sportsman feature with Alex Payne taking the victory in the regularly scheduled Rookie Sportsman main.
The 28-car field for the Jan Corcoran Memorial Big Block/Small Block Modified Challenge saw Rocky Warner and Marc Johnson start the 50-lap main event on the front row, with Warner gaining the early edge to lead the opening two laps. Fifth place starter and 2017 Utica-Rome Speedway track champion Matt Sheppard quickly proved he has not forgotten how to get around the Vernon oval as he took over the lead on the third lap. Sheppard would continue to flex his muscle as quickly pulled away while leaving the rest of the field to battle among themselves.
Warner and Marc Johnson would continue their battle for the runner-up spot with Danny Johnson and Pat Ward giving chase. The battle between Warner and Marc would rage on for the first half of the race as Sheppard continued his dominance of the event. Marc would finally take over second in lap 26, dropping Warner into the third spot. The only slow-down of the race came on lap 32 when Lance Willix came to stop in turn four.
When the green lights came back on, Sheppard again pulled away but now there was a new player entering the fray. Peter Britten, in a rare Utica-Rome Speedway appearance, started 16th on the grid but didn't stay there for long. He first broke into the top five on lap 17 and then entered into a crowd pleasing battle with teammate Danny Johnson, finally gaining the spot on lap 25. A couple laps later, he disposed of third place running Warner and set off for the second spot.
Marc Johnson and Britten would swap positions several times between laps 38 and 42, with Britten taking over the second spot for good on lap 42. Britten would close the gap some on the front running Sheppard in the last five laps, but Sheppard's advantage was too great as he would collect his 24th win of the season. Britten would finish in second ahead of Marc Johnson, Erick Rudolph, Billy Dunn, Danny Johnson, Warner, Billy Whittaker, Ward, and Jack Lehner. Warner would get the $640 bonus for the being the highest finishing small block powered car.
The Broedel Energy Sportsman 20-lap main event started with Chris Cunningham and Kyle Inman bringing the 27-car starting field to the green flag with Iman grabbing the early advantage. Inman would hold that spot until the only caution of their main event slowed the pace on lap four. Fourth place starter would take over the lead on the restart to set the pace. Inman gave chase for the remainder of the race but Janczuk would prove to be too tough as he scored his third win of the season over Inman and Cunningham. 13th place starter Alan Fink would make a late race charge to finish fourth with Nick Krause in fifth. Krause would later fail the post-race technical inspection, moving Andrew Buff into the top five.
Bill Knapp led the opening circuit of the 20-lap Ted's Body Shop Pro Stock feature until third place starter Shane Henderson took over the top spot as lap two went into the books. Pete Stefanski, from his sixth starting spot, would take the lead on lap five and would dominate the rest of the non-stop race. Henderson would finish in the runner-up spot over Mike Welch, Travis Welch, and Knapp.
Scott Mallette would win the rain delayed Rookie Sportsman 15-lap main event from July 22 over Adam Haddow and Alexis Jacobs, while Alex Payne would score the win in the 15-lap nightcap in just his second start over Casey Cunningham and Mallette.
Next Sunday, August 12, Excell Motorsports and Parks Paving presents Kids Night which features the annual Bobby Page Foundation Backpack Giveaway, Big Wheel Races, and Bike Giveaways for the younger fans. The exciting racing portion of the night will include the DirtTrackDigest.com 358-Modifieds, Broedel Energy Sportsman, Ted's Body Shop Pro Stocks, and Rookie Sportsman. Gates open at 4 p.m. with racing set for 7 p.m. For more information, please log on to www.uticaromespeedway.com or call the speedway office at (315)829-4557.
NORTHEAST RACE PRODUCTS/POWER SEAL RACE SUMMARY
JAN CORCORAN MEMORIAL MODIFIED FEATURE FINISH (50 LAPS)-MATT SHEPPARD, Peter Britten, Marc Johnson, Erick Rudolph, Billy Dunn, Danny Johnson, Rocky Warner, Billy Whittaker, Pat Ward, Jack Lehner, Bobby Herrington, Jeremy Wilder, Bobby Varin, Alan Barker, Brandon Walters, Jessey Mueller, Bodie Bellinger, Mike Mahaney, Eldon Payne Jr, Andrew Ferguson, Randy Shantel, Billy Shantel Jr, Lucas Heintz, Lance Willix, Tim Mayne, Brian Murphy, Steve Way, and Aaron Jacobs.
BROEDEL ENERGY SPORTSMAN FEATURE FINISH (20 LAPS)-MATT JANCZUK, Kyle Inman, Chris Cunningham, Alan Fink, Andrew Buff, AJ Filbeck, Chris Mackey, Tony Finch II, Kyle DeMetro, Rocco Leone, Dave Moyer, Brent Joy, Stephen Denton, Jeff Taylor, Tyler Thompson, AJ Miller, AJ Digsby, Chris Corbett, Joe Hall, Mark Effner, Justin Buff, Jeremy Nestved, Taylor Lamb, Tyler Corcoran, Tom Juno, and Charlie Tibbitts. DQ-Nick Krause
DNQ-Isiah Forward, James Meehan, John Strickler, Thomas VanVorst, John Christian, Troy Sperring, JT Sperring, George Dyer, CJ Castelletti, and Ryan McCartney.
TED'S BODY SHOP PRO STOCK FEATURE FINISH (20 LAPS)-PETE STEFANSKI, Shane Henderson, Mike Welch, Travis Welch, Bill Knapp, Mike Kazlauskas, Ernie Staelens, Jerry Streeter, and Aaron Page.
ROOKIE SPORTSMAN FEATURE FINISH (15 LAPS)-ALEX PAYNE, Casey Cunningham, Scott Mallette, Jake Davis, Keara Backus, Kyle Rood, and Alexis Jacobs. DQ-Adam Haddow.
ROOKIE SPORTSMAN FEATURE FINISH FROM 7/22(15 LAPS)-SCOTT MALLETTE, Adam Haddow, Alexis Jacobs, Casey Cunningham, and Alex Payne.