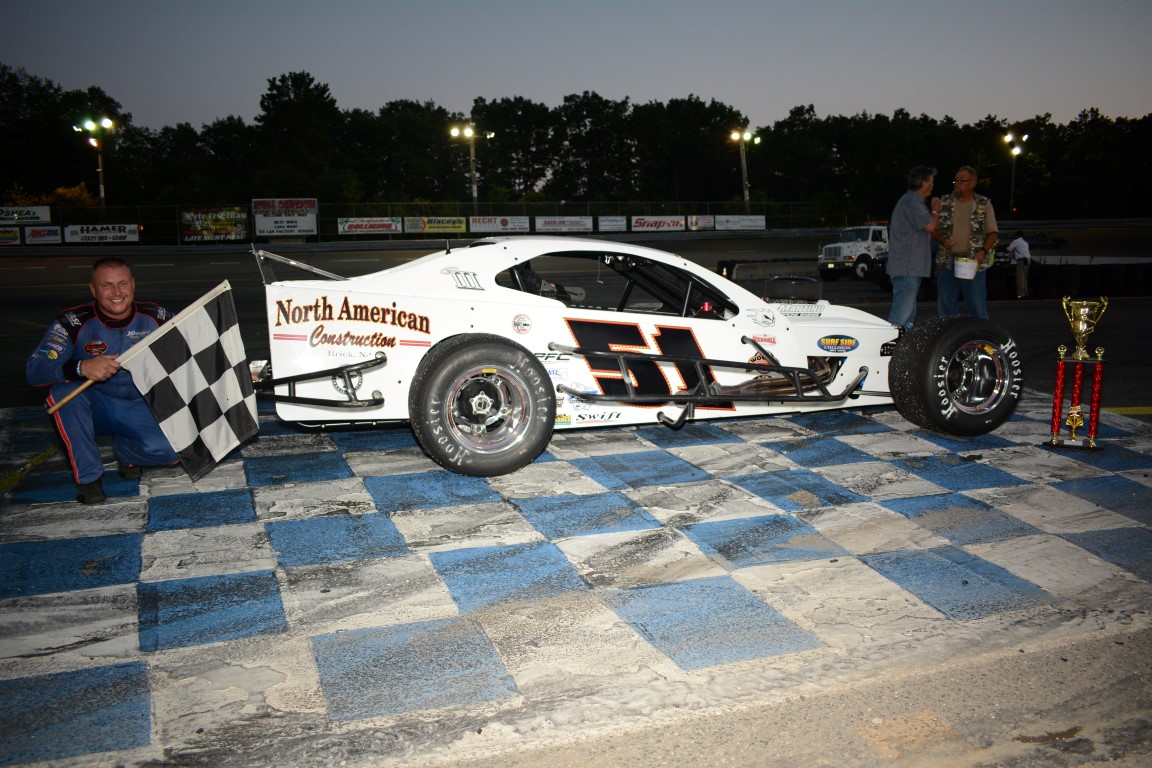 BLEWETT (MODS), ALCARO AND KORNER (LEGEND CARS) ARE WALL WINNERS SATURDAY
Story By: Jeff Gravatt/Wall Stadium
Photos By: John John Lane/RacersGuide.com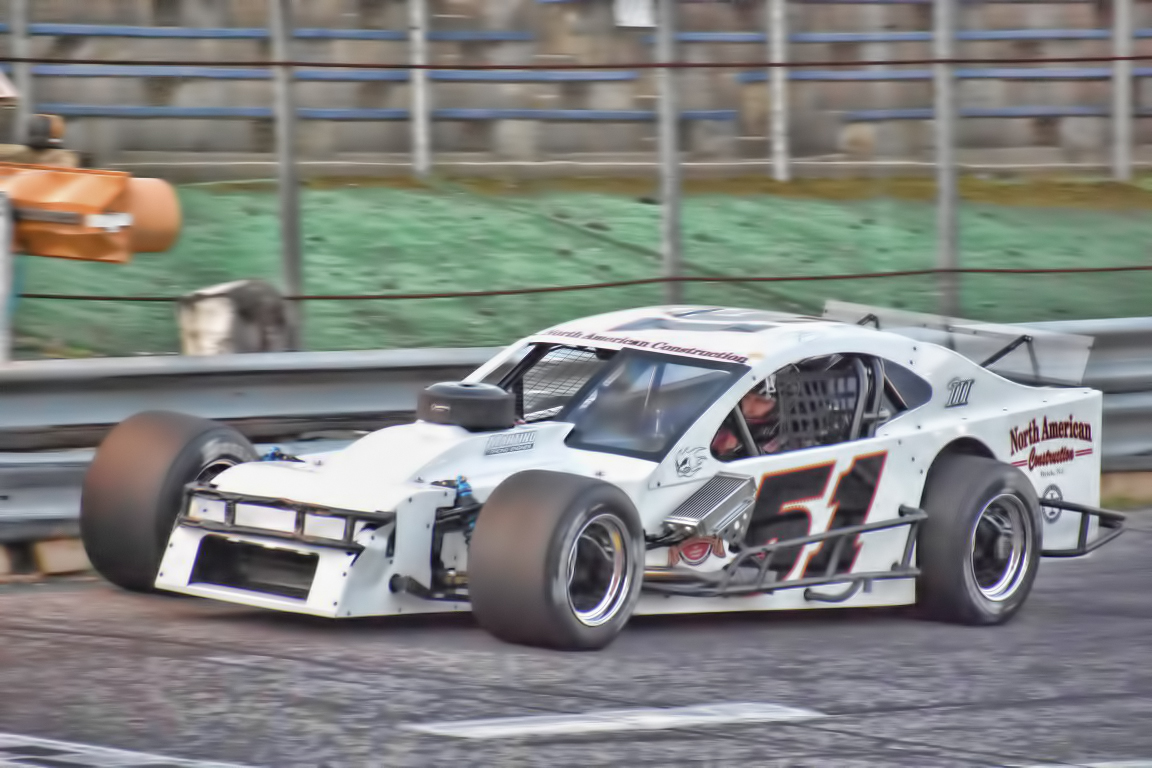 WALL TOWNSHIP, N.J. ~ Current Pete and Elda's Bar/Carmen's Pizzeria Modified stock car point leader Jimmy Blewett used not only speed, but also evasive driving techniques, to win the 40-lap All American Auto Group Racing Series main event at Wall Stadium Speedway Saturday night. It was the Howell resident's ninth win of the campaign.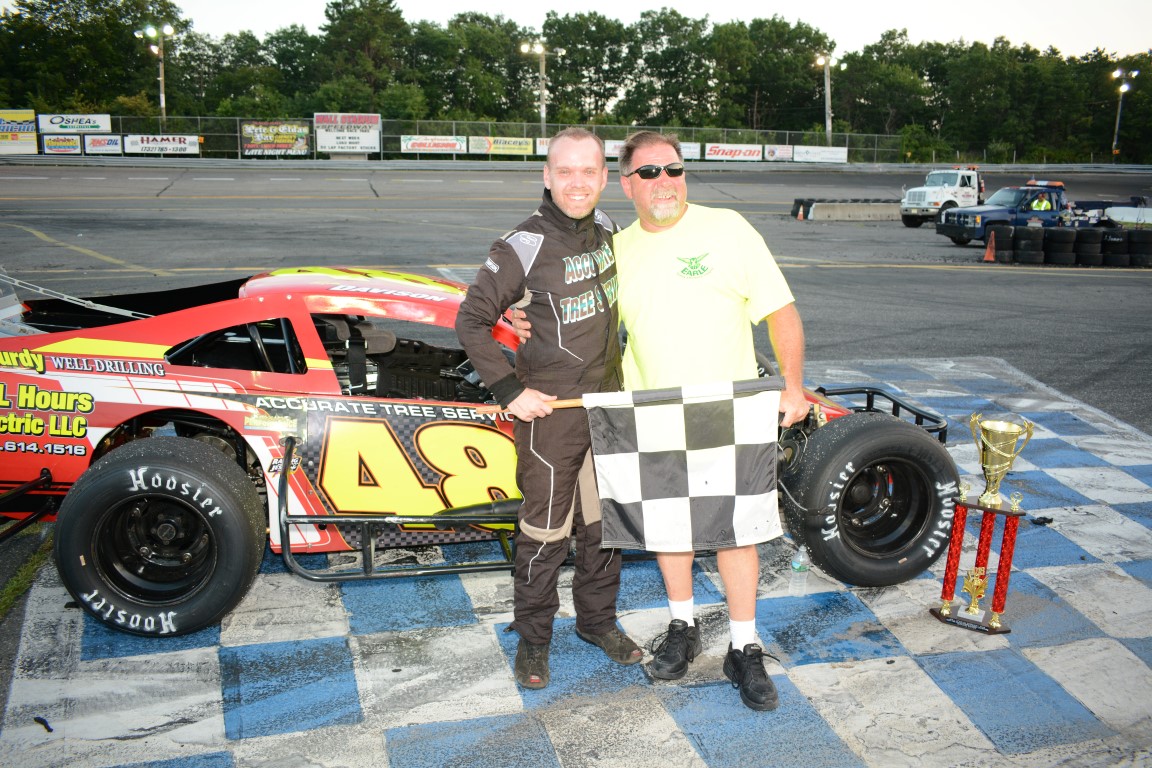 Manasquan's Kenny Van Wickle looked strong as he jumped to the lead at the outset. Meanwhile, Derek Hopkinson of Toms River, Jackson's Steven Reed, Holmdel's Andrew Krause and Blewett were fighting for second through fifth positions. When this battle finally overheated cars spun and tagged the rail but Blewett was able to avoid the carnage to advance to second. On the restart Blewett powered to the front in the outside lane and raced on to the win. Van Wickle was an impressive second, while Tyler Truex of Mayetta, Howell's Eric Mauriello and Shaun Carrig of Little Falls completed the top five.
"You need to have a perfect car to be able to avoid things like that," Blewett said. "You have to be able to steer it and it needs to go where you put it. My guys work real hard to give me a perfect car and it shows."
The Green Flag Driving Experience Legend Cars share top billing with twin 25 lap main events with Mike Alcaro of West Milford and Noah Korner of Canton, Connecticut taking the wins.
The first race saw Korner lead early before Alcaro arrived at the head of the pack and took the lead with three laps to go. Korner nailed down second in this one with his brother Glen Korner finishing third. Alex McCollum of Phillipsburg and James Sylvester of Massapequa, N.Y. wrapped up the top five.
In the Legend Cars nightcap Korner took the lead by lap three and fought off McCollum at the finish. Howell's Rob Silver, Nick Van Wickle of Edgewater Park and Peter Bruno of Little Silver completed the top five.
Howell's Kevin Davison took the top spot from early leader Michael Rising of Red Bank with just four laps remaining to win the Center State Engineering Sportsman 25-lap feature. Kyle Scisco of Jackson was second at the stripe, while Howell's Eric Lane, and brothers Carsten and Jarret DiGiantomasso, both of Jackson, wrapped up the top five.
A.J. Jadacki of West Freehold won his first ever 25-lap main event for the Surfside Collision 4 Cylinder Stocks in impressive fashion. Darianne McLaren of Edison crossed the line in second with Chris Silvestri of Hazlet, Nicole Razzano of Cookstown and Jeff Loesch of Neptune City finishing third through fifth.
The All American Auto Group Racing Series continues this Saturday evening (Aug. 11) on "Beach Luau Night." Modified, Sportsman, 4 Cylinder Stock and Mike's Performance Center Limited Late Models competitors are all slated for regular distance main event action, while the O'Shea's Auto Repair Factory Stocks will race in a double distance 50 lap feature. Grandstands open at 5:00 p.m., with qualifying set for 5:45 p.m. and feature race action set for 7:00 p.m.
Saturday night racing action continues through early October with schedule details at wallspeedwayracing.com.
Wall Stadium is located on Route 34 in Wall Township, N.J., just one mile north of Garden State Parkway exit 98 and Interstate 195 exit 35B. The speedway hotline number is 732-681-6400 and email address is ckmotorsports@aol.com.
RACE RESULTS
MODIFIED
FEATURE – 40 Laps – 1. JIMMY BLEWETT, HOWELL, 2. Kenny Van Wickle, 3. Tyler Truex, 4. Eric Mauriello, 5. Shaun Carrig, 6. Dam Fattaruso, 7. Derek Hopkinson, 8. Joey Merlino, 9. Andrew Krause, 10. Steven Reed, 11. Jason Treat.
LEGEND CARS
1ST FEATURE – 25 Laps – 1. MIKE ALCARO, WEST MILFORD, 2. Noah Korner, 3. Glen Korner, 4. Alex McCollum, 5. James Sylvester, 6. Nick Van Wickle, 7. Peter Bruno, 8. Rob Silver, 9. Eugene Drew, 10. James Van Wickle, 11. Bryan Gardella, 12. Roger Nickerson, 13. Joe Fresco, 14. Joe Przybylinski
2ND FEATURE – 25 Laps – 1. NOAH KORNER, CANTON, CT., 2. McCollum, 3. Silver, 4. Nick Van Wickle, 5.Bruno, 6. Sylvester, 7. Gardella, 8. Przybylinski, 9. James Van Wickle, 10. Fresco, 11 Nickerson, 12. Drew, 13. Glen Korner, 14. Alcaro
SPORTSMAN
FEATURE – 25 Laps – 1. KEVIN DAVISON, HOWELL, 2. Kyle Scisco, 3. Eric Lane, 4. Carsten DiGiantomasso, 5. Jarret DiGiantomasso, 6. John McCormick, 7. Eddie McCarthy, 8. Roland DeMartino, 9. Michael Rising, 10. John Blewett IV, 11. Jake Nelke, 12. Louie Keraitis, 13. Robert Vassilatos, 14. Joe Cooley, 15. Tom Martino, Jr.
4 CYLINDER STOCK
FEATURE – 25 Laps – 1. A.J. JADACKI, WEST FREEHOLD, 2. Darianne McLaren, 3. Chris Silvestri, 4. Nicole Razzano, 5. Jeff Loesch, 6. Neil Rutt, 7. Cody Burbank, 8. TJ Graves, 9. Billy Both, 10. Darren Cox, 11. Brian Osborn, 12. Todd Dige, 13. Richard Smith, DQ Sal Liguori